7 Canadian Tech Stocks to Watch in Q2 2017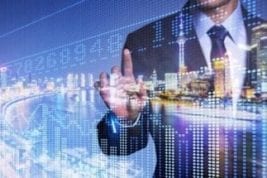 Looking to expand your technology investing portfolio? Here's a look at 7 Canadian tech stocks to keep your eye out for.
Canada's technology sector is hot right now, and with the federal government's "innovation budget" announced in March 2017, there's certainly no signs of it slowing down any time soon.
As part of the budget, the Canadian federal government dedicated $950 million over the next five years towards a number of technology-focused sectors, including digital, financial technology (fintech) and clean technology (clenatech). There will also be at least $500 million over three years for a new Venture Capital Catalyst initiative with a focus on late-stage funding for startups and entrepreneurs.
"There are a lot of great things in this budget as it relates to technology and entrepreneurship, and I think the $400 million to entrepreneurs and young companies is a positive start," Anthony Lipschitz, chief strategy officer at Thinking Capital was quoted as saying.
With the industry no doubt poised to grow, a number of Canadian tech stocks have also performed well so far this year. Here, the Investing News Network (INN) profiles 7 Canadian tech stocks to watch, with data provided by Haywood Securities' most recent industry report. The companies below are listed in alphabetical order.
Read on to learn more about these companies.

AcuityAds (TSXV:AT)
Based in Toronto, AcuityAds aims to enable marketers to connect with audiences through digital media. In particular, the company offers transparency on costs and brand safety, as well as real-time reporting and analytics.
Of note, AcuityAds' provides targeted digital media solutions that enables advertisers to connect with its audiences across a variety of platforms, including mobile, video and social display.
With that in mind, its March acquisition of Visible Measures should come as no surprise: Visible Measures, a Boston-based company, has provided analytics-led video advertising for over 10 years. Since then, Visible Measures has tracked over 22,000 campaigns and studied consumer behavior from 4 trillion video views.
As such, the deal is clearly a big step for AcquityAds, who hopes to gain "a more meaningful footprint in the high growth video advertising marketplace."
The acquisition has also been beneficial to Acquity's share price: year-to-date, shares of the company have soared an impressive 101.28 percent to $4.73.
Avigilon (TSX:AVO)
According to the company's website, the definition of Avigilon is "to be perpetually alert and watchful."
As such, Avigilon designs, develops and manufactures video analytics. Based in Vancouver, the company's software protects and looks over a number of locations, which includes stadiums, retail stores, casinos, healthcare centers, transit stations, airports and schools, among other things.
On that note, it's been a busy year so far for Avigilon, and has no signs of slowing down: in April, the company will be demonstrating an advanced deep learning artificial intelligence video at the ISC West 2017 conference in Las Vegas.
Year-to-date, shares of Avigilon have increased by a solid 20.83 percent to $15.49.

Cortex Business Solutions (TSXV:CBX)
For over 10 years, Cortex Business Solutions has worked in helping companies to connect and interact with each other to transmit documents and help grow their businesses.
Over that period of time, the company has developed a wide variety of technology partners to enhance its "customer investment in Procure to Pay software."
In mid-March, Cortex released its three and six months ended January 31, 2017 financial results. The company's president and CEO, Joel Leetzow, highlight that Cortex was able to close six buyers in the quarter.
Even so, the company's shares have only moved marginally so far this year, increasing 5.67 percent to $3.17.
Espial Group (TSX:ESP)
Espial Group was founded in 1997, and designs and markets software solutions to enable delivery of Internet protocol television. With that in mind, the company's products allow service providers like cable television, satellite TV and other telecommunications providers to install Espial's services to their customers.
The company's most recent news was in February, wherein it released its fourth quarter and full 2016 results. Of note, Espial's revenue increased year-on-year by 15 percent to a record $28.6 million in 2016.
Year-to-date, shares of Espial have risen 10.81 percent to $2.,46.
Nanotech Security (TSXV:NTS)
Nanotech Security is in the business of designing, manufacturing, and marketing nano-optic OVDS and OTF products. Given that these products have protection and enhancement applications across a wide range of markets, including banknotes, the company's main focus is, in fact, on the banknote market.
In early March, the company released its first quarter fiscal 2017 results. Nanotech's revenue was $907,013–down from $1.5 million for the same period the yea before. While Nanotech's year-to-date share price has fallen 15.89 percent, over a six-month period it's gained 16.51 percent to $1.27.

Solium Capital (TSX:SUM)
Solium Capital is a cloud-enabled service for global equity administration. With offices in Canada, the US, United Kingdom and Australia, the company has so far accumulated over 3,0000 clients.
In the middle of March, the company opened a new office in Frankfurt, Germany. More recently, Solium partnered with Nasdaq Private Market. Under that agreement, Solium will enable Nasdaq Private Market customers to manage cap tables and share plans through Solium's Shareworks platform.
While shares of Solium have dropped off 10.19 percent year-to-date to $7.58, Haywood Securities does't believe it's all bad news. In fact, Haywood is of the view the decline represents a buying opportunity for investors with a long-term perspective.
VersaPay (TSXV:VPY)
VersaPay is a payment processing and payment system with two offices in Canada–Toronto and Montreal–and one in New York. While the company is primarily a Canadian payment processing service, it does provide its electronic transaction processing service in the US as well.
Year-to-date, shares of VersaPay have risen 16.67 percent to $1.40. According to Haywood Securities, the company's share price increase over quarter one came as a result of the divestment of the POS division for $10 million. "The company is now well funded to execute on its growth plan," the research note states.
Don't forget to follow us @INN_Technology for real-time news updates.
Securities Disclosure: I, Jocelyn Aspa, hold no direct investment interest in any company mentioned in this article.