Mobile Generation: The Future of Cybersecurity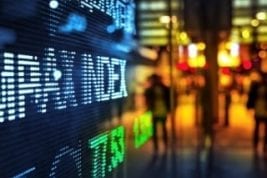 As internet usage becomes increasingly mobile based, the cybersecurity sector is looking to innovate new smartphone-oriented technologies.
Mobile data usage is undeniably on the rise. In fact, in a recent report, Cisco Systems (NASDAQ:CSCO) speculates that global mobile data traffic will grow eightfold from 2015 to 2020, reaching a compound annual growth rate of 53 percent.
Putting those numbers into context, the company states that mobile data traffic will grow two times faster than fixed IP traffic between 2015 and 2020. By 2020, mobile traffic will account for 15 percent of global fixed and mobile data traffic — that's a 10-percent increase from 2015 and will be equivalent to 120 times the volume of global mobile traffic seen in 2010.
All of those figures illustrate one truth: consumers are increasingly turning to mobile devices to access the internet, and this trend isn't going away. However, this increase in mobile data traffic is creating new challenges for the cybersecurity sector. In an interview with the Investing News Network, VIQ Solutions (TSXV:VQS) CEO Sebastien Pare spoke about the turn to mobile in the cybersecurity sector and what that means for the future of the industry.

Future of cybersecurity is mobile
To see how increased mobile data usage is driving companies to address cybersecurity concerns, one need look no further than Blackberry (NASDAQ:BBRY). Although it's not the universal smartphone powerhouse it once was, the company is carving out a space for itself in sectors with high regulatory compliance, such as financial services, healthcare and the government.
Tuesday's announcement that the company has acquired Encription and will use the acquisition as a springboard for its new Professional Cybersecurity Services Practise speaks to this prioritization of cybersecurity. According to a company press release, "it is estimated that data breaches currently cost the global economy more than $400 billion every year … [a]s cybersecurity threats become more pervasive with increasing Internet connectivity, there is a greater demand for more robust defensive tactics to combat these risks. BlackBerry's Professional Cybersecurity Practice is intended to address that market demand."
VIQ Systems' solution
Like Blackberry, VIQ is responding to market demand for mobile data security measures. Targeting many of the same industry verticals as Blackberry's new initiative (namely courts and judicial arenas, the police, the government, the military, transportation and healthcare, among others), VIQ is committed to providing high cybersecurity measures for the mobile experience.
Explaining his company's model, Pare pointed out that more and more frequently, business is taking place outside of the office. However, for individuals working in sensitive industries, high standards of cybersecurity need to be maintained even when operating off of a smartphone. Pare and VIQ are responding to this need by creating a mobile solution.
Take, for instance, two attorneys meeting at a neutral location, each one recording their conversation through a smartphone. That is convenient, but not always secure, as lawyers need a way to make sure that any evidence — conversations, but also photographs and videos — get back to their office without the risk of tampering. To that end, Pare and his company have developed an app that ensures that the highest levels of cybersecurity are maintained, even when using a smartphone or tablet.

"In our case," Pare said, "it's an app built within the phone, but it goes directly into the backend of VIQ. So all of the security and cybersecurity components are being applied to the capturing through a smartphone." The software used is agnostic, meaning that it can be applied to virtually any smartphone or mobile device. So far, the app has been incredibly popular with customers, particularly those seeking to upgrade their cybersecurity measures. Pare said, "we've been spending most of the past year making sure that our mobile offering is ready to go, and now it's our fastest-growing segment."
While Pare offered the above example of two attorneys meeting, the
technology
used by VIQ is widely applicable — think of physicians meeting to discuss a case, immigration officers interviewing refugees or insurance agents accumulating evidence. Security is becoming a larger component of most industries, and VIQ is offering solutions for these changing needs. The company's reach also extends well beyond the mobile app world; for instance, data analytics is a significant part of the company's business model.
Overall, in light of Blackberry's recognition of the need for cybersecurity investment and Cisco's data illustrating the rise of mobile data, VIQ's mobile offering appears to be a particularly prescient aspect of the company. Pare has big visions for VIQ, and it will be interesting to watch how the company grows within the mobile cybersecurity field.
Don't forget to follow us
@INN_Technology
for real-time news updates.
Securities Disclosure: I, Morag McGreevey, hold no direct investment interest in any company mentioned in this article.Editorial Disclosure: The Investing News Network does not guarantee the accuracy or thoroughness of the information reported in the interviews it conducts. The opinions expressed in these interviews do not reflect the opinions of the Investing News Network and do not constitute investment advice. All readers are encouraged to perform their own due diligence.