US Congress Holds Hearing on Potential for Blockchain Technology in Government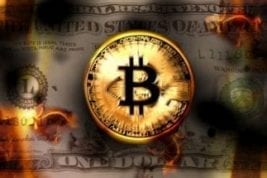 The US House of Representatives held a discussion panel on Wednesday to discuss the potential for blockchain technologies on how it can be integrated into different industries and its impact on daily life.
The love story between blockchain technology and the United States has been a bit of a one-sided story–in that blockchain has a lot of love to give and the US government has taken some time in realizing blockchain's full potential.
That said, on Wednesday–which happened to be Valentine's Day (February 14)–however, the US House of Representatives' held a hearing to discuss future adaptations and how it can begin implementing the technology.
Called "Beyond Bitcoin: Emerging Applications for Blockchain Technology" with Ralph Abraham as chairman and the Committee on Science, Space and Technology overseeing the hearing. Overall, the purpose of the hearing was to discuss blockchain technology and its potential in emerging applications that stretch beyond cryptocurrencies and fintech.
In his opening statement, chairman Abraham stressed that the hearing wasn't intended to directly discuss cryptocurrencies like bitcoin and the "numerous reported security, regulatory and environmental issues associated with [cryptocurrencies]."
Witnesses of the hearing included: Chris Jaikaran, analyst in cybersecurity policy, government and finance division, Congressional Research Service; Charles Romine, director, information technology laboratory at the National Institute of Standards and Technology (NIST); Gennaro "Jerry" Cumo, blockchain vice president at IBM (NYSE:IBM); Frank Yiannas, vice president of food safety at Walmart (NYSE:WMT); and Aaron Wright, associate clinical professor and co-director of the Blockchain project, Benjamin N. Cardozo school of law.
In short, the panel of witnesses would be able to recommend to Congress a framework that would make blockchain a viable technology used within the government and also the public.
As part of the government interest in blockchain technology, chairman Abraham said that the Science Committee will keep addressing cybersecurity and how blockchain technology could "potentially bolster private companies' and the federal government's cybersecurity weaknesses."
"Bolstering the cybersecurity of federal information systems is among the committee's top priorities, and I am hopeful that our efforts here today will take us one step closer toward accomplishing this objective," chairman Abraham said.
In putting those efforts into fruition, Wright said in his testimony that he would encourage Congress to commission a blockchain advisory group.
"The idea with the blockchain commission would be to provide a degree of uniformity and a unified approach to the numerous regulatory decisions," he said. "Some issues raised by the witnesses today …. there's privacy issue, identity issues, consumer protection, commodities laws, and there's competing interpretations that have been issued already by federal agencies, so the thought would be to standardize that."
In Jaikaran's testimony for blockchain, he stressed that the technology itself isn't a new technology, but rather are technologies we already have. Jaikaran continued, stating that with blockchain the use of a third party can be avoided because as transactions are added, identities of parties conducting transactions a verified "and the transactions themselves are verifiable by other users."
"The strong relationship between identities, transactions and the ledger enables parties that may not trust each other to agree on the state of resources as logged in that ledger," Jaikaran said. "Blockchain is not a new technology; rather, it uses existing technologies in a novel way." Jaikaran's statement set out four particular technologies that are used to enable blockchain technologies as: asymmetric key encryption, hash values, Merkle trees and peer-to-peer-networks.
In terms of potential considerations for Congress, Jaikaran said that because of its novelty, blockchain is being piloted by industry, but doesn't appear to be a replacement for existing systems, at least not yet.
"Given these conditions, the technology does not contain the same level of adoption that previously technology had when facing potential legislative action," he said. "Congress can still provide oversight of federal agencies seeking to: use it for government business, and regulate industries using blockchain."
Similarly, White said that he would "encourage" Congress to consider a National Blockchain Commission that would work to cement the US' technical standing and increase economic growth and innovation by "exploring ways to invest in blockchain-based research … and to help ensure that blockchain-based innovations occurs here."
White expanded on that, stating:
The commission could: (i) help devise common principles to guide the federal approach for regulating blockchain technology, across a range of sectors, protecting values like financial privacy, personal autonomy, and consumer protection; and (ii) hold hearings, conduct research, and make recommendations for industry, the Executive Branch.
Indeed, it will take some time until any kind of blockchain legislation is officially put in place, but Wednesday's panel certainly put forth a strong argument for that process–whenever it comes. To watch the full hearing, click here.
Don't forget to follow us @INN_Technology for real-time news updates!
Securities Disclosure: I, Jocelyn Aspa, hold no direct investment interest in any company mentioned in this article.