Alleged Bitcoin Creator Slammed with Multi-Billion Dollar Lawsuit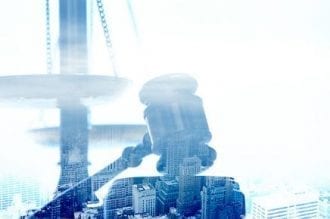 Craig Wright, who has claimed to be bitcoin creator Satoshi Nakamoto, is being sued on behalf of the estate of David Kleiman, alleging Wright stole $5 billion worth of bitcoin and intellectual property rights of blockchain from Kleiman.
The bitcoin rollercoaster never seems to end.
Earlier this week it was reported that Craig Wright–the person who claims to be bitcoin's creator Satoshi Nakamoto– was hit with a staggering $10 billion lawsuit filed in a Florida district court. Wright, an Australian entrepreneur, is being sued by Ira Kleiman on behalf of the estate of David Kleiman, who died in 2013. Wright has previously said David is also linked to bitcoin's early stages.
According to the paperwork filed on February 14, Wright is being accused of acquiring "hundreds of thousands" of David's bitcoins and the "valuable intellectual property rights of various blockchain technologies."
The court documents claim the relationship between Wright and David was "born out of a mutual obsession with cryptography and data security," and that the two communicated primarily through private email accounts. The documents further state the two met through an online cryptography forum in 2003.
Fast forward to 2008: from then, the the two began collaborating on blockchain technology and mined over one million of the initial bitcoins until David's death in 2013. The lawsuit claims that Wright didn't share the "bitcoin fortune" with the estate.
Following David's death, the court documents suggest Wright "concocted a scheme to claim sole ownership of all bitcoins owned by Dave, to steal Dave's share of IP assets that belonged to Dave and [Wright] jointly."
"To accomplish this scheme, he drafted and backdated at least three contracts to create a paper trail purporting to document that many of Dave's bitcoins and IP rights were to be transferred, sold, and/or returned to himself," the documents said.
It wasn't until December 2015–more than two-and-a-half years after David's death–that his role in bitcoin's development came to light when Gizmodo and Wired "outed" Wright as Satoshi, and detailed David's "integral role" in bitcoin's development.
The lawsuit documents said:
They described numerous details and leaked communications implicating David and Craig's roles in creating and developing bitcoin; they also discussed their accumulation of a vast hoard of bitcoin.
Several months later, Wright wrote in a blog post that he claimed to be Satoshi Nakamoto.
David Mondrus, CEO of Trive, told the Investing News Network (INN) in a telephone interview that there are a few key problems with Wright's claim–one being that Wright had been asked to sign one of the original message blocks using one of his old private keys, and wasn't able to. "Everyone has just dismissed him as a fraud."
Despite this, Mondrus added that some of the "really strong" early bitcoin personalities including Gavin Andersen have previously spoken with Wright and believe that he is Nakamoto. Case in point, back in 2016 Coindesk reported that Andersen revealed his belief that he had received proof that Wright is crpyto creator Nakamoto.
Andersen was quoted saying:
"[Craig Wright] signed, in my presence, using the private key from block #1, the very first block mined on a computer. I was convinced."
On that note, Mondrus said there's been conversations suggesting that Nakamoto could be Nick Szabo, who is a computer scientist, and cryptographer with research ties to digital contracts and digital currency, but that it's likely Wright.
"I'm hoping [the lawsuit] will give us some clues as to what really happened [between Wright and David]," Mondrus said.
In terms of the identity of Nakamoto affecting the overall bitcoin price, Mondrus said it's unlikely it will have a direct impact on the cryptocurrency's price movement.
"The real movement behind bitcoin, as we've seen, is China," he said. In a previous interview with INN, Mondrus spoke of the impact Chinese New Year has on bitcoin, stating in the weeks leading up to the Chinese New Year, the market drops because the Chinese are pulling out their money for the New Year.
At the beginning of February, bitcoin hovered around the $9,100 mark. Since then, the crypto favourite has been mostly on an upward swing, reaching a monthly high of $11,713.13 on February 20. As of 4:49 p.m. EST on Thursday (March 2), bitcoin was priced at $10,976.22.
Don't forget to follow us @INN_Technology for real-time news updates.
Securities Disclosure: I, Jocelyn Aspa, hold no direct investment interest in any company mentioned in this article.