Metals Gaining Ground as a 3D Printing Material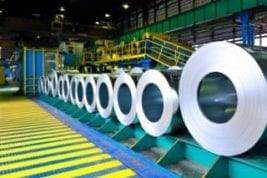 Metals look set to be a popular 3D printing material in 2016.
2016 has only just begun, but it already looks like metals may be the year's hottest 3D printing material.
While metals aren't a typical 3D printing material, companies using non-plastic 3D printing materials are seeing stronger quarterly results than those focused on just plastic materials. With that in mind, investors seeking opportunities in 3D printing should consider looking at companies that are moving beyond the traditional bounds of plastic.
Airbus using metals as a 3D printing material
Companies using metals in 3D printing are doing well because demand for 3D printed metal parts is on the rise. Airbus (EPA:AIR) is perhaps the most prominent example — the company, which manufactures aircraft, helicopters, commercial space launch vehicles, missiles and satellites, has said that from 2016 to 2017 it intends to ramp up serial production of 3D printed metal parts.

Indeed, in an
interview with 3D Printing Industry
, Peter Sander, Airbus' head of emerging technologies and concepts, said that the company is "now on a technology
readiness level 6 for ALM [additive layering manufacturing] on titanium metal parts flying, which means we are ready for industrialization." The company will begin with a bionic bracket that it developed as a joint project with Lazer Zentrum North.
Other companies using metals as a 3D printing material
3D Systems (NYSE:DDD), which has developed the DMP range of printers, is one of the key providers of 3D printed materials.
The company's printers create chemically pure, fully dense metal and ceramic parts, delivering strength, accuracy, reliability and repeatability. Its machines can print with 15 materials, including stainless steel, tool steel, super alloys, nonferrous alloys, precious metals and alumina.
This versatility makes them an attractive option for manufacturers. Products as diverse as custom dental prostheses, orthopedic implants, tire molds, aerospace parts and watches all use components created with 3D Systems' DMP range of printers. The ProX 300 3D printer is the largest in the range, offering a build volume of 9.8 by 9.8 by 11.8 inches — that makes it a high-performance alternative to traditional manufacturing processes.
ExOne (NASDAQ:XONE), which currently has 16 industry-grade materials available for its machines, is another significant voice in this market. For instance, the company's IN Alloy 718 is commonly used for components in the aerospace, chemical and energy markets, with applications ranging from gas turbine blades to heat exchanger and molding processes. Meanwhile, its 17-4 stainless steel has a broad range of applications in the automotive, medical and general industry markets.

Encouragingly, Oppenheimer has reported that ExOne had an encouraging fourth quarter top line, suggesting that its sophisticated array of 3D printing materials may be helping it stay ahead.
Investor takeaway
As can be seen, metals are set to attract keen interest as 3D printing materials in 2016. Although there is potential in other materials, investing in companies that are pursuing this technology could be the safest bet for market participants.
Don't forget to follow us @INN_Technology for real-time news updates.

This article was originally published on 3D Printing Investing News on January 18, 2016.
Securities Disclosure: I, Morag McGreevey, hold no direct investment interest in any company mentioned in this article.