Weekly Round-Up: Eurozone Crisis Short-term Risk for Commodities Market
The Cyprus banking crisis is symptomatic of larger economic troubles in the Eurozone that are making investors wary of commodities.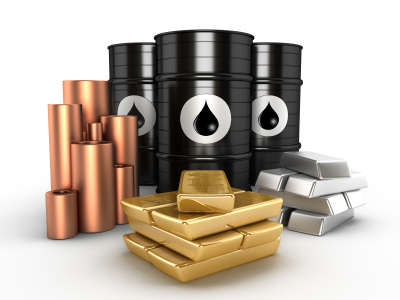 The banking crisis in Cyprus continued to shape global markets this week as the country's banks reopened — with strict capital control measures — following a contentious rescue deal. The crisis is symptomatic of larger economic troubles in the Eurozone that are making investors wary of commodities. The $13-billion bailout has tarnished gold's safe-haven appeal and further weakened copper prices, although oil prices managed to post gains this week.

Gold continues to track the Eurozone crisis, but the bailout helped ease investor concerns that the region's debt crisis is worsening. "The situation in Europerepresents a short-term risk for the market. The resurgence in those concerns is a source of volatility," said Craig Fehr, Canadian market strategist at Edward Jones, according to Reuters. "The near-term risk relates to the confidence in the financial system inEurope and the reverberations around the world."
On Wednesday, the not-so-stellar Italian bond auction and the implications of Cyrpus' banking crisis sent the euro sliding to a four-month low against the greenback. Fear of Cyprus-style bank bailouts seeping into other regions of the Eurozone provided safe-haven support for gold, which managed to close up nearly $6, to $1,605.40 per ounce, on Wednesday, according to Kitco's gold price chart. However, the price of gold fell back below the key $1,600 an ounce resistance level on Thursday morning.
On Thursday, copper continued its decline. Prices are expected to finish the first quarter down nearly 4 percent after dropping 3 percent in the fourth quarter of 2012, reported Reuters. "For base metals, Europe is still directly or indirectly a big driver because if it isn't the direct driver, it's indirect because of what it's done to the euro," BNP Paribas analyst Stephen Briggs told Reuters. The news agency said a 2.8-percent increase in output from the world's top copper producer and modest consumption out of Asia is also weighing on prices for the red metal.
Oil prices had support from strong US economic data this week, reported the Associated Press. After posting $4.13 a barrel in gains on the week, oil prices paused on Thursday, changing little after Cyprus reopened its banks. Wednesday, benchmark oil for May delivery closed at a five-week high of $96.68 a barrel. Natural gas prices managed to close up slightly over $4 per 1,000 cubic feet for the first time in over 18 months as the US supply overhang continued to show signs of decreasing.
Thursday, Brent crude was up 0.26 percent, at $109.95 a barrel, while copper closed down 3.90 percent, at $3.40 a pound. Gold closed down 0.65 percent, at $1,594.40 an ounce.
Gold
Northern Vertex Mining (TSXV:NEE) announced the results of a preliminary economic assessment (PEA) on its Moss Mine gold-silver project in Mohave County, Arizona. Highlights from the PEA include a pre-tax internal rate of return of 117.9 percent, a net present value at 5 percent of US$110 million and a payback period 1.25 years. Northern Vertex has the right to earn a 70-percent interest in the Moss gold-silver property from Patriot Gold (OTC Pink:PGOL) by spending $8 million and preparing a feasibility study. To date, Northern Vertex has spent $5.6 million.
Veris Gold (TSX:VG,OTCQB:YNGFF) announced that its wholly owned subsidiary, Veris Gold USA, has entered into a one-year toll milling agreement with Atna Resources, a subsidiary of Atna Resources (TSX:ATN), to process ore from the Pinson mine at the Jerritt Canyon mill, located in Elko County, Nevada. The toll milling fee will be adjusted on a quarterly basis to reflect any changes to input costs associated with processing the ore. Toll milling is expected to commence early in the second quarter of 2013.
Brigus Gold (AMEX:BRD,TSX:BRD) reported its financial results for the fourth-quarter of 2012 and the year ended December 31, 2012. Highlights for the year include a 39-percent increase in production and cash costs of $685 per ounce in the fourth quarter. Production in Q4 2012 increased by 57 percent over the same period last year, to 22,672 gold ounces. Production for all of 2012 increased 39 percent over 2011 production, to 77,374 gold ounces. Gold production for the first quarter of 2013 is expected to exceed 25,000 ounces. Final results will be released during the week of April 8, 2013.
Shares in Australia's largest gold producer, Newcrest Mining (ASX:NCM,TSX:NM), dropped to their lowest level in four years on the ASX on Wednesday after the company slashed its annual output forecast by nearly 10 percent, said Bloomberg. Newcrest's Lihir mine in Papua New Guinea is operating at reduced capacity after internal brickwork at its production plant was damaged by overheating, reported The Australian. The repair work is expected to take up to seven weeks to complete.
Colombian Mines (TSXV:CMJ) announced that reconnaissance work identified additional high-grade mineralization of up to 2.3 g/t gold, 203 g/t silver and 10.1-percent copper in grab samples from outcropping mineralization in a new area of the company's 100-percent owned Mercedes property. The new area is located roughly 3.3 kilometers south southeast of the area where previously announced mineralization returned results of 49.8 g/t gold, 744 g/t silver and 26.47-percent copper.
Unigold (TSXV:UGD) reported positive results from the Candelones extension zone program at its Neita concession in the Dominican Republic. Highlights include 28 meters at 2.5 g/t gold. Drill work continues to return positive results as the company expands the extension zone to the northwest towards Candelones main zone mineralization. Unigold has put forward a Request for Proposal to qualified, independent consultants in order to receive an estimate for the initial mineral resource for the Candelones main, connector and extension zones. It expects to award this work by May 2013.
Oil and gas
Suncor Energy (TSX:SU,NYSE:SU) has decided to scrap its planned $11.6-billion plant, which is designed to convert raw bitumen into synthetic crude, reported The Financial Post. The shelving of the plant, a joint venture with France-based Total (NYSE:TOT,EPA:FP), will reduce Suncor's first-quarter 2013 income by $140 million; its cash flow will be decreased by $180 million. The company cited challenging market conditions as the reason for its decision — light oil production in the US is posing stiff competition to Albertan synthetic crude oil. "The shale revolution in the U.S. has changed that dynamic," stated Financial Post reporter Jeff Lewis.
Connacher Oil and Gas (TSX:CLL) reported its financial and operating results for 2012. Highlights include cash balances of $127 million, working capital of $112 million and long-term debt (second lien notes due in 2018 and 2019) totaling $850 million. At year end, the company's estimated proved (1P) bitumen reserves totaled approximately 214 million barrels, an increase of 22 percent over year-end 2011 volumes. Proven and probable reserve volumes totaled approximately 451 million barrels of bitumen. Production of bitumen in Q4 2012 decreased 9 percent from the same period in 2011, averaging 11,945 barrels a day.
Big Sky Petroleum (TSXV:BSP) announced a new NI 51-101 report for its Midland Basin Wolfcamp prospect in Schleicher County, Texas. The company currently holds a 90-percent working interest in 3,450 net acres of oil and gas leases in the County. The report is based on qualified reserves evaluator Petrotech Engineering's review of technical data, including geology, petrophysics logs and reservoir parameters.
Copper
SilverCrest Mines (TSXV:SVL,AMEX:SVLC) reported the filing on SEDAR of a NI 43-101 compliant updated resource estimate and technical report on its La Joya property in Durango, Mexico. The report includes preliminary metallurgical test results.
McEwen Mining (NYSE:MUX,TSX:MUX) announced assay results for nine new core holes from the Los Azules copper project in San Juan Province, Argentina. They demonstrate that there is excellent potential to increase the size of the resource. Highlights include drill hole 1297, which returned 0.5-percent copper over 414 meters, including 1.07 percent over 54 meters. Drilling continues to intersect significant intercepts of high- to medium-grade copper mineralization over long intervals west of the original deposit. In addition, the mineralization has been successfully extended at depth.
China's largest copper producer Jiangxi Copper (HKEX:0358,SSE:600362) recorded H2 2012 profits of 2.5 billion yuan ($402 million), a 10-percent gain over the same period in 2011, citing increased production, reported Bloomberg. Production capacity of copper concentrates jumped 33 percent, to 224,000 metric tons, following 2010 and 2011 mine expansions.
Columbus Copper (TSXV:CCU) reported that drill-hole KDH-024 from the ongoing diamond drilling program at its 100-percent owned Karapinar copper-molybdenum project in Turkey has returned 59.9 meters of 0.55-percent copper and 0.06 g/t gold from 219.1 meters depth. That includes 35.4 meters from 220.1 meters grading 0.67 -percent copper and 0.09 g/t gold and 9.4 meters from 235.1 meters grading 1.27-percent copper and 0.14 g/t gold. First Quantum Minerals (TSX:FM,LSE:FQM) has been granted an option to earn an initial 51-percent interest in Karapinar and is funding the work program. An airborne magnetics and radiometrics survey is expected to resume in April/May 2013.
Securities Disclosure: I, Melissa Pistilli, hold no direct investment interest in any company mentioned in this article.