Weekly Round-Up: China, US Off to a Strong Start in 2013
The world's two biggest economies continued to show signs of recovery this week, helping lift resource prices.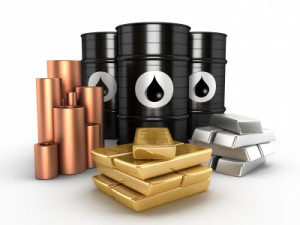 Commodities are ending the week higher on more good news from the world's two biggest economies. Rising tensions in Algeria and Mali also helped strengthen oil prices.
In the fourth quarter of 2012, China's economy expanded at an annualized rate of 7.9 percent compared to a year earlier. That topped analysts' expectations of 7.4-percent growth. For the full year, China's GDP increased 7.8 percent, which was down from 9.3 percent a year ago, but still ahead of the government's target of 7.5 percent.
The country's industrial output also increased 10.3 percent in December from a year earlier, posting a fourth consecutive month of gains.
Meanwhile, the US housing market continues to show strength: on Thursday, the Department of Commerce said the country's builders started construction on a seasonally adjusted 954,000 new homes in December. That's up 12.1 percent from November and 36.9 percent from December 2011. At the same time, the number of Americans seeking jobless benefits fell by 37,000 last week to a seasonally adjusted 335,000 — a five-year low.
These gains were somewhat tempered by a decline in consumer confidence for January, with the preliminary number coming in at 71.3, down from December's final reading of 72.9 and below the level of 75 that economists were expecting.
Oil prices were also supported by unrest in Algeria after Islamist rebels took hostages at a gas plant in that country. The field is jointly owned by BP (NYSE:BP,LSE:BP), Norway's Statoil (NYSE:STO) and Sonatrach, an Algerian state-owned firm. "The latest news of the attacks put a geopolitical risk premium into [energy] pricing," analyst Victor Shum of research firm IHS Purvin and Gertz told Channel NewsAsia.
In morning trade Friday, Brent crude is down 0.23 percent at $110.85 a barrel, while copper is up 0.26 percent at $3.67 a pound. Gold is down 0.15 percent at $1,688.30 an ounce.
Gold
African Barrick Gold (LSE:ABG) produced 626,212 ounces of gold in 2012, down 9 percent from 688,278 ounces in 2011, according to a company press release. However, fourth-quarter output jumped 13 percent from a year ago, to 180,684 ounces, thanks to higher ore grades and improved mill throughput. Full-year sales were down 13 percent, to 609,252 ounces, but the company's average selling price rose 5 percent, to $1,688 per ounce.
Last week, Barrick Gold (TSX:ABX,NYSE:ABX,LSE:ABG) ended discussions to sell its stake in African Barrick to state-owned China National Gold after the companies were unable to reach a deal.
Alacer Gold (TSX:ASR) produced 381,738 ounces of gold at its mines in Australia and Turkey in 2012. That's just below its forecast output of 385,000 ounces, according to Mining Weekly. However, the company ended the year strongly, with fourth quarter attributable output hitting 103,426 ounces, up 14 percent from the previous quarter. A large part of that increase came from the company's Çöpler gold mine, which processed more ore at higher grades.
Oil and gas
Denbury Resources (NYSE:DNR) announced that it is buying 86,000 acres in Montana and North Dakota from ConocoPhillips (NYSE:COP) for $1.05 billion in cash. This acquisition includes additional stakes in properties the company already owns, as well as interests in other assets. Denbury will fund the purchase from the $1.3 billion it received from ExxonMobil (NYSE:XOM) in December in return for assets in the Bakken shale.
The company uses carbon dioxide to extract more oil from existing wells. The assets it purchased have proven reserves of 42 million barrels of oil equivalent (95 percent oil and 4 percent gas), and about 11,000 barrels per day of production. It aims to use its expertise to reverse a 7 to 9 percent annual production decline at these properties, according to a January 15 Bloomberg article.
Gazprom (MCX:GAZP,OTC Pink:OGZPY), Russia's leading natural gas producer, reported that its net income jumped to 305.1 billion rubles in the third quarter from 152 billion a year ago, Reuters reported. That topped analysts' expectations of 287 billion rubles. Revenue rose 16 percent, to 1.1 trillion rubles, again beating the consensus forecast of 971.5 billion.
However, cash flow plunged 32 percent, to 258.3 billion rubles. Capital spending also rose 10 percent from the second quarter, to 376.4 billion rubles. As well, Gazprom increased its capital spending estimate for the full year to $44 billion. That raised concerns that the company, which is spending heavily to boost its production, isn't doing a good job of controlling its costs.
Copper
Altona Mining (ASX:AOH) is looking for a new joint venture partner for its Roseby copper project in Australia — or an outright sale — after Xstrata (LSE:XTA) declined to exercise its option to purchase a 51-percent interest. Roseby contains 1.54 million metric tons of copper and 384,000 ounces of gold, according to a January 14 Bloomberg article. It is 95 kilometers northeast of Xstrata's Mount Isa project.
Zincore Metals (TSX:ZNC) announced that it has discovered copper mineralization at Trench Three, which is in a previously undrilled part of its Dolores copper-molybdenum porphyry property in Peru. Zincore is exploring the property under a joint venture with First Quantum Minerals (TSX:FM,LSE:FQM). Highlights of this drilling include 0.18 percent copper equivalent over 57 meters, including 0.44 percent copper equivalent over 17 meters and 0.77 percent over 9 meters.
The company is awaiting further results so it can formulate a new drilling program after Peru's rainy season.
Securities Disclosure: I, Chad Fraser, hold no positions in any of the companies mentioned in this article.