Algold Extends Tijirit's High-Grade Gold Mineralization at Depth
Nov. 07, 2017 06:45AM PST
Precious Metals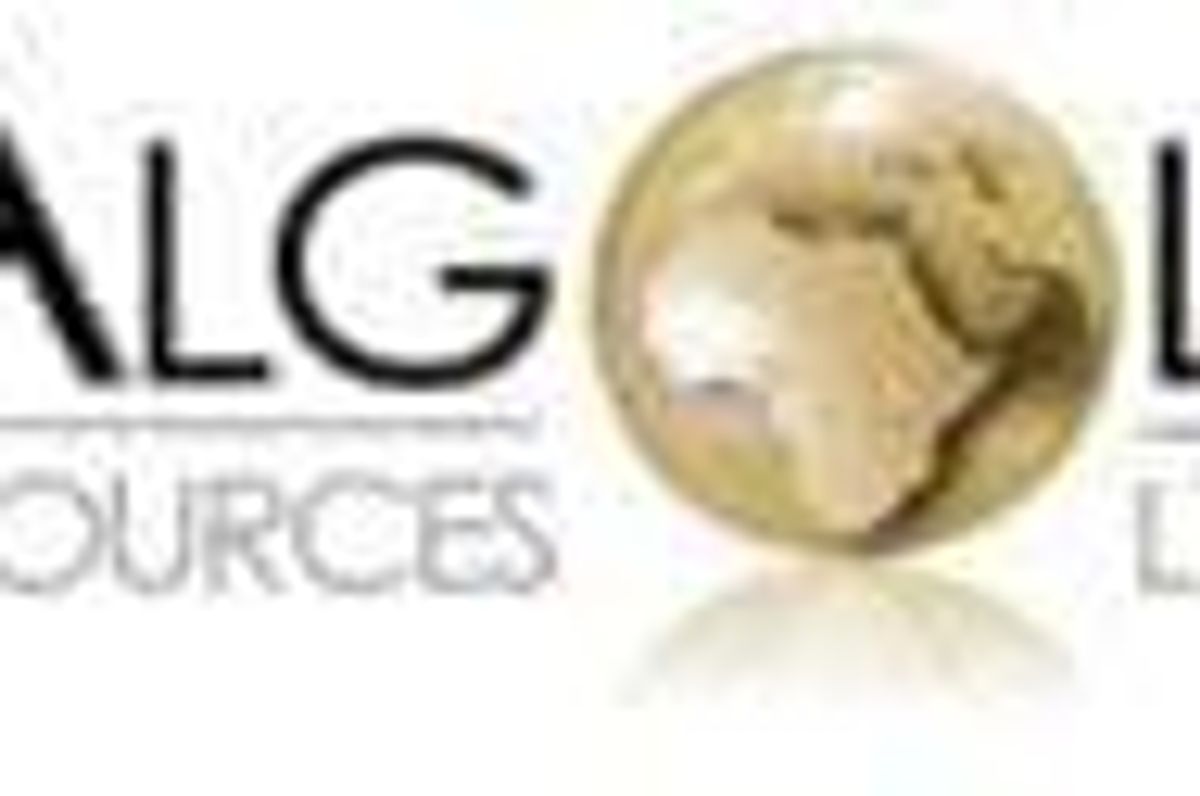 ALGOLD RESOURCES LTD. (TSXV: ALG) announced additional assay results from diamond ("DDH") and reverse-circulation ("RC") drilling carried out on its Tijirit property ("Tijirit") in Mauritania as part of the Corporation's Phase III 30,000-meter drilling program completed on August 25, 2017.
ALGOLD RESOURCES LTD. (TSXV:ALG – "Algold" or the "Corporation") today announced additional assay results from diamond ("DDH") and reverse-circulation ("RC") drilling carried out on its Tijirit property ("Tijirit") in Mauritania as part of the Corporation's Phase III 30,000-meter drilling program completed on August 25, 2017. The results, which include 6.14 g/t Au over 4 meters, continue to demonstrate the high-grade nature and the continuity of the mineralization, both near surface and at depth, over the 3.5-kilometer strike length of the Eleonore zone (Figure 1). Additionally, drilling results from the Lily and Sophie zones extended the width of the mineralization, thereby continuing to add significant gold ounces to the Tijirit project.
Highlights*
T17RC179 (Eleonore South) – 6.14 g/t Au over 4 m, including 21.30 g/t Au over 1 m, approximately 125 meters below the surface (Figure 2).
T17RC146 (Eleonore South) – 2.75 g/t Au over 8 m, approximately 115 meters below the surface (Figure 2).
T17DD010 (Eleonore South) – 7.74 g/t Au over 2.10 m, which is approximately 50 meters from T16RC104 (4.25 g/t Au over 3 m ), extended the strike length of mineralized zone.
T17DD018 (Lily) – 0.37 g/t Au over 111 m, including 1.11 g/t Au over 19.55 m, from 36.35 meters core length (Figure 3)
T17RC177 (Lily) – 0.34 g/t Au over 179 m, including 1.01 g/t Au over 17 m, from 138 meters hole length. This hole and subsequent holes drilled in the Lily area demonstrate the pervasive low-grade mineralization of the Lily gold zone (Figure 3).
*All intersections reported are down-hole lengths.
Eleonore South Zone
Hole T17RC179 was drilled 40 meters north of T17RC107 (6.84 g/t Au over 15 m and 2.16 g/t Au over 8 m; reference Algold's press release dated September 12, 2017) and T17RD044 (5.81 g/t Au over 3.05 m; reference Algold's press release dated September 12, 2017) and 50 meters below T17RC045 (2.24 g/t Au over 2 m and 14.15 g/t Au over 10 m; reference Algold's press release dated April 25, 2017). Two significant mineralized zones were intersected, which correlate with mineralization discovered in the surrounding holes.  The structure remains open along strike to the north and at depth.
Hole T17RC146 is the up-dip extension of the visible-gold-bearing mineralization intersected in core hole T17RD139 (5.14g/t Au over 2.4m and 21.53 g/t Au over 1.8 m; reference Algold's press release dated September 12, 2017). The northern and down dip extensions of this mineralized zone are yet to be tested.
Eleonore North Zone
Hole T17RC111 (1.44 g/t Au over 5 m), located 50 meters northeast of T17RC084 (3.05 g/t Au over 21 m; reference Algold's press release dated May 23, 2017) confirmed the northern extension of this zone, which remains open at depth. Further drilling will be required to test this structure to the north (Figure 4).
Sophie II & III Zones
The banded iron formation (BIF) continues to be the main exploration target at Sophie II, with recent drilling extending the mineralization at depth over the 1.5-kilometer strike length currently defined by drilling. Hole T17RC173 intersected mineralization approximately 70 meters below surface. The BIF structure, as defined by surface mapping and geophysics, is part of a more than five-kilometer-long soil anomaly and remains a significant exploration target.
Wide, lower-grade BIF-associated mineralization was intersected at Sophie III, extending the mineralization at depth. In addition, new BIF-associated anomalies one kilometer southwest of the known Sophie III mineralization were drill tested, the results of which returned values up to 0.7 g/t Au over 4 m.
Lily Zone
Drilling at the Lily gold zone has continued to establish a wide mineralization style, with current testing supporting a 1.4-kilometer strike length.  In the thickest sequences, mineralization occurs over a true width of 130 meters.  Mineralization is associated with a lithological package that has undergone high-strain deformation and is sub-vertically dipping. Unlike Eleonore, visible gold is rarely observed with gold finely disseminated throughout the package (refer to Image 1 here: https://www.globenewswire.com/NewsRoom/AttachmentNg/d71993a3-7d6c-4d54-9c7a-e470391c1868).
Table 1: Assay Results – Phase III Drilling Program
Hole ID
Prospect
East
UTM
North
UTM
From
(m)
To
(m)
Vertical
Depth* 
(m)
Average
Grade **
(g/t Au)
Width ***
(m)
T17RC111
Eleonore N
482498
2250588
80.00
85.00
62.93
1.44
5.00
T17RC179
Eleonore S
481797
2249200
125.00
130.00
97.63
1.27
5.00
139.00
140.00
106.94
2.29
1.00
164.00
168.00
127.75
6.14
4.00
Including
 
166.00
167.00
127.00
21.30
1.00
T17RC180
Eleonore S
481930
2248597
56.00
59.00
44.85
1.87
3.00
T17DD010
Eleonore S
481967
2249008
95.00
97.10
73.45
7.74
2.10
T17RC146
Eleonore S
481734
2248732
152.00
160.00
116.97
2.75
8.00
T17RC154
Eleonore S
481554
2248683
56.00
58.00
44.72
2.64
2.00
T17RC173
Sophie II
475664
2250793
142.00
147.00
105.01
1.35
5.00
T17RD165
Sophie III
475466
2248693
92.00
95.00
71.33
1.32
3.00
T17RC177
Lily
476595
2245298
138.00
318.00
107.00
0.34
179.00
Including
 
194.00
211.00
156.12
1.01
17.00
T17DD018
Lily
476503
2245356
36.35
147.71
28.00
0.37
111.36
Including
 
45.45
65.00
41.50
1.11
19.55
*Vertical depth of intersection below RL collar.
**Weighted average grade, composite based on a minimum grade of 0.3 g/t Au with an internal dilution of 0.005 g/t Au over 2 m and an edge grade of 0.25 g/t Au permitted. For the Lily deposit, lower grade dilution was included.
***Width, believed to be close to true width.
No capping of higher values has been applied.
Note: Complete assay results are available on Algold's website (www.algold.com).
As of November 1, 2017, Algold collected 16,188 samples (excluding QA/QC) as part of the Phase III drilling program, with 15,363 samples having been sent to the SGS Bamako facilities for analysis. Algold is in receipt of 14,545 assay results, with 1,643 drill samples still pending and under preparation (excluding QA/QC).  Sampling of previously untested core drilling from 2016 and 2017 as well as resampling of select RC intervals is currently underway.  Accordingly, a further 2,643 (excluding QA/QC) samples have yet to be analyzed.
Detailed geological descriptions of all mineralized zones can be found on Algold's website (www.algold.com) and on SEDAR (www.sedar.com) in the report entitled, "Algold 43-101 Technical Report: Tijirit Maiden Mineral Resources Estimates for the Tijirit Gold Project in Mauritania".
Quality Assurance / Quality Control (QA/QC)
Analytical work for drill core and chips, geochemical samples and rock chip samples is carried out at the independent SGS Laboratories Ltd. in Bamako, Mali.  The 50 g fire assay with ASS finish analytical services are accredited by SANAS and are carried out with a quality assurance protocol in line with ISO 17025:2005. Samples are stored at the Corporation's field camps and put into sealed bags until delivered by a geologist on behalf of Algold to the laboratory in Bamako, Mali, where samples are prepared and analyzed. Until the end of 2016, samples were analyzed at ALS's facility in Loughrea, Ireland. Beginning in 2017, samples are analyzed at SGS Laboratory, Bamako. Samples are logged in the tracking system, weighed, dried and finely crushed to better than 70%, passing a 2 mm (Tyler 9 mesh, US Std. No.10) screen. A split of up to 1,000 g is taken and pulverized to better than 85%, passing a 75-micron (Tyler 200 mesh) screen, and a 50-gram split is analyzed by fire assay with an AA finish.  Anomalous samples greater than 5 g/t Au are re-analyzed by 50 g fire assay with gravimetric finish.  Selected samples may be re-analyzed using a 1 kg cyanide leach (Bottle Roll) using "LeachWELL" or the 1 kg screen fire assay method.  Blanks, duplicates and certified reference material (standards) are inserted to monitor laboratory performance during the analysis.
This press release has been reviewed for accuracy and compliance under National Instrument 43-101 by André Ciesielski, DSc., PGeo., Algold Resources Ltd Lead Consulting Geologist and Qualified Person, and Alastair Gallaugher, C.Geo. (Chartered Geologist and Fellow of the Geological Society of London), BSc. Geology, Algold's Exploration Manager in Mauritania, Qualified Persons as defined by NI 43−101 Standards of Disclosure for Mineral Projects. André Ciesielski has further approved the scientific and technical disclosure in the news release.
ABOUT ALGOLD
Algold Resources Ltd is focused on the exploration and development of gold deposits in West Africa. The board of directors and management team are seasoned resource industry professionals with extensive experience in the exploration and development of world-class gold projects in Africa.
FORWARD-LOOKING INFORMATION
This press release contains and refers to forward-looking information based on current expectations. All other statements other than statements of historical fact included in this release are forward-looking statements (or forward-looking information). The Corporation's plans involve various estimates and assumptions and its business is subject to various risks and uncertainties. For more details on these estimates, assumptions, risks and uncertainties, see the Corporation's most recent Management Discussion and Analysis on file with the Canadian provincial securities regulatory authorities on SEDAR at www.sedar.com. These forward-looking statements are made as of the date hereof and there can be no assurance that such statements will prove to be accurate. Forward-looking statements are subject to significant risks and uncertainties, and actual results and future events could differ materially from those anticipated in such statements. Accordingly, readers should not place undue reliance on forward-looking statements that are included herein, except in accordance with applicable securities laws.
Neither TSX Venture Exchange nor its Regulation Services Provider (as that term is defined in policies of the TSX Venture Exchange) accepts responsibility for the adequacy or accuracy of this release.
For further information, please contact:
Algold Resources Ltd.
1320, boul. Graham, bureau 132, Mont-Royal, Québec, H3P 3C8, www.algold.com
François Auclair M.Sc., PGeo
President & Chief Executive Officer
f.auclair@algold.com
+1 (514) 889 5089
Alex Ball
Executive VP, Finance and Corporate Development
a.ball@algold.com
+1 (647) 919 2227
Click here to connect with Algold Resources Ltd. (TSXV:ALG) for an Investor Presentation
Source: globenewswire.ca
Investing News Network websites or approved third-party tools use cookies. Please refer to the cookie policy for collected data, privacy and GDPR compliance. By continuing to browse the site, you agree to our use of cookies.