Mongolian Coal Mining in Question
In the wake of the turbulence surrounding Ivanhoe Mines Ltd share in Mongolia's Oyu Tolgoi copper and gold mine, uncertainty remains as Mongolia aims to bring its massive untapped coal to the world.
By James Wellstead – Exclusive to Coal Investing News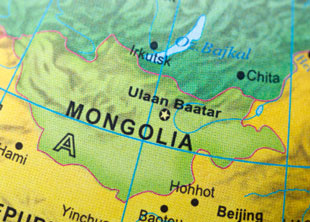 In the wake of the turbulence surrounding Ivanhoe Mines Ltd (TSX:IVN) share in Mongolia's Oyu Tolgoi copper and gold mine, uncertainty remains as Mongolia aims to bring its massive untapped coal to the world.
Concerns over the fate of Mongolian copper and gold mining were placed on the world stage last week as the government announced that it would consider altering the country's share from 34 percent to 50 percent outlined in the 2009 investment agreement with Vancouver-based miner Ivanhoe. The Mongolian government, Ivanhoe and Rio Tinto (NYSE:RIO) – a 48.5 percent owner of Ivanhoe – settled the air today when they issued a joint statement today stating they had reached an agreement which will leave the 2009 Investment Agreement unaltered.
However, the impacts on investor confidence in moving forward on Mongolia's approximate 100 million tons of coal reserves are unknown. Of immediate concern is the impact on plans to raise billions of dollars through a multinational offering of shares in its huge coal project, Tavan Tolgoi, in South Gobi province along the Chinese border. With more than 6 billion tons of coal, Tavan Tolgoi has drawn international attention as one of the world's biggest untapped coal resources.
Bloomberg recently reported that the upcoming IPO for stakes in the publicly owned Erdenes Tavan Tolgoi coal-mining company are expected to garner as much as US $3 billion which Khurelbaatar Chimed, Minister of Mongolia and Chief of the Cabinet Office said will "most likely…happen next year." Reuters suggested the IPO figure for all stakes in Tavan Tolgoi could come in somewhere closer to the US $15 billion mark.
While shares in the government owned project are likely to draw much international investment appetite, the desire for increased foreign-led project development is less certain. Earlier this month, a National Security Council in Mongolia rejected a tentative deal with China Shenhua Energy Co., Peabody Energy Corp (NYSE:BTU)., and a Russian-Mongolian group who had won a bid to expand the development of the Tavan Tolgoi deposit. While no details were given about the decision, the Mongolian government has received domestic criticism over the perception that the country has handed over too much of their prized assets to foreign companies.
An Ulan Bator-based analyst familiar with the issue recently told Agence France-Press the Council's rejection of the deal was likely motivated by a desire to score points with the electorate. While the project is expected to proceed, more roadblocks are expected in the development of a resource expected to last 100 years.
Mongolian priorities
Mongolia's coal production doubled last year to 25 million metric tons to become the nation's top export earner. The government is intent on developing a coal industry within the country but it wants to ensure that the country pursues a diversified economy outside of the mining sector. Puntsag Tsagaan, the Mognolian President's senior adviser, recently told Reuters "I don't want my children and my grandchildren to live in a different country called Minegolia."
While mining projects are bringing significant changes to the predominantly rural and sparsely populated North Asian country, political concerns raised in the build up to next years election will be focused on ensuring robust domestic economic growth and a share in the profits.
Despite these challenges for both miners and Mongolian parliamentarians, a number of projects are already underway in the country. SouthGobi Resources Ltd. (TSX:SGQ), a coking coal producer is producing almost 6 million tons from its Ovoot Tolgoi mine each year with its Soumber and Tsagaan Tolgoi sites in the pipeline having already receiving mining permits.
Some have suggested SouthGobi as a likely target for companies who would rather buy than build their way into Mongolia's coal industry within the next 6 to 12 months. Analysts suggest that buying into existing developments would be a lot easier and less costly than attempting to build projects which are currently very politically sensitive. The next 6 months will be very important for the country as it dives head first into the life changing development of its natural resources.
Securities Disclosure: I, James Wellstead, hold no direct investment interest in any company mentioned in this article.