Coalview's David Schwedel Talks Coal Fines Clean Up
Coal Investing News recently spoke with David Schwedel, founder and lead investor of Coalview, about why it's important to recover coal fines and how it's done. He also touches on why he believes a positive future is in store for the much-maligned fuel.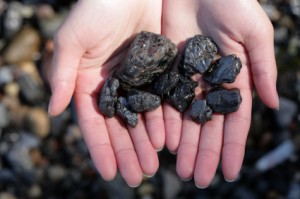 Coal has a bad rap due to the air pollution it causes, but what's perhaps less well known is that a fair amount of waste material is generated when the fuel is processed in coal preparation plants. Fortunately, the second issue is one that's being addressed by Coalview, a company that focuses on the design, development and operation of coal fines recovery plants. 
In the interview below, David Schwedel, Coalview's founder and lead investor, explains what coal fines are and why it's important to recover them, also touching on the process his company uses to do so. In addition, he discusses why he thinks coal will continue to be used in the years to come.
Coal Investing News: Starting off with an easy question, can you tell me what coal fines are?

DS: When you mine coal, typically 17 to 20 percent of what comes into the prep plant is considered waste. The coal-sized fractions aren't large enough to pass through the prep plant, so they are part of the waste stream that is then sent into an impoundment. The impoundment is basically an area where this coal waste is deposited for an indefinite period of time. It could be there for the life of the mine — some impoundments around North America have been in existence for decades.
Fine coal recovery plants are designed to be put in place at such impoundments; they basically extract the coal that was left behind and enable property owners to responsibly handle their reclamation responsibilities. They also allow existing coal operators to extend the life of their impoundment, sometimes by decades. That's important because sometimes the remaining coal that's in a mine will exceed the space available in the impoundment.
CIN: Why is it important to recover coal fines?
DS: Imagine you're driving down the road with a stack of loonies and 1 to 10 percent or more of the money flies out the window. Wouldn't it be great if it ended up in the trunk of your car rather than at the side of the road?
It's the same idea with coal fines — a lot of coal companies all over the world are writing off an asset when they don't have to. For example, with TransAlta's (TSX:TA,NYSE:TAC) Centralia mine, we anticipate recovering somewhere in the neighborhood of 3.5 million tonnes of coal. At today's prices that's valued at roughly $175 million.
CIN: Do you see this recovery as a step toward making coal more environmentally sound?
DS: I wouldn't put it that way. We're not doing anything to enhance the quality of coal; what we're doing is allowing coal companies to offset the cost of their reclamation activities by capturing coal that has been left behind.
That said, there are technologies that we're investing in today that will enable us to take these coal fines and blend them with biomass and other materials to create a coal product that can be used to lower carbon monoxide emissions by as much as 48 percent or more. The Department of Energy has done testing on this product already.
CIN: Can you describe in layman's terms the process you use to recover coal fines?
DS: Let me give you a basic visual concept. Think of a coal mine with a big hole in the ground next to it — that would be the impoundment where waste is disposed. Between these two areas is where we would conduct our fine coal recovery operation.
What happens over time to a lot of impoundments is that they wind up becoming lakes due to snow and rain. Some of them can be 200 feet deep in places. What we do is go in and siphon out a slurry component. It's a mixture of coal, waste and water, kind of a muck. That slurry is taken up through our dredge pipe and then pumped into our fine coal recovery plant for processing.
Now, you may have heard of a lettuce centrifuge; wet lettuce is put inside the centrifuge, and when it's spun around, the water comes out the sides and the lettuce starts to dry. We do exactly the same thing. The slurry goes through a series of centrifuges, cyclones and spirals to remove water and separate the coal fractions.
From there, we have proprietary technologies that enable us to take the coal-sized fractions and deliver them outside to a loading bin. The water that comes out of our plant is potable; it goes right back into a fresh lake area — with an ordinary Brita or Culligan water filter it is suitable to drink on the spot.
CIN: How do you evaluate the viability of a recovery project?
DS: We complete a series of steps. We have our own in-house lab and proprietary techniques to assess what's in an impoundment. What we do is basically drill out the impoundment and take samples. Those samples are sent back to our in-house lab in Somerset, Pennsylvania, and we do a yield analysis there that confirms what type of coal has been left behind and how much coal is in the impoundment. In essence, it comes down to identifying quantity and yield; how much is there and how much is recoverable.
CIN: Are you typically approached by companies before or after they've completed mining at a site?
DS: We are contacted when a company is entering the mine development stage, or later in the lifecycle when the company is processing coal or concerned with impoundment issues.
CIN: Your website states that Coalview's technologies are available to companies across the world. Can you tell me what countries you see the most interest from?
DS: We've seen a lot of interest start to come in from places like the United Kingdom, Indonesia, Mexico, Poland and Germany. We've also fielded inquiries from China, Australia and Canada.
CIN: What projects are you working on currently?
DS: The primary project we're working focused on today is the Centralia project, which is a TransAlta project. We completed a $42-million financing for Centralia on December 20, 2013, and all of our efforts are focused there.
We have a business development team that's starting to work on assessing which project we should take on next. There is a lot of demand internationally and domestically. We're trying to prioritize based on several parameters, but it primarily has to do with the viability of those projects.
CIN: Is there anything else you'd like to add?
DS: Our focus is on developing projects where we can make coal a better fuel product by applying technologies that we own or have developed.
In the future, we hope to be able to apply technologies to capture resources that have been left behind at the impoundment level. Looking further ahead, we'd like to be able to capture them as they come directly out of the preparation plant. Obviously we also want to apply technologies that can make coal more environmentally sustainable. There are naysayers, but the bottom line is that there are technologies that can be applied to make coal an environmentally better fuel choice than other fuel sources. We hope to be a front runner in this change.
CIN: Right, I know that's important as concerns about coal's environmental impact have led to debate about whether coal use will continue or not. What do you think about that?
DS: I'm asked that question a lot, and I think the best way to look at it is not from the coal industry's point of view, but from the oil sector's.
In its investor presentation at last year's Goldman Sachs (NYSE:GS) conference, ExxonMobil (NYSE:XOM) gave its view on the energy world for the next 40 years, highlighting three key sources of fuel: oil, coal and natural gas. If you look at the charts they showed, you'll see that there will be subtle declines in coal 40 years out, but nothing significant. And when you look at renewables on that same chart, they're barely a blip on the screen for the next 40 years. It's not because these technologies aren't viable as standalones, but you can't get away from coal, oil and natural gas due to the infrastructure that's in place, as well as transmission advantages and cost. It also has to do with volume — it's very hard to run a city on solar energy. Let's face it. The sun doesn't always shine, and the wind isn't always blowing.
And you know, if the coal industry can produce technologies that allow coal to be used with a net neutral impact on the environment, then you're going to see a dramatic uptick in coal prices. For example, if you look at the Illinois Basin, it has a low-quality coal that has high sulfur; it's only recently started to be used more because of new scrubber technology that's been installed at utility plants. It basically eliminates somewhere between 94 and 98 percent of the sulfur that comes out of the stacks. So that makes that coal useable again in a region that wrote it off, and as time goes on it's going to continue to be used. The company that can help that process — and at the same time be a good steward of the environment — will be well rewarded. We are working hard to be that company.

Securities Disclosure: I, Charlotte McLeod, hold no direct investment interest in any company mentioned in this article. 
Interviews conducted by the Investing News Network are edited for clarity. The Investing News Network does not guarantee the accuracy or thoroughness of the information reported. The opinions expressed in these interviews do not reflect the opinions of the Investing News Network and do not constitute investment advice. All readers are encouraged to perform their own due diligence.