Jan. 13, 2021 01:10PM PST
Coal Investing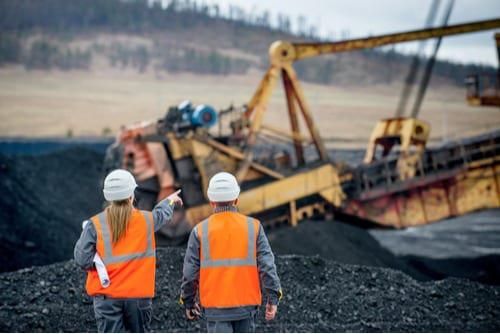 As the world moves towards green energy, what will happen to coal? Read on to learn what analysts see for the coal outlook in 2021.
Click here to read the latest coal outlook.
This time last year, many market watchers expected coal prices to remain steady, with demand estimated to remain stable throughout 2020.
But with renewable energy adoption continuing to grow as governments push for cleaner sources of power, many wonder what could be next for coal.
As the new year starts, what can investors expect in 2021? Read on to learn more about coal's performance in 2020, as well as what experts see coming for the future coal outlook.
---
Coal trends 2020: The year in review
As with almost every market in the resource space, coal had a tough start of 2020, with prices falling more than 20 percent in the second quarter on the back of the impact of the COVID-19 pandemic.
"The COVID-19 crisis has completely reshaped global coal markets. Before the pandemic, we expected a small rebound in coal demand in 2020, but we have since witnessed the largest drop in coal consumption since the Second World War," said Keisuke Sadamori, the International Energy Agency's (IEA) director of energy markets and security. "The decline would have been even steeper without the strong economic rebound in China — the world's largest coal consumer — in the second half of the year."
2019 and 2020 coal price performance. Chart via the World Bank.
Measures to slow the transmission of COVID-19, notably in the first half of 2020, resulted in an unusual drop in electricity demand, the IEA's coal 2020 report states.
This in turn significantly affected the use of coal for power generation ― a trend that was compounded by low natural gas prices. Global coal consumption is estimated to have fallen by 7 percent, or over 500 million tonnes, between 2018 and 2020.
"Demand for coal has tumbled this year, with the COVID-19 pandemic accelerating an existing trend of declining coal consumption in favor of natural gas and renewables," a report from the World Bank reads.
The second half of the year saw prices stabilize in Q3, but they continued to decline in Q4, having a brief rebound before the year end.
"Low natural gas prices in 2020 have also accelerated coal-to-gas switching," the World Bank report says. "All major coal producers reduced production in response to the fall in demand, led by Colombia (in part due to labor disputes), Indonesia, and the United States."
Reflecting these developments, the share of coal in primary energy consumption in the US dropped below renewables for the first time.
According to estimates from the US Energy Information Administration (EIA), US coal production fell by 168 million short tons (MMst) (24 percent) in 2020 to total 537 MMst for the year. Meanwhile, the EIA estimates that coal consumption for all sectors totaled 476 MMst in 2020, a 110 MMst (19 percent) decline from the previous year.
"Because of reduced demand from major international consumers, EIA estimates total US coal exports declined by 26 MMst (28 percent) in 2020 to 66 MMst. This total is the second-lowest annual amount exported over the past 10 years," the EIA's short-term energy outlook for coal reads.
Coal outlook 2021: What's ahead
As the new year kicks off, experts predict 2021 could bring a brief rebound in demand, but the long-term trend could be tough for the coal space.
"Based on the assumption of a global economic recovery in 2021, we expect both electricity demand and industrial output to increase," the IEA report says.
As a result, the agency forecasts a rebound in global coal demand of 2.6 percent, led by China, India and Southeast Asia. But the recovery is expected to be short-lived.
"Renewables are on track to surpass coal as the largest source of electricity in the world by 2025. And by that time, natural gas will likely have taken over coal as the second largest source of primary energy after oil," said the IEA's Sadamori. "But with coal demand still expected to remain steady or to grow in key Asian economies, there is no sign that coal is going to fade away quickly."
According to the IEA, the future of coal will largely be decided in Asia. Today, China and India account for 65 percent of global coal demand. With Japan, Korea, Taiwan and Southeast Asia included, that share rises to a sizeable 75 percent.
"Looking ahead, a concerted effort by governments to implement 'green' COVID-19 recovery packages could further benefit renewables at the expense of coal (and to a lesser extent, natural gas, particularly where gas extraction results in significant methane emissions), although progress to date has been mixed," according to the World Bank.
In the near term, another factor driving uncertainty is lower imports of Australian coal by China.
"While we expect a recovery in the international coal trade in 2021, supported by increased global demand, the medium-term outlook is highly uncertain," the IEA explains. "This is particularly the case with regard to the evolution of Chinese import policies and developments in India's indigenous thermal coal production."
Tensions between Australia and China could hurt Australian coal producers, with the government saying miners may have to start cutting output if China maintains limits on imports from them.
"The bottom line for Australian coal producers is lower profitability and the likelihood of production cuts the longer the Chinese restrictions remain in place," the Australian Department of Industry comments in its quarterly resources and energy outlook.
China is the world's top consumer and producer of coal, and the second biggest buyer of Australia's thermal coal, which is burned in power plants, and metallurgical coal, used to make steel.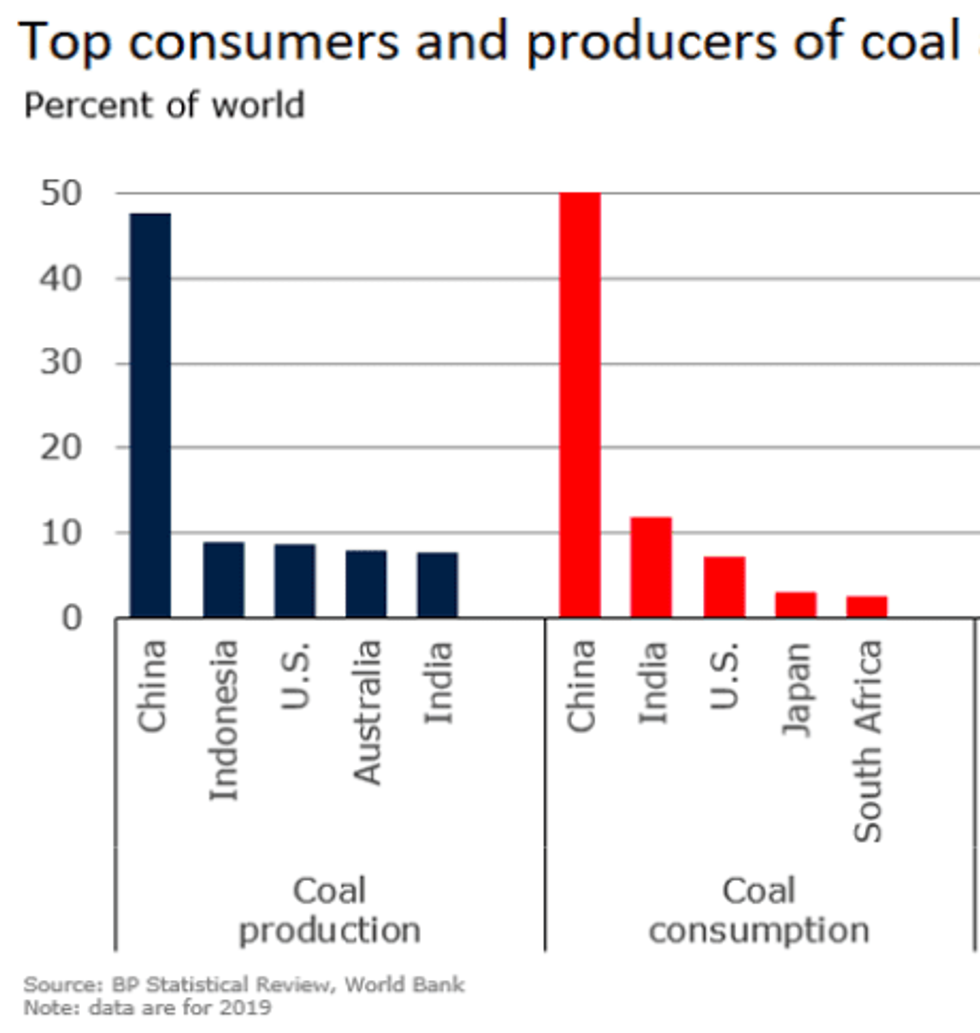 Top consumers and producers of coal. Chart via the World Bank.
By the end of 2020, prices for Australian thermal coal were on the up, likely buoyed by an improved demand outlook and tighter supply expectations, according to FocusEconomics analysts.
"Market fundamentals improved and supported prices in the past month, despite the ongoing import restrictions in China — the key export market of the commodity," they said in a December report. "Greater demand from other countries such as Japan and Korea likely added some upward price pressure, while at the same time, thermal coal supplies tightened due to storms in Australia preventing the loading and sending of shipments."
Panelists polled by FocusEconomics expect thermal coal prices to average US$62.60 per metric ton in Q4 2021 and US$63.80 in Q4 2022.
Meanwhile, Australian coking coal prices remained under pressure from import restrictions in China, despite a pickup in demand from India.
"The pandemic and the Chinese crackdown on Australian coking coal imports drastically lowered demand in recent weeks as the Asian country is the key export market, while funding for cleaner energy sources in other markets likely weighed on demand prospects, further dragging on prices," FocusEconomics analysts said.
Coking coal is expected to rise notably by the end of next year as the global economy gains traction, with recent positive news regarding COVID-19 vaccines adding further bullish sentiment. FocusEconomics panelists forecast prices to average US$141 per metric ton in Q4 2021 and US$147 in Q4 2022.
Don't forget to follow us @INN_Resource for real-time news updates!
Securities Disclosure: I, Priscila Barrera, hold no direct investment interest in any company mentioned in this article.
Investing News Network websites or approved third-party tools use cookies. Please refer to the  cookie policy for collected data, privacy and GDPR compliance. By continuing to browse the site, you agree to our use of cookies.