Weak Rupee Pushing Indian Jewelers from Gold to Diamonds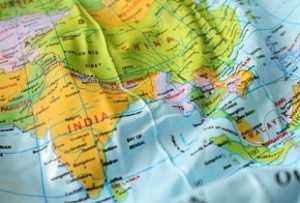 As Diamond Investing News reported last month, investors' interest in diamonds as a physical investment is growing as precious metals prices struggle to rise. 
However, it is not only investment-quality diamonds that are receiving increased attention. A weak rupee, coupled with low gold prices, is forcing Indian jewelers to push sales of diamond jewelry, and as a result, smaller, less valuable diamonds are also in the spotlight.
Pushing for profit
As The Economic Times explains, though gold prices have certainly fallen — 23 percent in 2013′s second quarter — Indian buyers have not been able to buy the metal cheaply for two main reasons. First, the rupee fell 10 percent during the same period, and second, taxes and import restrictions have made it harder for buyers to get their hands on the yellow metal. As Silver Investing News notes in a recent article, in May, the Indian government raised the gold import duty to 8 percent from 6 percent as part of its "drastic measures to redirect [gold] investment back into the economy." Further, lending against gold, including gold jewelry and gold exchange-traded funds, has been restricted, while Reliance Capital and the All India Gems & Jewellery Trade Federation are attempting to curb sales of gold and gold-related products.
Faced with these circumstances, Indian jewelers are turning to "diamond jewellery and innovative products that will ensure value addition of 25-30%," according to The Economic Times. As a group, these retailers appear to view the shift in focus as a survival strategy: Rajiv Popley, director of Mumbai's Popley & Sons, told the news outlet, "we have decided to push diamond jewellery with less gold content and [are] also offering entry level products which have low labour charge. So we are reorienting business strategy for the time being to survive," while Vijay Jain, CEO and director of Orra, commented, "[w]e will focus more on diamonds. Globally people have shifted from pure gold to diamond jewellery and this trend is already setting in India. Our global designers are working on traditional Indian designs so that we do not lose our customer base in this scenario."
Cutters, polishers close down; diamond traders default
Yet as jewelers make the shift toward diamonds, India's diamond cutters and polishers are facing difficulties. For one, 1,200 owners of Surat-based small and medium diamond units have closed shop because the depreciating rupee has rendered them unable to purchase rough stones to cut and polish, The Times of India reported at the end of last month. That has left about 25,000 workers jobless.
Speaking about the development, Babu Lekhadia, a small diamond entrepreneur in Varachha, commented, "[w]e have to buy rough diamonds in dollars, which is very expensive at the moment. It is better to shut down the unit and wait for the rupee to recover." Unfortunately, Dinesh Navadia, president of the Surat Diamond Association (SDA), believes that if the rupee does not recover quickly, these diamond workers will not fare well in the future.
Indian diamond traders are also feeling the ill effects of the depreciating rupee. Just a couple of weeks ago, The Times of India noted that two diamond traders have defaulted on their payments, disappearing from the market and leaving "dozens of diamond manufacturers in the lurch." The reason for the defaults, according to the news outlet, is that polished diamond traders do not want to make payments in rupees, the currency that many small and medium diamond manufacturers use.
Though no more defaults have since been reported, fear of them is reportedly "looming large."
Where will the diamonds come from?
With diamond cutters and polishers closing down and diamond traders defaulting, where will jewelers get the diamonds they are looking for?
For now, it appears that at least some demand will be met by small cutting and polishing units in India's tribal areas. In the wake of the closures in Surat, more workers have been joining these units, which process "near gem quality low-cost diamonds known as 'star' and 'melee,'" according to The Times of India. In previous months, they saw about 50 new workers, but in the past eight weeks that number has risen to 80.
Highlighting those gains, Kishore Patel, a small unit owner from Surat, commented, "[t]wo years ago, I had started with 40 tribal workers. There are more than 300 workers in my unit at present. Every month four tribal artisans join the unit. There is no effect of rupee depreciation."
It remains to be seen whether supply from these units will be enough to sate jewelers' needs.
Securities Disclosure: I, Charlotte McLeod, hold no direct investment interest in any company mentioned in this article. 
Related reading: 
Are Diamonds Really "Bullshit"?
Will Indian Silver Imports Reach a Record in 2013?