Stornoway Secures Nearly $1 Billion to Build Quebec's First Diamond Mine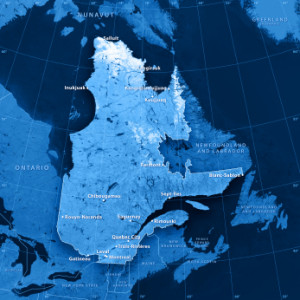 Quebec's first diamond mine moved a step closer to becoming a reality yesterday when Stornoway Diamond (TSX:SWY) announced the arrangement of a series of transactions aimed at funding its Renard project through to production. 
Specifically, a binding financing commitment agreement lays out a proposed plan that will see three parties direct $944 million toward the project. A Financial Times article breaks down their contributions as follows:
Private equity firm Orion Co-Investments I "is buying US$110-million worth of equity and paying US$200-million up front" in exchange for a 16-percent streaming interest in the diamonds produced at Renard. Further, it's "making a US$50-million convertible unsecured loan at a 6.25% interest rate." 

The Quebec government (by way of Investissement Quebec subsidiary Ressources Quebec) "is taking $100-million of equity by way of a private placement." In addition, it will provide "a $100-million secured loan and promising a separate $20-million loan for cost overruns."
Institutional investor Caisse de depot et placement du Quebec "is taking equity worth $22-million, paying US$50-million up front for a 4% streaming interest, and committing a $28-million loan."
Each transaction is "conditional upon the completion of the others," the company's press release explains, as well as on "the successful completion of the marketed subscription receipt offering," the approval of Stornoway's shareholders and the settlement of definitive agreements. That, an analyst told the Financial Times, is an issue in that "[the financing] is sort of like a domino game. If one falls, so do the rest. Everything has to go in synch here."
However, BMO Capital Markets analyst Edward Sterck pointed out to the publication that without it, "Stornoway and its shareholders would likely continue to tread water, with the risk that Renard is continually delayed." As a result, he believes that overall the deal — which Stornoway claims is the largest ever of its kind for a publicly listed diamond company — is positive.
Shareholders seem to agree. Shares of Stornoway jumped to $1.10 each early today, about a 13-percent rise from the previous day. That activity is unsurprising given that speculation about yesterday's news has been rife since the end of March, when the company addressed unusual trading activity in its common shares by commenting that a financing plan for Renard was in the works.
In terms of what's next for Stornoway, Matt Manson, the company's president and CEO, said it will be "presenting the financing of Quebec's first diamond mine for approval by shareholders at a special meeting to be held in Montreal at the end of May 2014." It expects the financing transactions to close the month after that, after which time project construction will begin.
Plant commissioning is expected in the third quarter of 2016, and commercial production should be achieved by 2017's second quarter. That's about 11 months later than is outlined in the company's January 2013 optimized feasibility study, but the company sees the short delay as a fair trade off for the comprehensive funding package. All told, Renard is expected to produce 1.6 million carats per year over the course of an 11-year reserve-based mine life.
Shares of Stornoway are currently selling for $1.02 each.
Securities Disclosure: I, Charlotte McLeod, hold no direct investment interest in any company mentioned in this article. 
Editorial Disclosure: Stornoway Diamonds is a client of the Investing News Network. This article is not paid-for content.