Diamond Outlook 2018: Experts Optimistic in the Short Term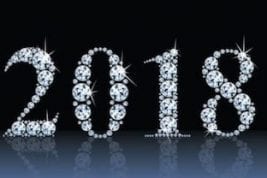 It was an interesting year for the diamond market, but what is the diamond outlook for 2018? We asked experts to share their thoughts.
This time last year, many analysts were predicting a bright 2017 for diamonds. But despite a strong start to the year, the diamond market didn't perform as well as was expected in the second half.
Now as 2017 comes to a close, many investors are wondering what will happen to the market in the year ahead. Hopes are high for a better outlook, but do experts think that's a possibility?
Here, the Investing News Network looks at what happened in the diamond industry in 2017 and what market watchers expect to see in the space in the new year. Read on to learn what independent diamond analysts Paul Zimnisky and Edahn Golan had to say.

Diamond outlook 2018: A review of 2017 diamond trends
According to Zimnisky, one of the key trends seen this year in the diamond market has been miners unloading excess and lower-quality inventory accumulated post-demonetization in India a year ago.
"I did think that diamond demand [in 2017] would return following a relatively weak 2016, [but even though] the first half of the year was better than expected, the second half [was a] little disappointing," Zimnisky said.
Another trend seen this year has been a shift among American consumers towards smaller diamonds. Golan noted, "this impacted diamond supply, rough diamond prices and even jewelry design."
He also noted that polished prices continued to decline in 2017, something that has been going on for the last three years. "But during 2017, [prices] have reached a very low point, and it seems that there is little room for them to decline any further," Golan added.

At the end of 2016, the expert had two main concerns, both of which became a reality: the slowdown in diamond demand continued and consumer interest in lab-grown diamonds increased.
Looking over to the most important news in the industry, Zimnisky said Washington Corporations' takeover of Dominion Diamond for $1.2 billion was one of the top events.
"From an investor standpoint, the diamond-mining space in general has been relatively lethargic since 2014, but there is some good value out there and there are companies still generating cash even after a multi-year slump in diamond prices," Zimnisky said.
He added that Dominion was too cheap for too long. "It's reassuring that there is money out there aware and understanding of the value in this space," he said.
For his part, Golan said there have been many record-breaking sales of diamonds at Christie's and Sotheby's (NYSE:BID) in the past few years. "They have helped reinforce the positioning of diamonds as something special, aspirational. Each time such an exceptional auction concludes, the press coverage serves diamonds in a very positive way," he explained.

Diamond outlook 2018: Key factors to watch
It has been an interesting year for the diamond industry, but as 2017 comes to an end, what factors should investors keep an eye on? One of the key catalysts to watch in the diamond space in 2018 will be whether Alrosa (MCX:ALRS) will rebuild or close its Mir mine.
"If they close the mine it could be supportive of global supply/demand dynamics," said Zimnisky, explaining that the loss of that mine would almost offset the new incremental supply from Gahcho Kue this year, or the combined new supply from Renard and Liqhobong.
Zimnisky also suggested that investors watch the midstream segment, which is comprised of diamond manufacturers. "[They] are reportedly overstocked with polished at the moment, relative to normal levels, which could impact rough demand in the short to medium term," he said.
However, end-diamond-consumer demand appears to be "stable to good at the moment, led by a recovering China and a US market supported by a strong stock market and employment picture, and thus positive sentiment," Zimnisky added.
Similarly, Golan remains cautiously optimistic in the short term. "With the decline in polished diamond prices moderating in the past couple of months, and if the holiday sales go well, diamond prices may increase a little," he added.

Key factors he said to watch are financing, transparency and the distinction between natural diamonds and lab-grown. "Financing is shrinking and diamond manufacturers are finding it more and more difficult to operate. That said, if the diamond industry weans itself from financing, at least partially, it would do wonders for its fiscal health," said Golan, explaining that transparency is linked to financing.
"In a market where consumers are becoming more discerning about the source and ethical behavior of the products they buy, the diamond trade needs to prove that it meets the highest standards," he added, saying that the industry also needs to promote natural diamonds and lab-grown diamonds separately to avoid harming the former market.
As 2018 begins, there are some mining developments that diamond-focused investors should keep an eye on. For instance, Lucara Diamond (TSXV:LUC) is back to mining the South Lobe ore, the portion of the Karowe orebody that produced the Lesedi and Constellation diamonds.
"Along with new advanced large-stone recovery technology, I wouldn't be surprised if they recover another newsworthy diamond next year," Zimnisky said. He also expects to see some positive developments coming from the explorer/developer space in 2018.
"It would also be nice to see Peregrine Diamonds (TSX:PGD) and Kennady Diamonds (TSXV:KDI) partner up with a major to advance Chidliak and Kennady North; and North Arrow Minerals (TSXV:NAR) has a bunch of drill and bulk-sample catalysts pending in its portfolio of projects with world-class potential," he added.
Meanwhile, Golan said there are many opportunities in the market, firstly in buying diamonds as assets. "These are mainly top color diamonds (pink, blue, etc.) with the highest clarity/polishing. D color, flawless diamonds weighing 5 carats and above are also great assets and extremely rare," he added.
As the colored diamond market reaches a boiling point, Golan also believes the D/Fl diamonds will present a great option for appreciation.
Don't forget to follow us @INN_Resource for real-time news updates!
Securities Disclosure: I, Priscila Barrera, hold no direct investment interest in any company mentioned in this article.
Editorial Disclosure: The Investing News Network does not guarantee the accuracy or thoroughness of the information reported in the interviews it conducts. The opinions expressed in these interviews do not reflect the opinions of the Investing News Network and do not constitute investment advice. All readers are encouraged to perform their own due diligence.