Brown Diamonds Set to be the Next Big Thing
Colin Ferguson of Rare Investment believes that prices for brown diamonds will rise dramatically in the next five years.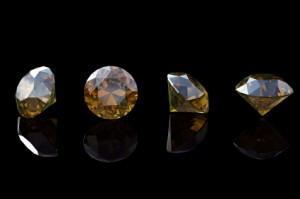 At a recent Due Diligence Tour offered by Rare Investment, a Vancouver-based firm focused on exposing clients to natural fancy colored diamonds and other rare jewel investments, Colin Ferguson, the company's founder, let attendees in on a surprising piece of information: brown diamonds are poised to be the next big thing in the diamond space.

The growing value of fancy colored diamonds, which make up just 2 percent of all diamonds, is no secret. In a Forbes article published last year, Leibish Polnauer, president and founder of Leibish & Co., noted "that a five-carat fancy yellow diamond increased in value by 180 percent from 2001 to 2011." That is significant, particularly considering the fact that Berkshire Hathaway (NYSE:BRK.A) stock "increased by 52 percent for that 10-year period" and Coca-Cola (NYSE:KO) "grew 42.5 percent."
Ferguson highlighted several more recent examples of this type of increase. For example, last month, a 0.51-carat natural fancy vivid purplish-pink diamond sold at Sotheby's auction house for $338,500, a 550-percent increase over the $60,000 that it was expected to draw. Similarly, in November 2012, a 10-carat natural fancy blue diamond sold for $17.3 million at Sotheby's, significantly more than the $3.2 million that was anticipated.
Such high sales prices are not unusual, nor are they likely to abate any time soon, Ferguson stressed. In fact, he said, "natural fancy colored diamonds have never been able to appreciate more."
Why brown diamonds?
As savvy investors are well aware, commodities that are abundant are less expensive than those that are scarce. It is this simple principle that the positive outlook for brown diamonds — a category that includes champagne, cognac, chocolate and hazel diamonds — rests on, said Ferguson.
He stressed that the key thing for investors to understand is that brown diamonds are currently the only colored diamond selling for less than white diamonds. However, that will not always be the case. In fact, Ferguson believes that in about five years, brown diamonds will dramatically increase in price.
The catalyst for that increase will be the 2018 closure of Rio Tinto's (ASX:RIO,LSE:RIO,NYSE:RIO) Australia-based Argyle diamond mine, said Ferguson. Argyle produces white, champagne and pink diamonds, and according to Ferguson is the biggest diamond producer by volume, supplying nine out of 10 of the world's pink diamonds and the "vast majority" of brown diamonds. That means when it closes, a significant amount of those those diamonds will be removed from the market. And, Ferguson emphasized, the fact that Rio Tinto is shutting down the mine does not mean another company will be able to pick up where it left off — it is closing because there will be no more diamonds left to extract.
Though this significant decline in supply is still a ways off, demand for brown diamonds is already on the rise. Ferguson noted that currently about US$5 billion worth of champagne and cognac diamond jewelry is sold per year when not long ago the industry was worth nothing at all. A number of factors, including increasing demand from India and China and celebrity uptake, have driven this interest and are expected to continue to do so.
When these two factors — the closure of the Argyle mine and increased demand — converge, the likely result will be a substantial spike in prices.
Pink diamonds set precedent
Ferguson's predictions are not without basis. He commented that just five years ago, Rare Investment recommended buying pink diamonds, which at the time were selling at affordable entry prices. As is illustrated by the Sotheby's auction example above, that is no longer the case; pink diamonds can now easily fetch hundreds of thousands of dollars.
Brown diamonds, however, can still be bought at relatively low prices: a 1-carat brown diamond, for instance, can be had for under $10,000. And since the appreciation potential of these diamonds is the same at all price levels — from $8,000 to $80,000 to $800,000 — there are opportunities for all levels of investors.
On the same note, while brown diamonds that include a secondary color, such as orange, are more valuable, wholly brown varieties are likely to appreciate at the same rate. That leaves plenty of options for investors interested in wearing their investment as jewelry.
"The yellow-brick road is paved in champagne," said Ferguson, and he, for one, is encouraging investors to travel down that path.
Securities Disclosure: I, Charlotte McLeod, hold no direct investment interest in any company mentioned in this article.
Related reading:
Colored Diamonds: Stones with Brilliant Profit Potential