Are Diamonds Really "Bullshit"?
As interest in diamonds as a physical investment grows, some are questioning whether it is wise to use the gems for that purpose. Diamond Investing News turned to Leibish Polnauer of Leibish & Co. and Rare Investment's Colin Ferguson to find out how they would respond to skeptics.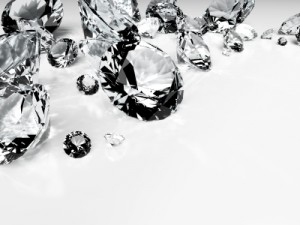 As precious metals, traditionally used as a hedge against inflation, continue the downward spiral they began in mid-April, interest is shifting toward another physical investment opportunity: diamonds.
"We're right on the cusp of this developing," Matt Manson, president and CEO of Stornoway Diamond (TSX:SWY), told Kitco News in an interview earlier this month.
"The target in the future is to have 15-20% of world diamond demand be people purchasing diamonds for just this purpose, for physical diamonds as an investment vehicle. People have been trying to look for the mechanism to create diamond investment vehicles and right now it looks like the moment for doing this. This is one of the big themes in the diamond business right now," he emphasized.
Similarly, Rob Burton, director of bespoke jewelry store Platlandia, recently told Mining Weekly that investment diamonds — described as those over 3 carats — were able to withstand the economic downturn of 2008 and are a good choice in the current market.
"There is currently no limit to the price of diamonds between 10 ct and 40 ct. A 3 ct diamond has increased 145% in price since 2008 and 5 ct diamonds increased by 174% in price between 1999 and 2011," he commented. As a result, "[t]he margins are there and so are the investment opportunities for the consumer."
However, not everyone is so sure that diamonds are a good investment. While concerns about De Beers' monopoly on the industry have largely abated now that the company doesn't have quite the stranglehold that it used to, skeptics have identified other potential downsides of investing in diamonds. In the last few months alone, Rohin Dhar of Priceonomics and Olivia Solon of Wired.co.uk have cautioned investors to stay away from diamonds, with Dhar ending his article by stating, "[d]iamonds are not actually scarce, make a terrible investment, and are purely valuable as a status symbol. Diamonds, to put it delicately, are bullshit."
What's an investor to believe? To get to the bottom of that question, Diamond Investing News (DIN) asked Leibish Polnauer, president of Leibish & Co., and Colin Ferguson, founder of Rare Investment, to address some of the questions raised by diamond detractors.
Buying the right diamond
In speaking with Polnauer and Ferguson it became clear that perhaps the biggest problem surrounding the question of whether physical diamonds are a good investment is that would-be investors are looking at the wrong types of diamonds.
Referring back to a famous Atlantic article published in 1982, Dhar notes, "[w]hen you buy a diamond, you buy it at retail, which is a 100% to 200% markup. If you want to resell it, you have to pay less than wholesale to incent a diamond buyer to risk their own capital on the purchase. Given the large markup, this will mean a substantial loss on your part." The scenario certainly sounds bleak — and it gets even bleaker with Dhar's comment that while some diamonds may be investment grade, "you probably don't own one, even if you spent a lot."
Therein lies the issue, according to Polnauer and Ferguson: simply buying a diamond from any old retailer does not constitute an investment.
On that note, Ferguson, whose Vancouver-based firm focuses on exposing clients to natural fancy colored diamonds, commented in a video interview with DIN that his organization has "never recommended white diamonds for an investment, but in the '80s there were companies out there that were saying they were a good investment — they were not."
When asked if he agrees that colored diamonds are where investment potential lies, Polnauer explained via email, "with regards to colorless, diamonds that are magnificently large with a perfect color/cut/clarity can act well as an investment. The simple reason is because smaller stones with an excellent quality are actually quite easy to find. It simply comes down to what is available in the market."
He continued, noting that in terms of "natural colored diamonds, even the most common are still considered rare. Even still, not every colored diamond should be purchased as an investment stone. For example, when asked about which diamonds are the most appropriate investments, Leibish & Co. specifically recommends pink diamonds or yellow diamonds above 2 carats, fancy intense or vivid, with great quality."
What the upshot seems to be is that serious investors should not expect just any diamond to yield favorable returns.
Getting the right valuation
Another concern people seem to have about investing in diamonds is that they are valued subjectively; unlike gold or silver, there is no simple cost per ounce valuation system for diamonds, so potential investors can be left wondering whether different appraisers will assign their diamond the same value. Solon addresses that anxiety in her article, noting that cut, color, carat and clarity — the "four Cs" used to determine a diamond's value — "can combine in 16,000 different ways, meaning diamond valuation can be subjective, with two appraisers giving valuations that can vary by as much as 30 percent."
For colored diamonds, it is even more complicated; Ferguson emphasized that when valuing that type of diamond appraisers must take saturation, hue, tone and color into account as well.
Responding to that fear, Polnauer commented, "this is a legitimate concern since natural colored diamonds are not sold according to a price list because they are each so individually unique. A fancy intense yellow diamond can actually be priced quite differently from another one of similar character traits because the color is shown stronger in one more than the other. They should therefore be purchased only through someone you feel you can trust and/or has a reputable record."
On a similar note, Burton told Mining Weekly that his company only recommends purchasing diamonds certified by the Gemological Institute of America as they come with a certificate of valuation that is recognized in most locations around the world.
Selling a diamond
Connected to valuation is the issue of selling a diamond, another concern that Solon brings up in her article. Like Dhar, she notes that investors are "highly unlikely to make any return on investment from buying and selling jewellery in the retail market" because "[a]ny jeweller worth their salt would have to buy back gems at wholesale prices." Rather, she states, it's the wholesale market where sellers can expect to make a profit. Unfortunately, "normal investors have zero access" to that arena.
However, according to Polnauer, with today's technology there are plenty of other options. "Tools that one can use privately to market their products such as eBay, Facebook and LinkedIn are available. On the other hand, if a stone is more valuable and rarer, then an auction house may be a viable solution. The auction houses and we at Leibish & Co. are experts at selling and reselling fancy colored diamonds; not to mention, we sometimes buy fine fancy colored diamonds back from customers who have returned to us," he explained.
Ferguson also pointed to auction houses as a potential place to sell, commenting, "in terms of liquidation, this is just one more aspect of [the diamond business] that's grown tremendously. You don't have to look any further than Sotheby's, Christie's to see that to see that investors are making big dollars."
What about other options?
Many investors also wonder why they should bother taking the risk of buying an actual diamond when they can simply invest in a diamond company or a diamond-backed fund. When asked if those are better options, Polnauer responded, "when buying diamonds, the buyer takes hold of the physical asset. This means regardless of what happens to the company, or even the financial situation of the country they live in, they still hold the hard tangible asset in hand. A diamond-backed fund also has fees that it charges for its services, and that affects the return on your investment as well."
Essentially, it all goes back to the idea of diamonds as a hedge against inflation. "A fancy colored diamond is a rare investment vehicle that will always remain a safe haven during difficult times, and will substantially increase in value over time. Simply put, fancy colored diamonds have outperformed white diamonds and other assets in the market by far," Polnauer concluded.
The verdict
While this information from Polnauer and Ferguson by no means addresses every concern that a person interested in investing in physical diamonds might have, it does reveal that as with any investment, it is important to be aware of industry standards and to deal with reputable sources. And, perhaps most importantly, investors should not be afraid to ask questions.
Securities Disclosure: I, Charlotte McLeod, hold no direct investment interest in any company mentioned in this article.
Interviews conducted by the Investing News Network are edited for clarity. The Investing News Network does not guarantee the accuracy or thoroughness of the information reported. The opinions expressed in these interviews do not reflect the opinions of INN and do not constitute investment advice. All readers are encouraged to perform their own due diligence.
Related reading:
Colored Diamonds: Stones with Brilliant Profit Potential
Brown Diamonds Set to be the Next Big Thing