Anglo American to Pay $5.1 Billion For Oppenheimer's De Beers Stake
Anglo American has agreed to pay the Oppenheimer family $5.1 billion for their 40 percent share in diamond giant De Beers.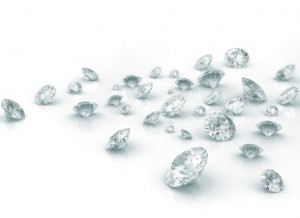 Earlier this month, the Oppenheimer family agreed to sell its full 40 percent interest in De Beers to Anglo American (OTC PINK:AAUKY,LSE:AAL) for $5.1 billion. If the deal is done, Anglo American, one of the world's largest mining companies, may become an 85 percent shareholder in the world's leading diamond company.
De Beers, with gross assets of $8.2 billion as of June, currently has three shareholders: CHL Group representing the Oppenheimer family holds 40 percent, Anglo-American has a 45 percent stake and the Government of the Republic of Botswana (GRB) holds the remaining 15 percent.
Though Anglo-American's has agreed to purchase the full Oppenheimer stake, how much the company will ultimately walk away with cannot yet be determined. GRB holds pre-emption rights, allowing them to also increase their stake in De Beers. If GRB chooses to fully exercise those rights, its share in De Beers will rise to 25 percent, boosting Anglo-American's share to 75 percent.
Cynthia Carroll, Chief Executive of Anglo American says this is a unique opportunity to consolidate De Beers.
Completion of the acquisition, which is projected for the latter half of 2012, is subject to a number of approvals, including that of Anglo American's shareholders. Their approval is necessary in part because Nicky Oppenheimer served as a director of Anglo American within the past 12 months. He is still the chairman of De Beers.
The Oppenheimer family holds nearly a 2 percent interest in Anglo American, consisting of 25.2 million shares, but these will not be voted on the resolution of the pending deal.
Timing of the Oppenheimer acquisition

A question that abounds is why the Oppenheimers, whose name is essentially synonymous with De Beers, have decided to sell their interest in the company now. The media has alluded to numerous motives, but none of them appear to have been put forth or confirmed by the family.
De Beers and Anglo American have a long co-mingled history dating back to 1926. Given this, Nicky Oppenheimer said that the sale was in the family's best interest and that Anglo-American was the natural home for the Oppenheimer stake.
Carroll says that Anglo American had been looking to increase its position in De Beers for some time now.
For a company aiming to become a leader in the diamond industry, acquiring De Beers seems like an ideal move. De Beers has a solid and full-bodied presence in the diamond business. Its affairs span from exploration and mining to retailing diamonds through a joint venture with Möet Hennessy Louis Vuitton to fabricating synthetic diamonds at Element Six.
Anglo American sees De Beers not only as a company wielding industry leadership across the diamond pipeline but also as an iconic brand. Both GRB and Anglo American have expressed confidence in Anglo American's understanding of De Beers and the diamond industry.
De Beers is also well positioned to remain an industry leader. In September, GRB and De Beers signed a 10 year sales contract that among other things aims to transform Botswana into a world leading diamond trading and manufacturing hub.
The government says it does not anticipate that Anglo American's buyout of the Oppenheimers will have any significant impact on that agreement.
According to Carroll, that agreement is actually one of the attractive elements of the pending Oppenheimer acquisition. That De Beers has a sales contract with Botswana, which has the world's largest diamond reserves and richest diamond mine, Jwaneng, translates into security of supply.
Anglo American's desire to acquire the Oppenheimer stake highlights the company's outlook on the diamond industry going forward. Carroll describes the fundamentals as very, very positive.
She said Anglo American believes that significant growth in India, China, and the Gulf could propel those markets to match that of the US by 2015.
Furthermore, Anglo American believes that as the appetite of emerging markets increases, diamond demand will outstrip supply which will in turn be a positive driver for rough diamond prices.
We have attempted to make it clear that diamonds are a core business for Anglo American, said Carroll.
Company News
Mining giant, BHP Billiton (NYSE:BHP,LSE:BLT,ASX:BHP) announced today that it is reviewing its diamond business. The company has interest in the EKATI Diamond Mine and Chidliak exploration project in Canada which, while promising exploration opportunities, may not be consistent with the company's strategy of investing in expandable assets. The review of BHP's diamonds portfolio is expected to be completed by January 2012.
I, Michelle Smith, do not hold equity interests in any of the companies mentioned in this article.