Magnesium Investing
Magnesium Price Steady Beyond China's Dominance
Oct. 31, 2011 05:29PM PST
China dominates the magnesium market, but renewed interest in the metal is coming from Russia and Australia.
By Shihoko Goto – Exclusive to Magnesium Investing News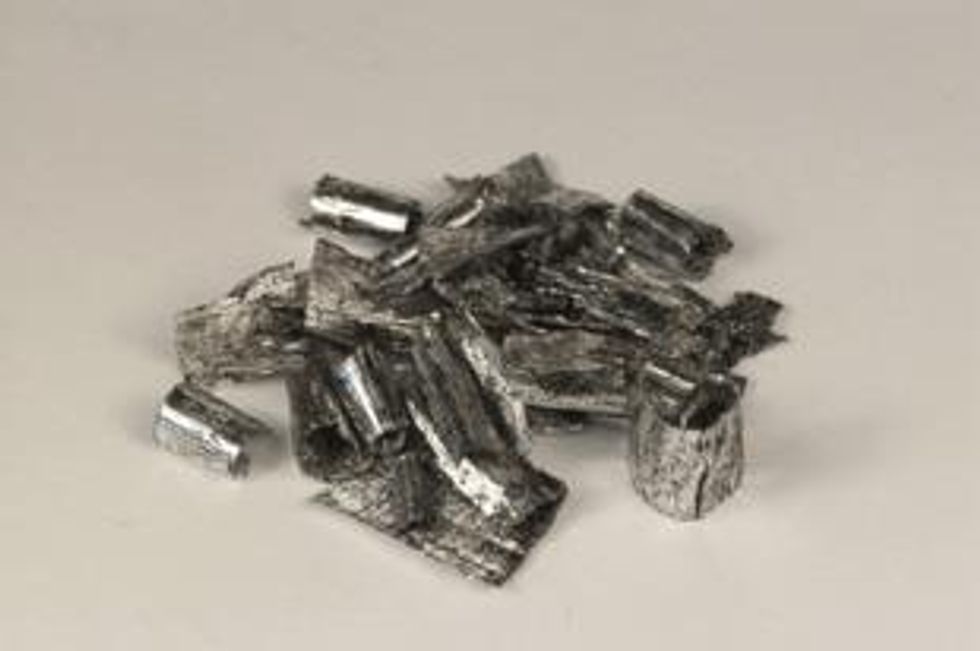 The price of magnesium continues on an upward trend, with non-Chinese companies showing renewed interest in investing in the metal. Wariness is in the air, however, as steel lobbyists warn that using magnesium and other metals may not be as energy efficient as currently believed, while concerns about China's dominance as a supplier of magnesium and other metals that are required in high-technology products remain on the other.
The price of magnesium in the United States as of October 27 is about $4,630 per metric ton, or $2.10 per pound. The price has peaked to $6,000 per metric ton or $2.72 per pound due to high demand.
Magnesium investors have been carefully monitoring the possibility of Russia's OAO Solikamsk Magnesium Plant (RTC:MGNZ) held by OAO Uralkali (LON:URKA). One potential buyer appears to be ARMZ, the uranium mining arm of Rosatom Corp., a state-run company, first reported by Bloomberg News. Certainly, Solikamsk has benefitted from the price gains seen in the rare earth metals market in recent months, an the company's share price has increased by more than fourfold since the beginning of this year.
In Australia, meanwhile, Sydney-based Latrobe Magnesium (ASX:LMG) completed its pre-feasibility study of a plant to produce 10,000 tons of magnesium per annum from the brown coal fly ash at the Latrobe Valley's Hazelwood power station in Australia's Victoria state. The plant has the potential to produce 40,000 tons a year, and will employ about 120 to 133 workers in the first phase of production, and employ 350 to 400 people at full capacity.
Canadian-based Molycor Gold Corp (TSXV:MOR) announced in August 2011 an improved NI 43-101 which outlined an inferred resource estimate of 412 million tons of dolomite at an average grade of 12.3% magnesium at its Tami-Mosi magnesium project. The metal deposit for the project is 111 billion pounds of magnesium. The company's preliminary economic assessment suggests that over a 30 year period, Molycor has the potential to produce 30,000 tonnes of 99.9% of pure magnesium ingots.
Yet there are concerns about longer-term demand for magnesium. The automotive group of the World Steel Association, WorldAutoSteel, unveiled a study in mid-October which found that metal alternatives to steel including magnesium and aluminum as well as carbon fiber produce emissions during their manufacturing process that are five to 20 times greater than steel.
"When vehicle emissions assessments are focused solely on the emissions produced during the driving phase (tailpipe), it encourages the use of greenhouse gas-intensive materials in the effort to reduce vehicle weight and fuel consumption," said Cees ten Broek, director, WorldAutoSteel. "However, this may have the unintended consequence of increasing greenhouse gas emissions during the vehicle's total life cycle."
Should WorldAutoSteel's argument gain traction, it may potentially influence US legislators as they mull fuel economy and emissions requirements for 2017 to 2025, while in the EU, emission standards for new cars is expected to be reached next year. Yet many auto makers are more interested in investing in magnesium car parts as they are expected to be more energy efficient due to its lightness and durability.
Of course, manufacturers remain cautious about investing in magnesium products including car parts amid continued concerns about the metal's supply. With China cornering over 80 percent of the market and protests against its domination continuing to rise amid growing demand for magnesium and other metals, political friction between Beijing and the rest of the world over the metals market among other products is likely to increase. In July, the World Trade Organization ruled that China violated global rules by restricting exports of nine raw materials including magnesium used in electronics and other high-technology products.
Disclosure: I, Shihoko Goto, have no interest in the companies mentioned in this article.
Investing News Network websites or approved third-party tools use cookies. Please refer to the cookie policy for collected data, privacy and GDPR compliance. By continuing to browse the site, you agree to our use of cookies.