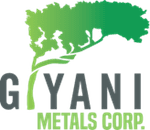 Giyani Metals (TSXV:WDG) ("Giyani" or the "Company") is pleased to provide an update on the progress of Phase 1 of its 2018 operational program which comprises ground geophysical surveying and diamond drilling at the K.Hill and Otse manganese prospects in Botswana.
Giyani Metals (TSXV:WDG) ("Giyani" or the "Company") is pleased to provide an update on the progress of Phase 1 of its 2018 operational program which comprises ground geophysical surveying and diamond drilling at the K.Hill and Otse manganese prospects in Botswana.
Drilling commenced on April 16, 2018
Manganese mineralization encountered in all completed holes
Geophysics completed at K.Hill and Otse
Full interpretation of geophysics expected week of May 14
Geophysics used to locate collars for drill holes
Robin Birchall, CEO of Giyani Metals Corp. commented:
"I am very pleased with the progress the team is making at K.Hill and Otse with the geophysical surveys completed at both sites. In addition, the drilling campaign is progressing well and we look forward to the sampling and assay results in the near future. We are encouraged by the visual appearance in the drill cores which indicates the presence of manganese mineralization in various layers within K.Hill. Once lab results are in we will have a better understanding of the manganese grade within these layers. Moreover, the final geophysics report will reveal more information about the geology at K.Hill and Otse and help us optimize the locations of the upcoming drill holes. We are very pleased with the pace of progress in this Phase 1 of our 2018 operational program, keeping us on track to deliver a resource in mid-2018."
Diamond Drilling Progress
Drilling commenced on April 16, 2018 with hole DDKH18_0001 at K.Hill, and as of May 02, 2018, a total of 531 metres had been drilled or approximately, 25% of the planned 2000-metre drilling program. Core processing and sampling has also commenced and continues as drilling progresses. The first batch of approximately 100 samples will be sent for analysis to SGS labs in Randfontein, South Africa this week. Figure 1 below indicates the locations of the seven drill locations to date as well as the access and drill pads cleared. The locations and grades of the samples collected in this area during the surface sampling program in 2017 are also indicated for reference. Samples with manganese oxide (MnO) grade between 60% and 76% are shown as red bubbles.
Preliminary field observations and visual estimations of mineralization from the drill core of the first seven holes, confirm the presence of a similar mineralized unit as observed in the outcropping units sampled in the surface sampling program during late 2017. However, this drilling campaign allows Giyani to collect samples from the mineralized horizon in a more representative method by collecting split core samples. The mineralized manganiferous shale unit which is envisaged to be the main mineralized body at K.Hill, has been intersected in all of the completed drill holes, with the exception of DDKH18_0002 which was abandoned in the overburden due to difficult drilling conditions. The manganese-shale unit is approximately two to three metres in thickness and mineralization occurs as a manganese-clay as well as massive manganese-oxide sections with a steel grey metallic luster. An early and preliminary interpretation from the drill core observations suggests that the manganese-shale is a flat lying, tabular and continuous body for approximately 300 metres in a NW-SE direction along the fence drilled between DDKH18_0001 to DDKH18_0004; and about 100 metres NE-SW direction towards the fence drilled between DDKH18_0005 and DDKH18_0007. It should be noted that the quality and quantity of mineralization in the completed holes does vary and further geochemical analysis of these intersections is required to confirm the MnO grade.
Ground geophysics survey progress
Geophysical surveying at K.Hill was completed on April 20, 2018. A provisional interpretation of the northern portion of the K.Hill survey block was completed to assist with the decision making of the drill hole collar locations. The residual bouguer gravity map as well as interpreted structural features over this portion of the survey block are shown in Figure 3. This interpretation highlighted the mapped presence of a thick shale unit (about 40 metres in thickness observed from the drill core) of which the manganese-shale makes up the upper portion. The contrast with a thick and denser underlying extrusive volcanic sequence is also clearly visible. This interpretation assisted with the location of the first seven drill collars, targeting the top of the shale unit stratigraphically above the volcanic unit. The interpreted structures were also considered in planning the drill positions. Figure 3 indicates the location of the completed collars together with the gravity data as well as MnO grade in samples collected from the surface. Importantly the geophysics identified a very similar signature and contrast pattern towards the south of the outcropping and drilled mineralization. These areas are earmarked for follow up investigation with mapping, and/or drilling.
Geophysical surveying at Otse was completed on May 02, 2018. Interpretation and data processing is still on-going and is expected to conclude with a final report by May 18, 2018. Figures 4 and 5 below show the grids of the completed ground geophysics surveys at the Otse prospect.
Roger Moss, Ph.D., P.Geo, is the qualified person, as that term is defined by National Instrument 43-101, on behalf of the Company and has approved the scientific and technical content contained in this press release.
About Giyani
Giyani Metals Corp. is a Canadian based junior exploration company focused on creating shareholder value by accelerating the development of its high-grade manganese project in the Kanye Basin, Botswana, Africa.
Additional information and corporate documents may be found on www.sedar.com and on Giyani Metals Corp. website: http://giyanimetals.com/.
On behalf of the Board of Directors of Giyani Metals Corp.
Robin Birchall, CEO
Contact:
Giyani Metals Corporation
Robin Birchall
CEO, Director
+447711313019
rbirchall@giyanimetals.com
Neither the TSX Venture Exchange nor its Regulation Services Provider (as that term is defined in the policies of the TSX Venture Exchange) accepts responsibility for the adequacy or accuracy of this news release.
Forward-Looking Statements
This news release may contain forward-looking statements including but not limited to comments regarding the timing and content of upcoming work programs, geological interpretations, receipt of property titles, potential mineral recovery processes, the financial picture of the Company etc. Forward-looking statements address future events and conditions and therefore, involve inherent risks and uncertainties. Actual results may differ materially from those currently anticipated in such statement.
Photos (Figures) accompanying this announcement are available at:
Figure 1: http://resource.globenewswire.com/Resource/Download/c2926167-01e4-49ab-8875-26cc90936e48
Figure 2: http://resource.globenewswire.com/Resource/Download/057321e7-2ef4-4738-8c0a-52237560dcb0
Figure 3: http://resource.globenewswire.com/Resource/Download/5529df25-ef03-47f6-aba0-900ac547c1c2
Figure 4: http://resource.globenewswire.com/Resource/Download/bc6c1946-483b-433f-9e00-4a240284facb
Figure 5: http://resource.globenewswire.com/Resource/Download/14526b02-5c5e-49e2-9cae-d292717b8e94
The photos (figures) are also available via AP PhotoExpress.
Click here to connect with Giyani Metals (TSXV:WDG) for an Investor Presentation.
Source: globenewswire.com