Battery Recycling Technology Essential to the Electric Vehicle Revolution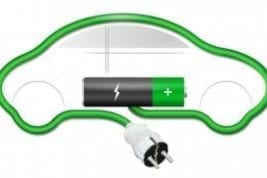 The "electric revolution" is coming to the $1.8-trillion auto industry, and new battery recycling technology is needed to support the market.
The "electric revolution" is coming to the $1.8-trillion auto industry, according to a recent report by Bernstein, a top-notch Wall Street research firm.
Improvements to technology costs and charging infrastructure are among the major drivers behind the revolution, which is predicted to see electric vehicles (EVs) eclipse the traditional internal combustion engine (ICE) in the not-too-distant future. Within the next 20 years, Bernstein's research team expects EVs to represent about 40 percent of the global pie for all vehicles.
Further advancing the electric revolution are declarations by governments in countries like France and Britain that may see fossil fuel-powered vehicles banned from those nations' roads by 2040. Even China has said it's developing a plan to phase out ICEs in favor of EVs.
"Since almost 100 million vehicles are produced and sold globally, that means that the annual market for EVs will be 40 million, even if the total global vehicle build does not increase between now and then," explains Jack Perkowski of JFP Holdings. "Assuming that battery prices reach parity with the $6,000 cost of an internal combustion engine, a $240 billion battery industry is now in the making."
The massive scale-up in the global EV market is not without its challenges, with two of the most salient being how to secure supply of critical materials, and what to do with the wasted batteries once they've reached the of their lifecycle.
Supply-side concerns
Cathodes, which store energy in lithium-ion batteries, are made by forming a base metal oxide skeleton with lithium ions embedded inside the skeleton. The cathode chemistry — or the base metals used — determines the cost and performance of the battery.
The preferred chemistries for the rapidly growing EV market are lithium nickel manganese cobalt oxide (NMC) and lithium cobalt aluminum (NCA) batteries. Compared to other chemistries, these batteries are considered to have the most efficient combination of power and energy storage.
Demand for essential cathode materials such as lithium and cobalt is quickly outstripping supply. "Battery makers are struggling to secure supplies of key ingredients in these large power packs – mainly cobalt and lithium," states a recent article in The Guardian. "The hopes of both battery and vehicle manufacturers hang on the mining sector finding more deposits of these precious minerals."

This INNspired Article is brought to you by:
American Manganese Inc. (TSXV:AMY; PINKS:AMYZF;FRANK:2AM) is a specialty and critical metal company focused on using its patented proprietary hydrometallurgical process to recycle lithium-ion battery cathode materials.
Send me an Investor Kit
Cobalt supply is even shakier, with an imbalance pushing prices up 140 percent since 2016 and analysts now calling for a deficit by the end of 2017. The battery industry consumes about 41 percent of cobalt, according to the Cobalt Development Institute, and that number is expected to reach 65 percent or higher over the next decade. Analysts at CRU Group predict the battery industry will need more than 75,000 tonnes of cobalt per year by 2025, compared to 41,000 tonnes in 2017.
Macquarie Research sees a four-year shortage on rising demand from the EV battery market and increasing turmoil in the Democratic Republic of Congo — which accounts for 65 percent of global cobalt supply. Technology producers such as Apple (NASDAQ:AAPL) are under increasing pressure to source their materials from conflict-free regions, but there are few alternative sources of supply.
The supply crunch is driving up prices for battery materials, particularly cobalt, which now fetches a mind-boggling US$91,500 per tonne, compared to $13,300 per tonne for lithium.
"Cobalt is currently under severe supply-side pressure, and is expected to remain undersupplied," says Larry Reaugh, president of American Manganese (TSXV:AMY), which is developing what is considered the most advanced of all known battery recycling technologies. "With such a significant increase in anticipated demand, recycling is poised to be an important part of the supply solution to the emerging cobalt shortage."
Environmental and economic challenges for EV batteries
The Commission for Environmental Cooperation says battery waste will reach upwards of 850,000 units by 2025 and 1.5 million units by 2030. The environmental cost is twofold. First, these half-tonne batteries house materials deemed toxic to the environment in concentrated amounts. On top of that, the extraction of these resources from the Earth poses other environmental concerns, including water pollution.
EU regulations require battery manufacturers to foot the bill for recycling batteries past their prime, which as The Guardian points out, is already encouraging these companies to partner with recyclers.
However, Jessica Alsford, who leads Morgan Stanley's (NYSE:MS) global sustainable research team, warns that the current recycling infrastructure may not work for a larger battery market. The traditional recycling methods, shredding or smelting, are highly inefficient when it comes to reclaiming materials. "There still needs to be more development to get to closed loop recycling where all materials are reclaimed," says Alsford. "There's a difference between being able to do something and it making economic sense."
"Currently, only high-energy lithium cobalt oxide batteries used for personal electronics are recycled in commercial quantities by high-temperature smelting," Norman Chow, founder and president of Kemetco Research, one of the Canada's largest private contract R&D firms, told the Investing News Network. "This technique only recovers part of the cobalt and none of the lithium."
Chow says there are many issues with smelting as a method to recycle lithium-ion batteries. For one, cobalt is recovered as a crude metal that can be used for alloying, but requires further refining for use in batteries. The remaining unrecovered cobalt and lithium is considered a hazardous waste material.
The smelting process itself requires a large amount of energy and capital, he adds, "and even with the high value of cobalt, the economics are marginal, making smelters only economical in a large scale. Since spent batteries are considered hazardous waste, there is high expense and regulations to ship spent lithium-ion batteries. Having smaller localized recycling plants would be more cost effective."
Currently, there is no known commercial technology for the large-scale recycling of cathode materials of multiple chemistries, says Chow, whose company is working with American Manganese to develop such recycling technology. Development is now in the advanced stages for a hydrometallurgical process that is both low cost and environmentally friendly. The process involves a complete closed-loop flowsheet developed to maximize metal recovery while minimizing reagent usage and recycling water. American Manganese filed a provisional patent application for the process in November 2016 and will file a PCT patent application in November 2017.
So far, Kemetco has achieved laboratory-scale recycling of cathode materials in lithium cobalt oxide (LCO), lithium manganese oxide (LMO), NMC and NCA batteries, successfully recovering 100 percent of the cobalt, nickel, manganese and aluminum materials as well as 92 percent of the lithium. A hydrometallurgical plant using this process could potentially recycle up to 4,000 tonnes per year of cobalt alone, representing a current market value of over US$244 million.
Importantly, Kemetco has successfully reformulated all four of these battery chemistries from recycled cathode materials. These materials offer several advantages over mined materials, not least of which is a stable supply of raw materials outside of the DRC and other conflict jurisdictions. Recycled cathode metals also have a much smaller footprint than a traditional mining operation. From a quality perspective, the recycled materials produced under the American Manganese process represent 100 percent pure cathode material — a better-quality feed material than mined ore that still needs to be treated.
The takeaway
The electric revolution is happening across the globe; however, the pace at which EVs can take over is in some part dependent on battery prices reaching parity with the cost of the internal combustion engine. Rising materials prices may hamper that progress. Volkswagen's (ETR:VOW3) recent failed attempt to a secure five-year contract at a fixed price highlights what could be an ongoing problem.
On top of that, the environmental footprint left by battery waste and resource extraction raises the cost even further and makes EVs a harder sell for those pushing their products as conduits toward a greener, cleaner future.
Recycling technologies offer a promising solution to both these potential roadblocks, potentially fast tracking the inevitable rise of the EV to the dominant road machine.
This article was originally published by the Investing News Network in 2017.
This INNspired article is sponsored by American Manganese (TSXV:AMY). This article was written according to INN editorial standards to educate investors.