Apr. 24, 2015 11:41AM PST
Potash Investing
Potash West NL (ASX:PWN) announced the results of its quarterly activities and cashflow reports, which include highlights from the the scoping study at its Dinner Hill project and details of the K-Max lithium technology deal with Strategic Metallurgy.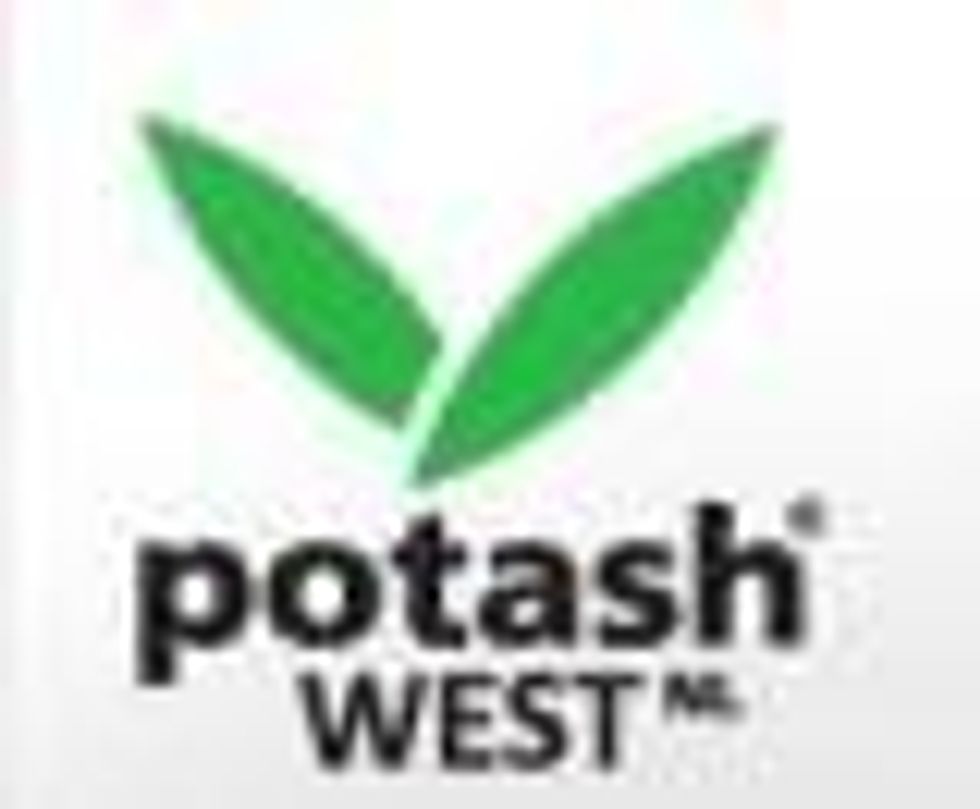 Potash West NL (ASX:
PWN
) announced the results of its quarterly activities and cashflow reports, which include the scoping study at its Dinner Hill project, the exploration target identified at the South Hartz project and details of the K-Max
lithium technology deal
with Strategic Metallurgy.
Highlights from the reports include:
Scoping Study on Dinner Hill confirms NPV of +$650 million, IRR 30 percent. Lower Capex, lower risk start-up strategy identified.
Multi-purpose drilling program completed with results to drive an updated Mineral Resource estimate
Exploration Target identified on Küllstedt Exploration Licence within South Harz Project.
Potash West granted 25 percent of potentially valuable lithium extraction technology.
Dinner Hill project scoping study:
The financial evaluation has been based upon mining at the rate of 4.2Mtpa. In Stage 1, for the first five years only the phosphate rich part of the ore sequence is mined to produce single superphosphate (SSP). The potassium rich glauconite layer will be exposed, but not mined initially. We have assumed that the KMax plant and an upgraded phosphate plant will be constructed after 5 years, as Stage 2.

The benefits of this are:

Lower Capital requirement, of $136 million to start Stage 1
Commission mining and Beneficiation Plant at Stage 1 with lower capital spend, reducing risk.
Areas of exposed K-Max ore will allow low mining costs for first few years of Stage 2
Free cash flow from Stage 1 operations can contribute to equity component of Stage 2 capital
South Hartz project:
The Company is earning a 55 percent interest in a company, East Exploration Pty Ltd (EE), which has applied for exploration licences in the South Harz region of Germany, (Figure 2). The funding will complete the licence applications and carry out an assessment of the extensive geological data on one of the exploration applications, Kullstedt.

Exploration Target estimated at between 4,055 and 5,141 million metric tonnes (MMT) of mineralised rock
Exploration Target grade ranges from 7.2 percent to 25 percent K2O (11.8% to 41% KCl).
Exploration Target estimated to contain between 292 and 1,285 MMT of K2O
Potash mineralisation is located from a comparatively shallow depth of 511m to over 900m below the surface.
Investigations are ongoing to locate additional critical exploration reports and to plan and submit approvals to undertake a drilling program.
K-Max technology:
The K-Max process has been developed by our technology partners, Strategic Metallurgy (SM). The development was financed by the Company and the IP is 100 percent owned by Potash West. SM have built upon the K-Max technology and developed an innovative process to extract Lithium from micas such as Lepidolite and Zinnwaldite. SM has licensed the technology to Cobre Montana (ASX:CXB) (refer CXB announcement 26 September 2014). Cobre Montana is pursuing opportunities to use the technology to meet the demands of a rapidly growing Lithium market. SM is also investigating other avenues to commercialize its Lithium extraction technology.

In recognition of the importance of the K-Max process as a base for Lithium extraction, SM has agreed to vest 25 percent ownership of the Lithium technology to Potash West. We will work together to maximize the value of this IP to the benefit of both parties.
Click here to read the Potash West NL (ASX:PWN) press release
Click here to see the Potash West NL (ASX:PWN) profile.
Investing News Network websites or approved third-party tools use cookies. Please refer to the  cookie policy for collected data, privacy and GDPR compliance. By continuing to browse the site, you agree to our use of cookies.