Sleep Apnea Device Market to Reach $9 Billion by 2024, Report Says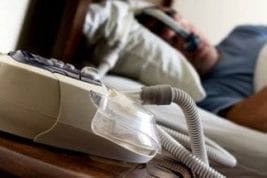 Sleep apnea can result in death, and currently affects more than 18 million Americans, making it a huge opportunity for the medical device market.
One of the most dangerous sleeping disorders, sleep apnea, can result in death and currently affects more than 18 million Americans a huge opportunity for the medical device market to step in.
For instance, the sleep apnea device market is projected to reach $9 billion by 2024, an increase from $1.889 billion in 2016, according to a study by Global Market Insights.
"Rising prevalence of sleep apnea disorder across the world coupled with growing geriatric population base should drive sleep apnea devices market size over the forecast timeframe," the report said.
Central, obstructive and complex are the three types of sleep apnea, the second is the most common. In the case of obstruction, the throat muscles have decreased levels of oxygen and relax causing a blockage to the airway during sleep. For some people, it can cause a brief choking and gasping episode as often as 20 to 30 times an hour.
While some researchers believe there is a genetic link for the disorder, there is still much to be discovered. Death isn't the most common with sleep apnea, but it does occur, especially in combination with heart disease.
The most common type of medical device for sleep apnea are continuous positive airway pressure (CPAP) masks. The machines provide adjustable humidification and pressure through the mouth or nose for the patient dealing with sleep apnea. The humidity helps by moistening and opening the breathing tracts to prevent obstruction.
For investors to get an idea of some companies already spearheading the market, the Investing News Network is looking at medical device companies mentioned in the report.
Companies leading the way for sleep apnea devices:
Philips (NYSE:PHG)

has a variety of devices, but their DreamWear under the nose nasal mask stands out as it won an iF Design Gold Award in 2016 for product design. It allows the patient the move freely, so they almost don't feel the mask.
Compumedics (ASX:CMP):

Somnilink Positive Airway Pressure machine can be mounted on the wall, has intuitive control and features an anti-spill water bottle. The machine also has a subtle algorithm which responds to upper airway patency changing delivered pressure.
ResMed (NYSE:RMD):

among other devices, has one specific for women, based on research proving sleep apnea is different in women. It has wireless connectivity for the patients healthcare practitioner to stay connected to therapy progress.
General Electric (NYSE:GE):

has three devices, the iVent Performance, Expert and Signature, providing a variety of care from high clinical dependency to lower care needs. All machines are designed to enhance patient independence and quality of life.
Aside from these companies listed, there's a growing global sleep apnea device market including Brazil, Mexico, and India. More devices include oral applications, airway clearance systems and diagnostic devices.
The report says because of the strong presence of these already established companies in the market it makes it highly competitive, but that doesn't mean less established companies aren't able to break into it—as long as they're successful.
Don't forget to follow @INN_LifeScience for real-time updates!
Securities Disclosure: I, Gabrielle Lakusta, hold no direct investment interest in any company mentioned in this article.