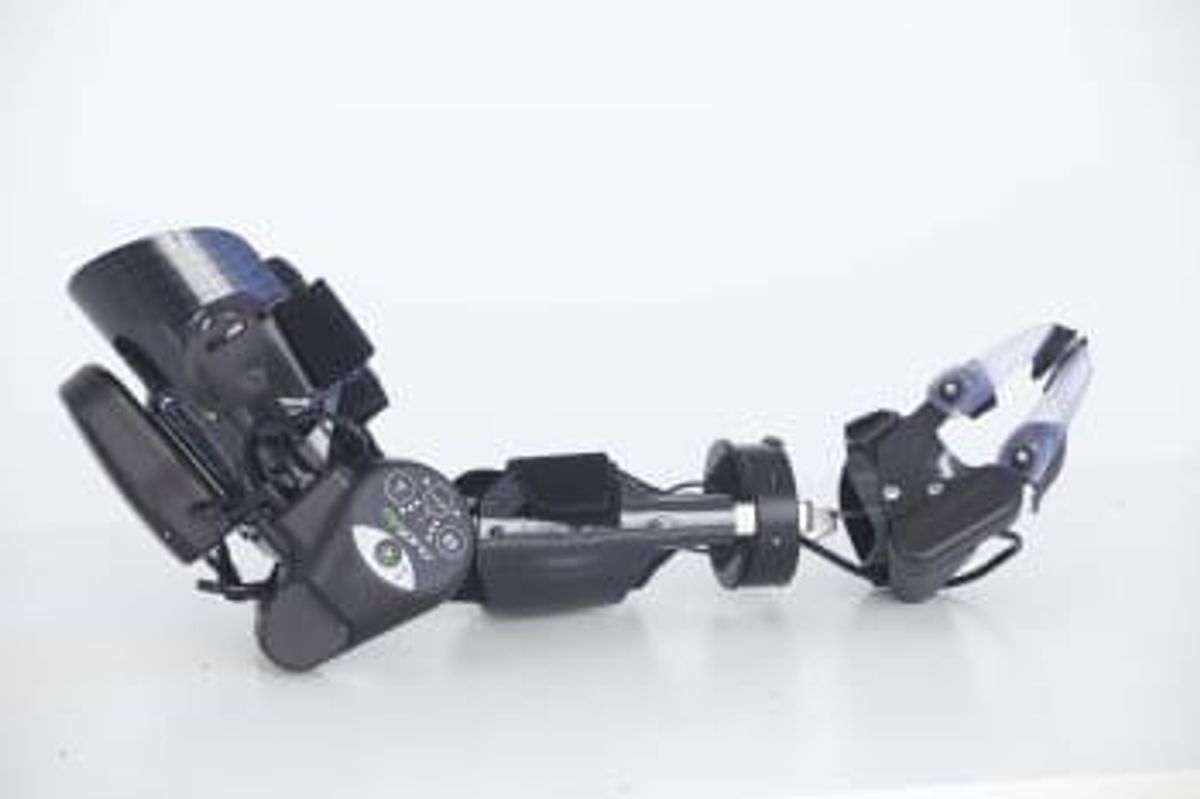 INN had the chance to speak with Paul Gudonis, CEO of Myomo, about its lead product and IPO launch.
"We are proving that conventional wisdom doesn't apply anymore," is a bold way to sell your product.
For Paul Gudonis, CEO of private medical robotics company Myomo, that revolution is just the basis of their robotic arm designed for patients with limb paralysis.
Gudonis has been traveling across the US as part of his unique IPO tour, where he's hoping to inform investors of the potential to join the company now. Following the IPO, Myomo hopes to join the New York Stock Exchange MKT, which is designed for smaller cap companies.

The company's lead product, called MyoPro, is a prosthetic designed to read the signals from inactive muscles in a paralyzed limb and let patients regain a sense of control in their bodies. "This is for people who want to go back to work," Gudonis said.
He then explained the variety of cases he's heard about; cases he hopes to change with their technology.
Myomo is hoping to go global, thanks to a key partnership with German prosthetics giant Ottobock. This would allow MyoPro to enter Canada and, following the approval for a CE Mark, expected this year, enter the German market as well, Gudonis said.
A See Thru Equity report suggests a price target of $9.35 for the company.
"[Myomo] represents an intriguing approach to becoming the standard of care for upper limb paralysis, with its MyoPro offering a cost-effective approach supported by a growing body of clinical evidence," the report reads.
The report also suggests MyoPro could be used by a quarter of the 350,000 new diagnosed cases of "upper extremity paralysis" per year.
In that regard, INN sat down with Gudonis to talk about the company's IPO launch.
Other highlights of the conversation include:
and what makes it different from typical public launches
the potential for MyoPro to go international
revisions in the design of the device, and
what the patient need for this type of product looks like.
Read on for more of what Gudonis had to say. The transcript interview has been edited for clarity and brevity.

INN: Let's talk a bit more about the public offering. You mentioned it's been some time since the company launched the IPO. How confident are you that you will reach your goal?PG:
We're on track to reach our goal of $15 million, which is what we're raising in the IPO and we expect to close before the end of the month.
INN: If you reach the goal, you're hoping to be listed on the New York Stock Exchange, right?PG:
Yes, we will be listed on the New York Stock Exchange MKT, which is their smaller cap marketplace. We have agreed to meet all of their listing requirements.
For example, the majority of our board of directors are independent directors, four out of five. We have all the required committees that are staffed by the independent directors, we will be doing a full reporting company annual 10k's, quarterlies and other required filings. So, that should give investors a lot of comfort and transparency into our operations and financials.
INN: Your particular launch is different from the regular IPO. Can you talk a little bit about it and explain this process you're going through?PG:
The company was spun out of Massachusetts Institute of Technology (MIT) back in 2006. We have raised about $24 million of capital from individual investors, family offices and the venture fund Mountain Group Capital. During this time we have been designing the devices that we have to conquer paralysis.
We had a controlled introduction on the marketplace and having completed [it] we are now going to raise $15 million of growth capital to scale up the business. Our process for doing that is a public offering under the JOBS Act Regulation A+ rules, which enables us to reach a much broader audience of potential investors so it's not limited to institutional investors and high net worth individuals that are favored clients for example of Wall Street banks.
The general public can participate in buying at the initial IPO price, as well as other investors. The other thing that is different with these new regulation A+ IPOs is that there's no quiet period. As the CEO, I like the fact that I can go out there and actively educate potential investors about this. So, we have been doing webinars; we have a crowd financing firm called Fund FundEX that's put together a video that went viral. It had a million views in five days that drove investor interest and traffic to [our] website, where they can now purchase shares of the company in the IPO.
INN: Now let's talk about the product itself. What does the demand look like for the MyoPro?PG:
In the United States alone there are one percent (three million people) of the population that has some type of upper limb impediment due to a stroke, a spinal cord injury, MLS, ALS, traumatic brain injury, peripheral nerve injuries.  Our addressable market includes approximately 25 percent of those incidents as well as the 350,000 new incidents that occur each year.
What these individuals have been told is after six months of rehab you haven't recovered, that's it for the rest of your life, you're never going to use that arm and hand again. We are proving that conventional wisdom doesn't apply anymore with our line of lightweight robotics arm braces, also referred to in clinical terms as myoelectric orthotics.
These are custom-made, lightweight devices that you would wear if you
are suffering from a neuromuscular condition, which enables
people to initiate and control movement by using their own muscle signals
.
For an individual who is paralyzed, they often still have an attenuated signal
,
which the muscle emits
when it tries to deactivate it. There's a trace micro voltage on the surface of the skin,
which sensors built into the device pick up, amplify, and turn
into motion.
INN: With this type of device, upgrades are always possible. Has Myomo considered doing updates to the current design?PG:
This is already the third generation of the device, we have constantly improved the device, recently added a hand component to open and close a paralyzed hand.
In addition, we have added Bluetooth capabilities and software so it communicates with a laptop or tablet. Clinicians and patients can actually see their own muscular signals and we've always made it lighter weight and a slimmer profile. In fact, the next version of the MyoPro is coming out this quarter, which will have greater functionality and less weight.
Our plan is like the iPhone: every year introduce a new model that brings more benefits to the patients.
INN: Have you noticed any competitors in this market?PG:
There are a number of companies that have introduced exoskeletons for the lower body.
These are companies like ReWalk (NASDAQ:
RWLK
) and Ekso Bionics (NASDAQ:
EKSO
) that have devices for paraplegics with spinal cord injuries. There is a company called Cyberdyne (TYO:
7779
) in Japan, that has a full body suit with individuals with paralysis but we have the only commercially available lightweight devices to move an arm and a hand that has been paralyzed.
INN: About how much is a MyoPro right now?
PG: Depending on the model, whether it's just the elbow unit or the elbow and the hand these are getting reimbursed by tears, anywhere from $25,000 to $60,000. That's about half the price of a prosthetic arm if you were an amputee, so we are delivering the same type of functional capability at half the cost.
INN: Are you hoping that patients buy a model this year – you mentioned bringing a system like the iPhone – and then buy a new one next year or stay with the one they have for a couple of years?PG:
On the field of orthotics and prosthetics, there's typically a five-year replacement cycle… with the expectation that they will use it for five years and then they will be eligible for the next version at that time.
INN: What have you heard from some of the patients that have had the opportunity to use the MyoPro?PG:
We have very good patient feedback, we have people who haven't used their arms or hands for decades now being able to function again.
We have published
research
by some very well regarded clinicians, such as Dr. Stephen Page of the Ohio State University Stroke Center, who just had a peer-reviewed study published showing the functional benefits of the MyoPro compared to not having anything for your paralyzed arm.
We continue to do product RD to add more function and more capabilities. For example, we were recently
awarded a grant by the Children's Hospital of Philadelphia
to develop a pediatric version of our device, because there are 150,000 children under the age of 18 just in the US who have some form of upper limb paralysis. By providing a device to these young people, we want to help them restore the function of their paralyzed arm and hand.
INN: So there's a kids version of MyoPro coming down the line?PG:
Yes, we started the engineering work on that and when that's introduced it will open a whole new market sector for us of younger individuals.
INN: Paul thank you for your time today.
Don't forget to follow us @INN_LifeScience for real-time news updates!
Securities Disclosure: I, Bryan Mc Govern, hold no direct investment interest in any company mentioned in this article.Editorial Disclosure: The Investing News Network does not guarantee the accuracy or thoroughness of the information reported in contributed article. The opinions expressed in these interviews do not reflect the opinions of the Investing News Network and do not constitute investment advice. All readers are encouraged to perform their own due diligence.
Investing News Network websites or approved third-party tools use cookies. Please refer to the  cookie policy for collected data, privacy and GDPR compliance. By continuing to browse the site, you agree to our use of cookies.