GreenTec Holdings (TSXV:GTEC) ("GTEC" or the "Company") is pleased to provide the following update on the operations of its retail subsidiaries.
GreenTec Holdings (TSXV:GTEC) ("GTEC" or the "Company") is pleased to provide the following update on the operations of its retail subsidiaries.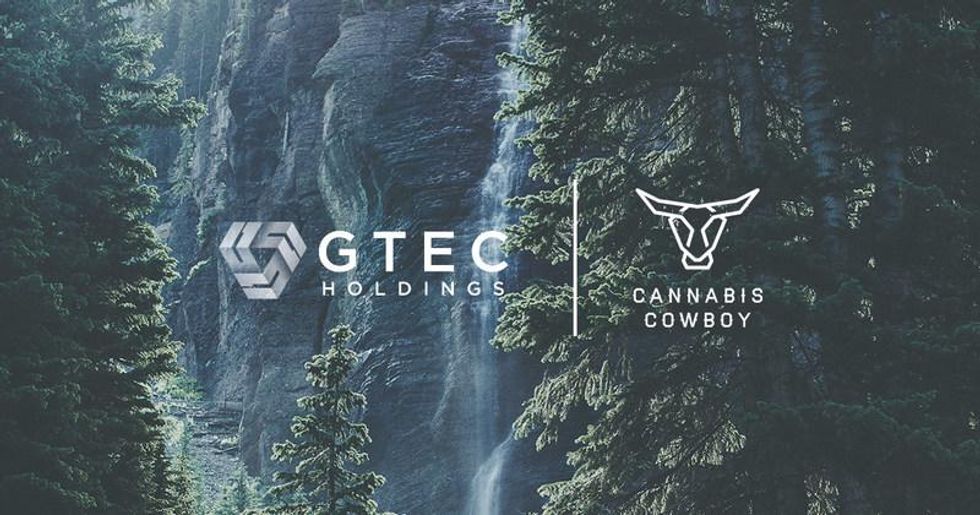 GTEC Holdings Provides Update On Retail Operations (CNW Group/GreenTec Holdings)
Alberta Retail
Upon commencement of the Company's TSX Venture listing, the Alberta Gaming and Liquor Commission ("AGLC") immediately processed 24 retail cannabis storefront applications under the name Cannabis Cowboy.
On March 6, 2018, GreenTec Holdings Ltd. ("GreenTec"), a wholly owned subsidiary of GTEC, subscribed for 25% of the issued and outstanding Common Shares of Cannabis Cowboy Inc. ("Cannabis Cowboy"). Concurrently with the subscription for shares, GreenTec entered into a unanimous shareholders' agreement Cannabis Cowboy and its other shareholders, which was amended and restated pursuant to an Amended and Restated Shareholders' Agreement dated March 20, 2018 and a Second Amended and Restated Shareholders' Agreement dated March 26, 2018 among the parties (the "Cannabis Cowboy Shareholders' Agreement").
Cannabis Cowboy is a Calgary-based medical marijuana counselling organization which provides safe and reasonable clinic access to medical patients who qualify under Health Canada's ACMPR. Cannabis Cowboy has now completed the development of their adult recreational use brand and strategy. Subject to receiving the requisite licenses to operate cannabis retail stores, it intends to convert its existing medical consulting clinics to cannabis retail stores and has further secured additional retail locations in Alberta, each of which comply with its respective municipal zoning by-laws for the operation of cannabis retail stores. Cannabis Cowboy will own and operate each such cannabis retail store through one or more wholly owned subsidiaries.
Pursuant to the Cannabis Cowboy Shareholders' Agreement, GreenTec has committed up to $150,000 per retail storefront, be the preferred supplier, and hold a right of first refusal on the following:
Partnering with Cannabis Cowboy on any future locations within Canada
Participating in whole, any future financings
Purchasing any shares of Cannabis Cowboy that are offered up for sale
GreenTec's wholly owned subsidiary, Alberta Craft Cannabis ("ACC") is working diligently to complete the final step in Health Canada's ACMPR licensing progress, obtaining a Sales License. Upon receiving a Sales License from Health Canada, ACC intends to pursue a supply agreement with the AGLC.
Saskatchewan Retail
As previously announced on June 4th, 2018. GTEC's application into the Saskatchewan Liquor and Gaming Authority (SLGA) lottery process was selected to apply for a cannabis retail permit. GTEC has identified two locations, one to serve as a retail storefront and one to operate the online ecommerce segment of the License. GTEC has engaged Cannabis Compliance Inc to submit a final application to the SLGA.
British Columbia Retail
The British Columbia Liquor & Cannabis Regulation Branch earlier this week released the application process for cannabis retail storefront locations. GTEC has already secured 2 retail locations that comply with their respective municipal zoning by-laws, with the intention of applying for over 20 locations within BC.
About Cannabis Cowboy
"Cannabis Cowboy" is to be a privately owned recreational cannabis and accessories retailer based in Calgary, Alberta, Canada. Upon the pending approval from the Canadian Federal Government to legalize cannabis for recreational use, Cannabis Cowboy will begin offering retail dispensary services to Western Canada. To meet the rapidly growing demand for cannabis products and services, Cannabis Cowboy has developed an ambitious growth strategy to develop up to 30 turnkey retail locations within the next four months anticipating the legalization of recreational cannabis on October 17, 2018.
(please note, that there are no affiliations with Cannabis Cowboys, which is an illicit black market online dispensary).
About GTEC
GreenTec was founded in 2017 to capitalize on opportunities in the nascent and rapidly growing legal cannabis industry. GTEC is a public corporation listed on the TSX Venture Exchange and based in Kelowna, British Columbia. GTEC is focused on growing premium quality craft cannabis in purpose-built indoor facilities. GTEC currently holds a 100% interest in GreenTec Bio-Pharmaceuticals Corp., Grey Bruce Farms Inc., Zenalytic Laboratories Ltd., Falcon Ridge Naturals Ltd., Alberta Craft Cannabis Inc. (formerly Grenex Pharms Inc.), and Tumbleweed Farms Corp.
To view more about the company or to request our most recent corporate presentation, please visit our website at www.gtec.co
On behalf of the board,
Norton Singhavon
Chairman & CEO
Michael Blady
Co-Founder & Vice President
Neither the TSX Venture Exchange nor its Regulation Services Provider (as that term is defined in the policies of the TSX Venture Exchange) accepts responsibility for the adequacy or accuracy of this release.
The securities of the Company have not been and will not be registered under the United States Securities Act of 1933, as amended and may not be offered or sold in the United States absent registration or an applicable exemption from the registration requirement. This press release shall not constitute an offer to sell or the solicitation of an offer to buy nor shall there be any sale of the securities in any jurisdiction in which such offer, solicitation or sale would be unlawful.
CAUTIONARY STATEMENT REGARDING FORWARD-LOOKING INFORMATION: This news release includes certain "forward-looking statements" under applicable Canadian securities legislation. Forward-looking statements include, but are not limited to, statements regarding the timing of receiving the license to become a Licensed Dealer under the Narcotic Control Regulations of Canada, that no further inspections are required by Health Canada, whether any planned amendments to the license, if and when granted, will be successful, and the Company's ability to become a leading vertically integrated cannabis company, GTEC's cultivation capacity prior to legalization of recreational cannabis and the ability of GTEC to become a leading craft cannabis company in Canada. Forward-looking statements are necessarily based upon a number of estimates and assumptions that, while considered reasonable, are subject to known and unknown risks, uncertainties, and other factors which may cause the actual results and future events to differ materially from those expressed or implied by such forward-looking statements. Such factors include, but are not limited to: general business, economic, competitive, political and social uncertainties; delay or failure to receive board, shareholder or regulatory approvals, where applicable and the state of the capital markets. There can be no assurance that such statements will prove to be accurate, as actual results and future events could differ materially from those anticipated in such statements. Accordingly, readers should not place undue reliance on forward-looking statements. The Company disclaims any intention or obligation to update or revise any forward-looking statements, whether as a result of new information, future events or otherwise, except as required by law.
For further information: GTEC Holdings Ltd., 1-800-351-6358, contact@gtec.co
Click here to connect with GreenTec Holdings (TSXV:GTEC) for an Investor Presentation. 
Source: www.newswire.ca
Investing News Network websites or approved third-party tools use cookies. Please refer to the cookie policy for collected data, privacy and GDPR compliance. By continuing to browse the site, you agree to our use of cookies.