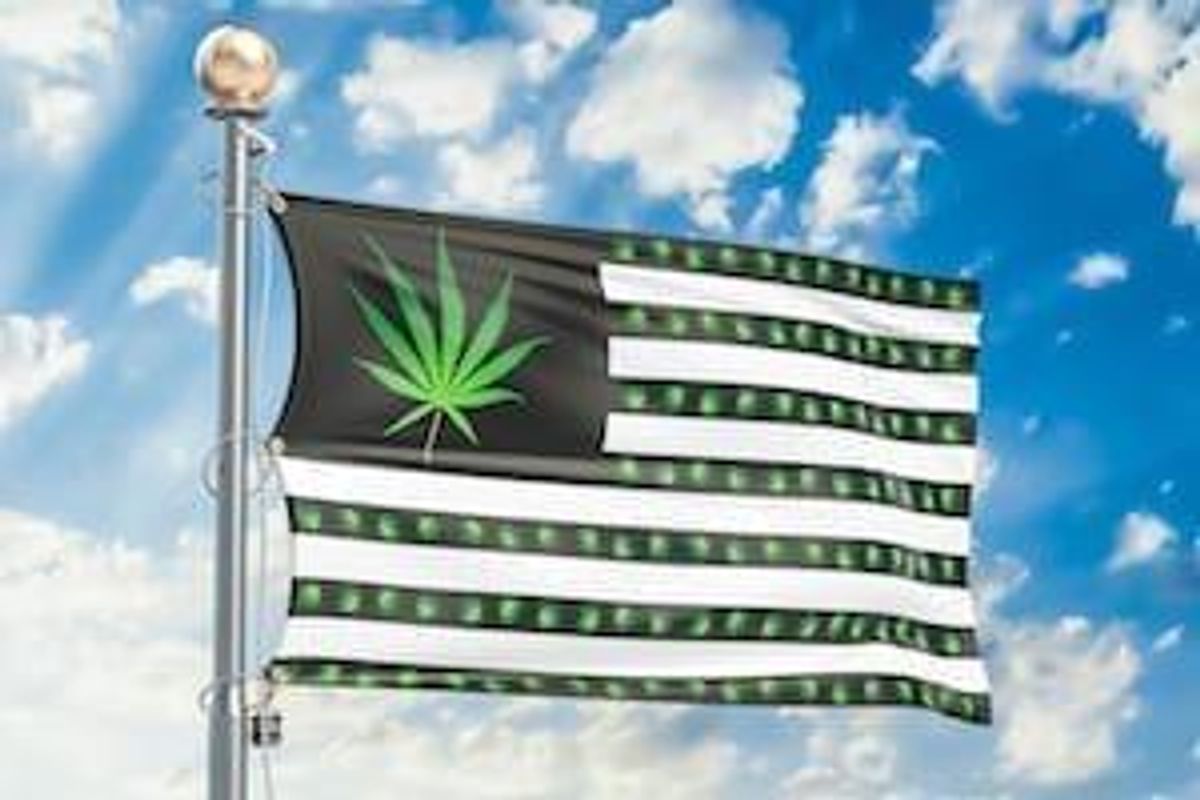 California's legal recreational cannabis industry has the potential to make the State one of the most valuable cannabis markets
California, the largest state economy in the US and the sixth largest economy in the world, is also the largest marijuana market on the planet with annual legal sales totaling approximately $2.8 billion in 2016.
January 1, 2018 shepherded both California's economy and its cannabis market into a new era of growth with the legalization of world's largest adult-use recreational market. A recent BDS Analytics report says California's legal cannabis market could grow to $3.7 billion in 2018 and reach $5.1 billion to rival the beer market by 2019. In a big win for the State, legal weed could net California up to $1.4 billion in tax revenue by 2021.
United States top jurisdiction for cannabis sales
Globally, the legal cannabis market is worth an estimated $7.7 billion, and that figure is expected to grow by a CAGR of 60 percent to reach $31.4 billion by 2021, according to a new report from cannabis market research firm Brightfield Group, as other countries follow California's lead.
The United States currently accounts for 90 percent of that $7.7 billion figure, with the Golden State putting up nearly half of the nation's sales. By 2021 the United States' hold in the market will shrink to 57 percent, notes Brightfield Group. However, Bethany Gomez, Director of Research for the firm told Forbes that the United States market will continue to lead the pack. "The US market is so much larger than the rest of the international markets combined," said Gomez.
By 2026, the United States' legal cannabis market is expected to be worth $50 billion and California will likely continue to reign supreme at home and abroad.
California well-populated with cannabis connoisseurs
What makes California the epicenter of the United States cannabis market? "The sheer size of the population, a strong cannabis culture and a mature medical cannabis market that first began in 1996," David Argudo, CEO of High Hampton Holdings (CSE:HC, FSE:0HCN) told Investing News Network. Argudo has been a leader in cannabis advocacy work for over 25 years and helped to pass the Compassionate Act (Prop 215) in 1996.
California has a total population of nearly 40 million and a medical cannabis market that includes roughly one million patients (compared to 235,000 in Canada as of September 2017) serviced by an estimated 1,000 legal medical cannabis dispensaries. The State also has the largest baby boomer population in the country which is growing 35 percent faster than the nationwide average. According to Forbes, a recent report indicates California consumers spend more on cannabis as they get older. "Baby Boomers on average spent $185 a month in 2016 versus millennials that only spent $136."
With recreational use now legal, tourism is also expected to factor into the market. The west coast state is one of North America's largest tourist destinations, attracting an average of 260 million visitors and $122 billion each year.
"A significant portion of this spending is on leisure goods and services. For instance, tourists have been estimated to spend $7.2 billion per year on wine in California," notes a report by the University of California Agricultural Issues Center. "Given that adult-use cannabis remains illegal in most other states, California's legalized adult-use industry may attract some new visitors whose primary reason for visiting the state is cannabis tourism, as has been observed in Colorado."
California's strong medical cannabis market
As the first state to legalize medical marijuana decades before the rest of the country began to come around to the idea, California has long been at the center of cannabis culture. The State's Emerald Triangle—Humboldt County, Mendocino County and Trinity County— is the largest cannabis producing region in the country and home to some of the most premier strains in the world. Other states and countries are now following California when it comes to growing techniques and branding.
Argudo says California's well-established medical market will provide excellent support to the development of the State's newly birthed legal recreational market—something he believes the Canadian market lacks despite its current legal medical market.
"Take a look at what's happening in Canadian markets, specifically some of the methods of dispensing to patients such as through non-branding, mail orders, and no edibles," he explained. "Compare this to California where we have well-established medical companies that have been in operation for almost two decades and have fine-tuned the products and strain profiles to match client needs. These well-established strains, edibles, and even drinks have been around prior to recreational."
California cannabis users consumed close to $180 million in edibles for 2016, accounting for 10 percent of total cannabis sales, according to Arcview Market Research. Those figures will likely increase once the recreational market is in full swing.
While the long-lived medical market will provide a foundation for the emerging recreational market, how will medical cannabis growers and dispensaries fair in this new landscape? Argudo says medical-based marijuana companies have a competitive advantage that will allow them so slide right into the recreational space: "Their products and strains have been tailored to match consumer needs. Repositioning themselves will not be very difficult.''
Good news, given that the demand for medical cannabis is likely to drop off as the recreational market grows, projects Green Market Reports. The report's authors reveal a truth most of us have probably long suspected: many of California's medical marijuana consumers are really closet recreational users. "In other states, the sales of medical marijuana fell once adult use marijuana entered the market and California will repeat this pattern."
Overcoming federal challenges to state-legal cannabis
As with any developing marketplace there are bound to be challenges along the way. Cautious optimism seems to be the sentiment among analysts. "The California cannabis industry has been like BC in my view, with tremendous domain expertise but little or no regulation. I am optimistic that after what will likely be a rough transition from the past two decades of legal but unregulated to one that is highly regulated over the next few years, the industry will prove to be very strong, with even more innovation than it has had before," 420 Investor founder Alan Brochstein told INN.
"With that said," he added, "it's not possible to be a player in the global cannabis market as long as cannabis remains federally illegal, except for potentially IP and branding licensing, as we have seen on a limited basis from Colorado firms."
Brochstein points out the elephant in the room. The federal stance on state-legal cannabis. Jeff Sessions rescinding the Cole Memo—which directs US Attorneys not to focus federal resources to prosecute individuals in compliance with state cannabis laws—has certainly put the market on edge.
David Arguro said he and his political colleagues are watching this closely. He sees recreational at a higher risk than medical based companies, but expects California's Attorney General will move forward as planned with the State's cannabis regulation.
There are strong signs of bipartisan support for legal cannabis at the federal level. California Rep. Barbara Lee's introduction  of a new federal act proposal for the protection of state-legal cannabis from "excessive federal enforcement"should show investors that California's cannabis industry is making headway in this regard. The bipartisan support for the act is proof that both Democrats and Republicans understand that cannabis is big business.
In a press release regarding Congresswoman Barbara Lee's proposal,  Argudo  said that he is "very optimistic" that in 2018 "we will see discussions on banking, descheduling cannabis, controlling the industry like alcohol and much more. This development provides High Hampton with solid confidence as we embark on a sure to be eventful year for the company." High Hampton's subsidiary, CoachellaGro is a medicinal marijuana firm based in Coachella, California.
The Takeaway
California's immense population, lucrative tourist industry, entrenched marijuana culture and premier products is a winning combination for a successful market at home. On the global front, the federal issue will have to be resolved in order for California's cannabis market to really take home the crown.
This article was written according to INN editorial standards to educate investors.
Investing News Network websites or approved third-party tools use cookies. Please refer to the cookie policy for collected data, privacy and GDPR compliance. By continuing to browse the site, you agree to our use of cookies.