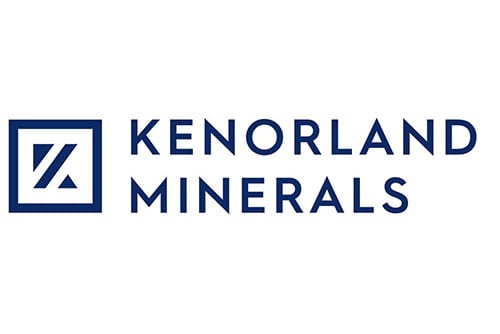 Kenorland Minerals
Large-scale Exploration, Significant Discovery Potential in Quebec and Alaska
This Kenorland Minerals profile is part of a paid investor education campaign.*

Overview
Many exploration companies focus on making discoveries by acquiring and drilling properties where historical mines had previously operated, or where other occurrences have been known about. However, one company suggests that a significant opportunity exists to make completely new greenfields discoveries through large-scale systematic exploration in otherwise under-explored regions of world-class mining districts.
Kenorland Minerals Ltd. (TSXV:KLD,OTCQX: NWRCF,FSE: 3WQ0) is a Canada-based mineral exploration company that is focused on making new discoveries through large-scale early-stage exploration within Quebec and Alaska, two of the world's most geologically prospective mining jurisdictions. The company is led by an experienced team of geoscientists with a deep understanding of mineral systems and exploration methodology. Kenorland's approach to exploration is simple: Identify under-explored areas within proven mineral districts, acquire large land positions covering prospective geology, and carry out large-scale, systematic exploration to screen these areas for new mineral deposits. The approach is not novel but the scale at which the company is exploring sets them apart from their peers. The company currently holds and is exploring over 400,000 hectares of ground in these world renowned jurisdictions.
Kenorland Minerals' Company Highlights
Well-funded with over $9,500,000 cash in the treasury.
Tight share structure with large insider ownership and strong long term shareholders including Quebec-based institutional funds and well-known financiers including John Tognetti and Paul Stephens.
Exposure to a vast portfolio of exploration ground with over 400,000 hectares of mineral tenure within Alaska, Quebec and Manitoba.
Earn-in agreements with Sumitomo Metal Mining and Newmont Corporation funding exploration on greenfields projects in Quebec.
The company recently made a major gold discovery in Quebec in an area with no known previous exploration. Initial scout drilling in early 2020 intersected 29.08 meters at 8.47 g/t gold and 11.13 meters at 18.43 g/t gold. Drilling continuing in Q1 2021.
Significant discovery potential on the Healy property which covers a newly recognized large-scale gold system in the Goodpaster district of Alaska. Initial diamond drill testing in Summer 2021.
Further significant discovery potential on Kenorland's 100 percent owned Tanacross Project, located in eastern Alaska, which covers a significant cluster of porphyry copper-gold systems. Drilling planned for Summer 2021.
A total of three projects being drill tested in 2021 as well as a pipeline of additional projects being advanced through systematic exploration. Continual project generation and evaluation of new opportunities.
Kenorland acquired district-scale land package in Ontario's Birch-Uchi Greenstone Belt by staking, 65,657 hectares of mineral claims.
Kenorland Minerals' Key Projects
Figure 1. Kenorland Minerals – North American Project Locations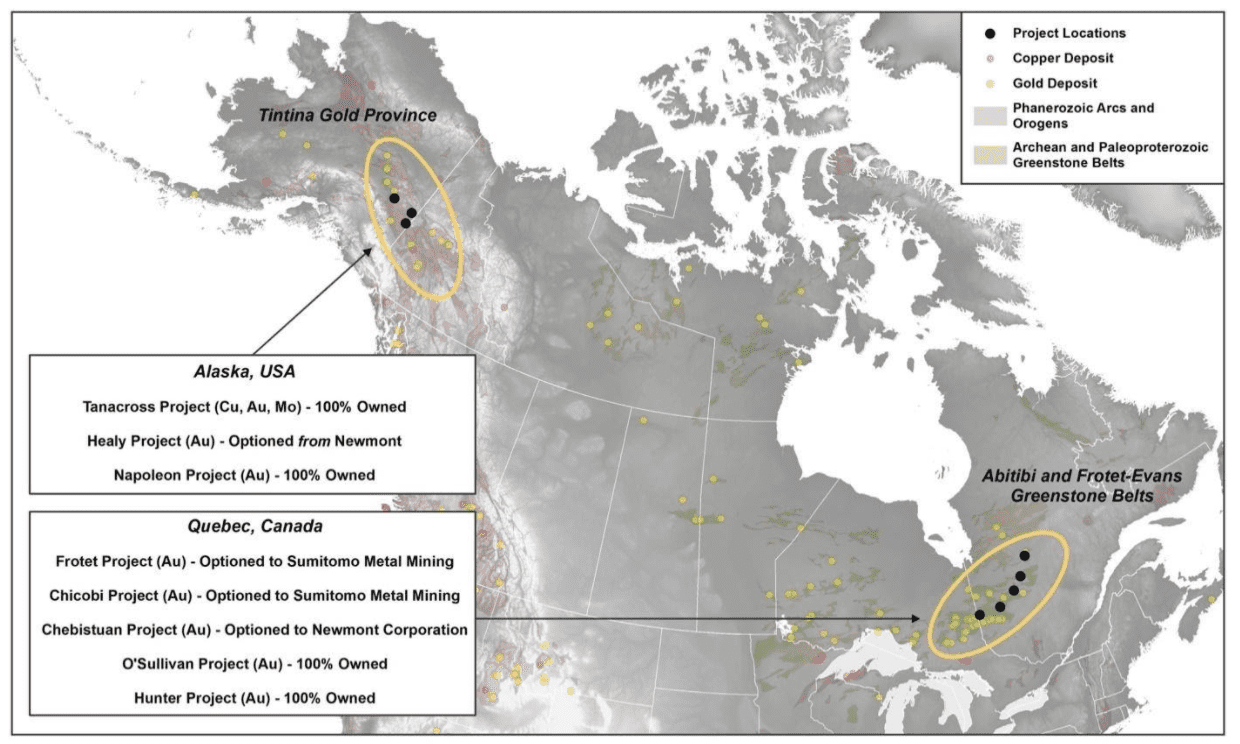 Kenorland's approach to exploration proved successful with a greenfields gold discovery in Quebec in an area with no known historical drilling or mineral occurrences. After two years of systematic exploration covering 57,000 hectares of ground in the Frotet Evans belt, initial scout drilling on a target named Regnault, returned 29.08 meters at 8.47 grams per ton (g/t) gold including 11.13 meters at 18.43 g/t gold. The initial drill campaign discovered an extensive mineralized footprint with multiple gold-bearing structures at various orientations over two kilometers of strike. The company is currently carrying out a large scale induced polarization (IP) survey covering the entire five kilometer long trend and is planning a follow up 9,000m drill program beginning in March. The Frotet Project is currently under option to Sumitomo Metal Mining, who is funding the exploration, while Kenorland Minerals remains the operator.
Figure 2. Mineral Properties of Quebec, Canada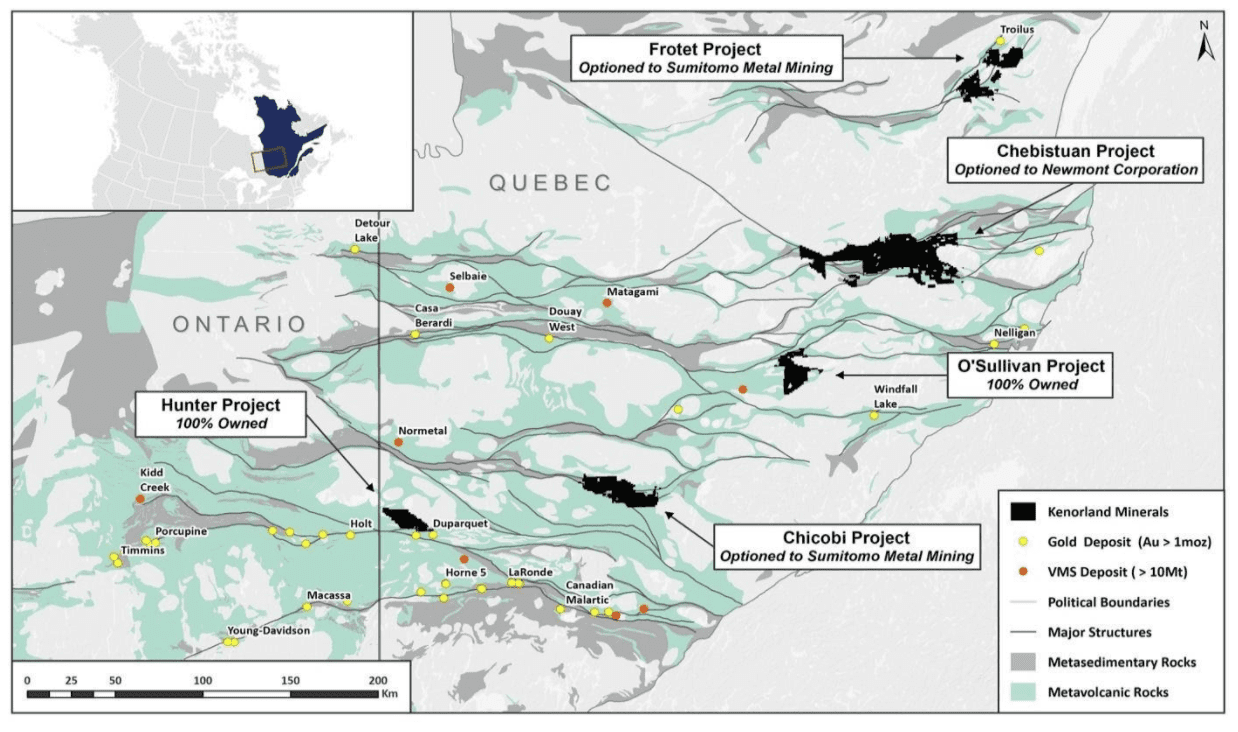 Kenorland's diverse portfolio of projects also includes the more advanced stage Tanacross and the Healy projects, both located in eastern Alaska, as well as a pipeline of additional greenfields projects within the Abitibi Greenstone belt of Quebec. The company plans to drill at both Tanacross and Healy this summer with exploration being carried out from June to September in Alaska.
The Tanacross Project covers a cluster of later cretaceous porphyry Cu-Au-Mo systems which sit in a very similar geologic setting, including age of intrusions, as Western Copper and Gold's (TSX:WRN) Casino Project, which hosts over 20 million ounces of gold and over 10 billion pounds of copper, located just over the border in the Yukon. Copper-gold-molybdenum mineralization was first recognized in the area in 1970 by International Minerals and Chemicals Corp. which led to the discovery of the Taurus Cu-Mo-Au porphyry system. Despite these early campaigns, the vast area encompassed by Kenorland's Tanacross Project remains largely untested. In June and July, the company plans to carry out detailed geological, geochemical and geophysical surveys followed by diamond drilling beginning in August.
In parallel with advancing targets to drill stage at Tanacross early in the summer, Kenorland plans to commence drilling at its Healy Project, close to Australian gold producer Northern Star Resources' (ASX:NST) Pogo Operation. Healy was first identified and staked by Newmont in 2012 following a two-year regional stream sediment sampling program in eastern Alaska. Kenorland holds an option to earn up to 70 percent in the project from Newmont. Last summer, the company (then Northway Resources Corp.) carried out detailed geochemical and geophysical surveys over the Healy Project, including infill soil sampling, ground magnetics and VLF, airborne magnetics, and ground IP over five selected target areas. The company plans to launch the project's initial diamond drill program in June to test targets generated from last year's field work.
Figure 3. Mineral Properties of Alaska, USA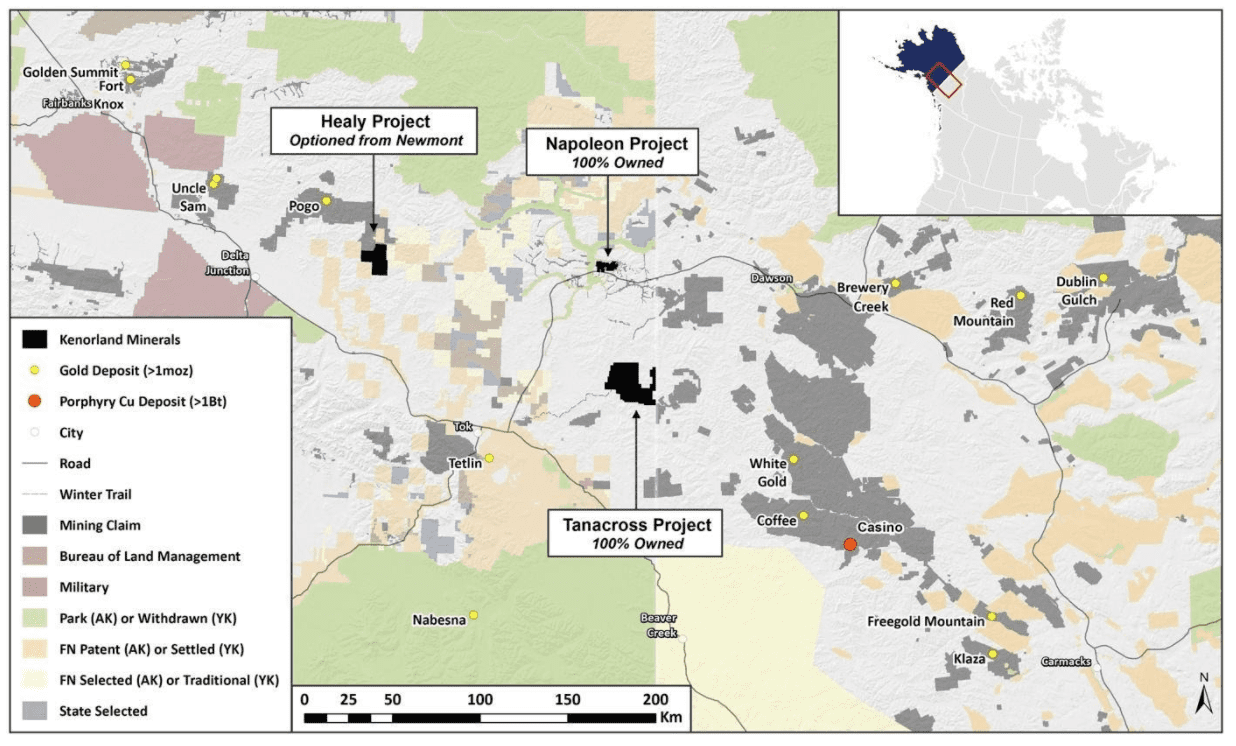 With a vast portfolio of mineral tenure in some of the most well-endowed and politically stable jurisdictions in North America, and the recent commencement of trading on the TSX Venture Exchange under the symbol "KLD," Kenorland looks forward to an action-packed year of further discovery and growth as it advances its numerous flagship and pipeline projects.
Kenorland Minerals' Management Team
Zach Flood — President and CEO, Director
Mr. Flood is an experienced geologist who has managed mineral exploration in countries around the world including Mongolia, China, Dem. Rep. Congo, Peru, Argentina, Canada, and the U.S., over the past 15 years. Mr. Flood co-founded Kenorland Minerals Ltd in 2016. Prior to co-founding Kenorland, Mr. Flood spent numerous years within the Ivanhoe Group, undertaking project generation and business development along with evaluating early to advanced stage M&A opportunities in the mining sector.
Francis MacDonald — Executive Vice President of Exploration
Francis is an exploration geologist who has spent the majority of his career with Newmont Mining Corporation managing grassroots exploration projects in North America, West Africa, and East Africa. He has extensive knowledge of exploration and targeting techniques related to orogenic gold and VMS deposits in Precambrian terranes.
Enoch Kong — Chief Financial Officer
Mr. Kong is a graduate from the Simon Fraser University, completing his Bachelor of Business Administration in 2005. He received his Certified General Accountant designation in 2008 and his Chartered Accountant designation in 2010. Mr. Kong is currently a senior member with Michael Waldkirch & Company Inc., Chartered Professional Accountants, in Vancouver, BC. He has extensive experience in controllership and financial reporting for public companies in the oil and gas and mining sectors listed in Canada and the United States.
Scott Smits — Chief Geologist
Scott has been involved in a broad range of positions and responsibilities, including mineral exploration and project evaluations since 2007. He honed his technically driven skillset during his time as a leading geologist on the Madrid deposit, at the Hope Bay Project for Newmont Mining Corporation. Scott's ability to develop comprehensive three dimensional geologic models integrating wide ranges of datasets has been an integral part of his success from grassroots exploration to resource development. His most recent role was Senior Geologist within Newmont Mining Corporation's Exploration Development Group conducting project generation and evaluations.
Dave Stevenson — Chief Geophysicist
Dave is a mineral exploration geoscientist with over 10 years combined experience in mineral exploration and geoscientific research throughout Canada, Australia and South America. He has worked with a number of junior and mid-tier companies focusing on regional scale targeting to deposit scale resource definition. His current PhD research (being concluded at The Centre for Exploration Targeting; The University of Western Australia) involves developing and implementing an integrated structural geology and potential field geophysical approach to identifying crustal-scale architectural controls on mineralized systems. With combined experience in mineral exploration and exploration focused academic research Dave is positioned to be a leader among the next generation of mineral exploration geoscientists through applying sound scientific reasoning to develop exploration strategies capable of unlocking the mineral potential in previously overlooked terranes.
Janek Wozniewski — Exploration Manager, P.Geo
Janek is an exploration geologist and geoscientist with experience in early to late stage mineral exploration projects as well as mid-stream oil and gas projects in Canada, US, Australia and Peru. Since 2009, Janek has consulted with several junior to major energy and resource companies and has gained a broad multidisciplinary skillset with a focus on program planning and project management.
Carl Gutsche — Director of Communications
Mr. Gutsche brings over 10 years of diverse mineral exploration and technical experience to the team complimented by a strong track record in innovation and discovery. He is an active participant in the development of modern communications, visual products, and marketing materials in support of translating resource opportunities and value creation throughout the exploration sector. Prior to this role Mr. Gutsche held previous roles with Newmont Corporation, Riverside Resources and Sabina Gold & Silver Corp.
Kenorland Minerals' Directors & Advisors
Zach Flood — President and CEO, Director
Jessica van Den Akker — Director
Jessica van Den Akker holds the position of Chief Financial Officer at Kore Mining. Ms. Van Den Akker is a Chartered Professional Accountant (CA) with 15 years' experience in the resource sector. She gained extensive experience through a Canadian audit firm providing reporting and accounting assurance services to publicly traded companies, primarily in natural resources. Ms. Van Den Akker is a graduate of Simon Fraser University where she received a Bachelor of Business Administration.
Jay Sujir — Director
Mr. Sujir is a securities and natural resources lawyer who has 23 years of experience in advising and assisting public companies. He is a senior partner with Farris LLP. Mr. Sujir is a member of the Law Society of British Columbia and the Canadian Bar Association.
Rick Trotman — Director
Mr. Trotman is a professional geologist with a broad range of experience within the mining industry, having worked in both buy-side and sell-side positions as well as technically focused responsibilities with major mining companies. Mr. Trotman is currently the President and CEO of Barksdale Resources. Rick was previously with Resource Capital Funds, a leading mining-focused private equity firm, where he was involved in executing a broad range of investments spanning the precious, base and minor metal spaces and was also responsible for establishing and managing the firm's portfolio of exploration investments. He holds a Master of Science in Economic Geology from the University of Nevada Reno and a Bachelor of Science in Geology from Washington State University.
Jamie Levy — Director
Mr. Levy has 25 years experience in financing and management of Canadian mining companies. Mr. Levy is currently the President, CEO and Director of Generation Mining. Mr. Levy was previously CEO of Pine Point Mining which was acquired by Osisko Metals.
Peter Meredith — Advisor
Peter is a current Director of Ivanhoe Mines Ltd. (formerly Ivanplats Limited), Peregrine Diamonds, Cordoba Minerals and Great Canadian Gaming and was formerly a Director and Deputy Chairman of Ivanhoe Mines Ltd. (now Turquoise Hill Resources Ltd.), where he was involved in overseeing Ivanhoe's business development and corporate relations. He was also Chairman of SouthGobi Resources Ltd. as well as the President and CEO of Global Mining Management Corp. Peter previously spent 31 years with Deloitte LLP, chartered accountants, and retired as a partner in 1996. Peter is a Chartered Professional Accountant and is a member of the Institute of Chartered Professional Accountants of British Columbia, the Institute of Chartered Professional Accountants of Ontario. He was also certified as a Chartered Accountant (now Chartered Professional Accountant) by the Canadian Institute of Chartered Accountants in 1968.
---
INN does not provide investment advice and the information on this profile should not be considered a recommendation to buy or sell any security. INN does not endorse or recommend the business, products, services or securities of any company profiled.
The information contained here is for information purposes only and is not to be construed as an offer or solicitation for the sale or purchase of securities. Readers should conduct their own research for all information publicly available concerning the company. Prior to making any investment decision, it is recommended that readers consult directly with Kenorland Minerals and seek advice from a qualified investment advisor.