Ely Gold Royalties
Developing Gold Assets in North America
Overview
Ely Gold Royalties (TSXV:ELY, OTC:ELYGF) is an emerging royalty company with interests in 71 precious metal properties. The majority of these properties are located in some of Nevada's most prolific gold districts including Walker Lane and the Cortez Trend. A few others are located in the surrounding western states of Utah, Arizona, Oregon and California. 41 of these properties are being explored by majors, producing mid-tiers and high quality junior exploration companies. 21 properties are in the Company's royalty portfolio and 20 properties are being purchased under option contracts. All the Company's option properties will produce royalties, if exercised. In 2018, the Company's property portfolio will generate over $2 million in revenue and positive cash flow estimated at $1 million. Ely Gold is also actively purchasing existing third-party royalties. Ely Gold maintains a strong cash position and a gold stock equity portfolio. The company is well positioned with its current portfolio of 30 available properties to generate additional operating revenue through option, sale transactions and the potential purchase of third party royalties.
Ely Gold's unique business model involves the acquisition and consolidation of claims and historic data for creating drill ready projects, in attractive gold trends, using its extensive, proprietary data base. The properties are then sold for cash or optioned to third parties while retaining significant royalty interests. Ely Gold also offers its shareholders further leverage to the gold market through its portfolio of equities in mid-tier and junior exploration companies.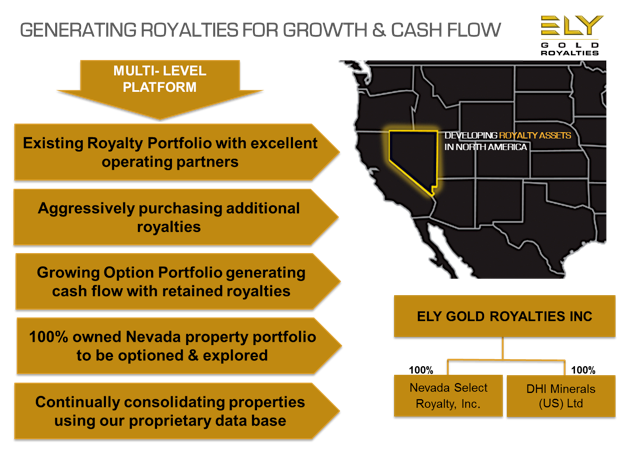 The properties in Ely Gold's Royalty and Option Portfolios are currently being developed by quality operators and all optioned properties will generate royalties, if exercised Ely Gold offers shareholders excellent value as the shares are significantly under-valued in the emerging royalty space.
Royalty Generator Model vs. Project Generator Model
Ely Gold's management believes its Project Developer model has advantages over the standard project generator/ joint-venture model because the Company can manage a much larger property portfolio, which generates significant cash flow. All option contracts allow for 100% ownership allowing our partners to better market and develop the properties.
Nevada Select Property Option Portfolio
Royalty Portfolio
Portfolio Revenue
Ely Gold's Option Portfolio contracts are generally four-year options for 100% ownership. These contracts will generate significant revenue. The chart below shows payments due from current option contracts.
Company Highlights as of April 2018
An interest in 71 Nevada focused properties with 41 currently being explored by third parties
Properties in the Option Portfolio generating cash flow with retained royalties.
Royalty portfolio of 21 properties with excellent operators.
2018 estimated portfolio revenue of over $2 million cash flow of $1 million
Over 30 Nevada properties to be optioned or sold.
Large proprietary data base generating drill ready projects
Continually staking and purchasing additional properties and royalties.
Under-valued to peer group of emerging royalty companies
Excellent leverage to Nevada exploration and gold prices
Growing equity portfolio of quality gold companies offers shareholders additional leverage to the gold market
Corporate Information
Management
Trey Wasser— President, CEO and Director
Trey Wasser has more than 33 years in venture capital and corporate finance experience, specializing in equity/debt re-structuring and cash management. He is the President and Director of Research for Pilot Point Partners LLC, and Founder of Due Diligence Tours, which organized analyst tours to hundreds of mining properties in North America.
Jerry W. Baughman, BSc, PGeo—President of Nevada Select Royalties, Inc.
Jerry Baughman is a Certified Professional Geologist with the American Institute of Professional Geologists (since 1997), and a graduate of University of Nevada with degrees in geology and economic geology. He has over thirty years of experience in mineral exploration in the United States, Mexico and South America. Based in the Reno area, Baughman has extensive experience as an independent geologist evaluating gold and silver properties. He has served in geologist and management positions with Southwestern Gold, Cambior (USA), Gryphon Gold, Fronteer Gold. Baughman is member of the Geological Society of Nevada (GSN), a member of the Nevada Petroleum Society (NPS), a member of the Society of Economic Geologist (SEG), a member of the British Columbia & Yukon Chamber of Mines, and a member of the Prospectors and Developers Association of Canada (PDAC). He is a Qualified Person as defined by National Instrument 43-101.
Scott Kelly—CFO and Corporate Secretary
Scott Kelly has over 12 years of senior management experience in the global mining sector. He is currently the CFO of Ethos Gold Corp, Sonoro Metals Corp and Marlin Gold Mining Ltd. Kelly also served as VP Finance for Pediment Gold Corp until its acquisition by Argonaut Gold Inc.
Stephen Kenwood, BSc, PGeo—Director and Qualified Person
Stephen Kenwood has over 25 years' world-wide experience in the mining sector and 15 years' experience managing junior exploration companies. He served as a geologist with Cominco on the Snip gold mine, project geologist at Eskay Creek, and project geologist at the Petaquilla copper-gold porphyry deposit. He is currently President and a director of Majestic Gold Corp., President and a director of Remo Resource Corp., and director of two other TSX.V listed companies.
Tom Wharton—Independent Director
Tom Wharton has over 30 years' experience with start-up, development and financing of early stage mining companies. He currently sits on the board of Angel Gold, DV Resources and Dolly Varden Silver.
Ron K. Husband, MBA—Independent Director
Ron Husband is currently a director of Sonoro Metals Corp., and Chairman of the Audit and Compensation Committees.
William M. Sheriff—Director
William M. Sherriff has over 30 years experience in global mining sector and prospecting in the western US, He is the founder and Executive Chairman of Golden Predator Corp and also serves on the board of enCore Energy.
---
*Disclaimer: The profile provides information which was sourced and approved by Ely Gold Royalties in order to help investors learn more about the company. Ely Gold Royalties is a client of the Investing News Network (INN). The company's campaign fees pay for INN to create and update this profile page, to which links are placed on Investingnews.com and channel newsletters.
The company description, investment highlights and catalysts were sourced by INN and approved by the company. INN does not guarantee the accuracy or thoroughness of the information contained on this page.
INN does not provide investment advice and the information on Investingnews.com profile should not be considered a recommendation to buy or sell any security.
INN does not endorse or recommend the business, products, services or securities of any company profiled.
Readers should conduct their own research for all information publicly available concerning the company.