This profile is part of an investor education campaign. The profile provides detailed information which was sourced and approved by Ely Gold Royalties in order to help investors make better investment decisions. The Company's support of Investing News Network ensures we can continue to bring you unbiased, independent news and information.
Resource Investing News Featured Stock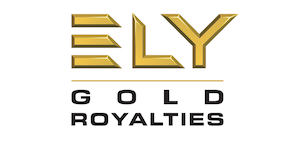 Ely Gold Royalties —Developing Gold Assets in North America
Overview
Ely Gold Royalties (TSXV:ELY,OTC:ELYGF) is a project developer targeting highly prospective precious metals properties mainly in Nevada, one of the world's top-rated mining jurisdictions. The majority of these properties are located in some of Nevada's most prolific gold districts including Walker Lane and the Cortez Trend. A few others are located in the surrounding western states of Utah, Arizona, Oregon and California.
Ely Gold's unique business model involves the acquisition and consolidation of claims and historic data for creating drill ready projects in attractive gold trends. Then, optioning the properties for 100-percent interests while retaining significant royalty interests. Ely Gold also offers its shareholders further leverage to the gold market through its portfolio of equities in mid-tier and junior exploration companies.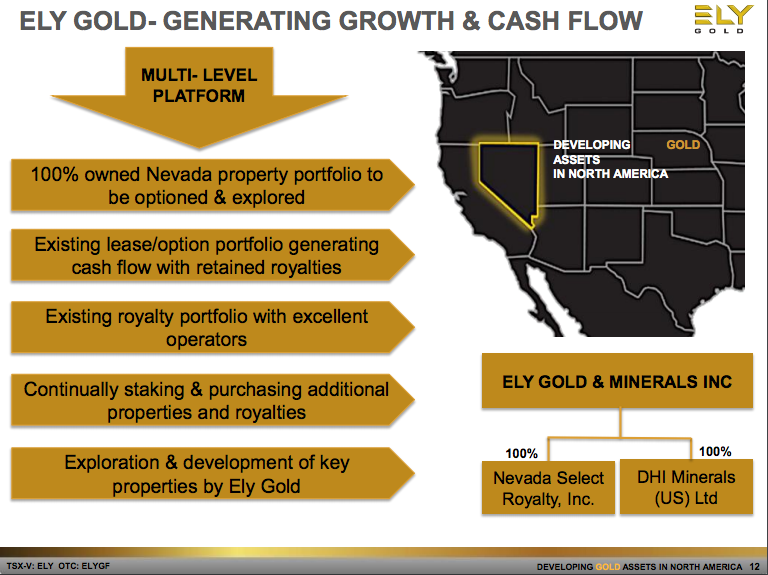 The properties in Ely Gold's Royalty Portfolio are currently being developed by quality operators, improving shareholder value by increasing the likelihood of revaluation from a property generator to a royalty company.
Project Developer Model vs. Project Generator Model
Ely Gold's management believes its Project Developer model has advantages over the standard project generator/ joint-venture model because the Company can build a larger property portfolio from which to generate significant cash flow at less risk.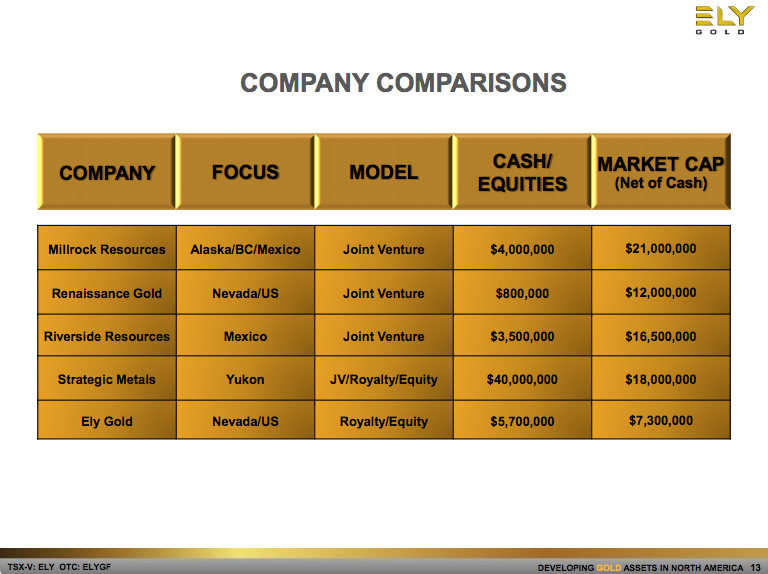 Nevada Select Property Portfolio
Through its wholly owned subsidiary, Nevada Select Royalty, Inc., and Ely Gold has now entered into a definitive purchase agreement with Eastfield Resources Ltd. Ely Gold has acquired an interest in the 18 patented mining claims, located in Esmeralda and Nye Counties, Nevada.  The closing of the Transaction is subject to further due diligence by Ely Gold and approval of the TSX-V.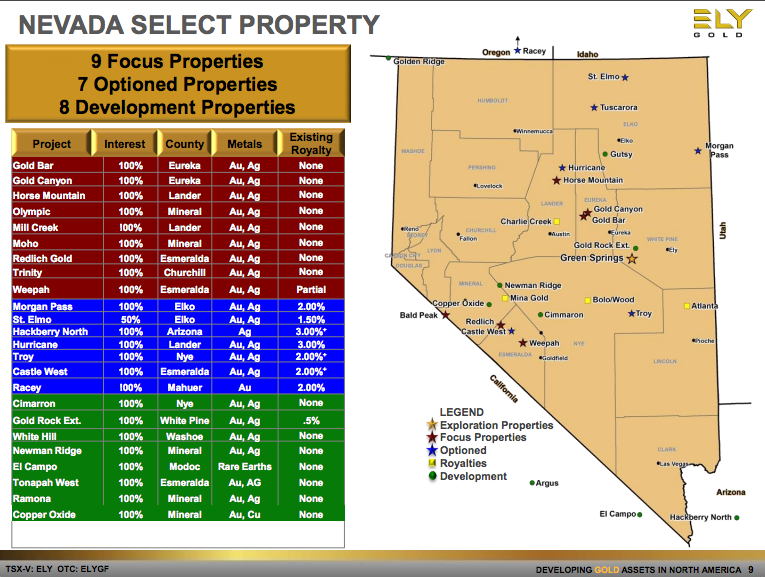 Ely Gold sold its Isabella property in January 2017 for US $460,000 and will retain a net smelter royalty of 2.5 percent. The claims were purchased by a subsidiary of Gold Resource Corporation and are contiguous to Gold Resource's Isabella Pearl claims. The project is advancing toward permitting and is a valuable addition to Ely Gold's royalty portfolio. That same month, the Company optioned its North Hackberry Project, located in Arizona's Mohave County, for US$150,000 and 600,000 Bitterroot Resources common shares. North Hackberry hosts the Silver King past-producing high-grade silver mine which shares the main Hackberry mineralized system with the Old Hackberry and South Hackberry Mines.
Ely Gold optioned the Green Springs project in eastern Nevada for US$3 million and 2,250,000 shares in Colorado Resources. The project hosts a Carlin-style gold system and is located 50 miles south of Kinross' Bald Mountain/Alligator Ridge Mine. Green Springs reportedly produced 1.1 million tons at an average grade of 2.1 g/t gold at a 0.7 g/t gold with estimated heap leach recoveries of greater than 80 percent.
Building Drill Ready Projects
Developing attractive drill-ready projects through claim consolidation, data compilation, exploration and permitting.
The Company believes that high quality properties are often overlooked by major and mid-tier companies because of challenges inherent in consolidating fragmented claims and the historic data. Through a combination of staking and purchasing, Ely Gold enhances its property's value by consolidating patented and unpatented claims in underexplored areas. The Company then acquires, compiles and digitizes all the available data on each property, creating an accessible data package.
Following up on the historic data, baseline studies and soil sampling are initiated to bring the project up to drill-ready status. Due to increased permitting timelines, the Company also begins the permitting process and works to resolve any development issues related to water rights, environmental or community concerns.
Key Focus Project: Gold Canyon
Ely Gold's wholly-owned Gold Canyon project in Eureka County, Nevada is one of the Company's key focus projects. Surrounded by McEwen Mining's Gold Bar Mine development claims, the property contains one of the five pits of the past-producing Gold Bar Mine operated by Atlas Corporation. Production records indicated 485,200 ounces of gold were recovered from the mine between 1987 to 1994. Lower grade material is stockpiled at the pit.
Three rock chip grab samples collected from the high-grade feeder structure at the northeast end of the pit wall assayed .37 gpt, 1.56 gpt and 9.15 gpt gold, each well oxidized. Forty grab samples were collected from unloaded blast holes near the bottom of the pit. Each were mineralized and 33 ran an average of .42 gpt gold. Metallurgical testing of the material resulted in most samples showing a CN soluble rate of more than 70 percent with many samples as high as over 90 percent.
The results support the Company's belief that the Gold Canyon pit hosts remaining leachable mineralized material. "The high-grade feeder is oxidized and may represent significant additional mineralized material which could expand the pit," said Trey Wasser, Ely Gold President and CEO. Ely Gold is planning a follow-up program which will also include sampling the stockpile material and a soil grid of two prospects identified by the previous owner.
Gold Canyon is available for 100 percent sale or option with a retained royalty.
Royalty Portfolio
Ely Golds portfolio of eight deeded royalties and eight optioned properties are providing growing cash flow streams for providing capital for additional property acquisitions.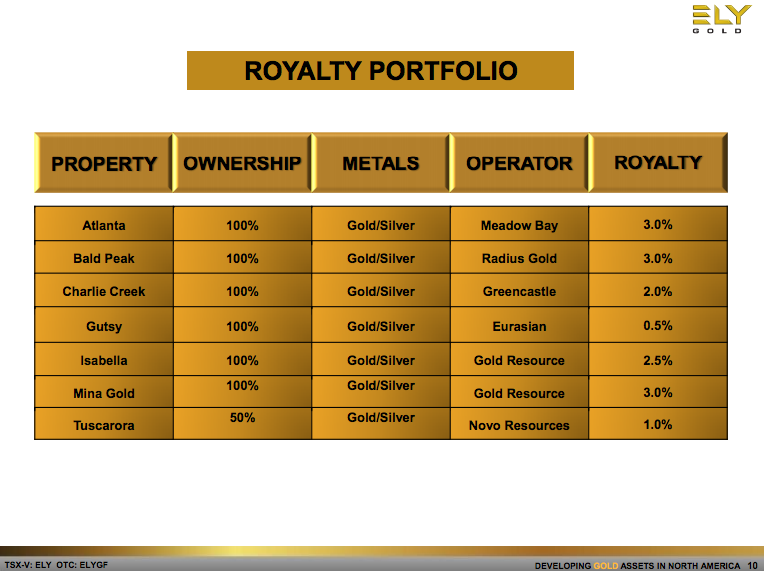 Investment Highlights
100-percent owned Nevada property portfolio to be optioned and explored.
Existing lease/option portfolio generating cash flow with retained royalties.
Existing royalty portfolio with excellent operators.
Continually staking and purchasing additional properties and royalties.
Blue sky potential: exploration and development of key properties by Ely Gold.
Growing equity portfolio of quality gold companies offers shareholders additional leverage to the gold market
Management
Trey Wasser— President, CEO and Director
Trey Wasser has more than 33 years in venture capital and corporate finance experience, specializing in equity/debt re-structuring and cash management. He is the President and Director of Research for Pilot Point Partners LLC, and Founder of Due Diligence Tours, which organizes analyst tours to hundreds of mining properties in North America.
Jerry W. Baughman, BSc, PGeo—President of Nevada Select Royalties, Inc.
Jerry Baughman is a Certified Professional Geologist with the American Institute of Professional Geologists (since 1997), and a graduate of University of Nevada with degrees in geology and economic geology. He has over thirty years of experience in mineral exploration in the United States, Mexico and South America. Based in the Reno area, Baughman has extensive experience as an independent geologist evaluating gold and silver properties. He has served in geologist and management positions with Southwestern Gold, Cambior (USA), Gryphon Gold, Fronteer Gold. Baughman is member of the Geological Society of Nevada (GSN), a member of the Nevada Petroleum Society (NPS), a member of the Society of Economic Geologist (SEG), a member of the British Columbia & Yukon Chamber of Mines, and a member of the Prospectors and Developers Association of Canada (PDAC). He is a Qualified Person as defined by National Instrument 43-101.
Scott Kelly—CFO and Corporate Secretary
Scott Kelly has over 12 years of senior management experience in the global mining sector. He is currently the CFO of Ethos Gold Corp, Sonoro Metals Corp and Marlin Gold Mining Ltd. Kelly also served as VP Finance for Pediment Gold Corp until its acquisition by Argonaut Gold Inc.
Stephen Kenwood, BSc, PGeo—Director and Qualified Person
Stephen Kenwood has over 25 years' world-wide experience in the mining sector and 15 years' experience managing junior exploration companies. He served as a geologist with Cominco on the Snip gold mine, project geologist at Eskay Creek, and project geologist at the Petaquilla copper-gold porphyry deposit. He is currently President and a director of Majestic Gold Corp., President and a director of Remo Resource Corp., and director of two other TSX.V listed companies.
Tom Wharton—Independent Director
Tom Wharton has over 30 years' experience with start-up, development and financing of early stage mining companies. He currently sits on the board of Angel Gold, DV Resources and Dolly Varden Silver.
Ron K. Husband, MBA —Independent Director
Ron Husband is currently a director of Sonoro Metals Corp., and Chairman of the Audit and Compensation Committees.
Marco Antonio Galindo— Independent Director
Marco Antonio is a Chemical Engineer with more than 20 years' experience in metallurgy process design, development, mining operations and management. He was formerly General Manager of Capital Gold's Mexican operations and Senior Process Engineer / Assistant General Manager of Alamos Gold Corporation.