This profile is part of a paid investor education campaign.*
Technology Investing News Featured Stock
Overview
HashChain Technology Inc. (TSXV:KASH, OTCQB: HSSHF) is a blockchain technology company dedicated to blockchain-related business and services, including mining various cryptocurrencies through proprietary technology, a blockchain tax software solution and masternode Hosting services.
The creation of Bitcoin introduced the cryptocurrency market, which has grown to include many different tokens.  The majority of cryptocurrencies are transacted across a decentralized network, or blockchain, in which they are verified by users on the network, otherwise known as "miners". To incentivize miners who lend computing power to verify transactions on the blockchain, they compete to solve a cryptographic puzzle that determines who transcribes transactions on the block. The first to solve this puzzle is rewarded with newly minted currency.
With the goal of mining a diversified portfolio of cryptocurrencies, HashChain Technology launched its first data center with 100 Rigs in Vancouver in November 2018, dedicated to mining Dash coin. Since the launch, HashChain  deployed an additional 1,770 S9 Antminer Bitcoin Rigs in a Montana, USA mining facility as of April 2018.
In February 2018, HashChain took the first step in achieving its expansion goals beyond mining through the acquisition of NODE40, a blockchain technology company. NODE40 developed a cryptocurrency accounting software.
HashChain is led by a proven team of early adopters and advocates with deep technical experience, including CEO Patrick Gray, who early in his career was involved in a startup that was sold to Xerox for $220 million. The company's Chief Strategy Office (CSO) Perry Woodin, is also an advisor to Dash and a nationwide thought leader on the intersection of taxes and cryptocurrency. HashChain's alignment to Dash is inspired by the coin's rapid movement toward mass adoption and its attempts to remove the technical barriers to cryptocurrency transactions.
Investment Highlights
Profitable 100-rig data center launched in Vancouver in November 2017 mining Dash cryptocurrency.
1,770 additional Bitcoin Rigs went online as of April 2018 in their Montana, USA data center for a total of 2.47 megawatts (MW) of computing power.
Additional 2,000 Bitcoin Rigs were received at their Montana facility in April 2018 for a total Rig count of 3,870 operating at 5.8 megawatts (MW) of computing power upon deployment.
Acquisition of NODE40, a blockchain technology company, adding three more revenue streams, including a cryptocurrency accounting software, Masternode hosting services, and a percentage of the company's 10 masternode earnings over a term of 36 months.
Raised $29.7 million in bought deal
$4.4 million funding raised before launch of first data center
Industry-savvy management team led by Patrick Gray, CEO of HashChain
Cryptocurrency Mining
Cryptocurrencies
Cryptocurrencies are defined as decentralized and encrypted tokens that can be exchanged between users across the internet. The transactions of these tokensare validated across a decentralized public ledger or blockchain in a process called 'mining', whereby the first to solve a cryptographic puzzle allows a miner to transcribe transactions to the block and receive a portion of the cryptocurrency as a reward.
Since the emergence of Bitcoin in 2009, the cryptocurrency market has developed into a comprehensive industry that includes numerous cryptocurrencies hosted and transacted within blockchain networks. Following Bitcoin, other cryptocurrencies that are playing a significant role in the market are Ethereum (considered the silver to Bitcoin's gold), Litecoin and Dash.
In the last year alone, these cryptocurrencies have seen significant growth as they have gained more traction and as multiple industries such as banking, finance, mining and others have begun embracing blockchain technology solutions.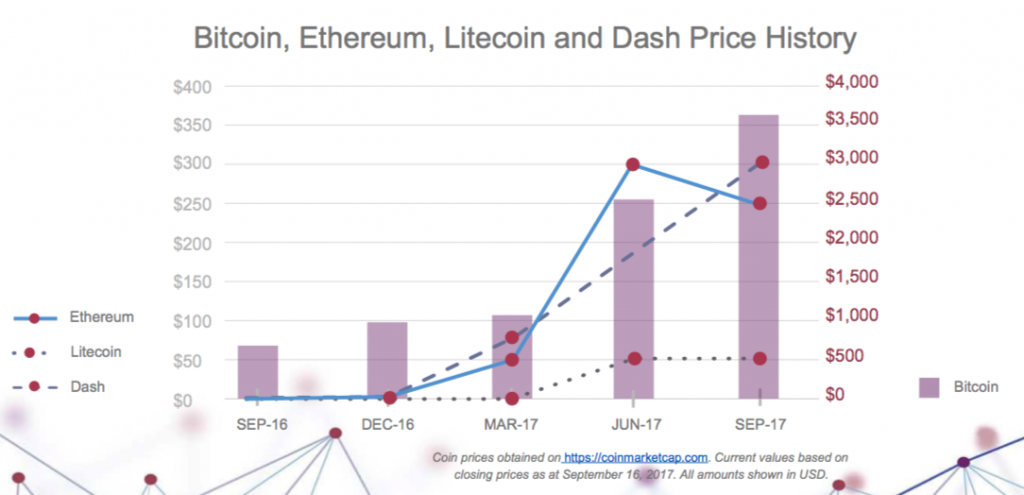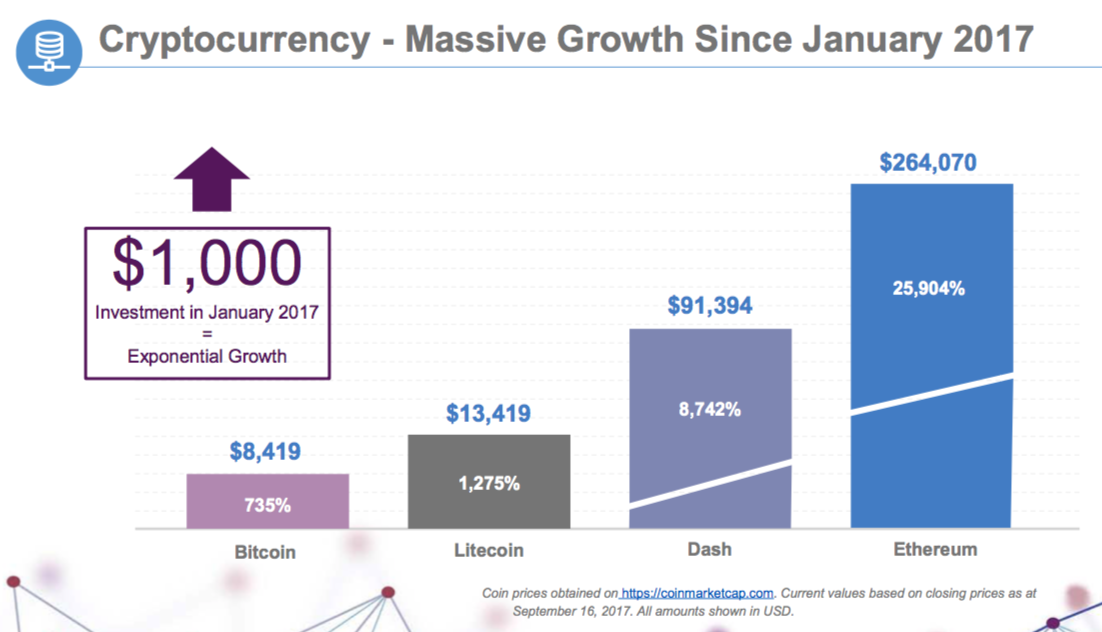 Cryptocurrency Mining
As cryptocurrencies gained notoriety as a viable form of transaction, new businesses focused on the mining of these currencies are emerging. Their goal is to conduct cryptocurrency mining on a large scale, developing revenue streams from the rewards provided upon transcribing transactions to blocks.
Companies are developing mining algorithms and software that quickly and effectively solve these puzzles. The software lives within specialized hardware called Rigs, which are designed to run continuously and constantly mine 24 hours a day.
According to the 2017 Global Cryptocurrency Benchmarking Study, "the mining sector has evolved in a short time from a hobby activity performed on personal computers into a professional and capital-intensive industry with its own value chain."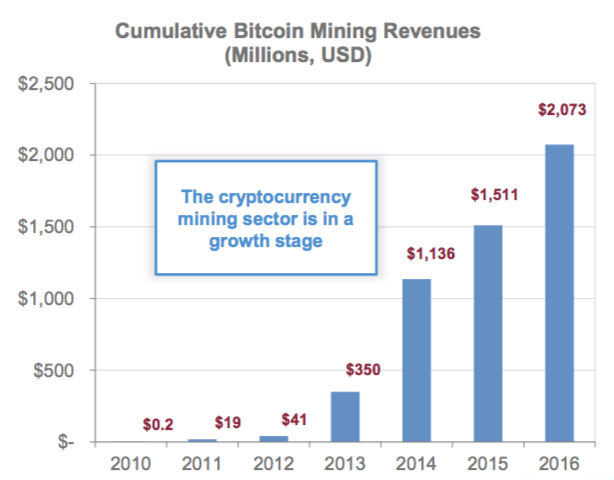 As these Rigs are running on a perpetual basis, they require a set of conditions to ensure their optimal performance. First, they need to be in a cool environmenrt to naturally. Second, they need to be supported by high-speed Internet, as mining requires a constant and strong connection to the Internet. Finally, Rigs should be situated in jurisdictions with low costs of power, optimally somewhere between US$0.02 to US$0.04 per kWh, to ensure the profitability of the endeavor. With these three factors in mind, jurisdictions like Sweden, Iceland and Canada are becoming increasingly popular for the development of cryptocurrency mining warehouses.
Currently, approximately 500 megawatts of power are dedicated to cryptocurrency mining across the world. Of this total, 111 megawatts are being processed in China alone, and only 14 percent of operations are located in efficient jurisdictions.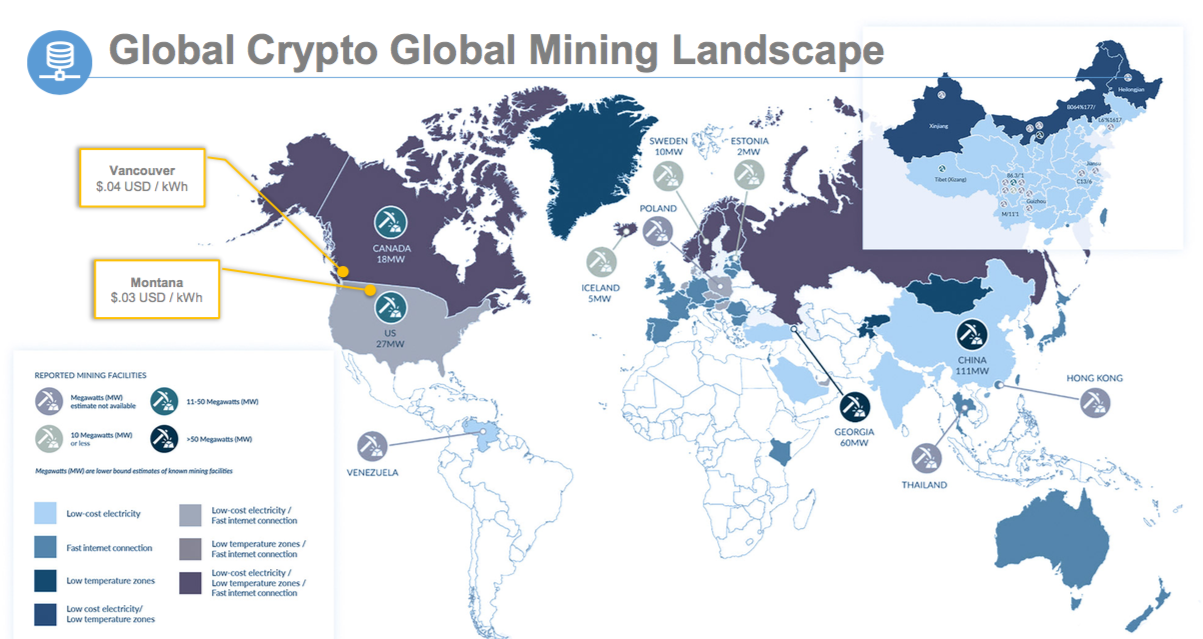 The HashChain Cryptocurrency Mining Approach
Launching cryptocurrency mining
The concept of cryptocurrency mining was one that appealed significantly to HashChain CEO Patrick Gray, who applied his knowledge and computer science background to develop graphic processing units (GPU) dedicated to mining cryptocurrencies. He then joined ranks with High Standard Capital Corp, who helped put together a team aligned with his ideas for rapidly scaling cryptocurrency mining. HashChain emerged from this union in August 2017.
Following its inception, HashChain entered the cryptocurrency scene with the launch of their first data center in November 2017. This data center is located in Vancouver, BC and includes the company's first 100 Rigs, using both GPUs and application-specific Integrated Circuits (ASICs), and serving as 'proof of concept' for HashChain's approach. In anticipation of this launch, the company was able to raise $4.4 million of funding.
HashChain of the present
HashChain's first set of 100 Rigs in their Vancouver data center primarily mines Dash coins. The company also mines Bitcoin at a large scale with the 1,770 ASIC Rigs deployed in their Montana data center, bringing their wattage to 2.47 MW, and plan to diversify their portfolio in the future. HashChain plans to enable its data centers with the flexibility of switching between cryptocurrencies to focus on the most profitable coins at any given time.
For the security and monitoring of its hardware, HashChain has also developed a proprietary technology that reviews the company's Rigs from remote locations. This includes the monitoring of the IP, temperature, hashrate (the speed at which a transaction is discovered and its equation is solved), wattage, fans and memory, so as to ensure the machines are operating effectively.
The company's primary competitor in the cryptocurrency mining space is HIVE Blockchain Technologies (TSXV:HIVE), a company currently conducting a cryptocurrency mining project in Iceland and looking to expand its operations into Sweden. Unlike HashChain, HIVE is only using GPUs in its approach, and has focused its mining on Ethereum and E-derivatives.
HashChain of the future
Over the course of early 2018, the company will be deploying a further 2,000 Rigs, raising its total to 3,870 Rigs and a combined wattage of 5.8 MW.
"We want to become one of the largest cryptocurrency miners in North America," said CEO Patrick Gray. "And we're not limiting ourselves to just that."
Alongside its acquisition and expansion goals, HashChain will also focus on continuing to diversify its cryptocurrency mining portfolio and enhancing the flexibility of its data centers. Additionally, the company will focus resources on developing software that optimizes mining activity by maximizing the yield and value of currencies mined. HashChain will also continue to develop its presence in the cryptocurrency mining space by forming strategic relationships to influence improvements in efficiency, profitability, and awareness.
NODE40
In February 2018, as part of its diversification strategy, HashChain announced the acquisition of NODE40, a blockchain technology company, adding multiple revenue streams for the company including cryptocurrency accounting,Masternode hosting, and a portion of revenue from NODE40's 10 masternodes over a term of 36 months (each receives 6.67 DASH per month). The acquisition also provided HashChain with an experienced team of developers and cryptocurrency experts, which will support the company's expansion goals of becoming a leading blockchain technology company.
NODE40 Balance
Node40 Balance is a Software-as-a-Service (SAAS) that helps cryptocurrency users meet tax requirements in their respective countries by analyzing the blockchain to retroactively report capital gains and losses for Bitcoin, Bitcoin Cash, Ethereum, Litecoin and DASH. A user uploads their transactions on the Coinbase or Gemini exchanges, a wallet or a cryptocurrency blockchain, and Balance calculates exact values of each transaction, tracks the cost basis and days carried. Once the gains and losses have been located, Balance automatically inputs the information on a worksheet that can be shared with a CPA to file taxes in a traditional manner.
The NODE40 Balance software addresses a pressing need as regulations for cryptocurrencies continue to emerge across the world. As more people partake in the cryptocurrency space, the market gap for a cryptocurrency tax software continues to grow.
NODE40 Balance is scheduled for official release in April 2018, but has so far seen 1,200 trial users with consistent adoption rates since March 2017.
NODE40 Hosting
NODE40 currently provides a collection of services that include hosting, running, managing and evaluation the performance of a masternode—a computer wallet that keeps the full copy of the blockchain in real time. At its core, the suite of services provides a cost-effective way for blockchain hosts to execute their Masternodes. The tools delivered in this service include node launches, tracking monitors, compilations of maintenance requirements and updates, and an unparalleled hosting service uptime of 99.9 percent.
Management and Advisors
Patrick Gray—CEO and Director
Patrick Gray is the Chief Executive Officer and founder of HashChain and helps lead the overall strategic vision of the Company. He obtained a bachelors degree in computer science and a minor in business from Siena College in New York. The first start-up he was involved in was sold to Xerox for $220 million dollars. Gray has started multiple successful companies and raised millions of dollars from private investors. One of his start-ups sponsored a nationally televised race, the Indy 225 at the New Hampshire Motor Speedway, which was televised on NBC. He currently owns sCube Inc, a niche IT Service provider that focuses on E-Discovery, E-Licensing, Application Development and IOT. sCube has been awarded Best Places to Work by the Business Review. Gray has been recognized with two of his companies on his alma mater's wall of success. He is also a recipient of the Business Review's "40 under 40."
Sean Ryan—CTO
Sean Ryan, co-founder and CTO of NODE40, LLC is bringing his expertise to HashChain. An industry leader in the development of blockchain infrastructure services and cryptocurrency accounting, Ryan has an unparalleled understanding of how blockchain transactions work. Under Ryan's technical guidance, HashChain will scale its service offerings to meet the demand of this growing industry.
Perry Woodin—Chief Strategy Officer
Perry Woodin is currently on the Advisory Board of Dash, one of the top five Cryptocurrencies globally. His interest in blockchain technologies started with the financial incentives that digital currencies use to encourage network participation. He founded NODE40 to service serious blockchain investors who want to participate in incentivized networks and track the financial health of their assets.
Wooden comes to blockchain application development with over 20 years experience developing and managing web-based applications and services. Prior to NODE40, he worked as a consultant and was responsible for the development and management of customized metrics-intensive business applications. His business experience includes running one of the first web-based applications that allowed high-end art galleries to manage their online presence. It was the go-to data management application for many galleries in New York City for 12 years.
 George E. Kveton—Chief Commercial Officer
George Kveton leads our operating strategy and corporate development as Chief Commercial Officer for HashChain Technology. He is an international executive and lifelong dealmaker with a track record of generating top-line growth by executing acquisitions and transformations to a high standard, and seeding new profit steams.
He has spent over 20 years leading M&A for Fortune 500s. His multi-billion dollar deal sheet is global and spans start-ups in Silicon Valley, Israel and China, to large private and public companies. He has extensive experience engaging with governments on fiscal and regulatory affairs, and is proficient in strategy development and its implementation in highly regulated industries. Most of his career has been spent in emerging markets and with disruptive technologies, requiring innovation and pragmatism to capture value.
Nitin Kaushal, CPA, CA—Director
Nitin Kaushal, serves as Managing Director, Corporate Finance at PwC Canada. He has over 30 years of finance and investment experience in the financial, life sciences, consumer healthcare and medical device industries. Over the course of his career, he has worked in senior roles with a number of Canadian investment banks, including Desjardins Securities Inc, Orion Securities Inc, Vengate Capital Partners Company, HSBC Securities Inc, Medwell Capital Corp and Gordon Capital, and has held various roles within the private equity/venture capital industry. In addition, he has sat on the boards of a number of public and private companies, including Patient Home Monitoring Corp, Convalo Health International, Delivra Inc, Global Gardens Group Inc, and Shelby Ventures. Kaushal holds a Bachelor of Science (Chemistry) degree from the University of Toronto.
David A. Madore—Director
David Madore is a cryptocurrency enthusiast who has over twenty years of executive experience specializing in program management. Currently he is part of the senior management at Accela Inc., the worlds largest cloud based provider of government licensing software. He oversees a large portion of delivery for the central region of the United States. This team's revenue projections are $35 million a year.
Prior to this Mr. Madore worked as Vice President of Operations at Morkaut & Associates, an Architectural, Engineering and Construction Management firm. During his tenure he led day to day operations and was personally responsible for more than $200 million in high- end commercial development. Early in his career he was a manager for Xerox Litigation Service where he lead large E-Discovery cases for many fortune 500 companies. In addition to holding degrees in Technology, Social and Physical Sciences he also has certifications in Six Sigma and Agile Scrum.
Aaron Bowden—Director
Aaron Bowden specializes in taxation and currently manages all areas of domestic and international tax for a large Canadian public company with over 12,000 employees and $4 billion in sales. Prior to this, Mr. Bowden worked at Deloitte advising clients on assurance and tax matters with a focus on the technology industry. In addition to being a Chartered Professional Accountant Aaron holds a Bachelor of Technology in Information Technology from Kwantlen Polytechnic University in Richmond B.C.
Jack Saba—Advisor
Jack Saba co-founded Day One Investments and Day One Consulting to aid international economic development by bringing the Blockchain to emerging markets. At Draper University, he worked with over 200 entrepreneurs from more than 50 countries as they navigated business development, leadership, and fundraising challenges. Saba has hosted blockchain events and hackathons, and has had numerous speaking engagements to spread awareness of the generational opportunity the blockchain is providing for entrepreneurs, investors, and social impact initiatives.
Gary Bahre—Advisor
Gary Bahre is an experienced entrepreneur who owned, operated and sold the New Hampshire Motor Speedway. He was also a majority owner of the Oxford Casino in Maine which sold to Churchill Downs. He is considered one of the most successful businessmen in the northeast U.S, and was even listed on The Powerful: New Hampshire's 10 most influential people. Bahre is a philanthropist who cares about the environment, politics and communal wellbeing. He takes a vigorous stance in social responsibility initiatives and is very active in charitable contributions worldwide.
---
*Disclaimer: The profile provides information which was sourced and approved by HashChain Technology Inc in order to help investors learn more about the company. HashChain Technology Inc is a client of the Investing News Network (INN). The company's campaign fees pay for INN to create and update this profile page, to which links are placed on Investingnews.com and channel newsletters.
The company description, investment highlights and catalysts were sourced by INN and approved by the company. INN does not guarantee the accuracy or thoroughness of the information contained on this page.
INN does not provide investment advice and the information on Investingnews.com profile should not be considered a recommendation to buy or sell any security.
INN does not endorse or recommend the business, products, services or securities of any company profiled.
Readers should conduct their own research for all information publicly available concerning the company.