This profile is part of an investor education campaign. The profile provides detailed information which was sourced and approved by HashChain Technology Inc in order to help investors make better investment decisions. The Company's support of Investing News Network ensures we can continue to bring you unbiased, independent news and information.
Technology Investing News Featured Stock
Overview
HashChain Technology Inc. (TSXV:KASH) is a blockchain technology company dedicated to mining various types of cryptocurrencies using their proprietary technology.
Cryptocurrencies first emerged with the birth of Bitcoin, and have since been developed as tools with which to conduct transactions across the internet. Cryptocurrencies are transacted across a decentralized network or blockchain in which the transactions are verified by an entity in the network through the solving of a puzzle. The first to solve this puzzle is then rewarded with a fraction of the cryptocurrency.
With the goal of mining a diversified portfolio of cryptocurrencies, HashChain Technology has recently launched its first data center with 100 rigs in Vancouver, dedicated to mining Dash coin. Since the launch, HashChain Technology has also acquired an additional 770 S9 Antminer Bitcoin rigs that will be deployed in January 2018.
HashChain is led by a proven team of early adopters and advocates with deep technical experience, including HashChain CEO Patrick Gray, who early in his career was involved in a startup that was sold to Xerox for $220 million. The company's advisory team also includes Perry Woodin, who is also an advisor to Dash. HashChain's alignment to Dash is inspired by the coin's rapid movement towards mass adoption and its attempts to remove the technical barriers to cryptocurrency transactions.
Investment Highlights
Profitable 100-rig 'proof of concept' data center launched in Vancouver in November 2017

770 additional rigs coming online in January 2018

$4.4 million funding raised before launch of first data center

Industry-savvy management team led by Patrick Gray, CEO of HashChain
Cryptocurrency Mining
Cryptocurrencies
Cryptocurrencies are defined as decentralized and encrypted currencies that can be exchanged between users across the internet. The transactions of these currencies are validated across a decentralized public ledger or blockchain in a process called 'mining', whereby the first to validate the transaction receives a fraction of the cryptocurrency.
Since the emergence of Bitcoin in 2009, the cryptocurrency market has developed into a comprehensive industry that includes numerous cryptocurrencies hosted and transacted within blockchain networks. Following Bitcoin, other cryptocurrencies that are playing a significant role in the market are Ethereum, Litecoin and Dash, the latter being the primary focus of HashChain's mining initiatives.
In the last year alone, these cryptocurrencies have seen significant growth as they have gained more traction and as multiple industries such as banking, finance, mining and others have begun embracing blockchain technology solutions.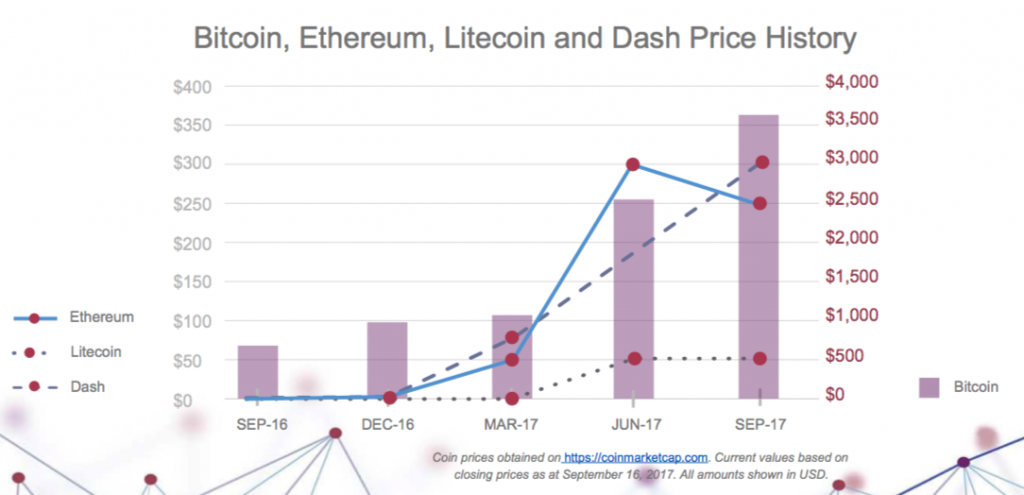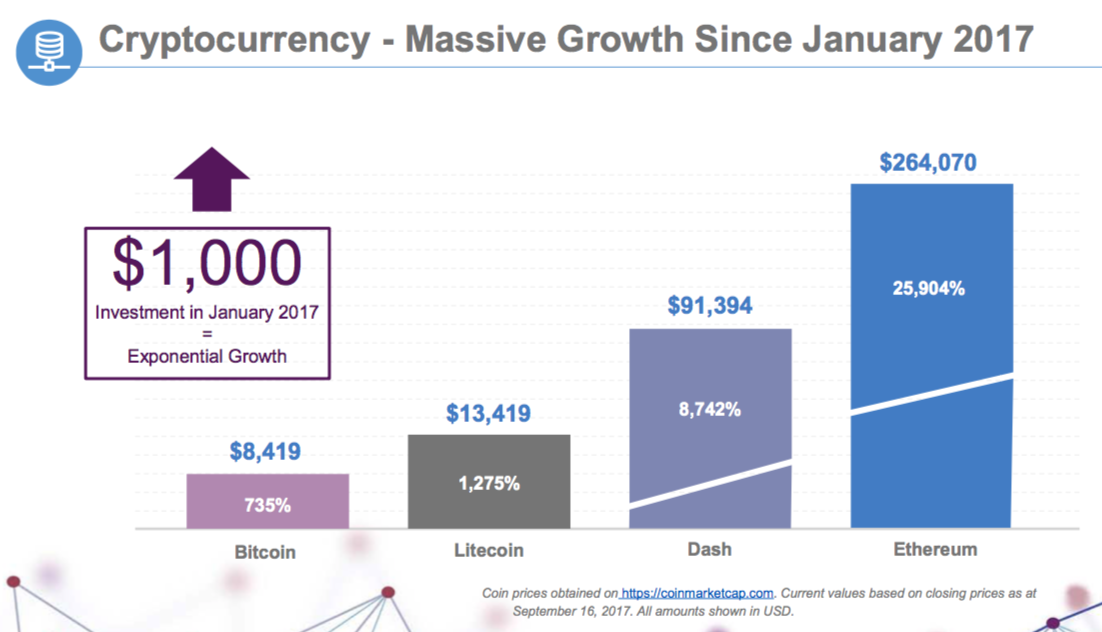 Cryptocurrency Mining
As cryptocurrencies have been established as a viable form of making transactions, new businesses focused on the mining of these currencies are emerging. Their goal is to conduct cryptocurrency mining on a large scale, developing value streams from the rewards provided upon transaction verification.
Companies are developing mining algorithms and software that quickly and effectively solve these puzzles. The software lives within specialized hardware called rigs, which are designed to run continuously, constantly mining for cryptocurrency transactions 24 hours a day.
According to the 2017 Global Cryptocurrency Benchmarking Study, "the mining sector has evolved in a short time from a hobby activity performed on personal computers into a professional and capital-intensive industry with its own value chain."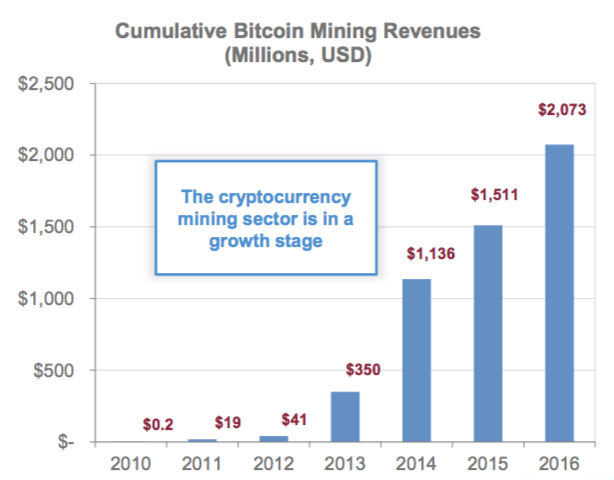 As these rigs are running on a perpetual basis, they require a set of conditions to ensure their optimal performance. First, they need to be in a cool environment, so as to ensure that they do not overheat. Second, they need to be supported by high-speed internet, as transactions are all housed within the internet. Third, in order to ensure the profitability of the endeavor, rigs should be situated in jurisdictions with low costs of power, optimally somewhere between US$0.02 to US$0.04 per kWh. With these three factors in mind, jurisdictions like Sweden, Iceland and Canada are becoming increasingly popular for the development of cryptocurrency mining warehouses.
Currently, approximately 500 megawatts of power are dedicated to cryptocurrency mining across the world. Of this total, 111 megawatts are being processed in China alone, and only 14 percent of operations are located in efficient jurisdictions.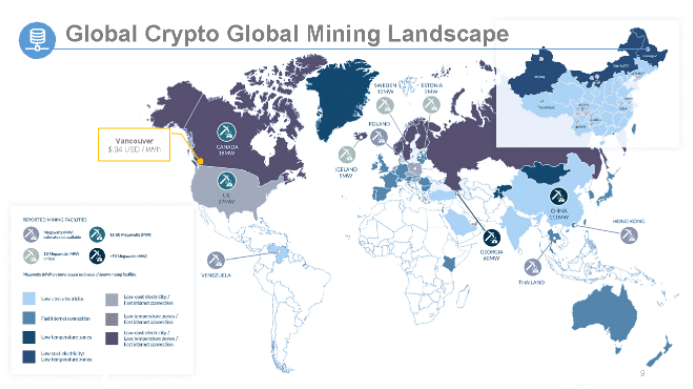 The HashChain Approach
Launching cryptocurrency mining
The concept of cryptocurrency mining was one that appealed significantly to HashChain CEO Patrick Gray, and he applied his knowledge and computer science background to develop graphic processing units (GPU) dedicated to mining cryptocurrencies. He then joined ranks with High Standard Capital Corp, who helped put together a team aligned with his ideas for scaling cryptocurrency mining. HashChain emerged from this union in August 2017.
Following its inception, HashChain entered the cryptocurrency scene with the launch of their first data center in November 2017. This data center is located in Vancouver, Canada and includes the company's first 100 rigs, using both GPUs and application-specific Integrated Circuits (ASICs) and serving as 'proof of concept' for HashChain's approach. In anticipation of this launch, the company was able to raise $4.4 million of funding.
HashChain of the present
HashChain's first set of rigs is primarily mining for Dash coins and the company will be diversifying their portfolio in the future, incorporating rigs that will also mine for Ethereum, Bitcoin and more. HashChain plans to enable its data centers with the flexibility of switching between cryptocurrencies and narrowing their focus to the most profitable coins at any given time.
For the security and monitoring of its hardware, HashChain has also developed a proprietary technology that reviews the company's rigs in various capacities. This includes the monitoring of the IP, temperature, hashrate (the speed at which a transaction is discovered and its equation is solved), wattage, fans and memory, so as to ensure the machines are operating effectively.
The company's primary competitor in the cryptocurrency mining space is HIVE Blockchain Technologies (TSXV:HIVE), a company currently conducting a cryptocurrency mining project in Iceland and looking to expand its operations into Sweden. Unlike HashChain, HIVE is only using GPUs in its approach, and has focused its mining on Ethereum and E-derivatives.
HashChain of the future
Since the launch 'proof of concept' data center in Vancouver, HashChain has since acquired a further 770 Bitcoin rigs, which will be operational in January 2018 and will bring the company's wattage to 1.23 megawatts.
"We want to become one of the largest cryptocurrency miners in North America," said CEO Patrick Gray. "And we're not limiting ourselves to just that."
Alongside its acquisition and expansion goals, HashChain will also focus on continuing to diversify its cryptocurrency mining portfolio and enhancing the flexibility of its data centers. Additionally, the company will focus resources on developing software that optimizes mining activity by maximizing the yield and value of currencies mined. HashChain will also continue to develop its presence in the cryptocurrency mining space by forming strategic relationships to influence improvements in efficiency, profitability and awareness.
Mgnt and Advisors
Patrick Gray—CEO and Director
Patrick Gray is the Chief Executive Officer and founder of HashChain and helps lead the overall strategic vision of the Company. He obtained a bachelor degree in computer science and a minor in business from Siena College in New York. The first start-up he was involved in was sold to Xerox for $220 million dollars. Gray has started multiple successful companies and raised millions of dollars from private investors. One of his start-ups sponsored a nationally televised race, the Indy 225 at the New Hampshire Motor Speedway, which was televised on NBC. He currently owns sCube Inc, a niche IT Service provider that focuses on E-Discovery, E-Licensing, Application Development and IOT. sCube has been awarded Best Places to Work by the Business Review. Gray has been recognized with two of his companies on his alma maters wall of success. He is also a recipient of the Business Review's "40 under 40."
Herrick Lau—CFO and Director
Herrick Lau is currently the Managing Director of Baron Global Financial Canada Ltd, a merchant-banking firm which provides financial advisory services to private and public companies and offers advice on transaction structuring, mergers and acquisitions, corporate governance and compliance issues. With over 20 years in financial management and corporate finance, he has gained valuable experience in developing financing strategy, liaising with external parties, devising business development plans and maintaining compliance with corporate governance requirements. Lau also has experience as a senior financial executive in public companies. He has acted as chief financial officer and/or director for various public companies listed on the Toronto Stock Exchange, TSX Venture Exchange and Canadian Securities Exchange.
Lau obtained his bachelor and master degrees in Business Administration and Economics from Simon Fraser University.  He is also a charter holder of the Chartered Financial Analyst designation.
Zyshan Kaba—Director
Zyshan Kaba is an investor and entrepreneur in the technology sector with a particular focus on blockchain and cryptocurrency. He is a corporate and securities lawyer by trade with a deep interest in new technology who has also been an executive at a venture-backed fintech company. His experience covers corporate finance, business and regulatory strategy, and a strong understanding of new markets and business opportunities. Kaba received his JD from the University of Toronto and has been called to the bar in both New York and Ontario.
Nitin Kaushal, CPA, CA—Director
Nitin Kaushal, serves as Managing Director, Corporate Finance at PwC Canada. He has over 30 years of finance and investment experience in the financial, life sciences, consumer healthcare and medical device industries. Over the course of his career, he has worked in senior roles with a number of Canadian investment banks, including Desjardins Securities Inc, Orion Securities Inc, Vengate Capital Partners Company, HSBC Securities Inc, Medwell Capital Corp and Gordon Capital, and has held various roles within the private equity/venture capital industry. In addition, he has sat on the boards of a number of public and private companies, including Patient Home Monitoring Corp, Convalo Health International, Delivra Inc, Global Gardens Group Inc, and Shelby Ventures. Kaushal holds a Bachelor of Science (Chemistry) degree from the University of Toronto.
Perry Wooden—Advisor
Perry Woodin is currently on the Advisory Board of Dash, one of the top five Cryptocurrencies globally. His interest in blockchain technologies started with the financial incentives that digital currencies use to encourage network participation. He founded NODE40 to service serious blockchain investors who want to participate in incentivized networks and track the financial health of their assets.
Wooden comes to blockchain application development with over 20 years experience developing and managing web-based applications and services. Prior to NODE40, he worked as a consultant and was responsible for the development and management of customized metrics-intensive business applications. His business experience includes running one of the first web-based applications that allowed high-end art galleries to manage their online presence. It was the go-to data management application for many galleries in New York City for 12 years.
Jack Saba—Advisor
Jack Saba co-founded Day One Investments and Day One Consulting to aid international economic development by bringing the Blockchain to emerging markets. At Draper University, he worked with over 200 entrepreneurs from more than 50 countries as they navigated business development, leadership, and fundraising challenges. Saba has hosted Blockchain events and hackathons, and has had numerous speaking engagements to spread awareness of the generational opportunity the Blockchain is providing for entrepreneurs, investors, and social impact initiatives.
Gary Bahre—Advisor
Gary Bahre is an experienced entrepreneur who owned, operated and sold the New Hampshire Motor Speedway. He was also a majority owner of the Oxford Casino in Maine which sold to Churchill Downs. He is considered one of the most successful businessmen in the North East and was even listed on The Powerful: New Hampshire's 10 most influential people. Bahre is a philanthropist who cares about the environment, politics and communal wellbeing. He takes a vigorous stance in social responsibility initiatives and is very active in charitable contributions worldwide.