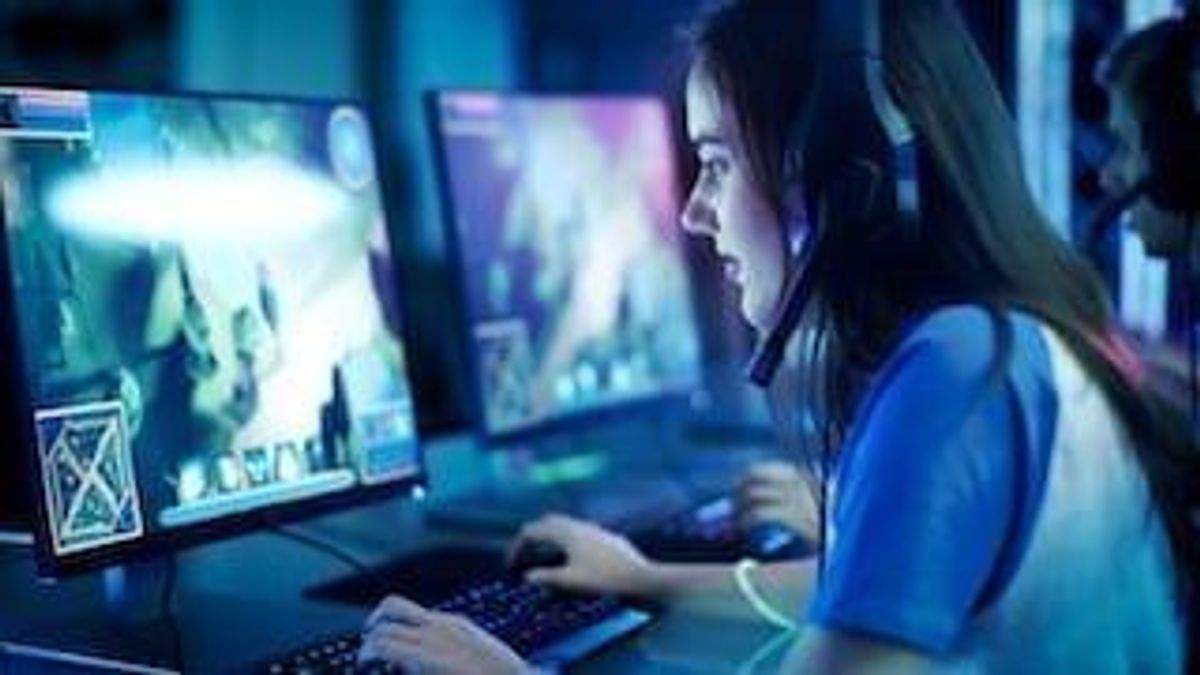 Big-name brands are raising the profile of the Esports market on the global stage. Amazon recently announced its latest cloud-based gaming service, GameOn.
The Esports video gaming industry encompasses a wide array of sports, from football to racing and even shooting, attracting hundreds of millions of online viewers — it's also quickly becoming an investible multibillion-dollar industry. 
Big-name brands are raising the profile of the Esports market on the global stage, and Amazon recently announced its latest cloud-based gaming service, GameOn.
By 2020, the Esports fanbase will reach roughly 380 million people, with the majority of fans in Asia, North America and Europe. The average player is a male millennial, but recently it's been noted that one in three Esports fans is female. Regardless of gender, this demographic expects real-time, highly social and live-streamed gaming experiences.
Analysts are projecting significant growth on a global scale for the Esports industry. According to Newzoo, an Esports research organization, the global Esports market is expected to grow to $905.6 million in 2018 — a year-on-year increase of 38 percent — and reach $1.49 billion by 2020.
Without question, Esports is transitioning from a niche market to a mainstream industry. Professional sports teams and celebrities are starting their own Esports franchises. In March 2018, the NBA and partner Take-Two Interactive Software announced that the inaugural draft of the the NBA 2K League — a professional gaming league for the popular video game of the same name — will start on April 4 before the official NBA League kickoff in May. A total of 17 NBA franchises are taking part in the league.
Recognizing the opportunity, an increasing number of the world's highest-profile companies are making plays to position themselves for big profit. A long list of the world's biggest brands — Red Bull, Coca-Cola (NYSE:KO), PepsiCo (NYSE:PEP), Bud Light, T-Mobile, Audi and Toyota (NYSE:TM), to new name a few — have thrown their hats in the ring. Sponsorship spending in the Esports industry is forecasted to reach $655 million by 2020, while ad spending will grow to $224 million.
Amazon leading the pack in Esports streaming services and game platforms
A number of leading brands are even charging past mere sponsorship to aggressively expand their business models to make their brands synonymous with Esports. YouTube, Amazon (NASDAQ:AMZN), Microsoft (NASDAQ:MSFT) and even Facebook (NASDAQ:FB) are all developing technology to service the Esports marketplace, including streaming services.
Microsoft recently inked a deal to broadcast two upcoming Smite Pro League tournaments on its streaming service, Mixer. Facebook has an exclusive deal with Esports giant ESL to livestream two of its biggest competitions; CS:GO Pro League Counter-Strike: Global Offensive competition and the ESL One Dota 2 and CS:GO circuit. In March 2018, Google's YouTube Gaming secured a multi-year deal with FACEIT, one of the world's largest Esports competitive gaming platforms.
These major plays pale in comparison to Amazon's juggernaut efforts to become a force to be reckoned with in the competitive gaming industry. The one-time online bookseller has exploded into a global tech giant encompassing a wide array of growth markets, including ecommerce, consumer electronics, cloud infrastructure and live streaming. Ranked 12th on the 2017 list of Fortune 500 companies, the world's largest online retailer is said to be on track to reach a $1-trillion market cap by 2022.
Perhaps the clearest indication of Amazon's intention to become a world leader in the Esports industry is the company's March 2018 launch of its new cross-platform competitive gaming service, GameOn. The platform is designed to complement Amazon's streaming service, Twitch, and will allow game publishers to reach wider audiences through seamless tournament organization. The platform offers daily competitions, detailed leaderboards and real-world prizes.
Amazon revealed the gaming platform at the 2018 Game Developers Conference on stage with its early adopters, including Eden Games, the game studio arm of mobile video game publisher Millennial Esports (TSXV:GAME,OTCQB:MLLLF). Eden Games is the developer behind some of the world's most successful racing games, including V-Rally and Test Drive Unlimited. Millennial Esports acquired Eden Games in January 2018 and its mobile racing game, Gear.Club, will be included in the launch of the GameOn platform.
"Supported by this amazing new Amazon platform, we can now offer daily Gear.Club Esports Racing competitions with real-world prizes fulfilled by Amazon. By being an early adopter of Amazon's cross-platform, competitive gaming service, we are excited to provide our fans with a superior competitive mobile racing experience combined with the thrill of prizing. Consequently, we expect to see greater Gear.Club user engagement, resulting in more downloads and in-game spending," said Millennial Esports CEO Alex Igelman in a news release.
Through GameOn, Millennial Esports also gains access to the millions of Esports fans on Twitch, which reigns supreme over YouTube, Microsoft and Facebook in the world of streaming online gaming.
Twitch is prime time in the world of online gaming
GameOn isn't the first time Amazon has made a major move into Esports. The global tech giant's acquisition of the Twitch streaming service (described as the ESPN of Esports) in 2014 helped to catapult the world of Esports gaming into the mainstream.
"Amazon's acquisition of Twitch was a huge turning point for the competitive gaming industry," Igelman told the Investing News Network of the $970-million purchase. "Amazon has been working hard to build a strong position in the Esports market ever since, and this has brought a lot of legitimacy to the industry."
In 2016, Twitch had more than 185 million active viewers — more than ESPN, HBO or Netflix (NASDAQ:NFLX) — and that number reportedly reached 212 million in 2017, says SuperData Research.
In 2017, Amazon incorporated what it does best — ecommerce — into Twitch's business model, allowing gamers to purchase livestreamed games directly from the site. Twitch Games Commerce pays streaming partners 5 percent of revenue share for each purchase while game developers receive 70 percent.
"We believe there is tremendous potential in our community-first approach to game discovery and sale," wrote Dallas Tester, software engineer for game developer solutions on Twitch, in his blog. "It allows streamers to play and promote games they authentically enjoy and be rewarded for helping fans find new content. The community will love supporting streamers they watch by shopping local, right from the channel page they're already spending time on. These interactions create new motivations for purchase to bring you new and highly engaged players."
Amazon is after the big game
In early 2018, Amazon signed a $90-million deal with game developer Blizzard Entertainment to be the exclusive third-party streaming partner of the Overwatch professional Esports league. Overwatch, a team-based multiplayer online first-person shooter video game released in May 2016, already has an existing player count of more than 35 million worldwide. Over the next two years, Twitch will stream Overwatch matches, including playoffs and championships.
In March, Amazon followed up that deal with the $10-million acquisition of Gamesparks cloud services, which offers cloud-based platform tools for game developers. GameSparks will be vertically integrated with Amazon Web Services (AWS), the world's top cloud services provider. AWS is targeting gaming as a profitable vertical and offers a wide range of back-end servers and hosting services for game developers. The move follows Microsoft's acquisition of GameSparks rival PlayFab.
"GameSparks has long shared Amazon's passion for helping developers create amazing gaming experiences, so it's a natural fit. Being part of Amazon means we'll continue to grow the service, as well as explore new ways to unlock the power of Amazon to help you build, operate, and monetize your games," said GameSparks in a blog post.
The takeaway
A large part of the future growth of the Esports market will be directly tied to big brands that are bringing not only the capital, but the innovation and scalability that Esports needs to truly become a mainstream global market.
Partnerships with big brands such as Amazon, known for stringent due diligence, bring a lot of investment credibility to game developers. Investors should pay close attention to these opportunities in the technology space. Such partnerships allow developers to take their products to the next level, increasing the value for both gamers as well as investors.
This article was written according to INN editorial standards to educate investors
Featured
Investing News Network websites or approved third-party tools use cookies. Please refer to the cookie policy for collected data, privacy and GDPR compliance. By continuing to browse the site, you agree to our use of cookies.