Tin Outlook 2020: Expect a Balanced Market Ahead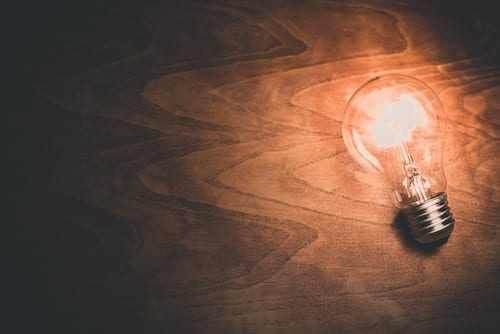 In 2019, tin prices were on a downtrend, but what is the tin outlook for 2020? Read on to learn what analysts had to say.
Tin kicked off 2019 on a high note following a rocky 2018, but the metal was unable to keep up that momentum throughout the 12 month period.
A lack of tin demand put pressure on prices, which have declined more than 11 percent year-to-date.
As 2019 comes to a close, tin-focused investors are wondering what's ahead for tin. Read on for an overview of the main factors that impacted the market in 2019, plus analysts' tin outlook for 2020.
Tin trends 2019: The year in review
At the beginning of 2019, fears about long-term tin supply supported prices, but those worries eased off as the market continued to be well supplied, as per CRU Group Head of Consulting Lynn Lupori.
Tin prices hit their yearly high in February at US$21,675 per metric ton, and they performed on an upward trend for most of the first quarter.
"This bullishness was partly on the low stocks in London Metal Exchange warehouses and partly due to the long-term supply concerns," she told the Investing News Network.
But, as mentioned, tin could not hold its gains throughout the year, trading downward from April to hit its lowest point in August at US$15,705.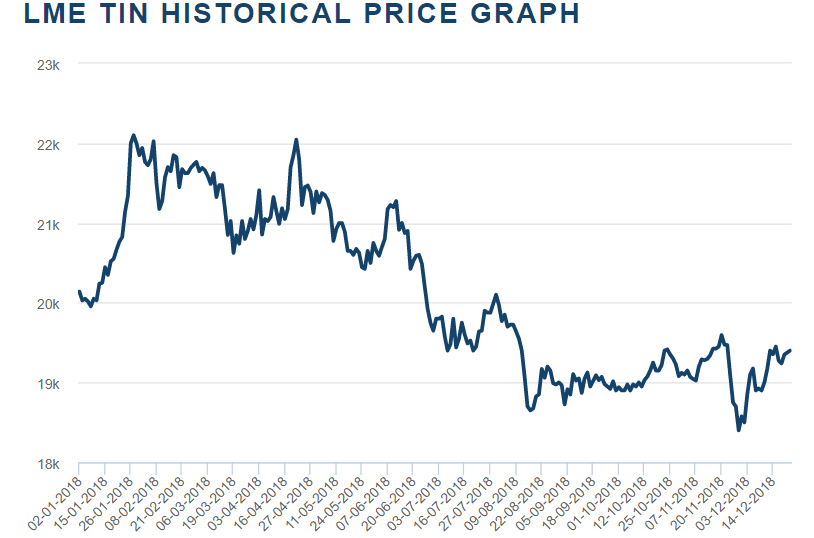 Price chart via London Metal Exchange.
"Global demand slowed down through the second and early third quarters, with solder demand, which represents about 50 percent of total demand, softer than expected," Lupori said. "Weaker demand was the primary curveball in the market this year."
Similarly, for James Willoughby, market analyst at the International Tin Association (ITA), the real price driver for tin this past year has been demand. Trade wars have knocked macroeconomics, which in turn has led to a downturn in tin purchasing.
"Consumption has also fallen ― not by as much ― but enough for major tin smelters to cut production in response. This has helped to stabilize the price in recent months, but it remains near three year lows."
For Willoughby, the biggest surprise in the space has been the ongoing changes in supply in Indonesia, the world's second largest producer of tin.
He explained that the move by the central government to enforce mine ownership legislation has prevented nearly all the private smelters in the country from producing refined tin. That said, recently some private smelters have obtained export licenses once again.
"Many thought that private smelters would quickly re-enter the market," he said. "It hasn't worked out that way and some were beginning to wonder if they would be allowed to export again."
CEO of Kasbah Resources (ASX:KAS) Evan Spencer expected that prices would remain steady throughout 2019 and sees them picking up from 2020 onwards as supply dries up and demand increases.
"There are many factors which resulted in (the tin price decline this year), including the ongoing global trade tensions, which have had a significant impact on demand," he said via email. "We did not expect these trade tensions to escalate and continue for as long as they have, but it looks like this posturing may continue in the short term."
In 2019, Kasbah made significant progress on the development of the Achmmach tin project, but the company made a conscious decision to slow things down in this market.
"In the current price environment, it will be challenging for any projects to be funded, let alone in the tin equity market, which is very misunderstood and underinvested in," Spencer said.
Tin outlook 2020: What's ahead
Looking ahead for tin, on the demand side Lupor said limited growth is expected in 2020.
"For supply, the focus will be on the production cuts — are these being adhered to by producers?" she commented. "Even if they are well abided by, idle capacity can turn back on quickly, bringing material to market in short order."
Willoughby said the ITA forecasts a return to growth for tin demand, with supply rebounding to achieve the narrowest market balance seen in seven years.
"Supply chains appear to be reconfiguring themselves after the mass disruption of 2019, while confidence appears to be returning to the market," he said. "Because we're predicting a balanced market, we do not see much price movement in the coming year."
For Kasabah's Spencer, the current environment will be sustained for at least another 12 to 18 months, as it will take time for the trade disputes to be resolved and for the market to then respond.
"We believe that the prices will be in this range, but once it picks up it will reach our medium-term forecasts, which see tin prices stabilize in at least the mid-US$20,000s," he said.
Speaking about prices, Lupor said that if the Chinese and Indonesian cuts hold to currently expected levels, prices will be supported from the lowered refined production that will keep the market in deficit.
"Trade tensions falling will also be beneficial for tin prices," she said. "This goes especially so for the tensions in Northeast Asia, which directly affect semiconductor sales, a major tin demand sector."
In terms of factors to watch, the CRU Group analyst pointed to news on production cuts and idle capacity; trade tensions, especially in Northeast Asia; and demand indicators, including Chinese white good sales and semiconductor sales.
In 2020, investors should keep their eyes on South America and Africa, said Willoughby.
"Civil unrest in the former may see governmental changes, which always affect metals supply to some extent," he said. "(And) artisanal supply, located primarily in Africa, could supply smelters quickly should demand recover more rapidly than anticipated."
Spencer added that while tin may be a misunderstood metal as it is seen as old school and not very sexy, it is a great time to buy into tin equities as there are depressed values across the board.
"Tin plays a pivotal role in all modern technology and has a large role to play in the electric vehicle (EV) space and other applications such as photovoltaic cells," he said. "Investors who see the future in EVs, advanced robotics, renewable energy, etc. should be excited, as tin will follow the development of these technologies."
Don't forget to follow us @INN_Resource for real-time news updates!
Securities Disclosure: I, Priscila Barrera, hold no direct investment interest in any company mentioned in this article.
Editorial Disclosure: The Investing News Network does not guarantee the accuracy or thoroughness of the information reported in the interviews it conducts. The opinions expressed in these interviews do not reflect the opinions of the Investing News Network and do not constitute investment advice. All readers are encouraged to perform their own due diligence.