Problems for the coal sector continue, stemming from a supply glut and reduced demand in key consuming markets. However, the head of the world's largest thermal coal exporter says the bottom of the market has been reached, and that prices should begin rising again after year-end.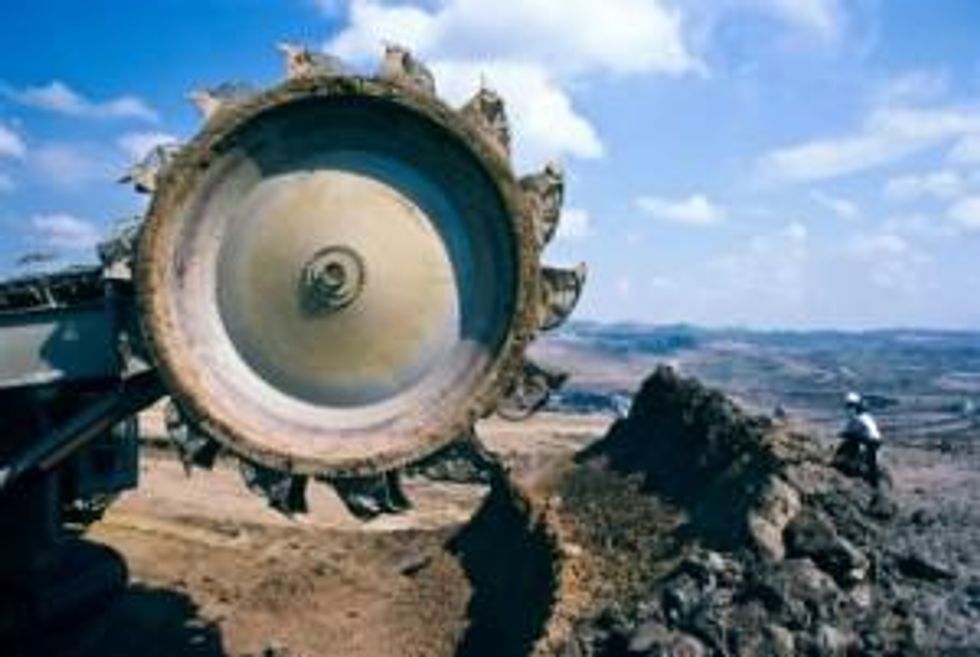 The trough of the market for thermal coal has been reached, says the chief executive of Xstrata (LSE:XTA), the world's largest exporter of thermal coal used in power plants.
Commenting on the Swiss miner's half-year earnings report in London last week, CEO Peter Freyberg said, "I think the market probably bottomed about a month ago and there's been steady improvement over the last four or five weeks, where we've seen thermal prices increasing by $US5 or $US6 in the spot market."
Thermal coal prices have dropped about 18 percent since the beginning of the year, slipping under $90 a tonne in June for a two-year low, but have since recovered to around $93 a tonne according to data sourced on Business Recorder.
The softening in price for both thermal coal and metallurgical coal used in steelmaking — which is down over 20 percent since the beginning of July — can be traced to two main problems: slack demand and oversupply.
As Coal Investing News explained near the end of June, both Chinese and European markets, key consumers of the fossil fuel, have struggled to keep demand ahead of supply as economic slowdowns in Europe and China, as well as increased exports from coal-producing countries, have taken hold.
Australia, the largest coal exporter, has continued to load ships at its largest port, Newcastle, even as customers, mainly in China, dwindle due to slowing industrial output in that country. Inventories are piling up in China as utilities find they have more fuel than they need, further depressing prices.
However, according to Xstrata's Freyberg, a coal recovery is likely coming in 2013, and will be "underpinned by rising oil prices and a reduction in exports from the US, where some producers [are] now 'out of the money', and Colombia, due to industrial unrest."
That assessment is shared by commodities analysts at Macquarie Research, who noted that thermal coal prices have stabilized, mainly due to Chinese stockpiles falling as domestic shipments are curtailed, reported The Sydney Morning Herald.
BHP, Rio, Xstrata all cutting jobs in Queensland
As the market waits for that to happen, it appears that major coal companies operating in Queensland, the heartland of the Australian coal industry, are tightening their belts.
On Monday, Yancoal Australia (ASX:YAL), the largest Chinese-controlled company listed on the Australian stock exchange, announced that it is reducing costs across its seven mines in New South Wales and Queensland and is reviewing expansion plans. "The next few months will be difficult for the company as lower coal prices and the strong Australian dollar impact the business," said Yancoal CEO Murray Bailey.
Central Queensland News reported last week that BHP Billiton, facing the same problems as Yancoal, along with increased operating costs compared to competitors in South Africa and Colombia, is slashing 100 contractor jobs from the dozen mines it operates in the Bowen Basin through its BHP Billiton Mitsubishi Alliance (BMA). BMA also closed one mine earlier this year.
Rio Tinto announced that it is cutting an unspecified number of contract jobs at its Kestrel and Clermont mines, and earlier this month said it will close the aging Blair Athol mine before the end of the year, a move that will affect 140 workers.
Xstrata also said last week that it is laying off contractors at its coal operations in Australia, without specifying numbers.
Colombian rail strike over
Adding to the supply glut, a 25-day railway strike in Colombia ended last week, softening European coal prices. Reuters said physical prompt coal prices moved down by 25 to 50 cents per tonne on Friday as the railway operated by Fenoco said it will resume moving freight.
The strike on the country's main railway cut exports by more than half. Drummond International, Colombia's fourth-largest largest coal miner, released a statement saying the strike prevented 80,000 to 85,000 tons a day from leaving its load-out facility and said that as a result it will be significantly reducing its operations in the country.
US coal exports hit record 
In the United States, where cheap natural gas has usurped coal as the fuel of choice for many utilities, exports of coal and liquid fuels (gasoline and diesel) are set to break records this year, according to The Associated Press. The AP reported that coal shipments for export are rising because US demand for coal is falling. In June, shipments of coal reached a new record of 12.8 million tons. Gas and diesel exports are increasing because US refiners are able to source cheap crude oil due to booming production in Canadian and American oil patches.
India squandered billions by selling coal fields
India, which has faced a severe shortage of coal for power generation and last month suffered a blackout that affected a staggering 600 million, is now dealing with another barrage of criticism after it was revealed the government lost huge sums of money by selling coal fields to private companies without competitive bidding.
According to a report released Friday by the country's auditor general, private companies received $34 billion in windfall profits due to the low prices they paid for the 142 coal fields sold since 2004 to private and state-run companies.
Company news
Mining at Prophecy Coal's (TSX:PCY,OTCQX:PRPCF) Ulaan Ovoo operation in Mongolia has been temporarily suspended because the current stockpile of 187,000 tonnes is insufficient to meet contractual obligations for the rest of the year, the company announced on August 9. About 80 staff members were laid off, and the shutdown is expected to last about six months unless new agreements are entered.
US coal giant Alpha Natural Resources (NYSE:ANR) took a $2.2 billion hit in the second quarter compared to a $50 million loss in the same period during 2011. Virginia-based Alpha, which acquired Massey Energy in 2011 for $7.1 billion after an accident at the Upper Big Branch mine, recorded an asset impairment charge of $1 billion partly related to the idling of operations in Eastern Europe. It also took a $1.5 billion impairment charge due to lower-than-expected shipments and poor market conditions.
Securities Disclosure: I, Andrew Topf, hold no direct investment interest in any company mentioned in this article.
Investing News Network websites or approved third-party tools use cookies. Please refer to the  cookie policy for collected data, privacy and GDPR compliance. By continuing to browse the site, you agree to our use of cookies.