India's Growth Leads Coal Demand Abroad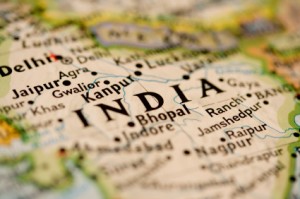 India is the world's third-largest coal-fired power producer, behind only China and the US, and has the fifth-largest coal reserves — and it appears eager not to lose its coal-nation status.

Earlier this year, a strong heat wave coupled with inefficient grids and low coal stock buffers led to massive blackouts across the subcontinent, wiping out power to some 640 million people for days. India's government, eager not to repeat such an event, is looking to coal as the solution to the country's growing energy needs.
A recent report from the World Resources Institute found that the country has 455 power plants preparing to come online; together they will provide 519,396 megawatts of installed generating capacity. India currently relies on coal for 66 percent of its electricity and 50 percent of its primary energy, but those numbers are set to rise as the government plans to increase generating capacity by 44 percent, to 288 gigawatts, by 2017.
India mines about 550 million tonnes (Mt) of coal annually, and its imports are quickly rising; it imported 50 Mt from 2007 to 2008 and will bring in a projected 192 Mt in 2012. By 2017, the country's total demand for coal is forecast to increase to 980 Mt/year, with domestic supplies making up 795 Mt and imports the remaining 185 Mt.
India's power secretary, P. Uma Shankar, has taken strides to assure local power producers that everything is under control. The Economic Times reported that Shankar told producers that "none of their projects in the implementation stage would suffer for want of coal." Shankar also said that the goal of coal providing 55 percent of India's energy needs "continues to occupy the centre-stage in India's energy scenario."
Domestic supplies insufficient
Providing the coal required domestically, however, has been a challenge for the country. Both environmental regulations and frail infrastructure have been blamed for the country's inability to provide enough coal to meet demand.
The eastern states of Jhardkhand, Chatttisgarh and Orissa, which are home to significant coal reserves, have seen large swaths of forested areas placed off limits due to regulations instated by the environment minister in 2009.
But the world's largest coal company, Coal India Limited (CIL) (BOM:533278), is pushing to have those protections revoked in the name of energy security.
"Our future growth has to come from forest areas," S. Narsing Rao, Chairman of CIL told the Wall Street Journal recently.
The state-controlled and partially-public owned company currently provides 80 percent of India's coal, but is eager to access the more than half of Indian coal reserves which lie beneath these forested areas.
Rao believes access to coal is also compounded by the inadequate railway infrastructure to transport coal from mines to power stations, the "single major hurdle" to increasing output growth of CIL's domestic operations to 300 Mt/year by 2015.
Rao feels that solving India's coal needs noted that "sorting out domestic issues is alone a solution to our problem" instead of working to acquire overseas coal mines. This may be true of thermal coal, but India's supply of high quality, metallurgical or coking coal is a geological constraints not one of regulations and infrastructure.
Securing coal abroad
In May, a delegation made up of a member of the Steel Authority of India (SAIL) and a Ministry of Steel member set off to Mongolia to secure long-term coking coal reserves.
"We have to acquire mines outside India as we do not have coking coal mines in India," said C.S. Verma, chairman of SAIL, according to The Hindu. "The expansion and capacity addition is going to happen in India mostly on the blast furnace route only for which coking coal is required more."
High-grade coking coals currently make up the majority of imports, with September imports totaling 7.3 Mt of thermal coal and 2.3 Mt of coking coal, according to Bloomberg.
The country's current reliance upon Australia for about 60 to 70 percent of its 35 to 40 Mt of annual imported coking coal has left the government searching to diversify supply.
With plans to more than double steel production in the country to 200 Mt/year by 2020 from 80 Mt/year in 2011, buying up resources or turnkey developments in Mozambique, Indonesia and South Africa is starting to take on a new imperative.
Even CIL's domestic and thermal-focused operations have begun to recognize the importance of securing external sources of coking coal.
Just last month, CIL awarded an $80-million exploration contract to India-based mining and logistics group Thriveni Minerals Mozambique for a block that covers 205 square kilometers and contains an estimated reserve of 1 billion tons of thermal and coking coal.
International focus to increase
India's foreign acquisitions and supply contracts for both coking and thermal resources will only continue. The growing pace of demand and accompanying geological and regulatory barriers — which can take between six and eight years to take a tenure to market — are forcing India to distant lands.
A key example of this situation is the growing attention falling on junior mining projects able to secure India's growing needs. "Kalimantan for us is the sweet spot, and we're very keen to talk to junior minors in this region," Kanak Kapur, fund investment manager at Pacific Alliance Group, told the Jakarta Globe. "Most of the better quality coal is in Kalimantan."
Much like "King Coal" China, which has abundant domestic coal resources, India is turning to international markets to slate is growing coal thirst. Companies that can cater to this emerging need will find in India an eager long-term customer.
Securities Disclosure: I, James Wellstead, hold no direct investment interest in any company mentioned in this article.