Canadian Government Puts BC Coal Terminal on the Block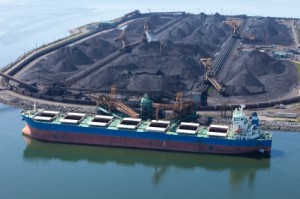 The Canadian federal government announced last week that it has put the government-run Ridley Terminals bulk port, a key transportation hub for British Columbia's growing coal industry, up for sale.
Built in 1984, Prince Rupert-based Ridley Terminals was a $250-million project aimed at providing Denison Mines (TSX:DML) and Teck Resouces' (TSX:TCK.B) Quintette and the Bullmoose metallurgical coal mines with a bulk transfer port.
After relying on government subsidies for years to keep it afloat, the port is now buzzing with activity in response to historically high metallurgical coal prices and continuous interest from emerging Asian economies — particularly China — in BC's coal fields.
"Ridley Terminals has tremendous growth potential and that potential can best be realized through private ownership," Ted Menzies, minister of state, said last week.
The federal government pumped $200 million into the expansion and upgrading of Ridley in 2010, and by the time construction is completed in 2014, annual shipping capacity will double from 12 million to 24 million tonnes.
While Minister Menzies made assurances that the controlling interest in Ridley Terminals will not be sold to a state-owned company outside of Canada, it isn't clear who might be the potential buyer.
The Ridley Terminals Users Group, a collective of major resource producers that are current or future customers of Ridley Terminals, announced their support of the federal government's decision to sell the terminal and a number of the group's members are seen as a potential buyers.
Several companies were part of a proposed takeover of the terminal in 2009, including a number of coal mining interests with projects in Northern British Columbia and Western Alberta.
Asia's coal needs drive expansion
With a number of new mines proposed to come online in the next few years, including Teck Resources' Quintette and HD Mining's Murray River project, coal shipments are seen as the driving force behind the terminal's expansion.
Teck Coal signed a 10-year term shipment contract with Ridley Terminals in September of 2011 that sees the metallurgical coal producer shipping 2.5 million tonnes of coal per year between January 2015 and December 2024.
With demand for coal growing in the Asia Pacific region, the Pacific coastline has become an important transit point for coal-mining operations across North America.
A number of proposed US coal terminals in Washington and Oregon have been looking to develop bulk terminals to bring American thermal coal to Asian markets, but have seen little progress thus far.
Pacific International Terminals is proposing the $660-million Gateway Pacific project at Cherry Point, Washington, which, if built, would be North America's largest — with a 48-million tonne capacity — and would be closer to Asia than any other US port.
But the uncertainty surrounding the project and others within the US has led coal suppliers in Wyoming to look north to Metro Vancouver's port systems to fill that gap.
The result has been applications for a new coal terminal at Fraser Surrey Docks, located south of Vancouver, BC, and a desire to expand the existing coal terminal at Neptune Terminals in North Vancouver, BC.
Neptune's proposed expansion would see an increase in coal shipments by 14 million tonnes per year, or 35 percent, driven primarily by BC coal supply, while the proposed Fraser Surrey Docks project will instead likely see its traffic flowing from thermal coal producers in Wyoming's Powder River basin.
Combined, the two proposals would increase Port Metro Vancouver's coal exports from 40 million to 54 million tonnes per year.
As a point of comparison, Australia's nine major coal terminals had a total handling capacity of almost 350 million tonnes and loaded nearly 300 million tonnes of coal from 2009 to 2010.
Port Waratah Coal Services in Newcastle, Australia, the world's largest coal handling operation, has a ship-loading capacity of 25 million tonnes per year at Carrington Coal Terminal while the Kooragang Coal Terminal has a shiploading capacity of 108 million tonnes per year.
Securities Disclosure: I, James Wellstead, hold no direct investment interest in any company mentioned in this article.