A potash-market slowdown has been offset by strong strategic moves taken by industry heavyweights.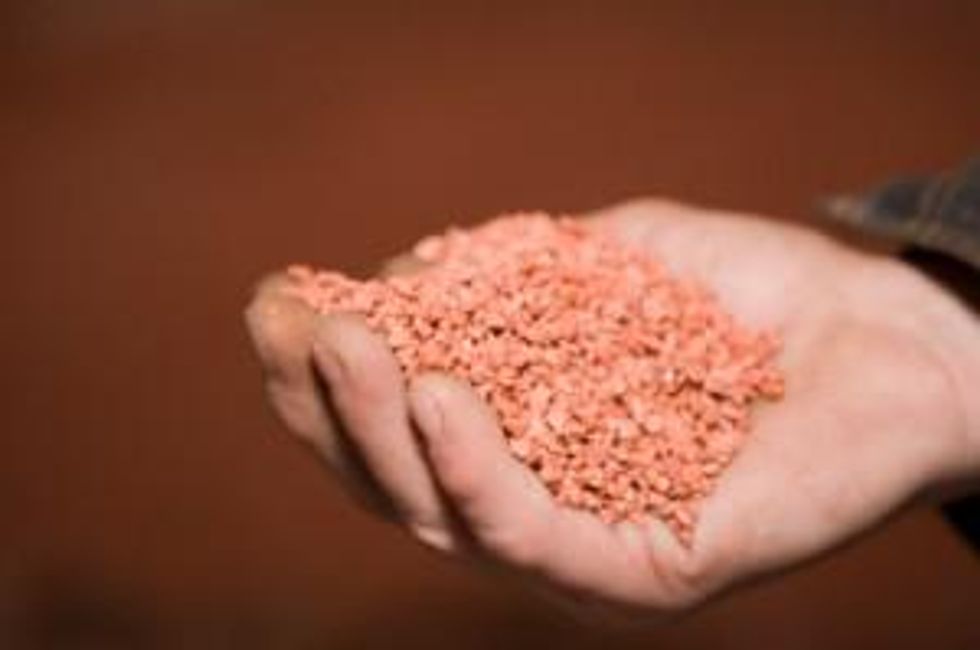 A wintery chill has descended upon the northern hemisphere and international potash markets. But key tactical moves made by Potash Corporation of Saskatchewan (TSX:POT) and others have kept the industry buzzing in recent weeks.
On October 25, PotashCorp released weak third-quarter numbers, primarily due to the continued "potash holiday" taken by Indian and Chinese consumers.
Third-quarter offshore potash sales volumes fell to 1.1 million tonnes from the 1.4 million tonnes seen in 2011. On the whole, potash gross margins totaled $554 million for the third quarter, well below last year's $700 million.
Agrium's (TSX:AGU,NYSE:AGU) third-quarter results, released this week, echo many of the same trends caused by China and India's absence. Consolidated net earnings were slashed this past quarter, down to $129 million compared to net earnings of $293 million for the same period last year. The stock cratered 10.6% on the news on the Toronto main board.
Agrium, like PotashCorp, blamed a "weaker potash market stemming from uncertainties from ongoing negotiations with India and China." Agrium also saw depressed sales due to the mine expansion at its Vanscoy project.
Hoping for return
PotashCorp is hopeful that China could soon return to re-sign its semiannual supply contracts with the Saskatchewan-based company, but remained less optimistic about a similar time frame for India's return.
"We believe an increase in [Indian] demand will begin to unfold in 2013, although the extent to which that happens remains uncertain at this time," the company said in the release.
Potash noted that high food inflation and low crop yields will eventually impel Indian farmers to start buying again.
"While Chinese and Indian customers have not engaged consistently, their need for improved soil fertility to increase food production has not subsided," CEO Bill Doyle said in a note accompanying the earnings release.
One bright spot internationally has been the Latin American markets, particularly Brazil, where demand is ramping up for the Safrina crop (February/March corn planting). Latin American markets have increased potash purchases in recent months in response to elevated soybean and corn prices and reduced competition from drought-impacted North American markets.
Falling potash spot prices have also aided Brazilian buying, and PotashCorp noted that average realized potash spot prices hovered around the of $429/tonne level, about 5 percent lower than the same period in 2011.
North America was also stronger this past quarter, with PotashCorp reporting that sales volumes increased to 1 million tonnes from 0.8 million tonnes in 2011 as non-drought-impacted areas took advantage of elevated crop prices.
No slowdown in corporate activity
Despite the impact of China and India, strategic activities have continued with vigor.
Most prominent was PotashCorp's announcement last week that it is seeking complete ownership of Israel Chemicals (ICL), up from its current 13.84 percent share.
The proposed acquisition would stretch PotashCorp — and Canpotex's influence — into European markets. ICL's Dead Sea-based 4.5 million tonnes of annual production would also give PotashCorp greater access to Chinese and Indian markets, where demand is expected to grow the most.
The deal is far from a sure thing, and PotashCorp must grapple with the political challenges of the Israeli government's "golden share" in ICL, especially as the country prepares for an upcoming January 2013 election.
Elsewhere, Russia-based mineral fertilizer producer Acron Group announced that it has secured $1.5 billion in financing for its proposed Talitsky potash mine in Russia's Ural region.
Russian state bank Vnesheconombank (VEB), the Eurasian Development Bank and the Austria-based Raiffeisenbank have come on board to help Acron begin full-scale production on the mine as early as the end of the year.
Acron's chairman of the board of directors, Alexander Popov, noted in the company's press release about the announcement that he believes this project will help move the industry away from the consolidation that PotashCorp appears to be working towards.
"Development of the Talitsky area of the Verkhnekamsk potassium-magnesium salts deposit is a key factor for demonopolisation of this industry and will therefore allow Acron Group to implement in full its strategy of converting into a vertically-integrated holding."
Company news
Allana Potash (TSX:AAA) received an updated rating, from market perform to outperform, from Raymond James analyst Steve Hansen after Hansen travelled to Ethiopia to view the Danakhil project.
Hiking his price target on Allana shares from $1 to $1.25, Hansen told the Financial Post that "[w]hile challenges remain, most notably infrastructure, our tour of the project's advanced pilot facilities and meetings with senior Ethiopian government officials indicate that Allana has made large technical and business development strides since we first initiated coverage back in March."
Passport Potash (TSXV:PPI,OTCQX:PPRTF) announced that it will acquire a 100-percent interest in its Arizona landholdings on the east side of the Holbrook Basin. Passport agreed to pay North American Potash Developments (NAPD) a total of $3,850,000 for the land, with a $2,450,000 cash payment and issuance of 750,000 common shares to NAPD once approved by the TSX Venture Exchange.
Securities Disclosure: I, James Wellstead, do not hold equity interest in any of the companies mentioned in this article.
Featured
Investing News Network websites or approved third-party tools use cookies. Please refer to the  cookie policy for collected data, privacy and GDPR compliance. By continuing to browse the site, you agree to our use of cookies.