Overview
Market experts believe that global zinc demand is set to outpace production growth in 2021. The zinc market could see upwards of 2.9 percent to 14 million tonnes in production increases as producers worldwide continue to ramp up output in the face of surging demands.
Global zinc production continues to struggle to meet increasing demand. In 2019, 12.8 million tons of zinc was mined, with 33.7 percent of that coming from China. Companies operating advanced, high-quality zinc production assets in the West present investors with an opportunity to satisfy growing global demand without the same level of exposure to geopolitical risk.
One such company is Metallum Resources (TSXV:MZN), which acquired the Superior Lake zinc project from Superior Lake Resources (ASX:SUP). Superior Lake has a prospective JORC-compliant bankable feasibility study. Highlights from the report include an IRR of 31 percent (pre-tax), 9-year mine life with current reserve/resources.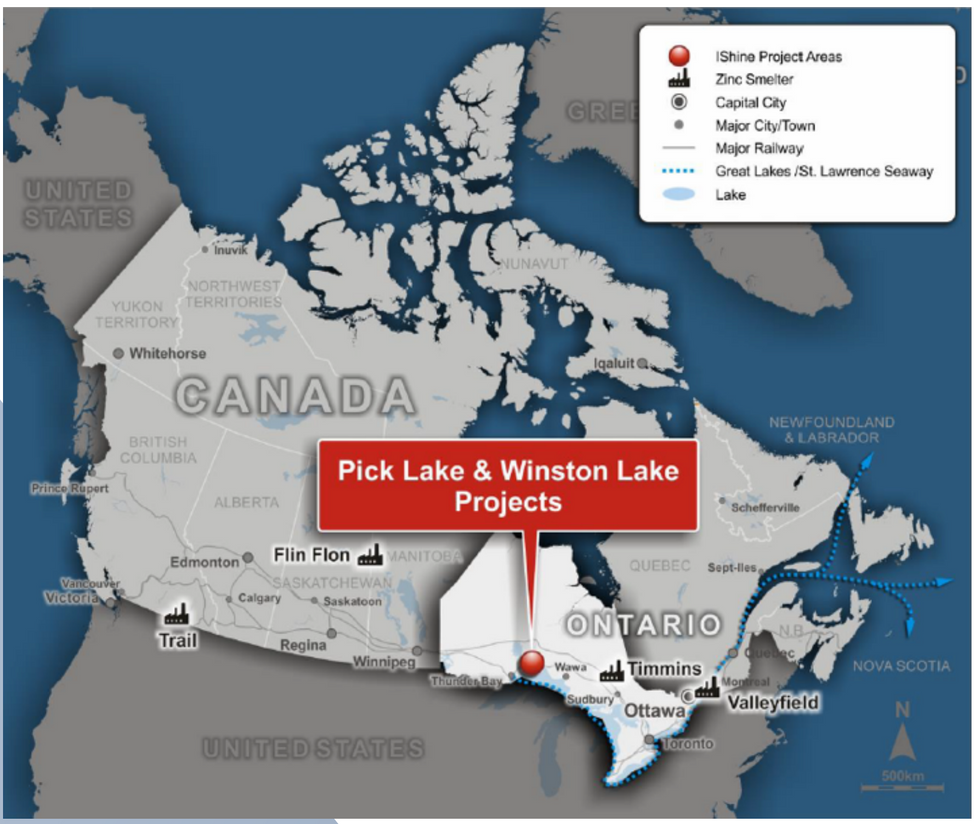 The Superior Lake zinc project consists of two high-grade resource targets: Winston Lake and Pick Lake. Winston Lake produced historic average recoveries at 93.7 percent zinc and 78.3 percent copper, 37 percent Ag and 38 percent Au with approximately 900 Mlbs Zn, 53.7 Mlbs Cu, 1,172 koz Ag, 51.17 koz Au. Likewise, Pick Lake hosts highlighted drilling results of zinc grades up to 40.6 percent over 0.51m and 30.47 percent over 13.4m.


With most major permitting in place, the company plans to commence an extensive drilling campaign and further its established exploration programs to identify additional targets across the Superior Lake property. Existing infrastructure and historic revitalization of the project present the company with fast-tracked and lower-cost development conditions.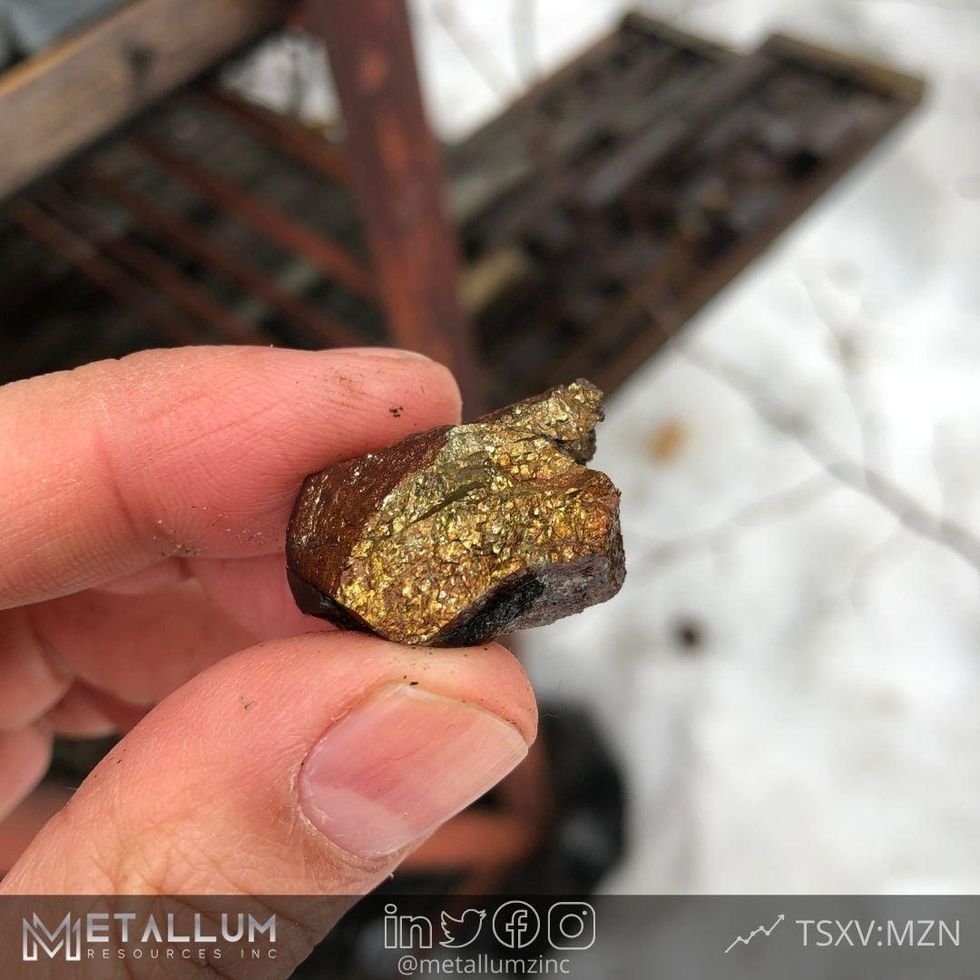 Metallum Resources has advantageous positioning in the space of zinc developer valuation. Compared to other players in the market, Metallum Resources presents an excellent CAD$21 million market cap with a robust post-transaction share distribution portfolio. The company has no material debt.
Metallum Resources' management team has a proven track record of bringing shareholder value. The company is part of the Gold Group, a winning team of results-driven leaders with world-class expertise in mine building, resource expansion and established stakeholder value.
Company Highlights
Metallum Resources' flagship Superior Lake zinc project is near-production, with all infrastructure in place, in the mining-friendly jurisdiction of Ontario, and is one of the highest-grade zinc development resources in North America.
Current resources estimates place Superior Lake with upwards of 2.07 million indicated tonnes of zinc at 18 percent zinc grades. The current mine life of Superior Lake stands at nine years and the asset has the potential for resource expansion with additional exploration.
The Lower Pick Lake massive sulphide Deposit has exceptional historic intercepts but is still largely untested, leaving huge potential for undiscovered, high grade massive sulphide mineralization that is close to existing underground development.
The Superior Lake zinc project's 2 deposits, Winston Lake and Pick Lake, are both highly prospective VMS deposits that host very rich zinc and other metals mineralization.
Superior Lake Resources released a JORC-compliant (but not NI 43-101 compliant) Bankable Feasibility Study for the Superior Lake Zinc Project in 2019. Highlights from the report include an IRR of 31 percent (pre-tax), 9-year mine life with current reserve/resources, at 3 percent cut off grade.
The company is a significant proponent of stakeholder participation and mining best practices. It boasts strong relationships with community and local skilled workforces and emphasizes safety and sustainability while providing exceptional economic and project development potential.
Key Projects
Superior Lake Zinc Project
The Superior Lake zinc project sits approximately 200 kilometers east of Thunder Bay, Ontario. The project covers 175 kilometers squared and consists of two deposits – Winston Lake and Pick Lake. The property leverages excellent existing infrastructure, including all-weather access roads, transmission lines, tailings dam and over 180,000 meters of surface and undergrounding drilling.
Both highly prospective VMS deposits host very rich zinc and other metals mineralization, which presents Metallum with exceptional exploration and yield possibilities. The project boasts a good 43-101 indicated resource of 2.07 million tonnes at 17.9 percent zinc, 0.8 percent copper, 0.4g/t gold and 33.6 g/t silver and inferred resources at 0.27 million tonnes at 16.2 percent zinc, 1.0 percent copper, 0.3 g/t gold and 37.2 g/t silver. Pick Lake recoveries stand at 97 percent zinc and 54 percent concentrate returned from a test stope conducted before acquisition by Metallum.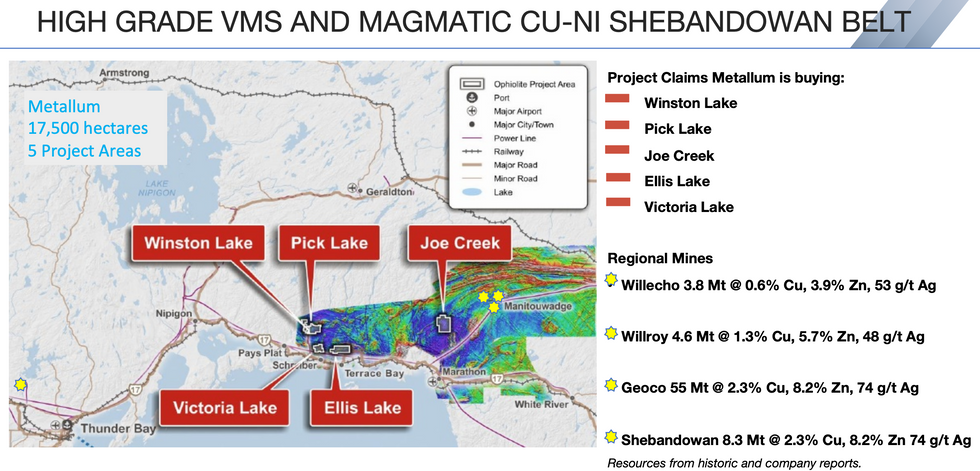 Past work on the project includes successful exploratory testing, soil sampling and monitor surveying to measure dilution processing. In 2019, the project saw downhole EM surveying and the completion of three significant drill holes by Superior Lake Resources. This drill campaign adds to the 1,812 surface and underground drill holes in the asset's database.
Over the next 12 months, the company plans to increase the zinc resources across the asset, dewater the mine and leverage its developmental momentum in advancing potential production. Metallum remains excited for the future of the Superior Lake zinc project and the economic growth that it's projected to experience.
Superior Lake Resources released a JORC-compliant (but not NI 43-101 compliant) Bankable Feasibility Study for the Superior Lake Zinc Project in 2019. Highlights from the report include an IRR of 31 percent (pre-tax), 9-year mine life with current reserve/resources. Metallum Resource intends to upgrade this study in 2021.
Management Team
Kerem Usenmez — President, CEO & Director
Kerem Usenmez is a geological engineer and a mining entrepreneur with over 20 years of global experience. He has worked in various technical and leadership roles with Inco, Vale and Amec. Usenmez has been involved in mineral discovery exploration and various VMS deposits and discoveries in Canada, such as Duck Pond NFLD, Bathurst in New Brunswick and Northern Manitoba, working mainly in base metals, such as Zinc. Usenmez co-owns Atom Bits, a rapidly growing diamond drilling bit manufacturer in Canada. He is a member of the board of directors of the PDAC and is the co-chair of the Public Affairs Committee.
Kevin Bales — CFO
Kevin Bales has over 20 years of financial reporting experience in the mining and information technology industries. He currently serves as CFO for several public junior exploration companies with operations in Canada, the U.S, Latin America, and Europe. Bales holds a Bachelor of Management degree with a major in accounting.
Robert Middleton — Exploration Manager
Robert Middleton is an exploration geoscientist with over 50 years of experience in the mining and exploration industry in more than 40 countries through Canada, United States, Central America, Europe and Africa. He was involved in VMS deposit discoveries and expanding significant deposits such as Hemlo, Flin Flon, and Bell Creek. He worked as an exploration manager with junior and major companies such as Newmont. He holds a mining diploma from the Provincial Institute of Mining in Haileybury, a B.Sc. and M.Sc. in Applied Geophysics from Michigan Technological University. Middleton was named The Prospector of the year in 2008 by the Ontario Prospectors Association and MNDM, won the "Discovery of the year" awards in 2004 and 2001 and holds Lifetime Achievement Award from NWOPA.
Grant Davey - Director
Grant Davey is an experienced entrepreneur with 30 years of senior management and operational experience in the development, construction and operation of precious metals, base metals, uranium and bulk commodities around the world. More recently, he has been involved in venture capital investments in several exploration and mining projects and has been instrumental in the acquisition and development of the Honeymoon uranium mine in South Australia, the Panda Hill niobium project in Tanzania, the Superior Lake zinc project in Ontario, the Cape Ray gold project in Newfoundland and the acquisition of the Kaylekera Uranium mine in Malawi from Paladin. He is currently a Director of Cradle Resources Limited (ASX:CXX), Lotus Resources Limited (ASX:LOT), and Frontier Energy (ASX:FTE), and is a member of the Australian Institute of Company Directors (AICD).
Request an Investor Kit
EXCITING upcoming projects!
IN-DEPTH reliable insights!
SUCCESSFUL growth strategies!
VALUE-BASED content!
Metallum Resources