Overview
The online food delivery industry saw unprecedented growth in 2020. With the advent of social distancing restrictions and COVID-19 measures, the convenience and flexibility of ghost kitchens to offer consumers new and exciting delivery-only food items continues to grow.
Food tech solutions like online food delivery and ghost kitchens (also known as virtual kitchens, dark kitchens, cloud kitchens, etc.) have been quickly evolving to meet the demands of an increasingly digitized and service-based world in recent years. Made to reduce operating and overhead expenses through optimized infrastructure and leveraging delivery-only models, ghost kitchen companies are shaking up the food scene and this could last well into the future.
JustKitchen (TSXV: JK) (OTC: JKHCF) (FSE:68Z) is a network of virtual kitchens that benefit from lower overhead and operating costs to achieve better economics than operating a dine-in restaurant. The company is focused on its Hub-and-Spoke operating model, which works to enable efficiency maximization and margins.
This Hub-and-Spoke operating model takes semi-prepared food from its full-scale commercial kitchens or "Hubs," which then distribute them to "Spokes" for completion before delivery to end consumers.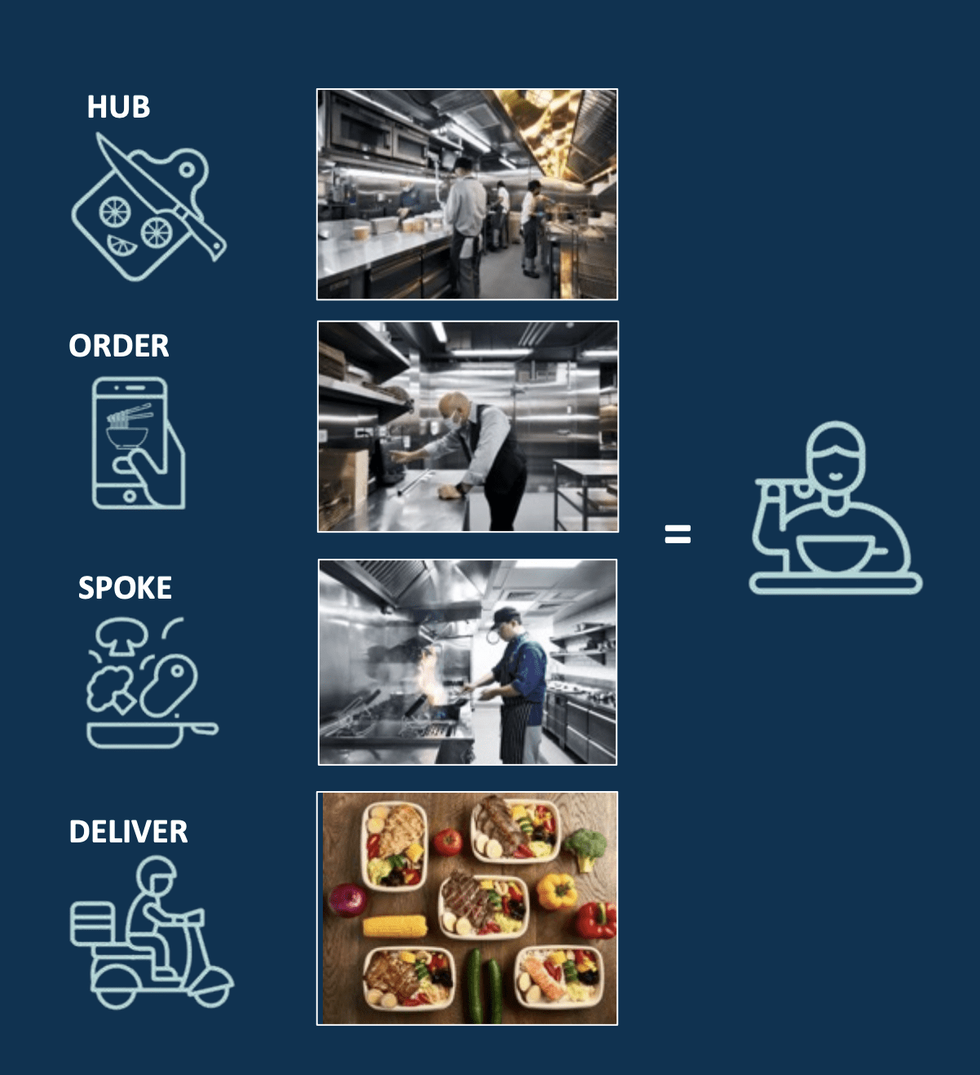 JustKitchen also offers delivery-only meals under its own proprietary menus alongside established restaurant brands, including world-class Michelin star establishments. Having been largely unaffected by COVID-19, the success of JustKitchen in the Taiwanese food tech market demonstrates the company's growth and success potential outside of social distancing conditions.
The company is headquartered and operates primarily in Taiwan, a renowned food tourist destination and mature food market. Being Taiwan-based strategically positions JustKitchen to leverage the country's low overhead and operating costs and high market exposure, which includes a US$16 billion dining market and high-density consumer base.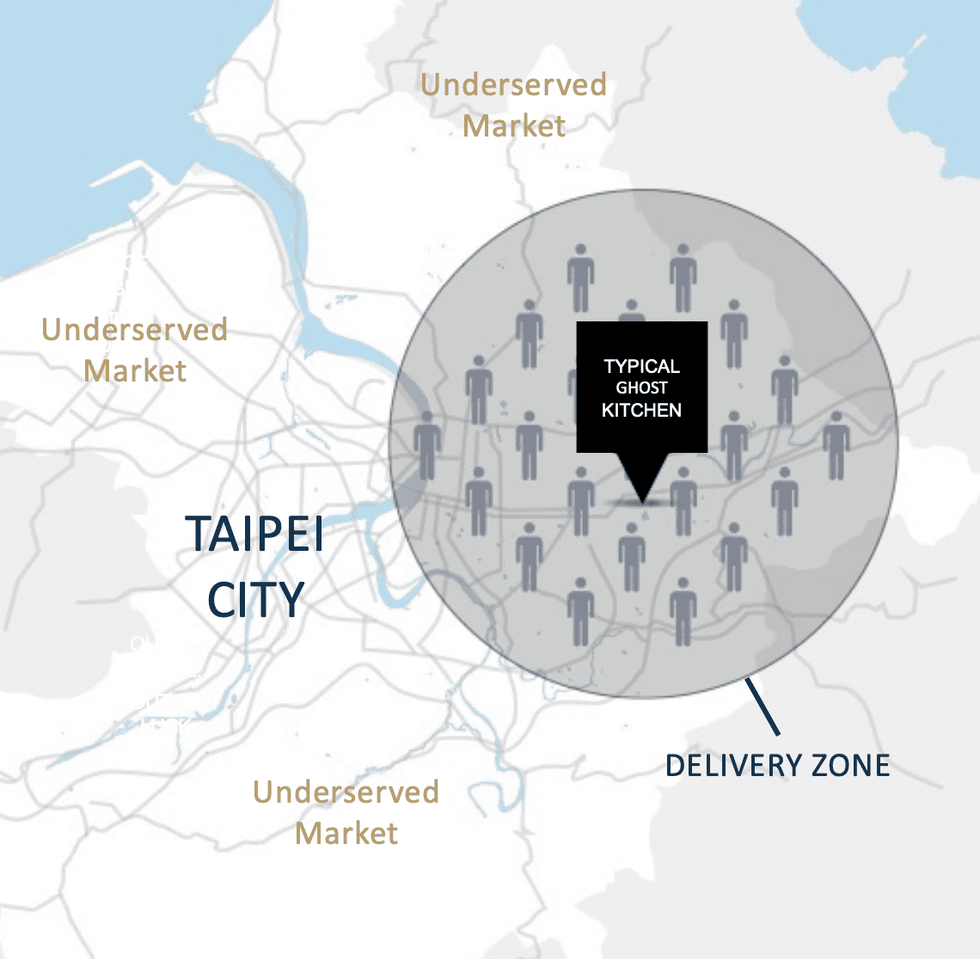 The company has plans to expand to other geographic markets, like into neighbouring Asian countries and the United States, for example.
JustKitchen leverages data to create value, improve supply chain management and optimize menu creation. Through well-engineered software, the company works to proactively predict demand for better cost management and customer satisfaction.
The 2021-2022 target timeline includes plans to grow to two Hubs and 35 Spokes in Taiwan. Additionally, the company has several new revenue streams in the works, such as a proprietary meal ordering app and a customer loyalty/rewards program, among others.
The company's other exciting project is the upcoming franchising of a ghost kitchen system. This would offer franchisees the opportunity to own their very own business on a turnkey basis for a modest level of investment. JustKitchen's virtual kitchen franchise model, strength in supply chain and data integration could eventually position the company as a major global franchisor of choice for ghost kitchens and delivery-only food brands.
JustKitchen's management team consists of experts in various related industries like capital markets, corporate development, e-commerce and logistics. Together, their combined years of experience and vested interest in project success primes the company for rapid growth and value creation for shareholders.
Company Highlights
JustKitchen is a network of highly efficient "Hub-and-Spoke" commercial kitchens, also known as ghost kitchens or virtual kitchens, that allow delivery-only food items to reach more customers and avoid unnecessary overhead and operating costs.
The company primarily operates in Taiwan but has plans in the near term to grow internationally into other markets, for example, in Asia and the US.
JustKitchen uniquely offers delivery-only meals under its own proprietary menus as well as for established restaurant brands, including Michelin-level vendors.
The company expects to launch a JustKitchen proprietary meal ordering app as part of its emerging technology channel in 2021. Its digitally-driven software solutions already leverage customer data to optimize supply chain management, menu creation and demand analytics.
JustKitchen launched its proprietary Wow Chow brand and associated menu of fresh, delivery-only pet food for both dogs and cats
The company entered into agreements to temporarily establish and operate three satellite ghost kitchen locations in the underutilized commercial kitchens within the Marriott's Courtyard Taipei Downtown and the Madison Taipei hotels as well as in the Trader's Society restaurant located in densely populated Shongshan District of Taipei City.
JustKitchen acquired the virtual branding rights to each of the Chili House and Ben Teppanyaki third-party Taiwanese restaurant brands.
JustKitchen entered into a commercial arrangement to be the exclusive fresh meal provider to Uber Eats Mart in Taiwan.
JustKitchen signed a commercial agreement with President Chain Store Corporation to to create fresh meal collaborations with 7-Eleven Taiwan.
Key Projects
JustKitchen's Hub-and-Spoke Model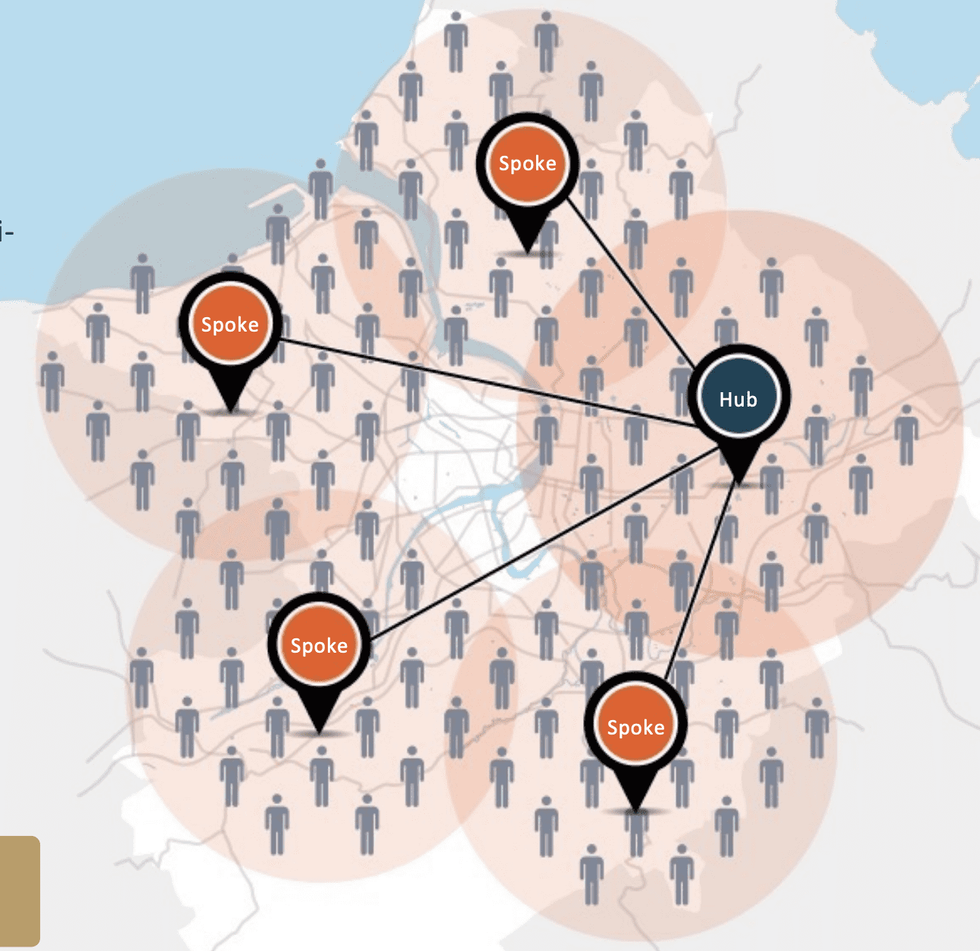 This model provides semi-prepared food items to designated Spokes from Hubs for meal completion and delivery. The system works to extend JustKitchen's geographic reach as compared to a traditional restaurant or food vendor, while also increasing the rate of food output and supplying local demand more quickly.
The tailored offerings vary based on price points, cuisine, brands and an evolving pipeline of food items. The robust diversity and selection offered to customers increases the scalability of JustKitchen, reduces delivery times and addresses gaps in the foodservice industry through digitally driven solutions and customer data analysis.
JustKitchen App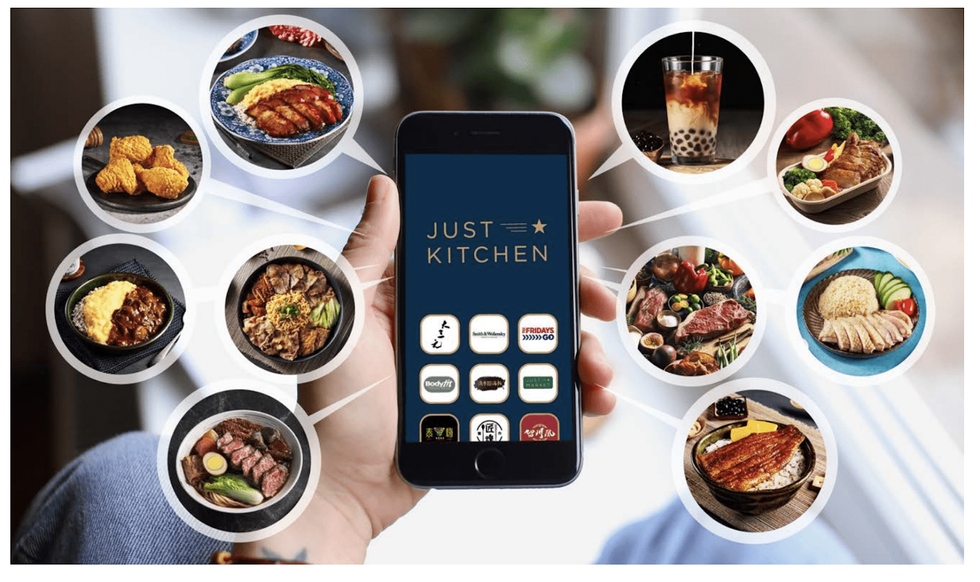 The company expects to roll out a proprietary meal delivery app in 2021. JustKitchen is also developing a value-added customer loyalty/reward program similar to other popular online food delivery apps like UberEats.
Management Team
Jason Chen – Co-Founder, CEO, President & Director
Jason Chen is the vice-chairman of Bayshore Pacific Hospitality Limited and on the board of directors. Chen has over two decades of experience working internationally in the capital markets and private equity industries. He has extensive capital markets experience as the senior executive officer and managing directorship levels with several Canadian investment dealers.
Chen is also a managing director of a capital partnership corporation specializing in corporate financing in private and public sectors, with offices in Hong Kong and Vancouver, Canada. Also, Chen is actively overseeing his private investment holding company and has held executive and board positions with several public and private companies. He also holds a Juris Doctorate and degrees in economics and philosophy.
Kent Wu – COO & Director
Kent Wu is a seasoned entrepreneur with demonstrated excellence in e-commerce & logistics, strategic partnerships, digital marketing, team development and tech stack development. He is the founder and CEO of the e-commerce grocery platform Milk & Eggs, acquired in 2019 by National Strategic. He is also the co-founder of TAC City Airsoft, the largest airsoft arena company in Los Angeles, with two locations admitting more than 100,000 people per year.
Previously, Wu was the founder & CEO of online shooting sports equipment retailer Airsplat, which was acquired in 2016 and was named one of the 500 Largest Online Retailers by Internet Retailers, and one of the Largest Minority-Owned Businesses by LA Business Journal. He was also the founder and CEO of 2 Wheel Bikes, one of the fastest-growing online retailers of cycling equipment and accessories, acquired in 2014. He is currently the Managing Director of SKW Asset Holdings LLC, a real estate investment and management firm with US$20 million in assets under management.
Edward Wright - Director
Mr. Wright is an experienced leader with a proven track record of building high functioning teams and quality retail brands at an international level, who received the BC CEO of the Year Award for the SmallMedium Business Public Company category in 2015. Throughout his career, Edward has delivered superior outcomes consistently in multiple leadership settings, across different industries. He is currently a trustee for Vancouver College after serving as both a board member and Chair over a ten-year period, while also serving as a board member of Poplar Grove Winery since 2017.
Adam Kniec – CFO
Adam Kniec is an experienced CFO with over 20 years of CFO, senior management, accounting, auditing, financial reporting and regulatory compliance experience with Canadian and U.S. publicly listed companies. Currently, Kniec is the CFO of TSX Venture Exchange listed company Integrity Gaming Corp., a position he has held since October 2012. Previously, Kniec was the CFO of Petro Vista Energy Corp. from October 2007 to January 2019.
Mark Lin – Chief Information Officer
Mark Lin was the founding member of InComm Taiwan Branch, an international gift card platform provider, before joining JustKitchen. Lin grew sales revenue from US$1 million to over US$15 million in three years. In his role, he managed all aspects of sales and operations. Lin's expertise includes financial payment platform solutions, system integrations, business process analysis and international business development. Mr. Lin holds a B.S. in Operations Research from Columbia University.
Ken Chang - Chief Technology Officer
Mr. Chang was previously the Senior R&D Director for WeMo Scooter where he developed technological solutions in a multifunctional capacity for the company's software-as-a-service platform.
Yang Liu – CSO
Yang Liu has over eight years of experience in the hotel and restaurant industry and ten years in the film and entertainment industry. Liu is an adjunct lecturer at Providence University (Taichung, Taiwan) in the Department of Mass Communication, teaching college-level courses in media and management.
He holds a Master of Business Administration degree and a double degree in Hospitality Business and East Asian Languages and Culture from Michigan State University.
John Yu – CMO
John Yu is a successful serial entrepreneur in the realm of consumer products and services. He began his career as a software engineer at a Fortune 500 company, working with Dell, Apple, and Sony. In 2005, he identified the outdated and frustrating process of buying diamond rings and seized the opportunity to start Taiwan's first jewelry e-commerce site, ALUXE, disrupting the traditional industry to provide people a transparent, simple and joyful way to shop for and purchase engagement rings and wedding bands.
Yu is also the founder of two fast-growing e-commerce sites specializing in daily necessities and sports gear. He is currently a Director of TGI Friday's, Texas Roadhouse, Dan Ryan's Chicago Grill, and Smith & Wollensky restaurants in Taiwan and Hong Kong.
Wayne Liu - Head of Supply Chain
Mr Liu was head of supply chain at the Wellcome, until it was acquired by Carrefour, the French multinational corporation that operates a global chain of groceries stores, convenience stores and hypermarkets. Wayne is expected by management to lead the Company's supply chain, which continues to grow and expand into new countries. He has also been tasked with taking control of JustKitchen's enterprise resource planning system in and outside of Taiwan.
Ernest Higa - Advisor
Ernest Higa is the Chairman and Chief Executive Officer of Higa Industries Co., Ltd. and the Chief Executive Officer of Wendy's Japan . He is also a Director of Del Sole Corporation and Shinsei Bank , and a Chairman of Board of Councilors of USJC, a member of Keizai Doyukai and Board of Overseers of the Columbia Business School . In 1990, he was named "Entrepreneur of the Year" by the New Business Conference. In 1998, he received an award from the Ministry of Agriculture for "innovation in the food industry" and was recognized by Toyo Keizai as one of the top 50 entrepreneurs in Japan .
John Hardyment - Advisor
John Hardyment has a diverse background that includes managing, owning and operating a number of businesses in Asia , with over 43 years of experience in Greater China . He is currently the Founder and Chairman of the Bayshore Pacific Group (the " Group "), which currently comprises Bayshore Pacific Hospitality Ltd., Bayshore Pacific Restaurants Ltd. and Bayshore Pacific International Ltd. (" BPI "). The Group focuses on leisure, entertainment and hospitality business opportunities in Greater China . Brands in the Group's portfolio included TGI Fridays, Texas Roadhouse, Smith & Wollensky, Dan Ryan's Chicago Grill and Amaroni's.
Zaki Delgado - Advisor
Zaki Delgado is the Co-CEO of Transnational Diversified Group (" TDG "), a Philippine-based group of companies that are leading players in logistics, ship management, travel and tourism, as well as information and communications technology services. Since its founding in 1976, TDG has grown from a single shipping agency to a group of over 30 operating companies, which include partnerships with international industry leaders and brands. Mr. Delgado also concurrently holds the position of President of TDG Ventures, which is the technology, travel and lifestyle, investment and operating holding company of TDG.
Request an Investor Kit
EXCITING upcoming projects!
IN-DEPTH reliable insights!
SUCCESSFUL growth strategies!
VALUE-BASED content!
Just Kitchen