The profile below is part of a campaign paid for by Pasinex Resources. This profile provides detailed information, helping investors make better investment decisions. Pasinex Resources' support of Zinc Investing News ensures we can continue to bring you unbiased, independent news and information.
OVERVIEW
Pasinex Resources Limited (CSE:PSE,FSE:PNX) is exploring for base and precious metals in Turkey. Through its joint venture with Akmetal AS, the Company holds a 50% interest in the Horsum Regional Zinc Project in southeast Turkey. The project includes the early-production stage Pinargozu Mine property and the exploration-stage Akkaya property both within 10 km of the historic Horzum zinc mine.
Pinargozu is currently producing at an average rate of 25 tpd and work is underway to increase that production output in 2015. An agreement to sell 5,000 tonnes of high-grade zinc material with an estimated value of more than $1 million has been put in place. The funds will be used to build out a resource estimate planned for Q3 2015, and to further explore the Akkaya property. Drill results at Akkaya are expected in the summer of 2015.
Pasinex also holds a 100% interest in the prospective Golcuk Copper Project in central northeast Turkey. Phase 3 drilling at Golcuk is planned for Q3/Q4 2015.
INVESTMENT HIGHLIGHTS
Focus on historic zinc belt in south-east Turkey with pipeline of high grade projects near past-producing Horzum Zinc Mine (around 2 Mt @ 28% Zn).
Akmetal AS – large producer of chromite in Turkey and interests in an operating gold and base metal mines in Turkey; part of the large privately owned Kurmel Group; owner of Horzum Mine.
Low CAPEX; Cash flow in 2015.
Pinargozu target for high grade Zn mineralization (+30% Zn).
Akkaya shows strong presence of Zn/Pb anomaly.
First agreement to sell in December 2014: 5,000 tonnes of high grade zinc material (>30%Zn) valued at > U$1M.
2.4 M lbs Zn mined from Pinargozu in Jan – April 2015; Work underway to increase production rate in 2015.
2015 Work Plan: 3,500 m Drill Program for a target resource of 1 Mt @ 30% Zn at Pinargozu; Drill test adjacent Akkaya.
NI 43-101 resource estimate at Pinargozu planned for Q3 2015
Horzum Regional Zinc Project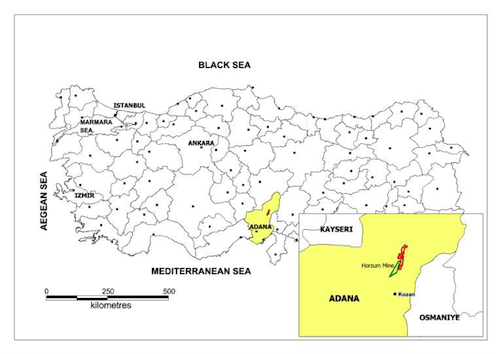 The Horzum Regional Zinc Project, located in the historic zinc belt of southeast Turkey, is a 50/50 joint venture between Pasinex Resources and Akmetal AS, a Turkish Mining company and owner of the Horzum Zinc Mine. Historical production at Horzum between 1974 and 1996 totaled 2 million tonnes of oxide ore grading from 20% to 30% zinc.
The joint venture (JV) company, known as Horzum AS, holds two key properties in the Horzum region to the north of the past-producing mine: the Pinargozu and the Akkaya projects.
Pinargozu Zinc Mine Project
The Pinargozu property is the site of an historical small-scale zinc mine operated by artisanal miners. The mine included seven adits, two of which were refurbished by the JV for underground drilling. In May 2014, the JV began Phase 1 drill work, encountering a large accumulation of mineralization open at depth and at the same stratigraphic level as the Horzum Mine. Initial drill results included:
Hole PPU14-15 intersected 16.8 meters of mixed oxide and sulphide ore grading 39% Zn, 1.6% Pb, and 85 g/t Ag; and
Hole PPU14-16, drilled from underground and in close proximity to PPU14-15, returned 17.0 m of 23.0% Zn, 0.12% Pb and 33ppm Ag (including 4.30m of 43.0% Zn).
In Q2 2014, production began at Pinargozu at an average rate of 25 tpd. Bulk sample testing was completed on the first 570 tonnes of ore, producing an assay return of 34% Zn and 50 g/t. After determining that the zinc material at Pinargozu was of a grade suitable for sale, a total of 5,000 tonnes valued at more than US$ 1 million was agreed to be sold in December 2014.
The 2015 exploration program at Pinargozu has identified a new north-east extension of high-grade zinc mineralization where drilling has cut 35.5 meters of 37.7% Zn  and several other holes intercepted mineralization ranging between 19.5% and 36.6% Zn. "This is an exciting time for Pasinex," stated Steve Williams, CEO of Pasinex Resources. "We now have a number of intercepts in this area that enable us to start to work in-house on estimating a resource in this area." A completed NI 43-101 Resource Estimate is planned for Q3 2015.
Underground development work is underway at the Pinargozu mine with the goal of increasing production capacity by the end of 2H 2015. Production between January and April 2015 totaled 2.4 million pounds of zinc. The JV company's short-term strategy is to use the cash generated from the sale of its zinc production to contribute funds to on-going exploration to build a resource at Pinargozu and later Akkaya.
Akkaya Zinc Project
The Akkaya Zinc Project lies within 10 km along strike from the historic Horzum Mine and 1.5 km north of the Pinargozu mining operation. The property was staked by the JV in 2012 and had never before been drilled.
In March 2015, the JV initiated a Phase1 drill program on the property with a focus on targets identified through analysis of structural geology, ground penetrating radar, and extensive soil and rock chip sampling completed previously. The work is ongoing with a plan for approximately 2000 meters in up to 14 boreholes. Drill results are expected for release in the summer of 2015.
Golcuk Copper Project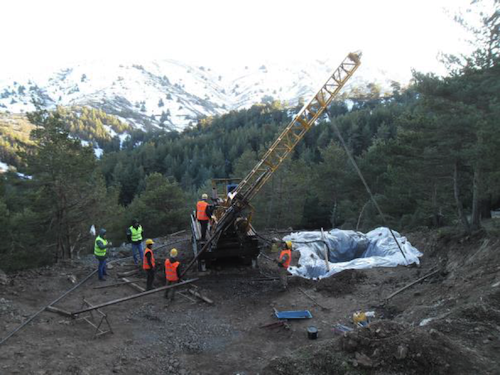 The Golcuk Copper Project consists of a 40 km2 claim in the Sivas Province of central northeast Turkey. The property is 100% owned by Pasinex. Historical drilling on the property included 20 diamond drill holes in a very small area with a highlight of 13.5m averaging 2.6% Cu and 41.9 g/t Ag.
Recent drilling by Pasinex includes 7 drill holes with a highlight of 9.7m of 2.97% Cu and 37 g/t Ag. A NI 43-101 report completed in July 2013 showed the property to be a basaltic copper/volcanic red bed-type mineralizatio. Pasinex commenced a diamond drill program of the Main zone in October 2014 which confirmed manto-type mineralization of up to 2% Cu. Further drill work is planned for Q3/Q4 2015 and will focus on the Golcuk West and South zones of the property.
MANAGEMENT
Steve Williams, MBA – President and CEO
Steve Williams is the President and CEO of Pasinex Resources Limited. Mr. Williams graduated with a Bachelor of Applied Science (Extractive Metallurgy) from the Western Australian School of Mines and an MBA from Tulane University. He has worked in the mining industry since 1976 in milling operations in Australia and Canada. He worked 20 years with SGS Lakefield Research in Canada and Chile in both metallurgical project management and business management, finally becoming Managing Director for SGS Canada, a company with about 1300 employees in Canada. Steve has authored many technical papers and in 2004 he became a CIM Distinguished Lecturer and in 2008 a CIM Fellow, for his work in geometallurgy.