Established Licensed Cultivator and Producer in Nevada's Emerging Medical and Recreational Cannabis Markets
This profile is part of a paid investor education campaign.*
Overview
1933 Industries Inc. (CSE:TGIF, FWB:1QF, OTCQX:TGIFF) owns and controls cannabis- and hemp-based assets in Las Vegas Nevada. The company is a licensed cannabis producer building a vertically integrated model to serve multiple facets across the value chain of both the medical and recreational cannabis markets in North America. Nevada voted to legalize recreational marijuana in 2016, and adult use cannabis was implemented July 1, 2017. The legislation has proven to be a huge opportunity for the state's largest city, Las Vegas—one of North America's premiere tourist destinations. With over 42 million visitors every year, and a growing cannabis tourism market, Las Vegas is poised become one of the world's largest adult-use cannabis markets.
1933 Industries' 91 percent ownership of two Las Vegas, Nevada-based subsidiaries—Alternate Medicine Association LC (AMA) and Infused Mfg, LLC (Infused) — has helped the company become an established licensed cultivator and producer in this growing marketplace.
AMA has been at the forefront of the Las Vegas cannabis market since the beginning, working closely with the state of Nevada to set standards for cultivation. The company was the first cannabis producer to be licensed in Clark Country following the 2013 Nevada Legislature's approval of the cultivation and sale of medical marijuana. Host to a cultivation facility in Clark County, AMA is a wholesale grower and producer licensed to sell its products to licensed medical and adult-use retail dispensaries and storefronts. AMA also manufactures and sells well-known third-party products from companies that are not licensed within the state of Nevada. This includes the well-established Vader Extracts, The Real Kurupt's Moon Rocks, Krypted Inc, and other brands. This encourages consumer participation from visitors from other states and also allows AMA to improve its presence and shelf space in licensed retail dispensaries.
Construction is now underway for AMA's 67,750-square-foot facility for cannabis cultivation on 1.4 acres in Las Vegas. The new facility, when completed, will increase AMA's total footprint by 6-fold and allows the company to significantly increase flower cultivation to support AMA's brand and that of its licensees.
In addition, 1933 Industries completed the purchase of an existing 12,160-square-foot building adjacent to the future cultivation facility, which will be utilized for cannabis production, processing and extraction purposes and will house a separate hemp biomass processing facility, the CBD Isolate Lab, operated by Infused. 1933 Industries is in an excellent position to leverage its current licensed cannabis producer to gain a strong foothold in the emerging recreational market.
Infused offers 1933 Industries shareholders a crucial hedge with a very mature line of CBD-infused products that are legal nationwide. Infused produces medicinal and topical products for sale under its Canna Hemp™ brands. The high-margin CBD products market is one of the fastest growing sectors in the medical cannabis industry and is expected to reach $2.1 billion by 2020, according to Hemp Business Journal.
1933 Industries has diversified its revenue by acquiring Spire Global Strategy as a wholly owned subsidiary.  Spire provides a strong presence in the Canadian and international market as a leading expert in security, logistics, information technology, due diligence and compliance in the regulated cannabis industry and other investment sectors. Spire provides further assurance of1933 Industries' own security and compliance efforts in the ever evolving legal cannabis landscape.
1933 Industries is managed by an experienced team of cannabis industry and public market professionals. "We are excited to have a strong operation and track record in one of the most exciting new markets in this sector. With a proven corporate team and some of the best operators in the space running the facilities, the company is perfectly positioned as a first mover in Clark County," said Brayden Sutton, CEO. "I could not be more pleased with how far we've come and with the opportunities that lie ahead for TGIF shareholders."
Company Highlights
Fully integrated cultivator and producer of cannabis products in Las Vegas focused on servicing both the medical and recreational markets.
Strong and growing profit margins.
Aggressive growth strategy in the US, Canada and abroad.
CBD-infused products providing medicinal and topical product mix with significant sales.
Expansion initiatives underway for cultivation, production and CBD extraction.
Exclusive product licensing agreements for production and distribution of third-party products in Nevada
Experienced, culturally-entrenched management team holding well-established relationships with local and state-level regulatory agencies.
Ground floor opportunity for investors in the emerging US-based cannabis market.
Entry into the emerging customized cannabis security and compliance industry with expansion of revenue stream and international presence.
Alternative Medicine Association—The Las Vegas Original
High demand strains with high THC percentages with exceptional, potent and consistent buds
AMA has the proven ability to continually produce potent and consistent cannabis flowers. The company's cultivation team has perfected a proprietary curing and storing process that includes controlling the flowers' environment from growth to sale in order to retain the exceptional quality of each strain. It also houses proprietary curing and storing equipment to preserve and develop unique strains.
High Demand, Superior Products
AMA's products are sold in many licensed stores in Clark County, Nevada. The company's products include concentrates in many forms such as 'shatter', 'sugar', 'cake batter', 'crumble', and THC oils. The company's vape pen is sold with premium distillate oil. AMA also has a number of flower strains.
In addition to its own label, AMA is a licensed distributor for Vader Extracts Nevada, Krypted Inc., The Real Kurupt's Moonrocks and other third party products.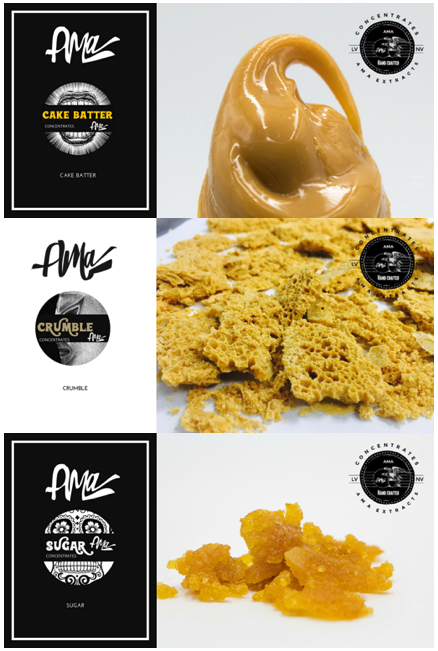 AMA's Expansion is Underway
1933 Industries is focused on expansion initiatives dedicated to increase the square footage of AMA's cultivation efforts. To that effect, the construction of the 67,750-square-foot facility for cannabis cultivation is underway.
Further expansion initiatives are tied to ongoing acquisitions of land connected to AMA's existing land. To date, the company's land package covers a total five acres. Neighbouring facility currently under construction, AMA has acquired a 12,160-square-foot building that will house production space as well as a hemp biomass processing facility that will develop products for the Infused product line.
Infused Mfg—High Quality CBD-infused Products
Infused develops and produces CBD-infused medicinal and topical products. At its facility in Las Vegas, the company uses proprietary formulas to combine high quality, organic cannabinoids. Infused boasts significant sales via its Canna Hemp™ products. These hemp-based products do not contain any THC.  The Canna Hemp™ line of products bridge the gap between health care professionals and patients seeking alternative healing.
Entering the Colorado market for the first time, Infused recently signed a one-year licensing agreement with Denver Dab Company (DDC), a producer of high quality concentrates and pure cannabis oils for the medical and recreational markets across Colorado.  DDC will produce Canna Hemp™ branded products for the Colorado market including: CBD Relief Cream, body lotions, lip balms, disposable Vape Pens, Vape Cartridges, Elixirs and Capsules as well as Canna Hemp™ Paws pet products, a line of CBD oils that deliver therapeutic benefits without intoxication. While DDC will exclusive manufacture and distribute Canna Hemp™ CBD and hemp-based products in Colorado, Infused retains the right to sell its products directly to general retail stores in that State.
Colorado is the most mature legalized cannabis market in the United States and the largest cannabis market in the US next to California. Since the state legalized industrial hemp production for commercial purposes in 2012, Colorado now accounts for more than half of the hemp production in the United States.
Infused launched a variety of new products in partnership with well-known names in the action sports and poker worlds. The company entered the action sports vertical under a new line, Canna Hemp X, in collaboration with professional athlete Torey Pudwill, founder of Grizzly Griptape Company and is collaborating with world poker champion, Scotty Nguyen for the sale of two CBD-infused products created under the 'Focus Baby' label.
CDB-Infused Topicals, Tinctures and Capsules
Spire Global Strategy
Spire is a high-level advisory firm that supports clients across the globe in government, finance, resources, heavy industry, and the emerging legal cannabis sector. Building on decades of combined military, policy, and law enforcement experience in organized crime, high-risk security, and intelligence, Spire provides services to enable businesses stay secure, compliant, and competitive.
Within the cannabis sector, Spire focuses its business on four key priorities:
International production, sales, and import/export licensing agreements;
Domestic licensing applications;
Public policy development; and
Designing and developing large-scale hemp, cannabis, and CBD projects for third parties.
Management
Brayden R. Sutton — President, CEO and Director
Brayden Sutton has been involved in the legal cannabis sector since 2012, where he held various executive positions with both public and private companies at the leading edge of the emerging cannabis industry.
Joe Bleackley — Executive Vice President
Joe Bleackley is a capital markets professional and successful entrepreneur with years of business development, investing and consultancy experience.  As an Officer and Administrator with1933 Industries, Joe has been instrumental in growing the organization into a 100 Million dollar enterprise with over 100 employees.
Richard Skeith BA/JD — Director
Rick Skeith is a partner with a large international law firm and has degrees in economics and law from the University of Alberta.
Brian Farrell, CA – Director
Mr. Farrell is a partner with a public accountancy firm, focusing on taxation and accounting and has served as CFO and director to both privately held and publicly listed companies.
Andy Richards — CEO, Spire Global Strategy, Director
Andy Richards is a seasoned leader in both police services and international private securities for high-risk regulated industries, founding Spire to provide compliance, risk mitigation and security program design for the legal cannabis sector.
Michael Hopkinson — Chief Financial Officer
Michael Hopkinson is a US Certified Public Accountant (CPA).
Chris Rebentisch – USA Chief Operations Officer, Director                                                             
Chris Rebentisch founded Infused Mfg. after personally developing and crafting each product with the belief in the natural healing properties of cannabis. He is a seasoned cultivator and advocate for the industry in the State of Nevada.
Alexia Helgason — Corporate Communications
Alexia Helgason is a Marketing, Corporate Communications and Investor Relations professional with over 22 years' experience in corporate environments, working in a variety of business sectors.
---
* This profile is sponsored by 1933 Industries Inc. (CSE:TGIF, FWB:1QF, OTCQX:TGIFF). This profile provides information which was sourced by the Investing News Network (INN) and approved by 1933 Industries Inc., in order to help investors learn more about the company. 1933 Industries Inc. is a client of INN. The company's campaign fees pay for INN to create and update this profile.
INN does not provide investment advice and the information on this profile should not be considered a recommendation to buy or sell any security. INN does not endorse or recommend the business, products, services or securities of any company profiled.
The information contained here is for information purposes only and is not to be construed as an offer or solicitation for the sale or purchase of securities. Readers should conduct their own research for all information publicly available concerning the company. Prior to making any investment decision, it is recommended that readers consult directly with 1933 Industries Inc. and seek advice from a qualified investment advisor.