International Battery Metals
3rd Generation Technologies for Lithium Extraction From Brine
This profile is part of a paid investor education campaign.*
Overview
International Battery Metals Ltd. (CSE:IBAT) is an advanced technology company focused on lithium brine extraction. The company is in the process of creating and applying intellectual property related to lithium extraction from oilfield brines for petro-lithium extraction projects.
IBAT has completed the acquisition of Selective Absorption Lithium (SAL), an innovative lithium extraction from oilfield brines developer. Headed up by John L Burba, PhD, SAL has developed advanced patent pending technology that is designed to deal with the demanding conditions associated with oil field brine resources.
SAL's new technology is based on second generation selective absorption technology that Dr. Burba and Dr. Bill Bauman invented and sold to FMC Corporation in the early 1990's. Their inventions became the basis of FMC's lithium extraction plant at Salar Hombre Muerto in Argentina, which has operated continuously for 20 years.
Dr. Burba and his partners have now pushed extractive metallurgy of lithium containing brines beyond the technology that was acquired by FMC. They have invented what they believe will be the key to unlocking access to vast amounts of lithium that is trapped in the world's subterranean brine resources. Upon closing of this deal, International Battery Metals will launch an aggressive development program that will be focused on rapidly proving its technology and expansion to full scale operations.
IBAT's extraction process post-merger is environmentally friendly, cost-efficient, and has the potential to produce high-quality, commercial grade lithium at a much more rapid rate than current industry practices. A key solution to helping address rising lithium demand due to a growing electric vehicle (EV) market, Burba's technology should help position IBAT as a leader in the lithium extraction industry. 
In addition to developing the technology, IBAT is also focused on acquiring access to oilfield brines that are ideal for lithium extraction from brine. To this effect, IBAT has hired Hunter Stuart Energy Advisors to help identify lithium property acquisitions. The selection criteria for these include documentation of high lithium content of brine, potential volume of brine available, existing infrastructure, geologic certainty of resource and others.
According to Deutsche Bank, the lithium market will see global demand grow three times in the next decade due to increased demand from the electric vehicle and energy storage industries. The global battery demand is forecasted to grow to $120 billion by 2019, with the lithium market set to reach $1.7 billion. Within this space, IBAT's goal is to be the lowest-cost producer of lithium in the market and to enable the battery industry to have access to available sources of lithium produced rapidly from brine solutions.
The members of IBAT's technical team bring over 40 years of collective experience in mineral extraction from brine and proven experience in developing Lithium extraction projects. The team is headed by Dr. Burba, the incoming Chairman and CEO, who brings over 30 years of experience in lithium extraction, having worked with and developed foundational proprietary technology for Dow Chemical, FMC and Simbol Minerals.
Company Highlights
Share exchange agreement with SAL provides IBAT with access to proprietary lithium brine extraction technology
Burba's technology could make IBAT the lowest cost producer of lithium from oilfield and geothermal brines
Lithium brine extraction 50 percent cheaper and 30 percent faster than hard rock exploration
Addressing critical needs of rapidly growing lithium market
Experienced management team with over 40 collective years in Lithium extraction from brine
Lithium Extraction Process
Lithium production in a growing market
Lithium production from evaporating pools is a time-consuming process—it takes at least 4 years for a lithium brine mine to even come online—making the gap between available lithium supplies and demand from a rapidly growing EV market even steeper. With the goal of becoming the lowest-cost producer of lithium, as well as helping to enhance the lithium production process, IBAT will focused its efforts on the demanding conditions associated with oil field brine resources.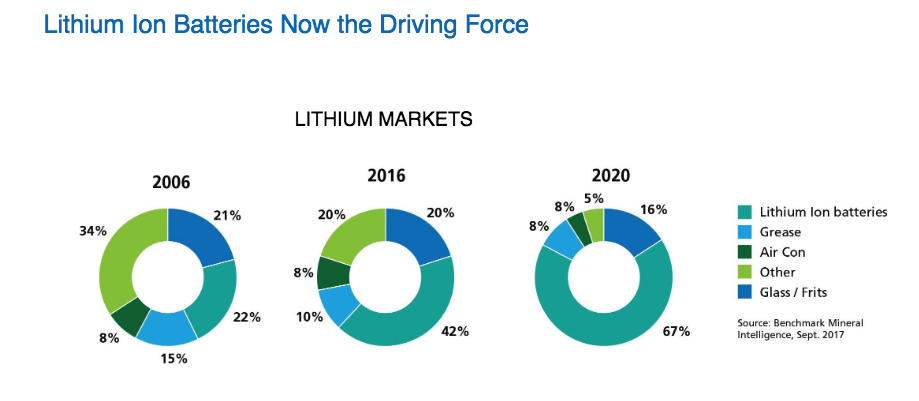 Hard rock exploration vs. lithium brine exploration
While a majority of lithium exploration companies focus their efforts on hard-rock exploration, lithium brine extraction has proven to be 50 percent cheaper—in terms of overall costs—and 30 percent faster. The process also has a much lower carbon footprint as it targets elements already in a solution, and does not require a mine, ore processing, a tailing pond, salt piles nor extensive supply chain or logistics. In designing and implementing lithium brine extraction processes, companies like IBAT are contributing extensively to the cleantech revolution.
Management
Dr. John Burba—Incoming CEO
Dr. John Burba is a physical chemist and a world-renowned pioneer in lithium and other mineral extraction technologies. His 35-year career includes lengthy periods at Dow Chemical Co, FMC Corp, and Great Lakes Chemical Corp (now Chemtura Corp), where he worked on a number of lithium brine projects in North and South America.
Most recently, he served as CEO of Simbol Materials, a company focused on the recovery of lithium from geothermal brines in southern California. Under his leadership, Simbol successfully developed a proprietary process capable of producing low-cost, high-purity lithium products from brines that were previously believed to be too high in contaminants to be economically processed. He also recently served as Chief Technology Officer and Executive VP of Molycorp Inc, where he was instrumental in identifying and developing numerous rare earths technologies as part of the Project Phoenix redevelopment of the Mountain Pass facilities.
Logan Anderson—President
Logan Anderson is a graduate of Otago University, New Zealand, with a Bachelor's Degree of Commerce in Accounting and Economics. From 1977 to 1982 he was employed as an associate chartered accountant with Coopers & Lybrand in New Zealand and Canada. He holds the designation of ACA with the Chartered Accountants (Australia and New Zealand). Since 1993, he has served as President of Amteck Financial Services Company, a private financial consulting services company servicing both private and public companies. Throughout this period he has acted as a director and held various executive officer positions in numerous public companies
Christina Borgese—EVP Research & Development
Christina Borgese has been Director and Executive Vice President of Research and Development at International Battery Metals Ltd. since April, 2018. She is a recognized Innovator with multiple global honors and diverse experience in chemical engineering efforts from mining, renewables, critical materials, and CPG. Borgese is a focused Entrepreneur experienced in leading large and small teams scaling new applications from idea to commercialization.
Marc Privitera—EVP Engineering & Operations
Marc Privitera (an AICHE Fellow), is a chemical engineer with over 30 years' experience. He has a depth of experience in developing technology and building companies. He is a proven board executive with the expertise of refining company technical systems into simple investment explanations. He has successfully delivered a wide variety of chemical engineering efforts from billion dollar chemical mega projects to the initial throws of a new start up scaling up first in the world applications.
David Scott—Director 
Jeremy Ross—Director
---
*Disclaimer: The profile provides information which was sourced and approved by International Battery Metals in order to help investors learn more about the company. International Battery Metals is a client of the Investing News Network (INN). The company's campaign fees pay for INN to create and update this profile page, to which links are placed on Investingnews.com and channel newsletters.
The company description, investment highlights and catalysts were sourced by INN and approved by the company. INN does not guarantee the accuracy or thoroughness of the information contained on this page.
INN does not provide investment advice and the information on Investingnews.com profile should not be considered a recommendation to buy or sell any security.
INN does not endorse or recommend the business, products, services or securities of any company profiled.
Readers should conduct their own research for all information publicly available concerning the company.