Overview
Nickel has long been used in the production of stainless steel, but as the world races towards widespread adoption of green technologies, such as electric vehicles and renewable energy sources, the metal is becoming increasingly attractive for its role in high-capacity batteries. The green metal recently skyrocketed a historic 250 percent in two days, the largest-ever increase for nickel on the London Metals Exchange (LME). Russia's invasion of Ukraine is the presumed catalyst, as Russia is the third-largest producer of nickel. LME halted trading for the day on March 8th due to rapidly crossing the US$100,000 per tonne threshold and then receding to US$80,000 per tonne before trading halted.
Even before Russia's invasion of Ukraine, nickel had a positive outlook for 2022 after it surpassed expectations in 2021 with the metal ending in a deficit. Stainless steel is expected to remain the key driver of nickel demand for 2022, but the usage of nickel cathodes in long-range electric vehicle (EV) batteries is strengthening momentum. Some market analysts anticipate a "supercycle like no other" for the various metals necessary for the world to transition to green energy and the electrification of things.
The supercycle will go down as historically important as it is aims to replace centuries of dedicated fossil fuel use. The demand for nickel in green technologies is still gaining momentum, presenting mining companies with a unique opportunity: act pre-emptively to achieve a sustainable long-term market position. Governments around the world have made promises to transition to clean energy, a strong indication of the anticipated supercycle. Canada alone has promised that all of its electricity and all new cars sold will be zero-emission by 2035 – more clean energy metals are necessary to achieve that goal. Where will they come from?
Metal Energy (TSXV:
MERG
) is a well-funded battery metal exploration company focused primarily on nickel. The company has two projects in politically stable jurisdictions in Canada: Manitoba and Ontario. With a strong management team in place, the company is poised to capitalize on areas known for high-grade nickel deposits. Metal Energy's flagship project, Manibridge, covers 4,368 hectares within the
renowned Thompson Nickel Belt
in Manitoba. The company recently
acquired 49 percent interest in this project
, per option to earn a full 100 percent of Manibridge.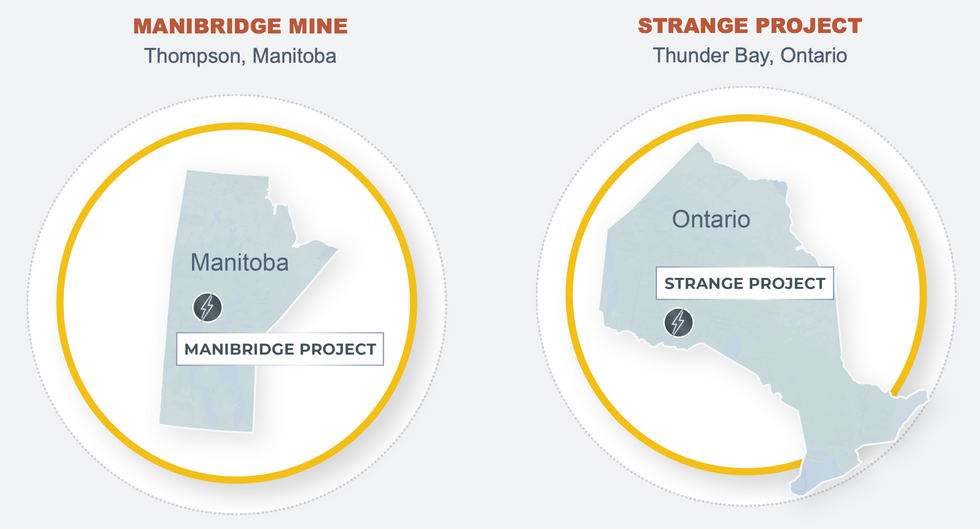 James Sykes, CEO of Metal Energy, recently put the importance of the Manibridge Project's location into context, stating, "The thing we know about the Thompson Nickel Belt is that over six billion pounds of nickel has been produced from within the belt since 1961, that's a lot of nickel. It's the fifth-largest nickel mining jurisdiction in the world; this is not a little area, this is huge. This has global implications moving forward, especially with the advent of EVs and battery requirements, we need nickel! So why not go back to the Thompson Nickel Belt."
A 3,000-meter drill program recently commenced within the Manibridge Project targeting high-grade nickel within a kilometre of the old mine workings. The drilling program is focused on a historic mining area that produced 1.3 million tonnes of high-grade nickel from 1971 to 1977. Metal Energy isn't just reproducing historic drill holes, it's identified additional targets to extend the current envelope of high-grade nickel, acting on this interest with its recent 49 percent acquisition of Manibridge.
The Strange Project, the company's second project, is located within the Animikie Basin geological region in Ontario This area includes major sulphide nickel deposits that resemble the deposits found in the nearby Lundin Mining's (TSX:LUN) Eagle East and Eagle Mine deposits.
Metal Energy is part of the Ore Group, a collection of mining companies targeting premier jurisdictions that share in-house technical and financial expertise. Additionally, a team of experienced experts lead Metal Energy's exploration and growth. James Sykes, CEO, brings his past successes in the uranium space to the team, confident he can repeat history with nickel. Stephen Stewart serves as chairman and director, adding his extensive management background to the team. Charles Beaudry adds 30 years of experience in exploration and hands-on project management within the mining space. The team is rounded out by additional experts in their respective fields, including corporate financing and natural resource investment.
Company Highlights
Metal Energy is focused on high-grade nickel projects in politically stable and mining-friendly jurisdictions in Canada.
The company's flagship project, Manibridge, encompasses a high-grade nickel past-producing mine within the historically prolific Thompson Nickel Belt, known for producing billions of pounds of high-grade nickel since 1961.
A drilling program recently began at Manibridge that aims to confirm historic results and expand the known occurrences of high-grade nickel.
The Strange Project is located within a geological region in Ontario that is already home to high-grade nickel and copper projects.
The company is led by a diverse management team with multiple past successes that they believe they can repeat with the company's nickel projects.
Metal Energy is part of the Ore Group, providing access to additional financial and technical expertise.
Key Projects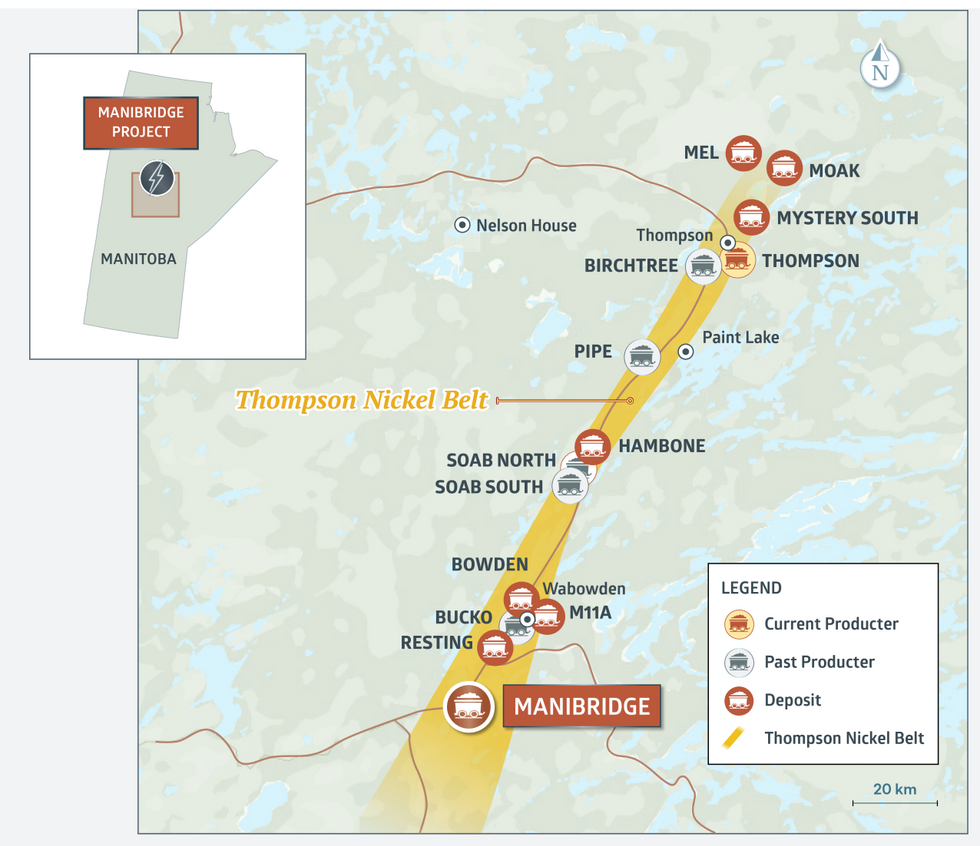 Manibridge High-Grade Nickel Project
The Manibrige Project is located within the famous Thompson Nickel Belt, which is one of the world's richest nickel districts. The company believes that the project has potential for numerous multi-million-tonne deposits of high-grade ore enveloped by additional lower-grade mineralized shells.
Metal Energy recently acquired 49 percent interest in this project, electing to continue exploration pursuant to the company's option agreement to earn up to 100 percent of the Manibridge Project. "Our current and planned 10,000 metre summer drill program are designed to help us understand the geological controls of nickel mineralization in order to advance the Project towards a mineral resource estimate," said James Sykes , CEO of Metal Energy.
Project Highlights:
Astounding Historic Results: The project's area was formerly owned by Falconbridge from 1971 and 1977, during which time it produced 1.3 million tonnes of 2.55 percent nickel and 0.27 percent copper to a depth of 381 meters.
Drilling to Uncover Additional High-Grade Deposits: Metal Energy's new drilling program aims to confirm exploration data that indicates high-tenor, high-grade sulphide nickel mineralization below and on strike of historically mined areas.
Encouraging Results From 2019 Drilling: The Manibridge North target, three kilometres northeast and on strike with the Manibridge Mine produced additional promising results, including 12.06 percent nickel at 128 meters, and 6.79 percent nickel at 87 meters.
Summer drill program: The upcoming 10,000 metre summer drill program is designed to help us understand the geological controls of nickel mineralization and reach a mineral estimate.
Developed Infrastructure: The project area has year-round highway and railway access, and is located near Thompson, MB, both facilitating transportation of future production.
The Strange Project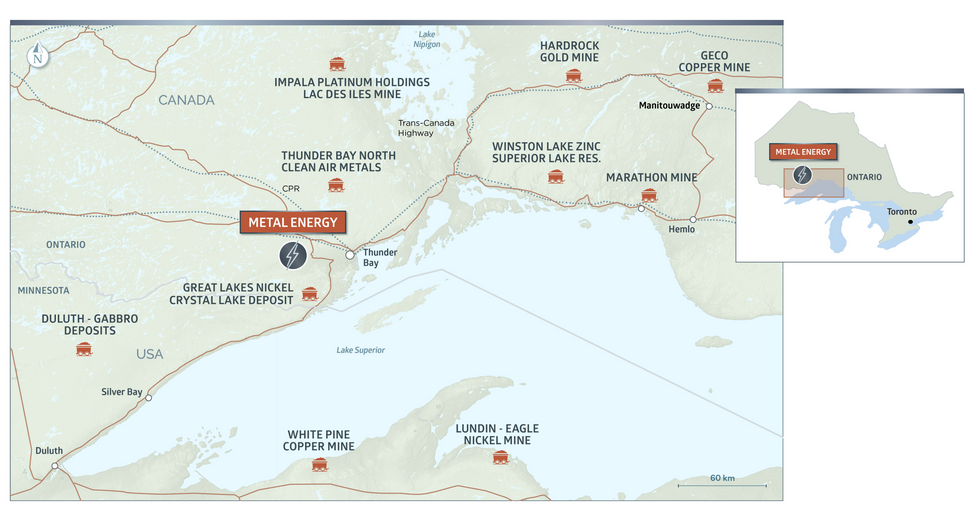 This project is a potential district-scale discovery opportunity for nickel sulfide. Multiple targets have already been identified, including a few large-scale magnetic anomalies. The presence of the anomalies prompted Metal Energy to stake additional claims, bringing the total area of the project to 11,000 hectares.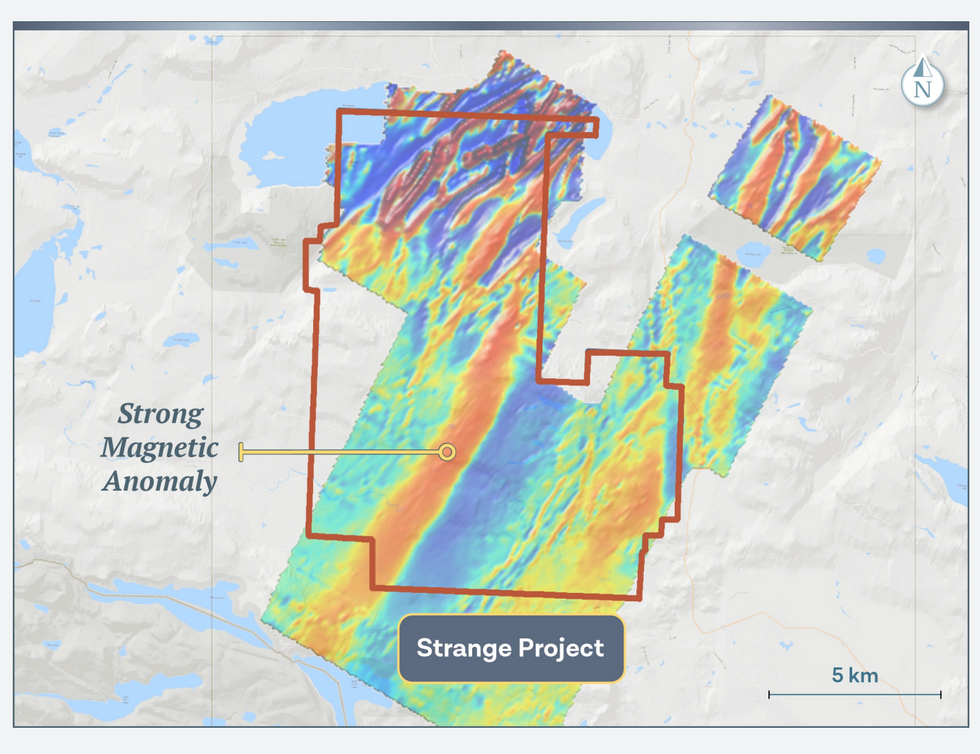 Project Highlights:
Developed Infrastructure: The project area has year-round highway access and is located near Thunder Bay, ON, both facilitating transportation of future production.
Drill Program Planned and Permitted: An exploration program is permitted and aims to test the sequence at the base of the mid-continental rift. The program aims to test the rock age of the magnetic feature, hoping to discover that it's consistent with other deposits, such as Lundin's Eagle project.
Encouraging Magnetic Data: Multiple anomalies within the project area increase the chance of discovery success, revealing that the anomaly may reach between 600 and 700 meters.
Management Team
James Sykes - CEO
James brings more than 15 years of mineral exploration and discovery experience to the team, most notably from prominent roles in high-grade uranium and rare earth element successes. Over the past decade, he has been directly and indirectly involved with the discovery of over 500 million pounds of uranium-three in the Athabasca Basin, located in Northern Saskatchewan, having helped generate billions of dollars in shareholder appreciation. Sykes is also the CEO, president, and director of Baselode Energy, where they made a new uranium discovery, ACKIO, with the company's first drill program.
Stephen Stewart - Chairman and Director
Stephen Stewart is the CEO and director of Orefinders Resources and QC Copper & Gold, both TSXV-listed companies, while also being a director of Mistango River Resources, a CSE-listed company. He is also Managing Partner of Minvest, a private group focused on natural resource discovery and development. Stewart is the founder and chairman of the Young Mining Professionals Scholarship Fund, the largest mining-focused charitable organization and fund, supporting mining engineering and geology education in Canada. Stewart holds a bachelor's of arts degree from the University of Western Ontario, a master's of business administration from the University of Toronto's Rotman School of Management, and a master's of science from the University of Florida.
Charles Beaudry - Director
Charles is a professional geologist with over 30 years of experience in project generation, business development, exploration chemistry, and hands-on project management. Beaudry previously held the position of general manager of new business opportunities with IAMGOLD from 2008 until 2009, after having spent nearly 17 years in various capacities for Noranda-Falconbridge-Xstrata. His tenure included serving as country manager of Brazil from 1996 to 2001 and manager of the Frieda River Project from 2005 to 2006. He holds a bachelor's of science in geology from the University of Ottawa and a master's of geology from McGill University.
Alexander Stewart - Director
Alexander Stewart has over 40 years of experience in the practice of corporate and securities law and natural resource investment. He has been a director of numerous public companies on various exchanges including NASDAQ, NYSE, TSX, and TSXV. For the last fifteen years, he has focused exclusively on the mining and metals sector and has been instrumental in sourcing, funding, and developing high-quality mineral assets in North and South America. In the past, he was the founder, seed financier, and principal behind a number of mining projects including the Cote Lake Project, acquired by IAMGOLD in 2012 for over C$580 million, and the Eagle One polymetallic project now owned by Noront Resources. He holds a bachelor's of arts degree from the University of Western Ontario, a juris doctor degree from the University of Toronto Law School, and an LCE diploma from the University of Madrid.
Joel Friedman - Chief Financial Officer
Joel Friedman is a finance professional with over 13 years of experience working in the mining and cannabis industries. Most recently, Joel served as the CFO of Khiron Life Sciences Corp, prior to this, he was Vice President, Finance at CannTrust Inc., and Director of Finance at Primero Mining Corp. and senior finance roles at Banro Corporation and Iamgold Corporation. Mr. Friedman began his career at Deloitte in the Real Estate and Resources group, where he worked with a variety of publicly listed clients throughout the mining lifecycle, from exploration to multi-asset operators. Mr. Friedman holds a CPA, CA and Honours Bachelor of Business Administration from the Schulich School of Business at York University, Canada.

Mike Sweeny - VP Exploration
Mike Sweeny is a professional geologist with over 30 years of experience and a strong focus on nickel, copper, and platinum group element ("Ni-Cu-PGE") minerals systems. Previously he held various positions, including senior geologist for numerous underground and surface exploration programs with Falconbridge-Xstrata-Glencore. He played primary roles in the discoveries of the Onaping Depth Deposit (currently in development), Fraser Morgan Deposit (currently in production). Sweeny was a part of the exploration team that discovered the recent Ni Rim Depth and Norman West Footwall deposits, for a combined total that's close to 65 million tonnes of nickel and copper resources. He has extensive experience in managing and designing underground and surface exploration programs from grassroots discovery to definition drilling leading to production. He started his career with the Ontario Geological Survey focused on the Lac des Iles PGE deposit, in the Thunder Bay area, positioned in Northwestern Ontario. Sweeny holds a master's of geology from Western University.
Request an Investor Kit
EXCITING upcoming projects!
IN-DEPTH reliable insights!
SUCCESSFUL growth strategies!
VALUE-BASED content!
Metal Energy