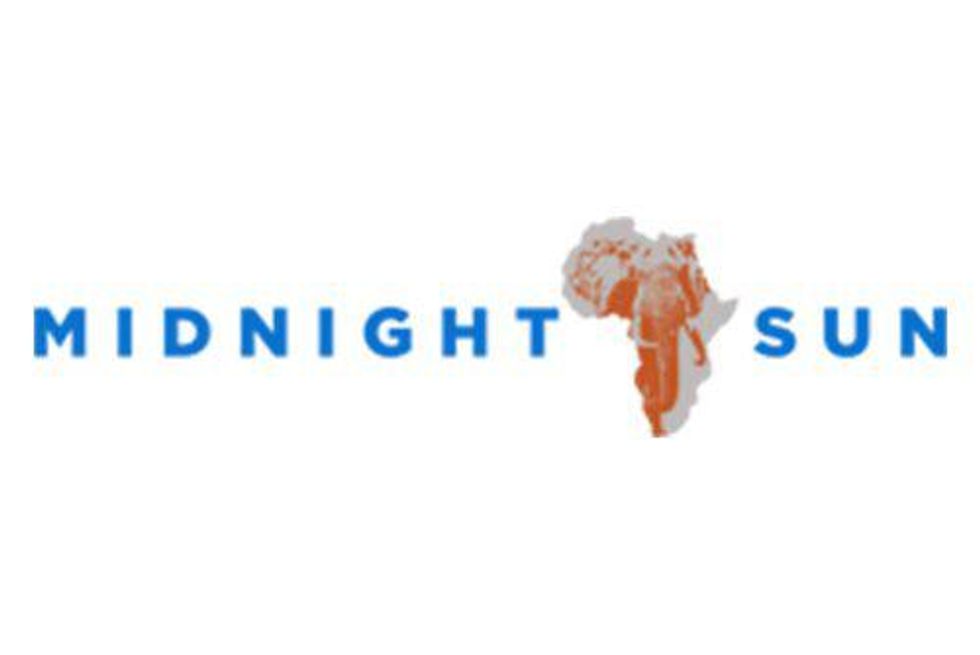 Copper and Cobalt in the Prolific Zambia-Congo Copper Belt
Overview
Africa is one the most important sources of copper in the world and is home to two of the world's top 10 copper-producing countries–– Zambia and the Democratic Republic of Congo. Together, the Zambian-Congo Copper Belt is the largest and most prolific sediment-hosted copper region in the world. The copper belt hosts some of the world's richest mines, with operators that include Barrick Gold (TSX:ABX), Glencore PLC (LON:GLEN), Ivanhoe Mines (TSX:IVN) and First Quantum Minerals (TSX:FM). As a result, exploration companies with early- to mid-stage copper projects in the copper belt present an exciting opportunity for investors.
Midnight Sun Mining's (TSXV:MMA) Solwezi licenses in the North-Western province of Zambia span a significant 506 square kilometres in the Zambian-Congo Copper Belt,. The Company's joint venture partner, Rio Tinto Mining and Exploration (NYSE:RIO), is currently operating the project and has the ability to earn up-to a 75 percent interest in the Solwezi licenses by spending $51 Million USD.
The company is led by a highly experienced management team with a history of discoveries and decades of experience in the exploration and development of high-value mines.
Midnight Sun Mining's projects are in proximity to multiple producing mines. The Solwezi Licences are adjacent to First Quantum Minerals' Kansanshi mining complex, one of the world's largest copper mines and an important gold producer with resources exceeding 1 billion tonnes including copper grades of 0.7 to 0.8 percent and 4 million ounces of gold. Meanwhile, 120 kilometers away is the Sentinel Mine operated by First Quantum Minerals and 60 kilometres away is the Lumwana Mine operated by Barrick Gold. Ivanhoe's Kamoa-Kakula Mine is less than 200km away, on the DRC side of the border.
Midnight Sun Mining strongly believes that its Solwezi Licences have the potential to host major billion-plus pound discoveries with excellent economics given the proximity to major mines and existing infrastructure.
Midnight Sun's Company Highlights
Midnight Sun Mining is one of very few junior exploration companies in the prolific Zambian-Congo Copper Belt.
The region hosts multiple producing mines including Barrick Gold's Lumwana mine, First Quantum's Sentinel mine and Kansanshi mines, China Molybdenum's Tenke Fungurume mine, and Ivanhoe's Kamoa-Kakula mine.
The company's Solwezi licenses are adjacent to First Quantum Minerals' Kansanshi mine, which is one of the world's largest copper mines.
The Solwezi Licences span a significant 506 square kilometres and consist of several highly prospective targets including the Mitu Trend, Dumbwa, Kazhiba Dome, Gameno and Western Flank.
The Mitu Trend and the Kazhiba Dome targets are high-grade discoveries with drill intercepts of 4.23 percent of copper equivalent and 5.71 percent of copper near the surface, respectively.
In April 2020, the company entered into a US$51 million earn-in and joint venture agreement with one of the world's largest miners, Rio Tinto. The agreement grants Rio Tinto the right to up to a 75 percent interest in the Solwezi Licences.
Midnight Sun Mining is led by a highly experienced management team with a history of discoveries and decades of experience in the exploration and development of high-value mines.
Midnight Sun's Management Team
Al Fabbro – President, CEO and Lead Director
Al Fabbro has over 40 years of experience in both the finance and mining industries. From 1984 to 1990, Fabbro headed the retail trading department of Yorkton Securities. Fabbro then spent six years with Yorkton's Natural Resources Group. Fabbro spent 10 years as an investment advisor with Canaccord Capital specializing in the natural resource sector. Fabbro then became Lead Director of Roxgold Inc. which was named the top company on the TSX Venture 50. Fabbro helped raise more than $60 million in equity financing at Roxgold Inc. during his tenure.
Robert Sibthorpe – Vice President, Exploration & Director
Robert Sibthorpe has had extensive experience in the mineral exploration sector. Sibthorpe has worked in geology and business development with senior mining companies including Noranda, Falconbridge and Ivanhoe Mines. He also served as a research and corporate finance analyst in the securities industry for Midland Doherty Ltd., Yorkton Securities Inc. and Canaccord Capital Corp. He has been involved in the discovery and financing of numerous important mineral deposits, including Eskay Creek, Petaquilla and Fire Creek. From 2010 to 2012, Sibthorpe was the president and CEO of Roxgold Inc. in which he financed and discovered the Yaramoko deposit in Burkina Faso. Sibthorpe received his Bachelor of Science in Geology in 1972 and Masters of Business Administration in 1979 from the University of Toronto. Sibthorpe also received the Colin Spence Award from AMEBC for excellence in global mineral exploration.
Brett A. Richards – Director
Brett Richards is a natural resources executive with over 34 years of experience in mining and metals. He has a unique background in mining M&A, mine financing, mine development and senior-level operations experience. He brings publicly-listed CEO experience in the mining sector as well global operational experience with a geographic focus in the last 12 years in Africa. Richards has held positions for private equity shareholders in the past, including CEO of African Thunder Platinum, CEO of Renew Resources and CEO of Octéa. Richards is currently the CEO of Banro Corp. He has also previously served as the transition CEO of Roxgold, CEO of Avocet Mining and was part of the five-person start-up of Katanga Mining. Richard's publicly-listed experience also includes senior executive positions with Kinross Gold and Co-Steel. He is currently the CEO of Goldshore Resources Inc.
Rick Mazur – Director
Rick Mazur is a designated P. Geo geoscientist with an MBA. Mazur has held positions in the international exploration and mining industry for over 40 years. Mazur has worked as a project geologist, financial analyst and senior executive on uranium, gold, base metals, coal and industrial minerals projects around the world. Mazur worked as an analyst for Canamax Resources Inc. from 1985 to 1991 during the development of three Canadian gold mines. Two of these mines –– Bell Creek in Timmins, Ontario and the Island Mine in Wawa, Ontario –– are still in production. Mazur also served as a director of Roxgold Inc. when it was named the top company on the TSX Venture 50 in 2012. Currently, he is a Director of Alto Ventures Ltd., Impact Silver Corp. and Forum Energy Metals Corp.
Wayne Moorhouse – Director
Wayne Moorhouse is a CFA who has held senior management positions with mining and civil construction companies. He has a proven track record at an operating level and as a financial executive covering all stages of a project's life. Moorhouse's project life experience includes grassroots exploration through feasibility and engineering studies, strategic planning, project finance, construction, mine expansion, operations and mergers and acquisitions. Moorhouse has acted for several TSX and TSX Venture listed resource companies including Genco Resources Ltd, Stealth Energy Inc. and Roxgold Inc. Moorhouse is currently a director of I-Minerals Inc. and the COO of EnviroLeach Technologies.
R. Stuart (Tookie) Angus – Advisor
Stuart Angus is an independent business advisor to the mining industry and is currently the chair of K92 Mining Inc. He is the former head of the Global Mining Group for Fasken Martineau. For the past 40 years, Angus has focused on structuring and financing significant international exploration, development and mining ventures. More recently, he was the managing director of mergers and acquisitions for Endeavour Financial and was responsible for merger and acquisition mandates. Angus is the former chairman of the Board of BC Sugar Refinery Limited. He has held former director positions at multiple companies, including First Quantum Minerals Ltd. until June 2005, Canico Resource Corp. until its takeover by Brazil's CVRD in 2005, Bema Gold Corp. until its takeover by Kinross Gold Corporation in 2007, Ventana Gold Corp. until its takeover by AUX Canada Acquisition Inc. in 2011 and Plutonic Power Corporation until its merger with Magma Energy Corp. in 2011. He resigned as chair of Nevsun Resources Ltd. following its acquisition of Reservoir Minerals in 2017.
Matt MacKenzie – VP, Corporate Development and Corporate Secretary
Matt MacKenzie began his career in finance with GE Capital and BMO Capital Markets. At GE Capital and BMO Capital Markets, MacKenzie worked directly with clients in diverse fields including mineral exploration and production, oil and gas services and transportation. Additionally, MacKenzie has conducted consulting projects for the BC Lions Canadian football team, Vancouver Whitecaps of Major League Soccer and Vancouver Island Helicopters. MacKenzie holds a JD and MBA. MacKenzie served as manager of business and legal affairs for Roxgold Inc. before joining Midnight Sun.
Alastair Brownlow – CFO
Alastair Brownlow is a Chartered Professional Accountant and a U.S. Certified Public Accountant (Washington) specializing in resource-focused accounting and finance. Brownlow has accumulated extensive experience working as CFO of TSX Venture Exchange-listed resource companies. Brownlow's experience spans exploration, development and production stages. Brownlow has also worked as an auditor in the British Virgin Islands. Before this, Brownlow worked for a Canadian chartered professional accountant firm where he specialized in the mining industry. In this role, Brownlow gained significant accounting experience in auditing resource companies with operations throughout the world. Brownlow holds a Bachelor of Business Administration degree with first-class honours from Simon Fraser University.
Keep reading...
Show less