Overview
Canada's West Coast is home to the renowned Golden Triangle of British Columbia, an area that has become a hotspot for gold mining and exploration. The region's mineral deposits are known for being rich in resources, capturing the attention of investors worldwide. Gold and copper estimated reserves across the Golden Triangle hover around 188 million ounces and 55 billion pounds, respectively.
With these inferred resources, mining companies operating in British Columbia have exposure to exceptional discovery potential and exploration opportunities. In order for a company to capitalize on these opportunities, it needs a strong management team with proven success.
Goldplay Mining ( (TSXV:AUC,OTCQB:AUCCF,FRA:9FY)) is a Canadian junior exploration company focused on exploring and advancing gold, silver and copper assets. The company has excellent management, a sizable property in the prolific Golden Triangle and exposure to highly prospective gold assets in Portugal.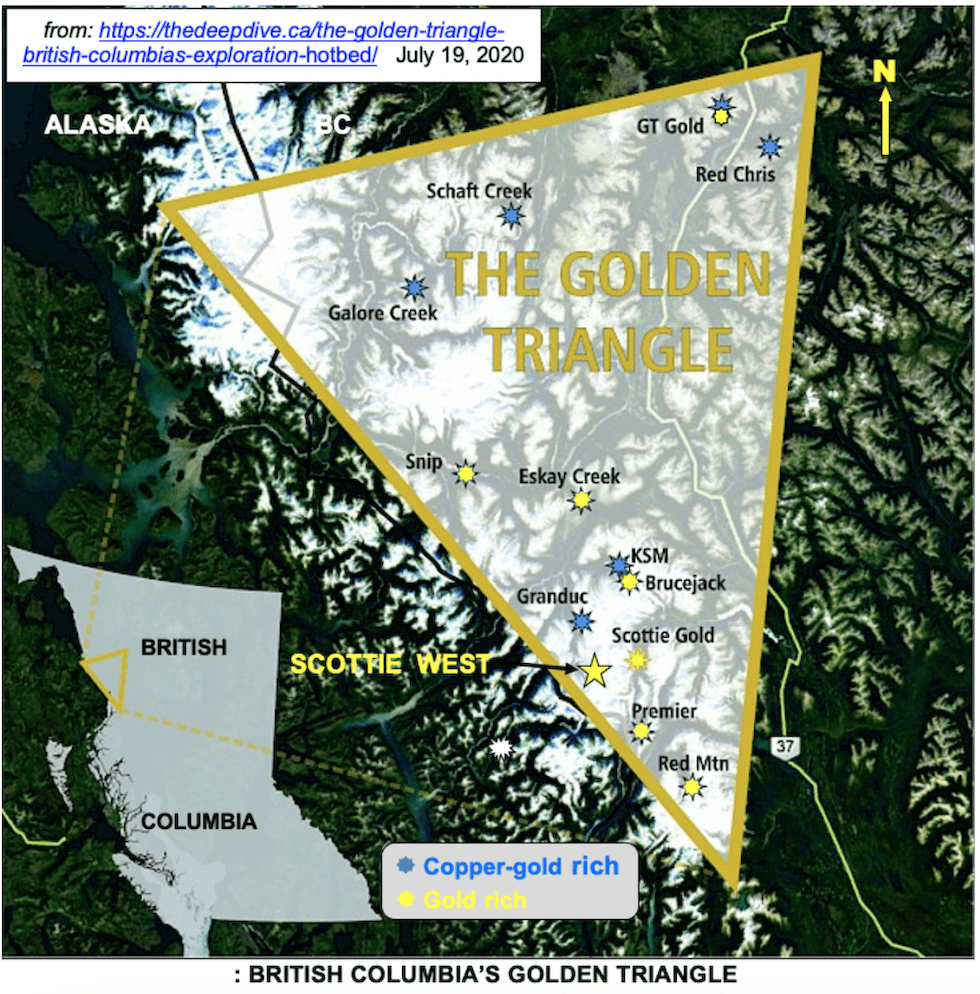 The company's flagship Scottie West gold project is a fresh exploration opportunity, because until recently there was extensive glacial cover on the property, preventing exploration like that undertaken at nearby successful properties. The project presents Goldplay with exceptional discovery possibilities and the potential to mimic the successes of bordering claims held by Scottie Resources, Teuton Resources and Castle Resources.
Goldplay Mining has a proven management team with years of experience in mineral exploration, geology and corporate finance. The company's world-class leadership includes big names that will help lead the team to success, including Chairman Dr. Deepak Malhotra, Exploration Manager Jose Mario Castelo Branco and CEO Catalin Kilofliski.
Dr. Malhotra is a world-renowned mineral processing expert with 40 years in the industry, four patents and multiple awards. Branco worked with BP Minerals and Rio Tinto as a senior project geologist, as well as for Lundin Mining as the regional exploration manager for Europe, where he led the team that discovered the Semblana VHMS mineral deposit. CEO Kilofliski has created significant shareholder value at multiple junior mining companies, including growing Tudor Gold from a market cap of C$30 million to over C$500 million.
Together, they maintain commitments to best mining practices, economic growth and stakeholder satisfaction. The leadership's robust track record of success preps its high-quality exploration projects for significant mining advancement.
"Even though we are a young company, we've got all the policies in place: environmental policy, health and safety, sustainability. We take everything very seriously. We want to be the best in everything we do," CEO Kilofliski stated.
In addition to its work at Scottie West, Goldplay acquired an initial 70 percent equity interest in EVX Portugal from European Electric Metals (TSXV:EVX). EVX Portugal is a private Portugal-based company with legal rights to an exploration license application with the Portugal government. The exploration application contains several highly prospective mineral properties, including three past-producing mines.
Goldplay Mining also recently signed a definitive agreement to acquire up to 100 percent equity interest in a private Portuguese company Indice Crucial Lda ("Indice Crucial") that holds exploration rights on several past producing copper and gold projects within the Barrancos properties as well as other advanced gold exploration applications in Portugal. The properties include the Aparis Copper Mine and Lírio Gold Project, two advanced drill ready copper and gold projects located in South Central Portugal.
Company Highlights
Goldplay Mining is a Canadian junior exploration company focused on exploring and developing high-quality gold, silver and copper projects. The company currently operates its flagship Scottie west gold project and is developing a copper and gold exploration application in Portugal.
The company has a solid management team with a proven track record of economic accomplishments and a vested interest in project success.
Operating out of the Golden Triangle in British Columbia strategically positions the company to leverage its high-grade gold mineralization, resource-rich networks and mining-friendly conditions.
Goldplay intends to compile the historical airborne magnetic survey data completed in 2020 to commence its initial prospecting and geological work program for the Scottie West gold project in Summer 2021.
The Portugal copper-gold projects consist of four copper-gold projects, including three past-producing mines. All the mines are open for exploration.
Key Projects
Scottie West Gold Project
The Scottie West gold project covers 6,358.8 hectares and is located approximately 30 kilometers northwest of Stewart, BC. The property hosts favorable geology and Eocene-aged intrusions and hosts numerous mineral occurrences and past-producing mines throughout the Stewart Camp. The project could see similar mining successes of the adjacent Scottie Gold mine property.
The project has seen little historical work due to extensive glacial cover, with most of its historical work completed during the late 1980s. However, 2012 airborne surveys have highlighted several potential north and southwestern trending features with spatial association with mineral occurrences. New surface rock exposures on the property provide Goldplay with fresh exploration opportunities.
The company has planned an indepth 2021 exploration program, including sampling, structural mapping and airborne geophysics.
Portugal Copper-Gold Projects
Goldplay's Borba 2 Exploration Permit in Portugal covers 230 square kilometers and four copper-gold projects, including three past-producing mines that are open for exploration.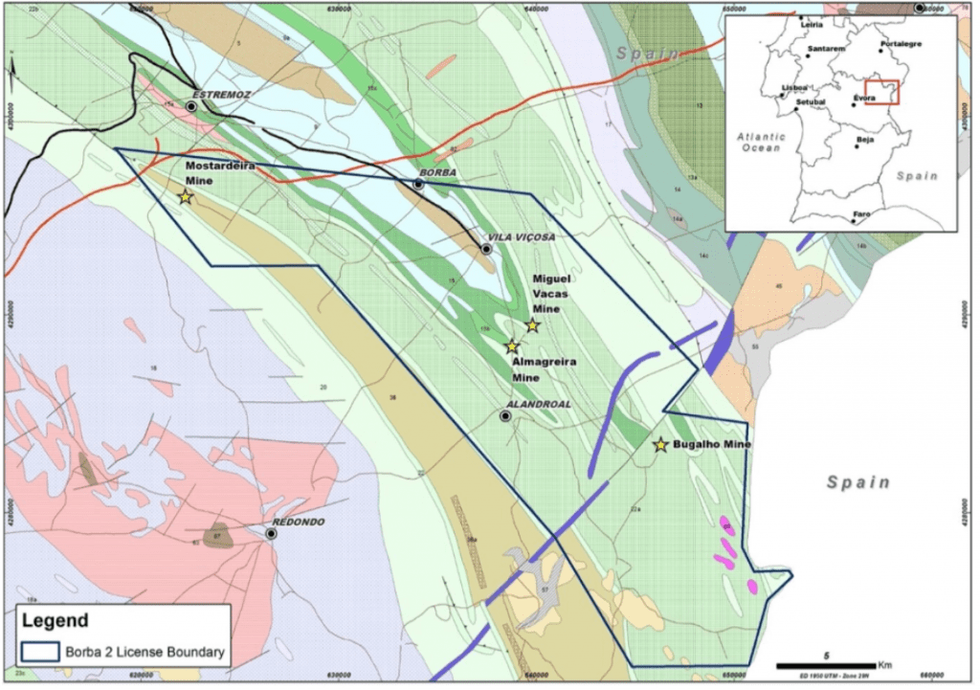 The Mostardeira copper-gold mine covers a wide shear zone located 2 kilometers south of Estremoz, Portugal. It has been historically mined for high-grade along a copper zone averaging grades over 5 percent.
The Bugalho copper-gold mine hosts primary copper mineralization, chalcopyrite and pyrite and accessory arsenopyrite within quartz-carbonate breccia matrix. Highly prospective veining systems and mineralization open promising exploration opportunities.
The past-producing Miguel Vacas copper mine has seen production at an average grade of 1.2 to 1.4 percent copper. The mine last operated in 1986.
The Almagreira gold prospect hosts gold epithermal mineralization across altered volcanics and carbonates. Limited trenching and drilling have also indicated gold mineralization with the possibility for further mineral discovery.
Management Team
Catalin Kilofliski - President, CEO, Director and Founder
Catalin Kilofliski has over 25 years of senior leadership and extensive expertise in mining, senior management, capital markets and corporate development within several publicly listed junior exploration companies. Most recently, he has served as the director of corporate development for Tudor Gold. Prior, he was the CEO of Canarc Resource and served as director of corporate development for Aurcana Corporation and Selwyn Resources. In the last decade, he has helped raise over C$300 million in equity, debt and joint venture capital and was instrumental in creating significant shareholder value for various junior mining companies.
Kilofliski earned his BA degree in business administration and finance from the University of Economics, Bucharest, Romania.
Deepak Malhotra, Ph.D. - Chairman of the Board of Directors
Deepak Malhotra is a world-renowned mineral processing expert with over 40 years of mining industry experience. He holds a Ph.D. in mineral economics and an M.S. in metallurgical engineering. Malhotra has managed projects in research, process development for new projects, processing plant troubleshooting, plant audits, detailed engineering and overall business management.
He has helped commercialize tens of mineral processing plants with capital ranging from C$15 to C$750 million and has performed more than 24 audits of mining operations worldwide. Malhotra holds four patents and has published over 60 articles and edited several books.
Jose Mario Castelo Branco - Exploration Manager
Jose Mario Castelo Branco is a senior geologist with over 38 years of experience. He is the managing partner of Geologia e Geotecnia Consultores, a boutique consulting firm specializing in mineral exploration based in Portugal. Prior, Branco was the regional exploration manager for Lundin Mining, overseeing projects in Iberia and Europe. He led the team credited with discovering the new VHMS Semblana mineral deposit near Lundin's Neves Corvo mine. Branco also acted as exploration manager for Rio Narcea, which was subsequently acquired by Lundin Mining.
Prior to that, he was a senior project geologist for BP Minerals/Rio Tinto and was a senior member of the team credited with discovering the Las Cruces copper-gold VHMS deposit in southern Spain and the Gralheira intrusion-related gold deposit in northern Portugal.
Branco holds a Bachelor of Science in Geology from Porto University in Portugal and was invited as a lecturer at the Geology Department of the Braga University.
Andy Marshall, CA, CFA - Director & Chairman of Audit Committee
Andy Marshall is a Chartered Accountant and Chartered Financial Analyst with over 15 years of experience in public company corporate governance, capital markets and technical oversight. He is currently the CFO of First Mining Gold, where he assisted in building the company's gold project portfolio during its initial period of growth in 2015 when it acquired eight companies in just over one year. Prior, Andy held roles at two Vancouver-based TSX/NYSE MKT-listed silver mining companies with operations in Mexico and Canada.
He began his career in public company auditing and assurance with PricewaterhouseCoopers LLP, training in the London technology, entertainment and mining practice before moving to Vancouver and joining their mining practice in 2008.
Andy graduated from the University of Newcastle-Upon-Tyne in England with an Honors BA.
Lisa Stewart - Director
Lisa Stewart is a partner at a national Canadian law firm, Bennett Jones LLP. She has over 15 years of experience advising public and private companies on a broad range of matters, including corporate finance, mergers and acquisitions, corporate governance, continuous disclosure matters and other regulatory requirements.
Stewart holds a Bachelor of Laws degree from the University of British Columbia and is a member of the British Columbia Law Society.
John Paul (JP) Dau - Director
John Paul is an established professional with significant international operating experience in the mining industry. Dau's accomplished role as an entrepreneurial executive in both the private and public sectors has garnered a niche for project generation. He has a unique ability to source and structure deals by leveraging strategic relationships, operational knowledge of foreign jurisdictions, understanding of M&A transactions and IPO transitions. Dau is a director of TDG Gold and was also the president and co-founder of Angkor Gold, a junior explorer that acquired and developed numerous mining assets in Asia.
Mihai Draguleasa - CPA, CFO, Corporate Secretary
Mihai Draguleasa is a Chartered Professional Accountant with over 10 years of accounting experience. He earned his CPA in Vancouver, British Columbia, while working in the multinational public accounting firms Deloitte and Ernst & Young. His mining-related financial work experience at Deloitte and Ernst & Young included due diligence reviews, audits and tax recoveries projects for large and medium mining companies. He is the principal of Lazuli CPA, a professional accounting corporation providing tax, financial statement compilation and other accounting-related consulting services to small businesses based in BC.
He holds a bachelor's degree in engineering from the University of Transylvania in Romania.
Robert Cinits, P.Geo - Senior Exploration Manager
Mr. Cinits is a mineral industry professional with more than 36 years of experience in the exploration industry. He has been involved in exploration, development and M&A reviews of numerous early-stage to advanced-level precious and base metal projects in approximately 20 countries. Mr. Cinits has a strong background in project management and evaluation, as well as exploration program design and execution.
Request an Investor Kit
EXCITING upcoming projects!
IN-DEPTH reliable insights!
SUCCESSFUL growth strategies!
VALUE-BASED content!
Goldplay Mining