Overview
Global initiatives to lower carbon emissions to fight climate change and pollution is creating a paradigm shift across sectors. Among the changes decarburization and a greening world is creating, is a significant greater need for critical minerals. The International Energy Agency (IEA) estimates the demand for critical minerals will increase six-fold by 2040. Except in China, almost all critical minerals are in critically short supply. As a consequence of rising demand amid supply constraints, many such minerals including lithium, magnesium and nickel, have increased considerably in price.
In spring 2022, Inomin announced a major magnesium-nickel-cobalt discovery at the company's Beaver property located in south-central, British Columbia, Canada. Inomin's inaugural drilling program intersected long intervals of these critical minerals, and discovered other important commodities including chromium, copper and silver.
Inomin looks forward to completing further drilling at Beaver to test the extent of the discovery. Furthermore, as impressive as the Beaver discovery is, the company also looks forward to exploring its nearby Lynx property as it's geologically similar to Beaver, with even larger mineral targets.
Like Inomin's Canadian projects, in Mexico the company has acquired highly prospective properties where initial exploration has found extensive areas of gold and silver mineralization. A 43-101
technical report
summarizing exploration at the La Gitana property – including drilling – states that La Gitana hosts a
significant gold-silver deposit open to expansion.

"I doubt you could find another junior explorer on the Canadian junior stock exchanges with a lower valuation that has properties of this caliber. Inomin belongs in everyone's junior exploration portfolio."
Ron Struthers of Struthers' Resource Stock Report
Company Highlights
Inomin has advanced critical minerals and precious metals exploration projects hosting large mineral systems with excellent potential to delineate significant resources.
Inomin's inaugural drilling at Beaver property made a major magnesium-nickel- chromium-cobalt discovery. Further drilling is planned to test the large 5 – 6 kilometre long discovery area.
Inomin's discovery has created a staking rush as other companies and prospectors have staked ground completely surrounding Beaver. The property's and region's potential is just emerging.
The Beaver and Lynx properties leverage excellent infrastructure including hydropower, paved roads, and leading mining regulations, providing a preferred clean source of critical minerals.
The University of British Columbia (UBC) is analyzing Beaver drill core samples to determine the nature of the minerals and the potential for carbon capture, which could add further significant value to the project.
The company's La Gitana gold-silver project leverages a drill discovery made by past joint property owners Chesapeake Gold and Goldcorp (now Newmont Corporation).
Inomin has a strong management team dedicated to creating value for shareholders and the communities where the company operates.
Key Projects
Beaver Magnesium-Nickel-Chromium-Cobalt Project
The 7,528 hectare Beaver property is ideally located in south-central British Columbia, 50 kilometres north from the city of Williams Lake, and just 15 kilometres east of the Gibraltar mine, the second largest open-pit copper mine in Canada. The property is easily accessible by paved roads with hydro-electric power nearby. Inomin owns a 100% interest in the property with no royalties.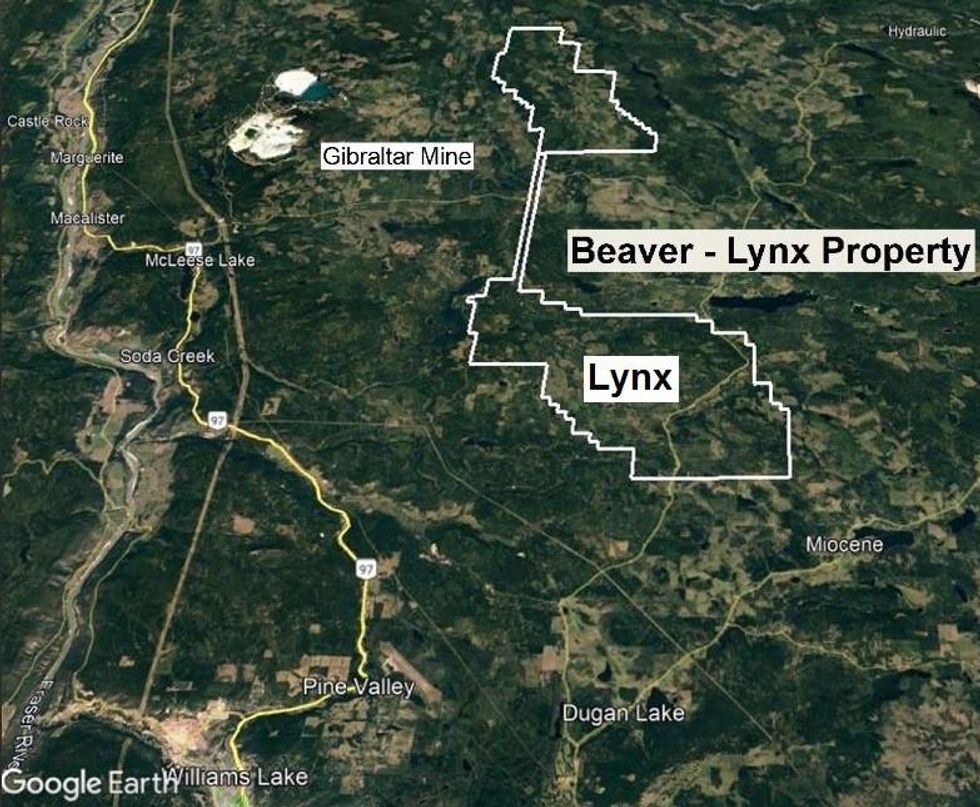 Google satellite map showing location of Beaver (north block) and Lynx properties 11 kms apart, and the region's excellent infrastructure including roads, railroad, and towns.
Inomin's inaugural drilling program at Beaver generated a major discovery of magnesium-nickel-chromium, and other critical minerals. Drill-hole B21-02 intersected 252.1 metres (827 feet) grading 20.6% magnesium, 0.16% nickel, and 0.33% chromium.
B21-02 is the longest mineralized hole ever drilled at Beaver, and the first-ever drilling in the Spur zone, one of five large mineralized areas at the property. Drill hole B21-01 at Spur also made another first, discovering near-surface silver and copper, intersecting 649 g/t silver and 0.29% copper over 3 metres, before the hole was terminated due to difficult ground drilling conditions.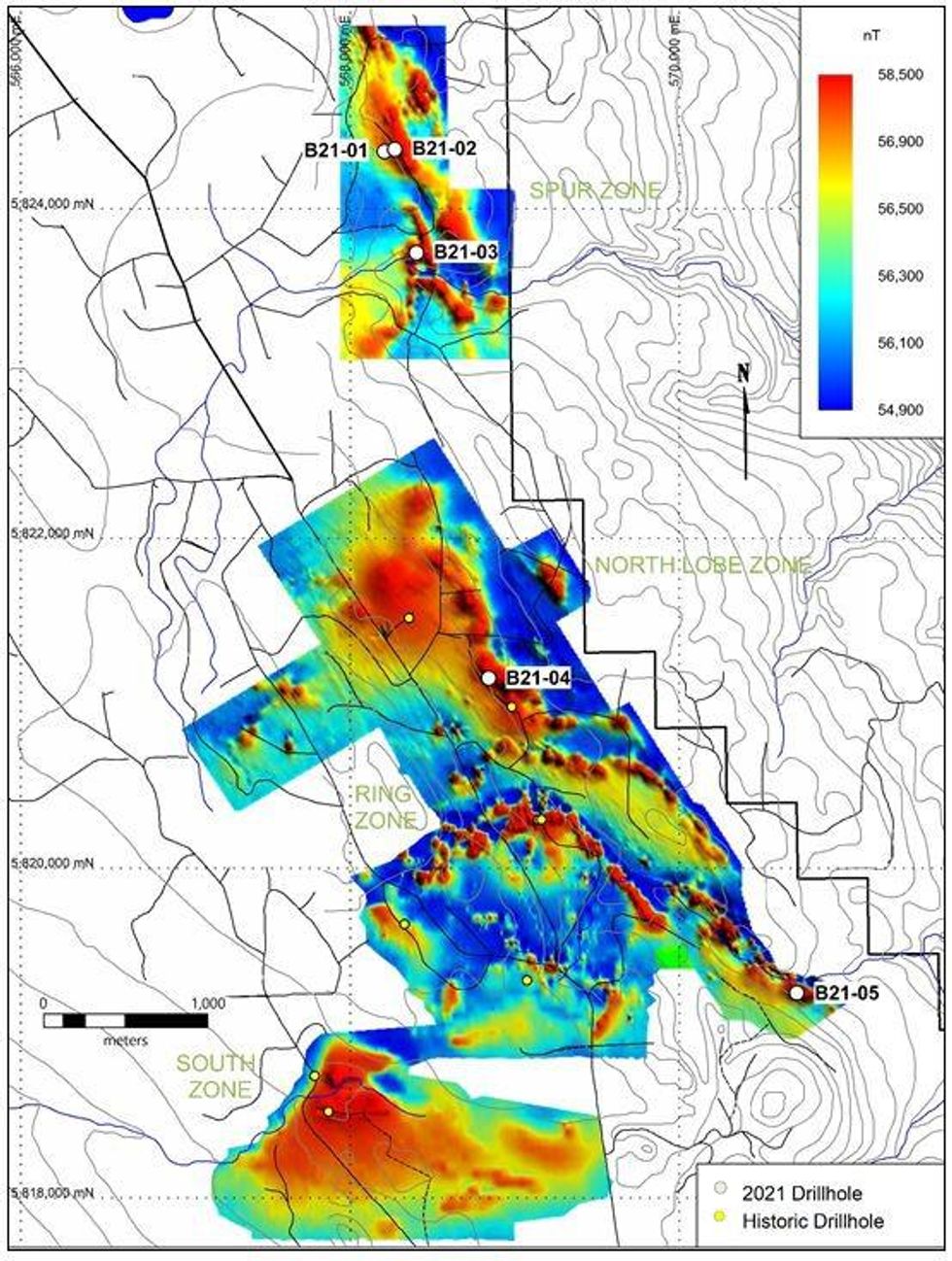 Beaver drill hole location map with magnetic survey outlining four zones on east side of property.
Inomin's 2021 Beaver drilling program, consisting of 5 holes (716 metres), successfully tested mineralization over a strike length of 5.7 kilometres. All holes ended in mineralization leaving the discoveries open to extension at depth. Further drilling is planned to follow-up the company's significant discovery.
Lynx Nickel Project
The 12,662-hectare Lynx property is situated 11 kilometers south of the Beaver project. Similar to the Beaver property, Lynx hosts multiple large areas prospective for nickel and other critical minerals. These targets have the potential for hosting bulk-tonnage deposits. Inomin owns a 100% interest in the property.
The Lynx area is geologically similar to Beaver with even larger mineral target areas. Regional stream sediment sampling (RGS) data collected by the Province of British Columbia illustrates the existence of a large 10 x 5 kilometre nickel anomaly at Lynx, the largest in the region.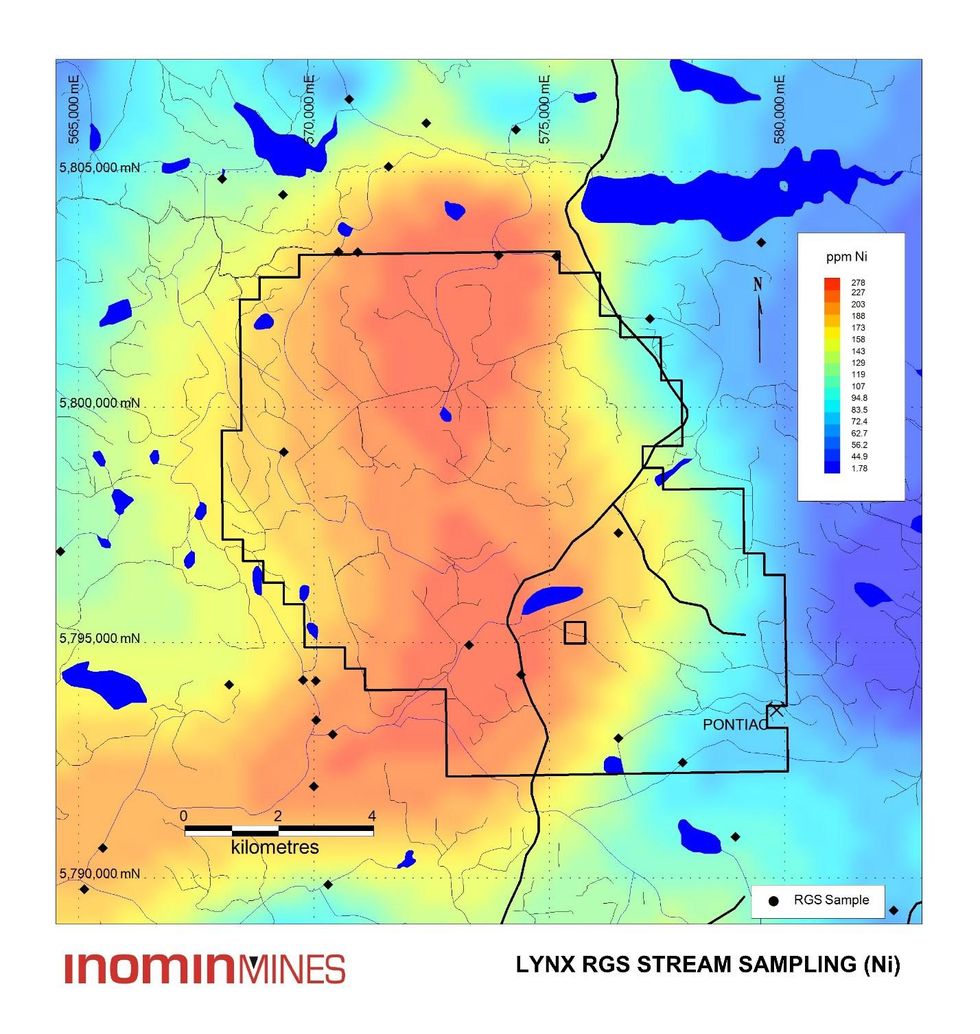 Like at the Beaver property, Inomin has completed initial ground magnetics surveys at Lynx to identify drilling targets. At Beaver, air and ground magnetic surveys have proven very effective at delineating magnetite-serpentinite rocks hosting magnesium-nickel mineralization, and other critical minerals, including chromium and cobalt.
Given the positive drill results related to areas of significant magnetite-rich serpentinite rocks at the Beaver property, Lynx displays potential to host multiple large zones of nickel and other critical minerals.
Together with the Beaver project, the region has the potential to develop into a major magnesium-nickel-critical minerals mining district.
La Gitana Gold-Silver Project
Inomin's La Gitana gold-silver project is situated in Mexico's Oaxaca Gold-Silver Belt, a prolific mineral trend that hosts several operating mines and prospects, including Gold Resource's (NYSE: GORO) Arista and Mirador gold-silver mines, and Fortuna Silver's (TSX: FVI) San Jose gold-silver mine. Initial drilling at La Gitana completed by past joint property owners Chesapeake Gold and Goldcorp (now Newmont) confirmed the discovery of a significant epithermal gold-silver deposit open to expansion.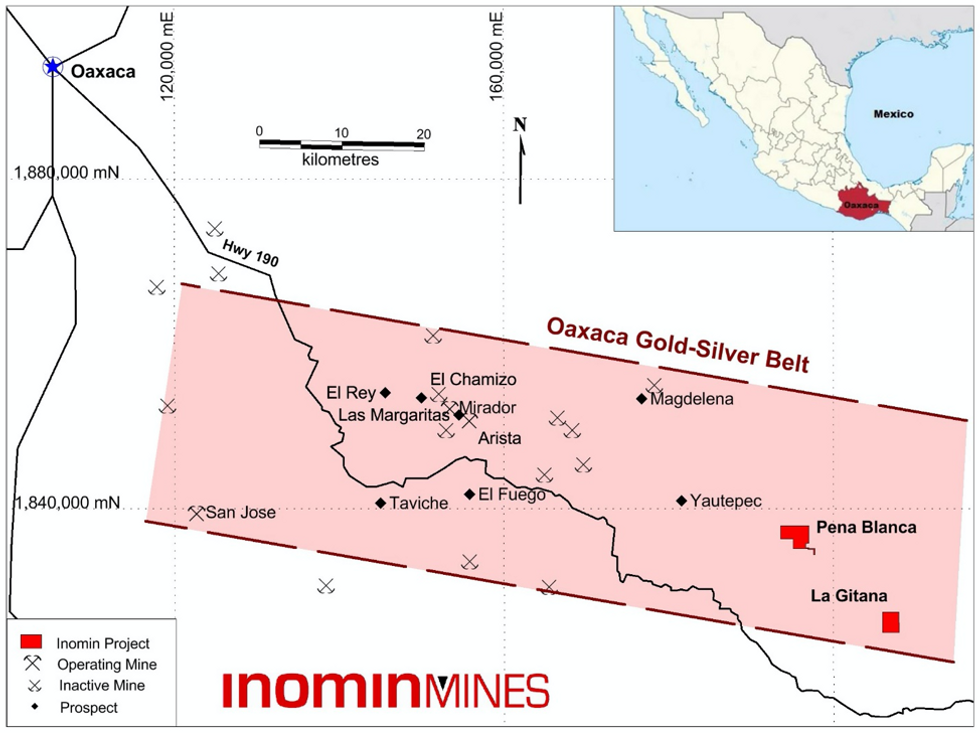 The Oaxaca Gold-Silver Belt extends over 100 km with numerous prospects, deposits, and mines.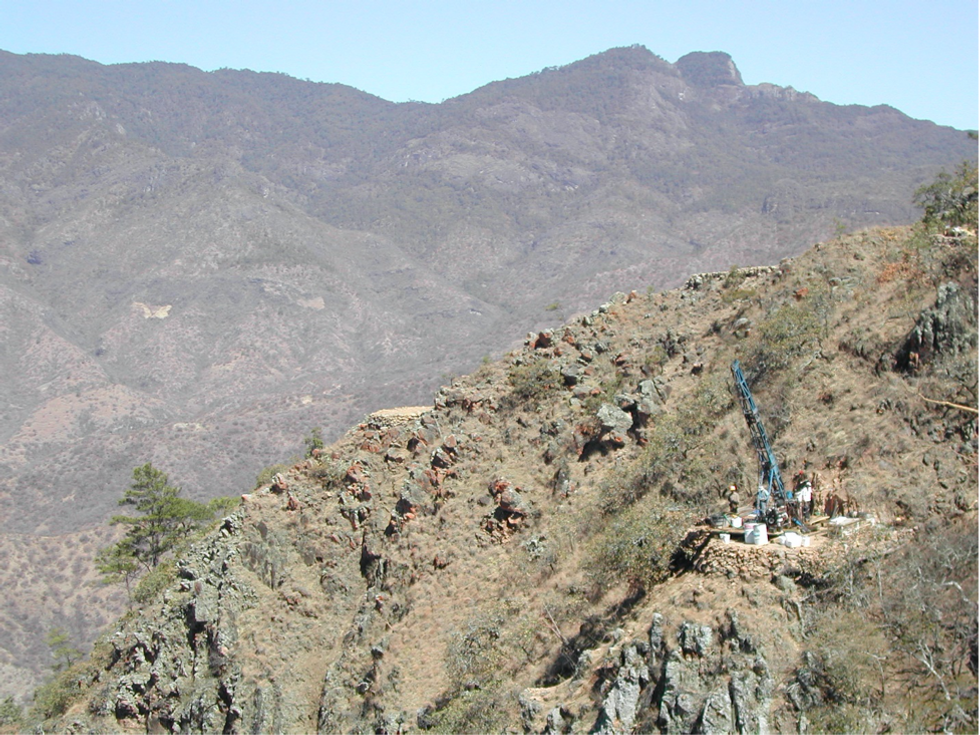 Drilling at La Gitana – literally a "mountain of gold and silver".
A 38 hole diamond drilling program at the main Cerro Di Oro zone confirmed a near-surface gold and silver deposit in a zone 400 – 500 meters long, 50 to 150 meters deep with grades ranging from 0.25 to 27.8g/t gold and 5.0 to 2,330g/t silver. The gold-silver system remains open to expansion.
Next anticipated exploration at La Gitana includes airborne magnetic survey and drilling. After this exploration program, the company expects to complete a preliminary resource calculation.
Pena Blanca Gold-Silver Project
The Pena Blanca property, situated just 15 kms from La Gitana, hosts similar geology with an even larger mineral footprint. Exploration at Pena Blanca has discovered widespread gold and silver mineralization on surface associated with an extensive area of hydrothermal alteration and mineralized structures. Inomin owns a 100% interest in the Pena Blanca project.
Initial exploration has identified gold-bearing, hydrothermal alteration over approximately nine square kilometers, of which only one area has been systematically mapped and sampled. Pena Blanca's previous operator, Chesapeake Gold Corp. (TSX.V:CKG), reported sediment anomalies ranging between 276 ppb to 2,200 ppb gold across a 2.5 kilometer by 3.5-kilometer area surrounding the Pena Blanca ridge. Additional exploration highlights returned 2.26g/t gold and 178g/t silver grades from a 23.5-meter-long trench.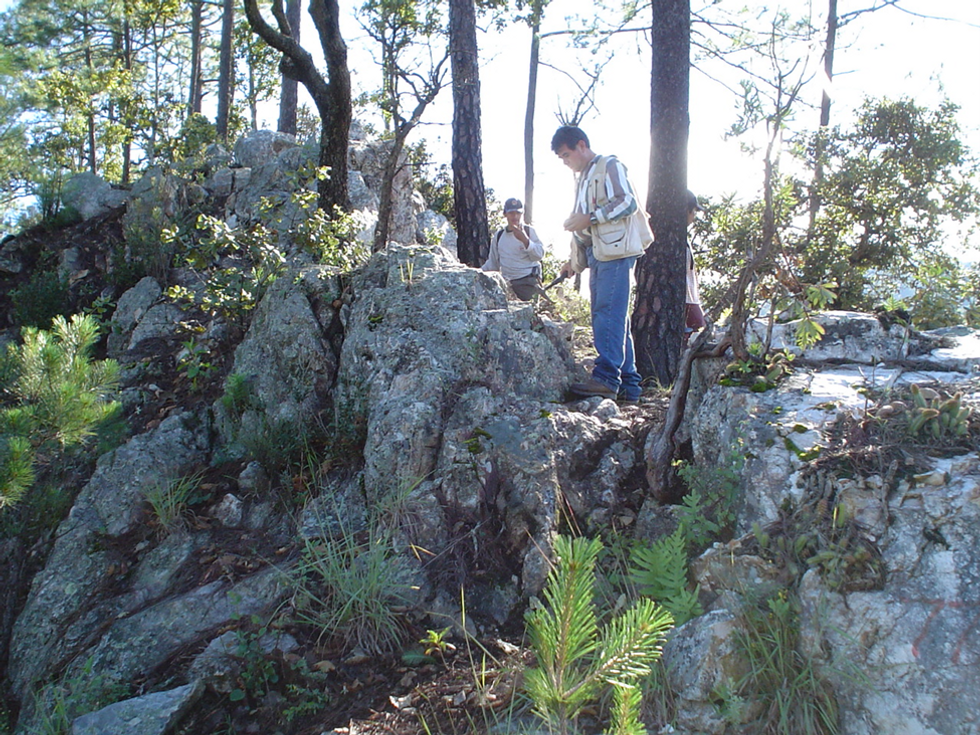 Prospecting at Pena Blanca property.
Pena Blanca consists of numerous prospective mineralized zones marked by stream sediment and soil and rock chip anomalies. The style of alteration and mineralization at Pena Blanca indicates strong evidence of a large, epithermal, gold-silver mineral system.
Management Team and Advisors
John Gomez – President and CEO
Mr. Gomez is an entrepreneur that has founded and managed private enterprises in mining, technology, and sports. Prior to being a founder of Inomin, Mr. Gomez founded and was president of a private gold exploration company in Colombia. Under his leadership, the company acquired strategic land and mining interests in some of the country's top gold districts. Mr. Gomez also founded and was President of U3O8 Media Inc. a leading news provider for investors on the uranium market. The U3O8.biz model was used to establish the Investing News Network. His consulting company, Oro Grande Capital Inc., provides marketing, corporate development and funding services to select public and private companies. Mr. Gomez has a Bachelor of Arts degree from the University of Victoria.
Ari M. Shack – Corporate Secretary and Director
Mr. Shack has practiced throughout his career as a commercial solicitor advising both public and private companies. Mr. Shack has extensive experience advising clients in relation to day-to- day commercial transactions and operations. In addition, Mr. Shack has experience advising private and public companies on corporate finance matters, including securities issuances and secured lending. Mr. Shack also assists clients with corporate structuring and reorganizations, including transactions involving amalgamations, continuations, dissolutions and tax motivated transactions. Ari is qualified to practice law in British Columbia and holds both a Bachelor of Commerce degree (1993) and a Bachelor of Laws degree (1997).
Anil Jiwani – Chief Financial Officer and Director
Mr. Jiwani CPA, CA, has more than 15 years' of financial reporting experience with publicly listed companies. He is Chief Operating Officer of Avisar Everyday Solutions Ltd., a company that provides a wide range of financial services to growing businesses.
Gustavo Allende Igarashi – Head of Corporate Development – Mexico
Mr. Allende Igarashi is a metallurgist and industrial engineer with 35 years of mining management experience in Mexico's public and private sectors. Mr. Allende recently served (2017 – 2021) as Director of Industry and Mining for the State of Oaxaca, Mexico where he headed investment programs, development activities, and Government affairs for the State's industry and mining sectors. In the private sector Mr. Allende was Superintendent at Gold Resource's (NYSE: GORO) flagship El Aguila polymetallic (gold-silver-copper-lead-zinc) project in Oaxaca. At El Aguila he was a key member that developed the project into a successful mining operation.
John Peters – Director
Mr. Peters, P.Geo, has over 30 years of experience in the mining industry. He is currently a geological consultant for junior mining companies including Westhaven Ventures Inc, Commander Resources Ltd, and Fjordland Exploration Inc. Following four years as mine geologist for Homestake Canada, he spent 25 years as Exploration Manager for over 10 junior companies with projects located across Canada, West Africa, South America, United States, and Greenland. He has also acted as project manager during joint ventures with Sumitomo Mining, Capstone Mining, and Gold Fields Canada. Notable discoveries in British Columbia, Canada Mr. Peters has been involved with include the Woodjam porphyry copper-gold deposit, the Shovelnose gold discovery, and the Beaver-Lynx nickel discoveries.
Bill Yeomans – Director
Mr. Yeomans, P.Geo, is a gold exploration professional with over 36 years' experience in all stages of gold exploration throughout the Americas. He gained extensive exploration management experience across the entire Guiana Shield of South America with BHP, along with several junior mining companies. Mr. Yeomans has worked as a senior exploration manager throughout all the major gold mining camps in Canada. He has generated projects which resulted in significant NI 43-101 compliant gold resources on three different projects including the Duquense-Ottoman gold project in Quebec. Mr. Yeomans has worked as a consultant to IAMGOLD and Dundee Precious Metals, evaluating advanced gold projects across Canada, western USA and Alaska. He obtained his HBSc. in Geological Sciences from Queen's University in1982.
Victor Jaramillo – Advisor
Mr. Jaramillo, M.Sc., P.Geo, is an international geological consultant with over 30 years of experience in the mining industry. Mr. Jaramillo has worked for major and junior mining companies as senior project geologist, technical director, chief mine geologist and exploration and mine manager. His work has included regional exploration, property assessment, resource estimation and mine operations. He has worked in Canada, the United States and Latin America. Most of his experience in the last 25 years has been focused on precious metal deposits. Mr. Jaramillo was directly responsible for the discovery of the Langosta porphyry copper-gold deposit in Mexico, and the discovery of the Las Lomas porphyry copper-gold deposit in Peru. He holds an M.Sc.A. degree in Mineral Exploration from McGill University and a B.Sc. degree in geology from Washington & Lee University.
Bruce Winfield – Advisor
Mr. Winfield, M.Sc., P.Geo, has more than 40 years of experience in the minerals industry as a geologist, corporate executive and consultant. Following 14 years with major mining companies Texasgulf Inc. and Boliden Inc., he held the position of VP Exploration for Greenstone Resources and Eldorado Gold Corporation leading to the exploration and development of five gold deposits. Subsequently as President and or CEO he has led companies exploring primarily in South America for the last twenty years.
Request an Investor Kit
EXCITING upcoming projects!
IN-DEPTH reliable insights!
SUCCESSFUL growth strategies!
VALUE-BASED content!
Inomin Mines