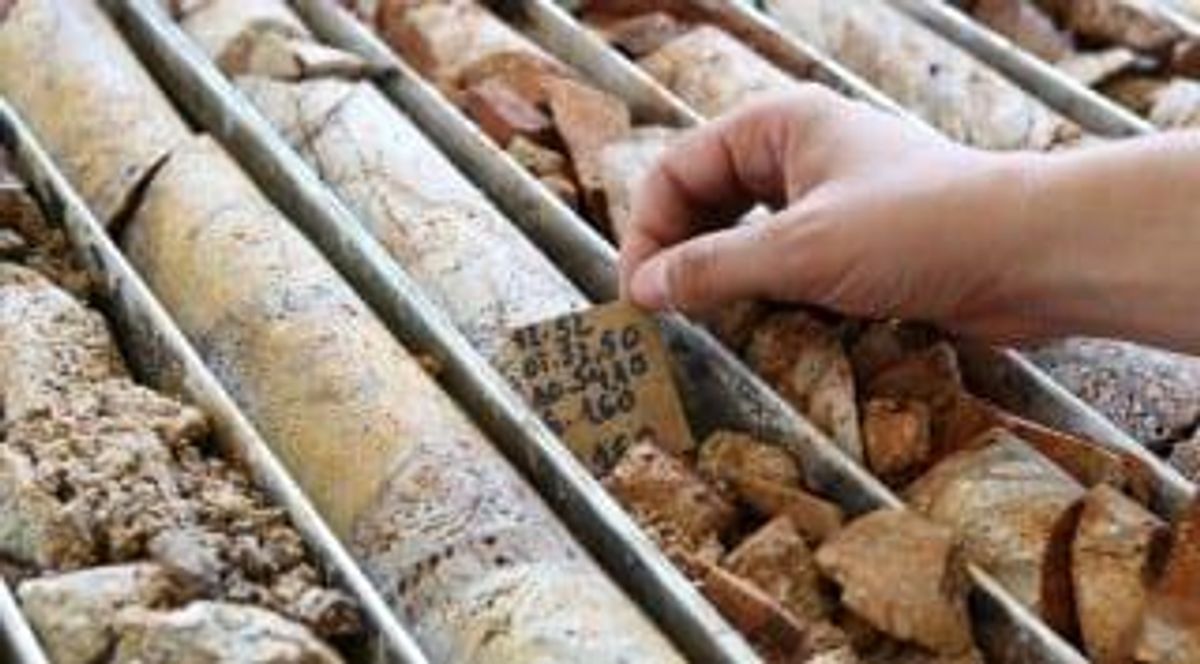 Euromax Resources Ltd. (TSX:EOX) is rapidly advancing toward production at its flagship Ilovica Gold-Copper Porphyry Project in Macedonia. The company is looking to commence construction in September 2016 with first production anticipated for Q1 2018.
CEO interviews are part of investor education campaigns for clients advertising on the Investing News Network. Important news is contextualized by CEOs, and the resulting interviews are disseminated to the Investing News Network audience because they have value to market watchers.
The Investing News Network interviews a CEO for an understanding of their perspective on the company, the investment potential of the company and market news related to the company. The information contained here is for information purposes only and is not to be construed as an offer or solicitation for the sale or purchase of securities.
---
Euromax Resources Ltd. (TSX:EOX) is rapidly advancing toward production at its flagship Ilovica Gold-Copper Porphyry Project in Macedonia. The company is looking to commence construction in September 2016 with first production anticipated for Q1 2018.
Based on a positive Feasibility Study, Euromax has acquired an offtake agreement with a major German-based integrated copper group, and secured debt-facilities to cover the majority of development and construction costs for the mine. The company recently uplisted to the TSX which will open the door for more participation on the part of UK and North American institutional investors.
The Investing News Network recently spoke with Euromax President and CEO Steve Sharpe to discuss Euromax's ambitious development and production schedule as well as the company's commitment to creating shareholder value.
Investing News Network: Investors have a lot of choice among resource exploration companies today. Would you please tell us what separates Euromax and the Ilovica Gold-Copper project from others in this space?
Steve Sharpe: Absolutely. I think the key word in that question is exploration because what we've done here is transform Euromax from a junior exploration company with a conventional business model of drilling to find the resource and then hoping a major would take it out, into a company that is developing its own property and taking it right through into production. And that makes us fairly unique for a $50 million dollar market cap company. We've been able to raise $500 million dollars that will help cover expenditure costs to bring a world-class copper-gold porphyry project into production. Normally only the majors are able to secure a financing capacity of that size. So I think that this is a really unique opportunity to give our shareholders access to something that would usually just be the preserve of the majors.
We are building this project and returning all the subsequent cash flow to our shareholders. No more money will be spent on exploration. We have a 23-year mining right that will generate approximately a $100 million dollars a year of cash flow. That's where the benefit for our shareholders is, in my opinion.
INN: Our readers understand that a project's success hinges on the level of government and community support a company can secure. So what is your experience working in Macedonia with the government and with the local communities?
SS: Bringing this project into production is going to bring enormous change for the local community because the region is largely agricultural and there hasn't been a greenfield development in the area for about 30 years now. But they've embraced that change and we have completed all of our public consultations and have done far more than is required by law to bring the communities along with us. And so they're absolutely behind the project and the development it will bring to the region.
In conjunction with the International Monetary Fund, we've compeletd a study of the economic benefits for not only the local regions but Macedonia as a country, and we will actually increase the GDP of Macedonia by two percent just by bringing this one mine into production. The government is very dynamic, and young. All of the foreign investment ministers are from Canada and the United States; second generation Macedonians that have returned and been given ministerial positions.
It's a very business friendly country. With the government's support I do a TV commercial for Macedonia on CNN. I can't think of one other country in Europe that would have a government backed campaign that features a mining company. That's a good indication of the level of support that we have and interestingly, tomorrow when we are opening the Toronto Stock Exchange, ringing the bell, we have the Canadian ambassador to Macedonia and the Macedonian Ambassador to Canada both coming along to the ceremony. And I think that's a strong indication of how important this is for Macedonia as a nation.
INN: Now, can you tell us more about the funding you've secured from the European Bank and the Consolidated Contractors Company Group?
SS: Yes. The biggest prima facie hurdle that a company of our size would face is how does a $50 million market cap company raise $500 million dollars. And we've been able to put that together through a number of key pieces to the jigsaw, the primary driver of which is the fact that the European Bank for Reconstruction and Development owns 20 percent of the company and about 30 percent on a fully diluted basis, that's a solid bedrock. The European Bank is the European equivalent of the International Finance Corporation; it's there to promote the transition of former communist countries to market based economies. Actually it's an enormous privilege to have them as a strong, supportive shareholder.
The other key to all of this is the fact that because we've signed a 10-year off take agreement to deliver a concentrate to a German smelter the German government has agreed to guarantee a project financing facility of $240 million dollars. Copper is a strategic metal for the German economy and under this guarantee scheme as long as you are delivering copper into German markets they are willing to back the financing of new copper-gold projects. And it is the copper that's of interest to the Germans not the gold necessarily, but it's a market based offtake. With that commitment to deliver, we can borrow $240 million dollars with a full sovereign guarantee from the German government.
Then on top of that we have a gold stream agreement with Royal Gold for $160 million. Also, Consolidated Contractor's Corporation (CCC) has brought along an offer $25 million dollars of funding. CCC is a large private revenues construction group with tremendous experience with construction contracts around the world and headquartered in Athens so they know the area particularly well. So when you actually put all these things together the $500 million capex number doesn't look quite so scary after all.
INN: So why work to secure all this funding and build the mine into production rather than sell the project to a major?
SS: We are all the management team from European Gold Corp and we sold that company to El Dorado for $2.5 million dollars about four years ago. However, over the last couple of years the downturn in the market has forced most of the majors or mid-tier companies to shift their focus to managing existing resources rather than acquiring a junior mining company. But it's a bit more than that. We wanted to focus on what we could control rather than what we couldn't control, and what we could control was the delivery of this project. We have the opportunity to do something completely different from all of the other mining companies, and that is to return cash flow to shareholders.
It's back to mining in its purest form. A shareholder of Euromax is a shareholder in a mine that will produce and will deliver a return based on the performance of that mine over the next 20 years. I've spoken with a lot of the major company CEOs and because of the shareholder pressure for growth all of the cash flow produced from operations is generally deployed back into replacing resources and reserves. So the core shareholder is then at the mercy of the market rather than the captain of his own destiny. Because we were such a small company we could shift to this business model, without that legacy shareholder pressure, and do something really quite unique. Our philosophy is that our shareholders should decide what they do with their money, not the management of Euromax.
So we shouldn't be taking the cash from Ilovica and spending it on exploration elsewhere because at that point you only become as good as your next project. We believe there's by far enough value within Ilovica to return that cash to shareholders. Once we find another project with the same potential we can then go back to those shareholders and say, if you're happy with what we did at Ilovica, would you like to invest in our next project and we will do the same thing for you. It's sort of rewriting the rule book as far as mining companies go.
INN: Are you still on track to begin construction at Ilovica in September of this year?
SS: Absolutely. We have finished all the public hearings, all the documentation for the final construction permit has been submitted and we fully expect to be breaking ground in September.
INN: And production in Q1 2018 as it's cited?
SS: Yeah, that's actually steady state production. First production will begin six months earlier than that and over the course of that six months we will ramp-up production levels, so 2018 is when we'll be in steady state production.
INN: I appreciate in this conversation you've talked about the return on capital to shareholders. Once this project is in production, can you give us an estimate as to what you're expecting the return on capital will be?
SS: It all depends on metal prices. We're about 50/50 copper and gold. Using our feasibility study numbers, if we go into production say at, just to make things easy, 200 million shares (currently we have 160 million shares outstanding) and we generate a $100 million dollars a year of cash flow (which we should do based on the feasibility study) we will return all of the capital per share within the first year and we get the next 22 years free. There's 100 percent in the first year and then it's infinite after that.
INN: Now, staying on that line, could you give us some more insight into the economics of the Ilovica project? And I understand an updated feasibility will be out soon. Is there anything that you can publicly share with us now?
SS: I think we'll see an increase in the mine life and a drop in the capex and a drop in some of the operating cost. And that's largely because we've done this all the way through. Both the preliminary economic assessment and the pre-feasibility study have allowed us to really focus in on a lot of the key capital numbers and some of the operating numbers as well. Each time the capex and the opex has come down and that's largely because of the incredulity of some of the engineering companies we used and how cheap it is to operate in that part of the world given all the infrastructure around it. We're working through front end engineering design right now with the feasibility study. Not sure how significantly, but I expect the capex and opex to come down this time as well.
This is exactly the time to be building a copper-gold mine of this size because the amount of chits that are being offered to us now in terms of major capital items that would normally be the long lead stuff. They offers are coming from mining companies, from suppliers that have cancelled orders, and this is all brand new equipment at a fraction of the retail price or list price. So I expect to see some fairly chunky capex and operational savings.
[superform_single use_post='499285′]
Investing News Network websites or approved third-party tools use cookies. Please refer to the  cookie policy for collected data, privacy and GDPR compliance. By continuing to browse the site, you agree to our use of cookies.