This profile is part of a investor education campaign. The profile provides detailed information which was sourced and approved by Nemaska Lithium in order to help investors make better investment decisions. The Company's support of Investing News Network ensures we can continue to bring you unbiased, independent news and information.
Resource Investing News Featured Stock
Overview
Nemaska Lithium Inc. (TSX:NMX,OTCQX:NMKEF) is a near-term lithium producer focused on becoming a supplier to the emerging lithium battery market. The company's wholly-owned Whabouchi project in Quebec, Canada, is estimated to be one of the richest and highest grade lithium deposits in the world. Nemaska Lithium has developed innovative patent-pending methods of converting lithium sulfate from Whabouchi into high purity lithium hydroxide and carbonate.
A 2014 feasibility study suggests an initial 26 years life of mine, up from a previously estimated 18 years with a pre-tax internal rate of return of 25.2 percent a $924 million net present value and a payback period of 3.7 years. Development of the Whabouchi lithium mine has been green-lighted by both the provincial and federal governments. A completed feasibility and permits in place makes the Whacouchi projected significantly de-risked compared to its peers in the space.
Nemaska Lithium expects to initiate Phase 1 production in Q4 2016 with full commercial production slated for Q2 2018. The company recently received the first installment ($2.1 million) of a $12.87 million non-repayable grant from Sustainable Development Technology Canada. Discussions for potential off-take agreements are underway.
INVESTMENT HIGHLIGHTS
Near-term lithium producer in world-class mining jurisdiction of Quebec
CDN Patent Allowance granted on processes to produce high purity lithium hydroxide and lithium carbonate using electrolysis.
Key asset: Whabouchi – a world class lithium deposit

2nd richest and largest deposit in the world with 27.3 MT Proven and Probable Reserves
Permitted Mine Site (Federal and Provincial)

Feasibility study complete and permits in place—project significantly de-risked compared to peers.
Process uses electrolysis with the main input costs being electricity which in Quebec is $0.05 kWh, keeping our costs low and predictable
Phase 1 Chemical Plant to be operational in Q4 2016; commercial production in Q2 2018.
Federal Grant received for $12.8M for Phase 1 Plant construction
Lithium hydroxide is the chemical compound of choice for battery manufacturers such as Tesla and Panasonic—higher power density, longer lifecycle and enhanced safety features
Excellent lithium market macros—demand outpacing limited supply
MOU with JMBM a large credible end user, upfront payment for product and future off-take.
KEY PROJECTS
Whabouchi Mine
Located roughly 300 kilometeres from Chibougamau, Quebec, the Whabouchi Property is made up of one block totaling 33 claims over 1,761.9 hectares. The property features significant grades and volumes of spodumene hard rock lithium. Nemaska Lithium plans to develop the project as a combined open pit and underground mine with production derived from the open-pit portion for the first 20 years.
Whabouchi benefits from its proximity to existing infrastructure, as there has been a significant amount of development by Hydro-Quebec in the area. The site is near the Route du Nord, the daily serviced Nemiscau Airport and the Relais routier Nemiscaucamp.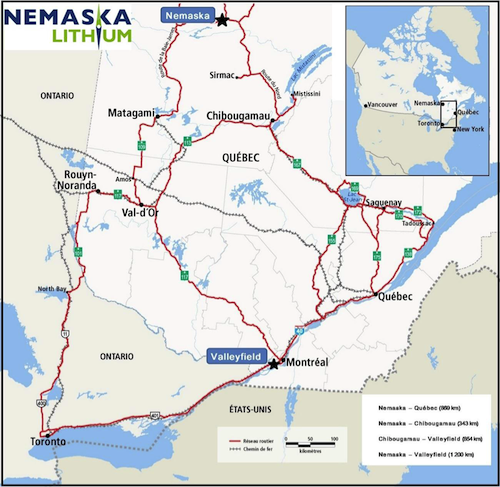 According to a May 2014 feasibility study for Whabouchi, the project contains proven and probable reserve of 20 million tonnes of 1.53 percent lithium oxide for the open pit and proven and probable reserves of 7.3 million tonnes at 1.28 percent lithium oxide for the underground mine. This is the highest grade proven and probable reserve in North America and second highest in the world as well as the largest proven reserve known.
The feasibility study also included:
an estimated life of mine of 26 years
a net present value of $924 million
a pre-tax internal rate of return of 25.2 percent
Social and Environmental Impact
As a lithium producer with end users based in the green technology market, Nemaska Lithium is working hard to reduce any environmental and social impacts. In addition to a fly-in, fly-out program for mine workers, Nemaska Lithium is looking to employ local members of the Cree nation in order to lower costs and increase economic benefits for the local community.
Importantly, Nemaska Lithium's mine plan does not encroach on any lakes or rivers. Overall, the small pit size and low strip ratio of the project will make Whabouchi a relatively low impact mine.
Whabouchi is expected to be a low cost producing mine due to its low strip ratio of 2.2:1. This low amount of waste material will allow for a smaller mining pit and waste pile, keeping Nemaska Lithium's environmental footprint small and respecting the environmental wishes of the nearby Cree population in the village of Nemaska.
Nemaska Lithium's processing method for converting spodumene concentrate into lithium hydroxide uses electrolysis. Quebec's energy comes from low-cost, renewable hydro-electricity, making Nemaska Lithium's lithium products one of the greenest in the industry. The deposit at Whabouchi also features fewer impurities such as mica, sodium and potassium than amounts commonly found in other lithium deposits. This translates into a simpler processing for a higher quality end product.
Permitting Completed
In July 2015, Nemaska Lithium received a positive federal environmental assessment decision for the Whabouchi Project from the Minister of Environment Canada. In September 2015, Nemaska Lithium received the General Certificate of Authorization for the Whabouchi Project from the Quebec government.
"Whabouchi is the only permitted lithium project within the Eeyou Istchee James Bay territory," said Guy Bourassa, President and CEO. "Quebec is an excellent jurisdiction in which to build a mine, in particular the Eeyou Istchee James Bay region. Since the beginning, our project has been supported by the various Quebec exploration funds. As we move towards a construction decision, the project benefits from the recently relaunched Plan Nord program from the Quebec Government."
Phase 1 Plant and Hydromet Plant
Located in Shawnigan, Quebec, Phase 1 Plant will transform spodumene concentrate from the Whabouchi Mine into high purity lithium hydroxide and carbonate for use in the lithium battery industry. This pilot plant production will eventually transition into full-scale production at the proposed Hydromet Plant.
In September 2015, Nemaska Lithium announced the signing of an agreement with the City of Shawinigan, Quebec for the acquisition of part of the land and part of existing manufacturing facilities. The facilities will house the Phase 1 plant and the future commercial Hydromet Plant.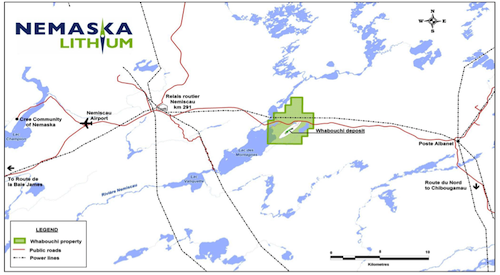 The goal of Nemaska Lithium's Phase 1 plant is to demonstrate the quality of its products to potential customers and acquire off-take agreements before construction of the commercial plant. The advantages of this strategy include:
the opportunity for initial staff training and development of skills for quick start of the commercial plant
the opportunity for process improvements
the opportunity to determine process parameters, capital costs, and operating costs with high precision.
The plant will use Nemaska Lithium's proprietary, patent-pending electrolysis process to produce high purity lithium hydroxide and lithium carbonate at a rate of 500 tonnes per year. Unlike more traditional processes that use soda ash to produce lithium carbonate for the production of lithium hydroxide, Nemaska's electrolysis based process produces lithium hydroxide directly, eliminating a greater amount of impurities. Nemaska Lithium has advanced its electrolysis process in order to nearly eliminate the use of soda ash in the creation of lithium compounds, as the volatile price of soda ash can greatly affect the price of lithium.
Patents Pending
Nemaska Lithium is pursuing patent protection on its proprietary lithium production process in multiple global jurisdictions and owns the rights to 13 pending patent applications represented by 7 patent families. In October 2015 Nemaska received a Notice of Allowance in regards to its Canadian patent application.
"We have an extensive patent portfolio strategy and I am pleased with the allowance of one of our fundamental patents," stated Jean-Francois Magnan, Technical Manager at Nemaska Lithium. "We have developed, and continue to improve, very innovative methods for producing lithium compounds that give us a leading advantage over our competitors."
Financing and Off-take Agreements
The Quebec Government has been a supporter of Nemaska since the beginning through numerous exploration and development funds. Whabouchi's fortunate location allows Nemaska to take advantage of Quebec's Plan Nord program which offers support for resource development north of the 49th parallel. Nemaska's Whabouchi project qualifies for support under this plan including provisions for:
government aid to finance projects in the form of direct equity positions (up to 20 percent); and
special tax incentives for value added resource transformation projects representing up to $40 million in tax reductions.
Nemaska Lithium signed a memorandum of understanding (MOU) with Johnson Matthey Battery Materials (JMBM) which contemplates an up-front payment of C$12 million by the battery technology company in exchange for lithium products from the Phase 1 Plant as well as an off-take agreement for long-term supply from the commercial plant.
"We are very pleased to have entered into this strategic agreement with JMBM, a leading supplier of lithium iron phosphate cathode materials for automotive and non-automotive applications," stated Bourassa. "The JMBM agreement is a non-dilutive approach project financing of the Phase 1 Plant and we will be ready to start building as soon as the financing is closed which we expect by February 2016."
Nemaska Lithium announced in February 2016 that it had signed the final contract with Sustainable Development Technology Canada (SDTC) for a $12.87 million non-repayable grant for construction and operation of the company's Phase 1 plant. Upon signing, Nemaska Lithium also received the first installment of $2.1 million.
Phase 1 Production in 2016
Nemaska Lithium expects construction of the Phase 1 plant to begin in Q1 2016 with a production start-up target of Q4 2016. The company is in discussions with a number of potential end-users who have requested qualifying product samples. Nemaska Lithium expects to reach full commercial production by Q2 2018.
The project will be entering the global lithium market well-positioned to capitalize on an increasingly price positive environment. Pricing for long-term lithium contracts doubled in the past year pushing past US$10,000/tonne and prices are anticipated to post further gains as annual demand is forecast to reach 100,000 tonnes by 2021. A major driver of this upward momentum in lithium prices is the extremely tight supply dynamics. There are currently only four major lithium producers globally and Whabouchi is one of only four permitted lithium projects in the world.
"The demand for lithium hydroxide is growing at double digit rates annually and end users are keen to secure supply," said Bourassa. "Our unique method of producing lithium hydroxide uses electrolysis technology whose main input is electricity which, in Quebec, is green renewable hydro-electricity. This makes our lithium hydroxide process one of the greenest and lowest cost in the world. This is a value proposition which is unmatched in the industry and perfectly aligns us with the values of battery manufacturers, electric vehicle and energy storage consumers globally."
MANAGEMENT
Guy Bourassa – President and Chief Executive Officer
Guy Bourassa is President and CEO of Nemaska Lithium since the company's inception in 2008, bringing more than 30 years of experience in the mining industry to this role. Among other things he was instrumental in identifying and negotiating the acquisition of the Whabouchi lithium property and securing over $50 million through financings in the capital markets to develop the Whabouchi project.
Steve Nadeau, CPA, CGA – Chief Financial Officer
Professional accountant for more than 22 years, Steve Nadeau is a member of the CPA, CGA Association of Québec as well as the CGA Association of Canada since October 1998. Prior to joining the company as Chief Financial Officer in May 2008, Nadeau held several senior financial positions at companies producing products related to the granite industry, electronics and automotive field as well as companies involved in the maritime transport and warehousing. He is also Chief Financial Officer of Monarques Resources since March 2011.
François Godin – Vice President Operations
Prior to joining Nemaska Lithium, Mr. Godin worked 28 years in progressively senior operations and process optimization roles for the Iron & Titanium division of the multinational mining company Rio Tinto. During the final years of his tenure there, he built a mining organization, started and operated a billion dollar mining project from scratch in Madagascar, employing 640 people with an annual operating budget of $150M. His expertise spans the life of a mining project from start up, to operations, to chemical and mining process optimization. In addition, he brings experience in chemical processing from minerals using innovative new technologies. Mr. Godin holds a bachelor's degree in metallurgical engineering from Ecole Polytechnique of Montreal.
Jean Francois Magnan, Eng. M.Sc. – Technical Manager
Jean Francois Magnan is a professional engineer with more than 20 years of experience in the metallurgical industry. During his career, he held several positions within the lithium industry including: R&D Advisor, R&D Project Manager, Consultant and Quality Control Metallurgist. He also acted as Project Manager for Phostech Lithium in 2000 and 2001. He will work closely with Nemaska Lithium's technical consultant, Gary Pearse, on the technology implementation as well as playing an active role in securing new contracts for Nemaska's lithium products. Magnan is the author/inventor of several patents in the lithium rechargeable batteries field. He holds a Master's Degree in Materials Engineering from Laval University (2000).
Michel Baril, Eng. – Chairman
A mechanical engineer with over 30 years of experience in management, Michel Baril was a top executive with Bombardier. Presently he acts as director of numerous public and private companies.
Paul-Henri Couture – Director
Paul-Henri Couture has over 35 years of experience as a financial management and investment professional. He has held senior positions at the Caisse de dépôt and placement du Québec and at Sentient Asset Management Canada. During his tenure at the Caisse, Couture led a team responsible for a $3 billion investment portfolio with a focus on financial institutions and natural resources sectors. While at the Caisse, Couture also launched two innovative mining funds: Groupe Sodémex and MinQuest Capital. He built and developed a $3-billion portfolio in turnarounds and corporate restructurings. Couture is President of Minvest Capital, a business providing management and investing consulting services.
François Biron—Director
François Biron is a senior professional mining engineer with 40 years of experience in the mining industry. His extensive experience in mining operations has been developed through acting in several senior site-based positions with well-known international mining companies, and recently he has acquired experience in the executive management of a Canadian industrial minerals company. Biron has an entrepreneurial vision oriented towards business development and a perspective of industry growth with respect to the environment. He participated in the management of major open pit mines with the best operating standards to achieve goals and corporate objectives. Biron elaborate recently a new mining project in introducing the social acceptability concept and public consultations in the local communities where the project will be implement, based on the latest automation mining technologies and to improve the mining process.
Vivian Wu – Director
Vivian Wu is General Manager of Sichuan Tianqi Lithium Industries, a lithium chemical producer that converts spodumene concentrate in different lithium compounds, since December 2012. From May 2009 to December 2012, Wu acted as Vice President (Corporate Development) of Chengdu Tianqi Industry Group Co., an integrated corporation group involved in three main business areas: lithium compounds, minerals and agricultural machinery. The corporation has its headquarters in Chengdu City, the economic hub of south west China.
Wu is also a Director of Sichuan Tianqi Lithium Industries since November 2011. Before joining Tianqi Group in 2009, she worked as Manager with Corporate Development Office for Nokia (China) Investment Co. from October 2006 to April 2009, and held the position of Director of Consultancy and Services at Cerbibo Information Technology Co.,from 2004 to 2006. She worked as lecturer at University of Electronic Science and Technology of China from 2000 to 2004. Wu has a Master of Arts Degree from University of Electronic Science and Technology of China.
Gordon Gao – Director
Gordon Gao is Vice President of TQC Equipment Inc. (TQCE), the Canadian subsidiary of Chengdu Tianqi Industry Group Co. Before joining TQCE in 2009, he worked as an international business manager of Chengdu Enwei Group Co., from 2002, which specializes in medicine and health products. Gao holds a Bachelor degree of Economics of East China Normal University, Shanghai, China (2000).
Judy Baker – Director
Judy Baker is a consultant in the mineral industry and currently serves on the board of directors of Nemaska Lithium, Star Gold and Arbitrage Exploration. Baker has 20 years of experience in the mining and mineral exploration sector including equity analysis, fund management, and exploration and mining company activity. She holds an Honours B.Sc. Geological Engineering in Mineral Resources Exploration from Queen's University (1990) and an M.B.A. from the University of Western Ontario Business School (1995).
René Lessard – Director
René Lessard is an independent sales consultant. He was the Sales Manager of Campagna Motors and also of T-Rex Vehicles for over 4 years. He also acts as a director of Monarques Resources.