The profile below is part of a campaign paid for by Nemaska Lithium. This profile provides detailed information, helping investors make better investment decisions. Nemaska Lithium's support of Lithium Investing News ensures we can continue to bring you unbiased, independent news and information.
Overview
Nemaska Lithium Inc. (TSXV:NMX,OTCQX:NMKEF) is focused on both producing high-purity lithium hydroxide/carbonate and developing lithium deposit in Quebec. It has developed innovative methods of converting lithium sulfate into high purity lithium hydroxide and carbonate. It has filed patent applications for its electrolysis based proprietary process, and intends to serve the growing lithium battery market with its lower cost, higher purity lithium hydroxide.
In tandem, Nemaska Lithium is developing the world class Whabouchi lithium deposit in Quebec, which is 100 percent owned and is estimated to be one of the richest and highest grade lithium deposits in the world. A recent feasibility study suggests an initial 26 years life of mine, up from a previously estimated 18 years with a pre-tax internal rate of return of 25.2 % a $924 million net present value and a payback period of 3.7 years. Nemaska Lithium is also working diligently to ensure a small environmental footprint for the mine and a positive economic impact for the nearby Cree community of Nemaska.
INVESTMENT HIGHLIGHTS
Emerging leader in high-value lithium hydroxide market
World class, 100 percent owned Whabouchi lithium mine
Proprietary lower cost higher purity (%99.99) lithium hydroxide and lithium carbonate production processes.
Offtake and collaboration agreements signed with Clariant Canada Inc. and Phostech
Strategically located next to existing infrastructure, shipping ports, and rail access
Near term catalysts as Nemaska advances towards completing the permitting process for Whabouchi mine site and the construction of the Phase 1 hydromet plant
KEY PROJECTS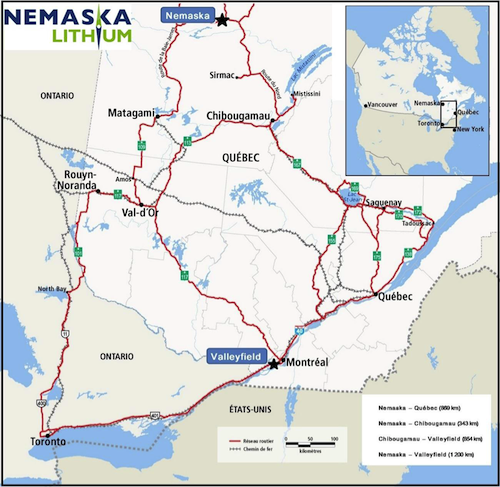 Whabouchi Mine
Located roughly 300 km from Chibougamau, Quebec, the Whabouchi Property is made up of one block totaling 33 claims over 1,761.9 hectares. The property features significant grades and volumes of spodumene hard rock lithium. Nemaska Lithium plans to develop the project as a combined open pit and underground mine with production being derived from the open-pit portion for the first 20 years.
Whabouchi benefits from its proximity to existing infrastructure, as there has been a significant amount of development by Hydro-Quebec in the area. The site is near the Route du Nord, the daily serviced Nemiscau Airport and the Relais routier Nemiscaucamp.
According to a feasibility study for Whabouchi released in May 2014, the project containsproven and probable reserve of 20 Mt of 1.53% Li2O for the open pit and proven and probable reserves of 7.3 million tonnes at 1.28% Li2O for the underground mine. This is the highest grade project in North America and second highest in the world as well as the largest proven reserve known.
The feasibility study also resulted in significant economic improvements from a study released in 2012, including:
an increase in the estimated life of mine  from 18 years to 26 years
a rise in net present value from $567 million to $924 million
in increase in the pre-tax internal rate of return of 1.9 percent, rising from 23.3 percent to 25.2 percent
little movement in capital expenditures, which remained within 15 percent of figures reported in 2012 when one considers inflation and currency exchange changes.
Whabouchi is slated to be a low cost producing mine due to its low strip ratio of 2.2:1. This low amount of waste material will allow for a smaller mining pit and waste pile, keeping Nemaska's environmental footprint small and respecting the environmental wishes of the nearby Cree population in the village of Nemaska. The deposit at Whabouchi also features fewer impurities such as mica, sodium and potassium than amounts commonly found in other lithium deposits. This translates into a simpler processing for a higher quality end product.
Currently, Nemaska Lithium is focused on obtaining permits and environmental approvals for the project. The Canadian Environmental Assessment Agency has provided initial comments on Nemaska's social, environmental, and economic impact study. Nemaska has responded, and has gone through public consultations for the project. Nemaska estimates that Federal permits could be completed by the end of summer, while provincial permits could be secured as early as March 2015.
Nemaska Lithium plans to complete permitting and financing for Whabouchi by mid 2015, and will begin mine and concentrator construction next year. Production of concentrate is slated to begin commissioning in the second quarter of 2016.
At the Hydroment plant, spodumene concentrate from the Whabouchi mine will be processed into lithium sulfate, which will be transformed through electrolysis into high-purity liquid lithium hydroxide. This solution will then be transformed into a solid lithium monohydrate or combined with carbon dioxide to create a very high purity carbonate.
Social and Environmental Impact
As a lithium producer with end users based in the green technology market, Nemaska Lithium is working hard to reduce any environmental and social impacts. In addition to a fly-in, fly-out program for mine workers, Nemaska Lithium is looking to employ local members of the Cree nation in order to lower costs and increase economic benefits for the local community.
Importantly, Nemaska Lithium's mine plan does not encroach on any lakes or rivers. Overall, the small pit size and low strip ratio of the project will make Whabouchi a relatively low impact mine.
Hydromet Plant
Located in Salaberry-de-Valleyfield, Quebec, Nemaska Lithium's lithium hydroxide and lithium carbonate production plant will transform spodumene concentrate from spodumene lithium hard rock deposits into high purity lithium hydroxide and lithium carbonate for use on the expanding lithium battery market.
Nemaska Lithium will construct a Phase 1 demonstration plant in advance of building a larger production facility. The plant will use Nemaska's proprietary lithium hydroxide and lithium carbonate processes, and will have an average combined capacity of about 500 tonnes per year.
Nemaska Lithium has opted for a demonstration plant in order to qualify its products with customers and sign off-take agreements before construction of the commercial plant. Other advantages this strategy provides include:
the opportunity for initial staff training and development of skills for quick start of the commercial plant
the opportunity for process improvements
the opportunity to determine process parameters, capital costs, and operating costs with high precision.
The plant will use Nemaska Lithium's proprietary electrolysis process to produce high purity lithium hydroxide and lithium carbonate. Unlike more traditional processes that use soda ash to produce lithium carbonate for the production of lithium hydroxide, Nemaska's electrolysis based process produces lithium hydroxide directly, eliminating a greater amount of impurities. Nemaska has advanced its electrolysis process in order to nearly eliminate the use of soda ash in the creation of lithium compounds, as the volatile price of soda ash can greatly affect the price of lithium.
Furthermore, it is important to note the nature of Nemaska's process streamlines the creation of lithium hydroxide – a safer more efficient chemical compound for the production of lithium batteries.
Nemaska Lithium is projecting to produce a very high purity lithium hydroxide and lithium carbonate. Both grades meet and exceed the highest battery specifications. Nemaska is confident that once clients have had an opportunity to use and evaluate Nemaska's product these clients will be satisfied that Nemaska can become a long term supplier. In April 2014, Nemaska Lithium completed a 1,000 hour test which confirmed the effectiveness of its process for producing high purity lithium hydroxide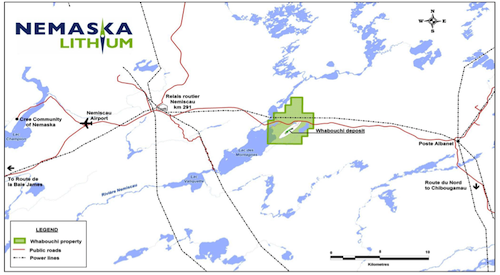 SUMMARY
Nemaska Lithium is rapidly advancing its Whabouchi mine. The project has been bolstered by positive results from a recent feasibility study that extended life of mine for the project to 26 years up from 18 previously. Nemaska is in the final stages of permitting for Whabouchi and will ramp up financing activities once permitting is complete. Subject to permittin completed by March 31, 2015 and financing in place, construction of the mine will beslated to commence mid 2015, with the start of concentrate production and commissioning beginning in Q4 of 2016.
In addition, Nemaska lithium is slated to become a low cost producer of high-purity lithium hydroxide and lithium carbonate with its proven proprietary processes. Nemaska has already signed an offtake agreement with Clariant, and plans to build a phase 1 demonstration plant to prequalify its products with customers and to sign further offtake agreements prior to the construction of the commercial plant.
MANAGEMENT
Guy Bourassa – President, Secretary and Chief Executive Officer
Corporate and Securities lawyer since 1983, Mr. Bourassa has over 25 years experience in the mineral exploration industry in Quebec both as a legal advisor and manager. He has also acted as President of the following companies: Radisson Mining Resources Inc. and Dufresnoy Industrial Minerals Inc.
Steve Nadeau, CPA, CGA – Chief Financial Officer
Professional accountant for more than 22 years, Mr. Nadeau is a member of the CPA, CGA Association of Québec as well as the CGA Association of Canada since October 1998. Prior to joining the Company as Chief Financial Officer in May 2008, Mr. Nadeau held several senior financial positions at companies producing products related to the granite industry, electronics and automotive field as well as companies involved in the maritime transport and warehousing. Mr. Nadeau is also Chief Financial Officer of Monarques Resources Inc. since March 2011.
Jean Francois Magnan, Eng. M.Sc. – Technical Manager
Mr. Magnan is a professional engineer with more than 20 years of experience in the metallurgical industry. During his career, he held several positions within the lithium industry including: R&D Advisor, R&D Project Manager, Consultant and Quality Control Metallurgist. He also acted as Project Manager for Phostech Lithium Inc. in 2000 and 2001. He will work closely with Nemaska's technical consultant, Mr. Gary Pearse, on the technology implementation as well as playing an active role in securing new contracts for Nemaska's lithium products. Mr. Magnan is the author/inventor of several patents in the lithium rechargeable batteries field. He holds a Master's Degree in Materials Engineering from Laval University (2000).
Michel Baril, Eng. – Chairman
Mechanical engineer, with over 30 years of experience in management. Mr. Baril was a top executive with Bombardier Inc. Presently he acts as director of numerous public and private companies.
Paul-Henri Couture – Director
Mr. Paul-Henri Couture has over 35 years of experience as a financial management and investment professional. He has held senior positions at the Caisse de dépôt and placement du Québec and at Sentient Asset Management Canada. During his tenure at the Caisse, Mr. Couture led a team responsible for a $3 billion investment portfolio with a focus on financial institutions and natural resources sectors. While at the Caisse, Mr. Couture also launched two innovative mining funds: Groupe Sodémex Inc. and MinQuest Capital. He built and developed a $3-billion portfolio in turnarounds and corporate restructurings. Mr. Couture is President of Minvest Capital, a business providing management and investing consulting services.
Vivian Wu – Director
Ms. Vivian Wu is Vice President (Corporate Development) of Chengdu Tianqi Industry Group Co., Ltd., an integrated company group involved in three main business areas: lithium compounds, minerals and agricultural machinery. Ms. Wu is also a director of Sichuan Tianqi Lithium Industries Inc., a lithium chemical producer using hard spodumene concentrate.
Gordon Gao – Director
Mr. Gordon Gao is Vice President of TQC Equipment Inc. (TQCE), the Canadian subsidiary of Chengdu Tianqi Industry Group Co., Ltd.. Before joining TQCE in 2009, he worked as an international business manager of Chengdu Enwei Group Co., Ltd. from 2002, which is specialized in medicine and health products. Mr. Gordon Gao holds a Bachelor degree of Economics of East China Normal University, Shanghai, China (2000).
Judy Baker – Director
Ms. Baker holds an Honours B.Sc. Geological Engineering in Mineral Resources Exploration and a MBA. Ms. Baker is also the President and CEO of Superior Copper.
René Lessard – Director
Mr. Lessard is an independant sales consultant. He was the Sales Manager of Campagna Motors Inc. and also of T-Rex Vehicles Inc. for over 4 years. He also acts as a director of Monarques Resources Inc.