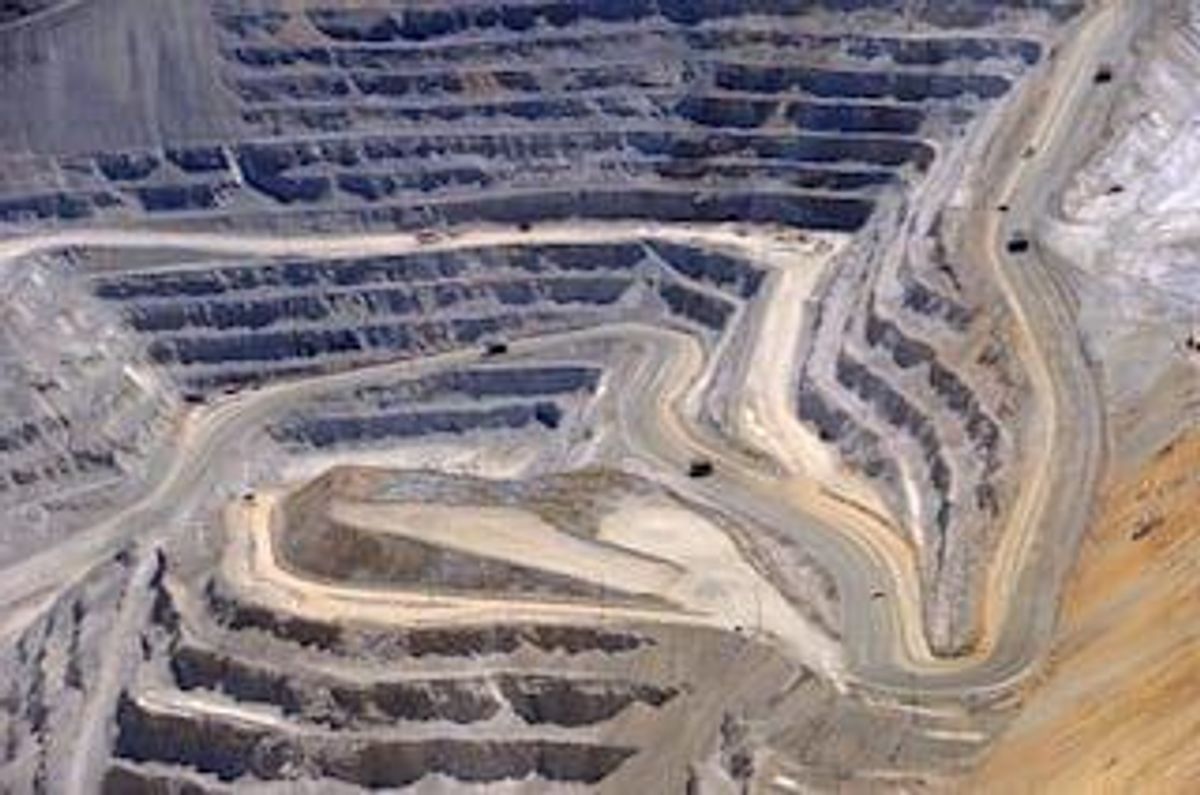 Major miners look to copper porphyry deposits for large-tonnage, low-cost operations. We take a look at what makes for a copper porphyry takeover target.
Ask any economic geologist the most important factor in building a profitable mine and they will tell you "grade is king."
Grade refers to the concentration of a valuable mineral within ore, and higher-grade ore is typically cheaper to extract. Hence, the higher the grade, the more economical the deposit and the more likely it will be mined — or so the logic goes. The mantra has become an unshakeable tenet in the mining industry, and a standard rule of thumb for investors gauging the true value of a resource company.
Of course, there are always exceptions to any rule, and copper porphyry deposits are quite possibly the best example of how the "grade is king" dogma is merely an oversimplification of mine economics. Other geological factors can have a large impact on the economics of a project. In the case of copper porphyry deposits, their enormous size, polymetallic nature, decades-long mine lives and high production rates rank them as one of the world's most valuable deposit types.
World's most important source for copper
Porphyry deposits can be divided into three main subtypes: molybdenum porphyry, gold porphyry and copper porphyry. The world's most important sources for copper today are copper porphyry deposits, as they contain the largest-known exploitable concentrations of copper, Mercenary Geologist Mickey Fulp told the Investing News Network. Copper porphyry deposits are responsible for 75 percent of the world's copper production, 50 percent of molybdenum production and 20 percent of gold production. These polymetallic powerhouses also account for significant production of rhenium, silver, lead, tellurium, selenium, bismuth and zinc.
Forged in what's geographically known as "the Ring of Fire," an area that surrounds the Pacific Basin, porphyry deposits are concentrated in the orogenic belts of the west coast of North and South America, along convergent tectonic margins where ocean plates have subducted down into the Earth's mantle; they are also found in the Southwest Pacific where two ocean plates have collided to form the island arcs we know as the Philippines and Papua New Guinea.
In terms of tonnage, copper porphyry deposits range in size from 100 million tonnes to upwards of 10 billion tonnes of ore — this high tonnage of mineralized rock and the associated long mine life that can span decades make them very attractive to major mining companies. According to a report by the United States Geological Survey, the output from copper porphyry deposits totals billions of kilograms each year. Grades typically range from 0.2 percent copper to greater than 1 percent, with a median grade of 0.44 percent copper.
The world's top copper porphyry mines
Responsible for about 5 percent of the world's total copper output, BHP Billiton (NYSE:BHP,ASX:BHP,LSE:BLT) and Rio Tinto's (NYSE:RIO,ASX:RIO,LSE:RIO) Escondida mining complex in Chile produces more than 1 million tonnes per year from two operating supergene-enriched copper-molybdenum porphyries. In 2015, Escondida's proven and probable reserves totaled 26.2 billion tonnes grading 0.523 percent copper.
To the north of Escondida is the Collahuasi mine, held by Anglo American (LSE:AAL), Glencore (LSE:GLEN) and a Japanese consortium led by Mitsui (NASDAQ:MITSY) and Nippon. The world's second-largest copper mine, Collahuasi produced 506,500 tonnes of copper in 2016 and contains a reserve base of 3,123 million tonnes at a grade of 0.85 percent copper.
The world's second-deepest open-pit copper mine, Codelco's massive Chuquicamata deposit in Chile, was originally comprised of over 9,000 million tonnes of mined ore and reserves. Production in 2015 totaled 309,000 tonnes of copper with head grades of 0.8 percent. Codelco is redeveloping the century-old Chuquicamata into an underground mine with operations expected to commence in 2019.
Freeport-McMoRan's (NYSE:FCX) Grasberg copper-gold porphyry mine in Indonesia is the world's largest gold mine and one of the world's largest copper mines. In 2016, Grasberg produced more than 500,000 tonnes of copper and over 1 million ounces of gold. At 1.5 percent copper, Grasberg is considered a high-grade copper mine.
Rio Tinto subsidiary Kennecott's Bingham mine in Utah is the deepest open-pit mine in the world — and the most productive. Bingham has a reserve base of approximately 524 million tonnes grading 0.47 percent copper. It's estimated to have produced more than 19 million tonnes since operations began in 1906. Today, annual production at the copper porphyry deposit averages 300,000 tonnes of copper, 400,000 ounces of gold, 4 million ounces of silver and 30 million pounds of molybdenum.
Montana's prolific Butte-Anaconda Mining District
The world-class Butte copper mine, located in Western Montana, is another great example of this deposit type's immense scale and impressive mine life. In well over a century of mining, the deposit reportedly produced nearly 23 billion pounds of copper and 3 million pounds of gold as a by-product. Once owned and operated by the historic Anaconda Copper Mining Company, today a portion of the system, known as the Continental pit, is still in production under the privately held Montana Resources.
"Western Montana lies along a major structural feature, a break in the crust called the Great Falls Tectonic Zone that extends roughly from Boise, Idaho, up through Butte, Montana and then on all the way into Canada," Montana-based economic geologist John Childs told the Investing News Network. "This is a major structural feature, a portion of which is sometimes referred to as the Idaho Porphyry Belt, that has controlled the emplacement of these porphyry deposits and related deposits over a period of time, with two main pulses producing these deposits, one in the late Cretaceous and a second major pulse in the Eocene."
Laid out like a string of pearls, Childs says there are at least 24 known porphyry deposits in Montana, and half of those are copper porphyry. "The number of large-scale deposits in the region is what makes this area so attractive," he added, noting that Montana is quietly becoming a hotbed of exploration activity.
In October 2016, Broadway Gold (TSXV:BRD) staked a 100-percent claim on the Madison copper-gold project, located approximately 15 miles southeast of the Butte Mining District. "Broadway's early drilling tested the obvious skarn mineralization that had underground workings in it," said Childs. "They conducted drilling to confirm and expand the mineralization at levels above a depth of 600 feet. Now they are drilling deeper, really for the first time, to test the possible presence of a porphyry system at depth."
"What's interesting about this property is there are at least two mineralizing events. There's this skarn deposit with really high grades, and then there's a second type of ore there that's hosted in a jasperoid," said Childs, who had a strong scientific interest in the property prior to Broadway's acquisition. "It seemed to me that there were at least two mineralizing events, one was a skarn and the other this jasperoid event. The extent of the alteration at Madison always struck me as out of proportion to the relatively thin skarn system. Although the skarn is locally thin to less than 30 meters in places, it's quite continuous. Everywhere you see the contact with the Cretaceous Rader Creek pluton; similar to the granite at Butte, skarn mineralization is present along the contact for more than 2 linear miles. It seemed to me that there was probably a secondary source of mineralization that had not been properly documented."
In the fall of 2017, Broadway's phase 3 drill program proved Childs' hunch about the possibility of a porphyry system at Madison. In October, the company announced the discovery of a new latite porphyry system underlying the shallower skarn zones. "Although indications suggest a typical copper porphyry alteration system is present, this new mineralization discovered at Madison exhibits similar characteristics to the latite porphyry hosted at Barrick Gold's (TSX:ABX,NYSE:ABX) Golden Sunlight mine located 36 kilometers away in Whitehall, Montana," said Duane Parnham, president and CEO of Broadway Gold. The company has identified multiple target areas believed to be associated with large-scale porphyry mineralization at depth and located within a well-mineralized, 2-mile-long trend.
Brixton Metals (TSXV:BBB) recently acquired the Hog Heaven property in Northwestern Montana, a past-producing silver-gold epithermal vein-breccia deposit with copper-gold porphyry potential. Brixton's geological team is reviewing the extensive historical database for the property obtained from Pan American Silver (TSX:PAAS,NASDAQ:PAAS). "The vertical zonation of the mineralization at the Main Mine shows an increase in pyrite grain size, copper and gold content with depth, which suggests the presence of a porphyry system at depth," the company said in a news release. Brixton aims to follow up the historical data review with confirmation drilling to inform a maiden NI 43-101 resource estimate.
Large scale, low cost and long mine life
The metallurgical qualities of copper porphyry orebodies make them ideally suited for large-scale, low-cost resource extraction. "The ore is inexpensive to mill and concentrate using flotation methods, heap leaching and electrowinning processes. The mines are inexpensive to operate using bulk-mining methods," Stanley Korzeb, economic geologist for the Montana Bureau of Mines and Geology, and a research professor at Montana Tech, told the Investing News Network.
Within porphyry systems the copper mineralization can extend vertically for several kilometers beyond the main base of the open pit. This vertical scale often translates to a decades-long mine lives — Chuquicamata, Bingham, Morenci and Butte are not anomalies — meaning these mines can outlive many a market cycle, taking hits that would knock smaller mines out of commission.
What makes for an ideal takeover target
Copper porphyry deposits, despite their low to medium grades, are highly attractive to major producers for a variety of reasons, including their polymetallic nature, massive size and ease of mining, noted Fulp. "These are some of the largest copper deposits in the world — most of the world's copper comes from large porphyry deposits. Because the CAPEX on these projects will be at a minimum of $1 billion, for a junior exploration company with a copper deposit the only exit strategy is to sell to a major. If the deposit is large enough they can become acquisition targets."
Fulp says the most notable example of a junior-held copper porphyry deposit becoming a takeover target is First Quantum Minerals' (TSX:FM) C$650-million acquisition of Antares Minerals and the giant Haquira copper-molybdenum-gold deposit in Peru. The development-stage project has the potential to produce over 200,000 tonnes of copper per year.
A major producer's ideal takeover target is a junior explorer with a district-scale copper porphyry project with access to necessary infrastructure, including water, power and transportation networks.
Majors are keen on acquiring a project that spans an entire mining camp rather than a small parcel because it limits risk while maximizing opportunities. Controlling an entire mining camp mitigates the potential for outside competition in a region. "If a project becomes an operating mine, the company will need additional land for surface facilities and it is much easier to acquire land at the beginning than during the development phase," said Korzeb.
The geological nature of the copper porphyry model also necessitates the control of an entire mining camp. The alteration haloes associated with this deposit type are much larger than the actual deposit and can cover tens of square kilometers in a district. The large scale of the mineralized system in these regions also lends itself to the formation of other types of deposits within the same area, including high-sulfidation epithermal gold-silver-copper deposits, amongst others. The increased opportunity for the discovery of other deposits within the mineralized system improves the economics of a project and is extremely attractive to majors and juniors alike.
This article was written according to INN editorial standards to educate investors.
Investing News Network websites or approved third-party tools use cookies. Please refer to the  cookie policy for collected data, privacy and GDPR compliance. By continuing to browse the site, you agree to our use of cookies.