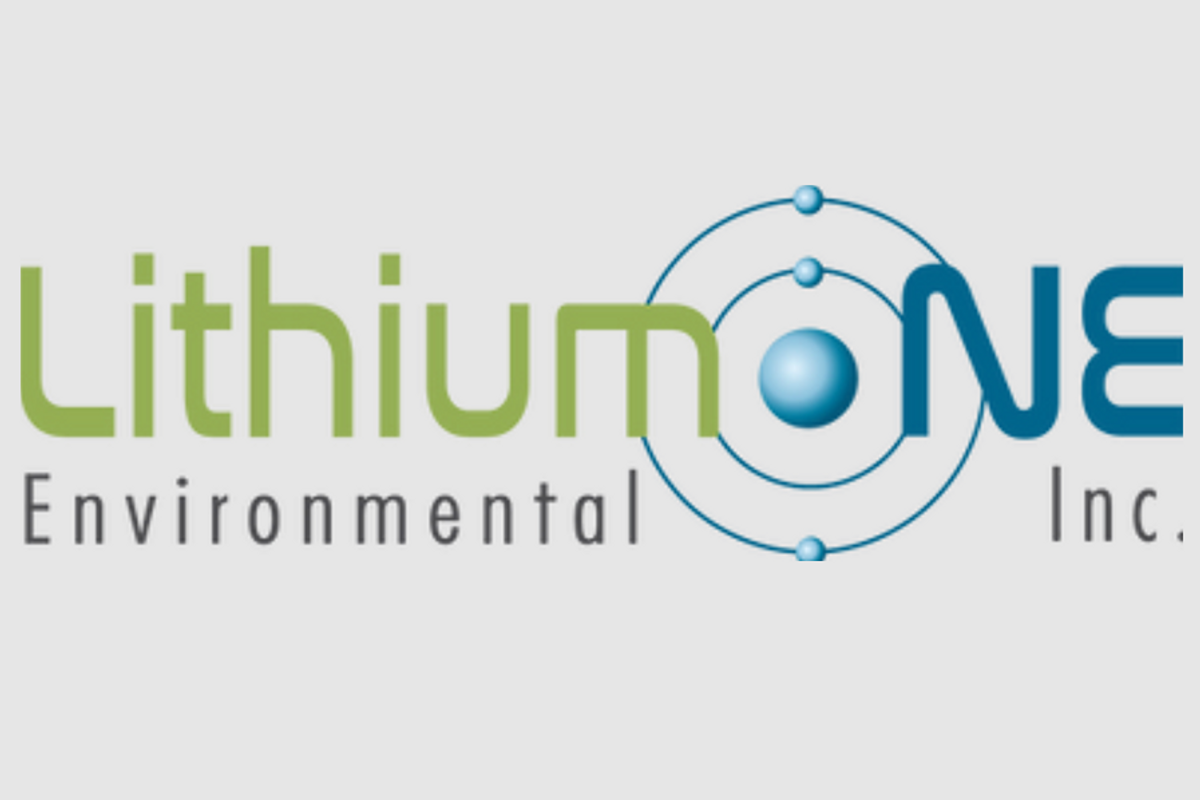 L1X Corp announces Private Placement for the world's first CLEAN SOURCED LITHIUM™ production facility for LITHIUM and HYDROGEN with ZERO external water consumption
Lithium ONE Environmental Inc. ("L1X Corp" or "L1X") announced today that testing has been completed and they are moving forward with the construction of a 2500 tonnes LCE per annum production facility for the clean extraction of lithium and hydrogen on their land adjacent to a confirmed salar in Catamarca Argentina (heart of the lithium triangle) containing over 3 million tonnes of lithium (LCE) following the successful viability testing including nano-extraction, mass manufacturing capability and technical scalability.
Their proprietary nano-extraction technology facility delivers:
ZERO external water consumption
No pollution (land, air or water)
99% lithium capture from source
Multi-mineral capture capability
Ultra-Pure Water (UPW) is a bi-product from processing
UPW is used for the extraction and delivery of HYDROGEN and OXYGEN
L1X is commencing their project financing via Private Placementas follows:
$5M will be allocated to Series A
$30M for Series B providing equity for the debt facility that is being negotiated
Their land asset +$100M, can be used as security
David Stevenson, CEO stated, "I am very proud of how our team of leading global experts have overcome the technical deficiencies of DLE and Reverse Osmosis technologies while keeping a low OpEx and CapEx within market expectations."
Our low OpEx, being fully ESG compliant and the ability to operate at high elevation, provides the long-term viability for all of our projects.
Mr. Stevenson added, "This technology is fully commercialized, and field tested, allowing us to deploy subsequent 30,000-tpa production facilities to help meet global demand. This sets the stage to continue with our global strategy including future purchases, JV's, off-take agreements and IPO."
For more information or to request an investor package please visit L1X at: www.L1XCORP.com
ABOUT
Lithium ONE Environmental Inc. (L1X) is a privately held Canadian clean mining company of lithium and EV minerals with +100,000 hectares of land and salar assets in Argentina.
Forward-Looking Statements
The forward-looking statements contained herein are expressly qualified in their entirety by this cautionary statement. Although management believes that the expectations represented in such forward-looking statements are reasonable, there can be no assurance that such expectations will prove to be correct. We seek safe harbor.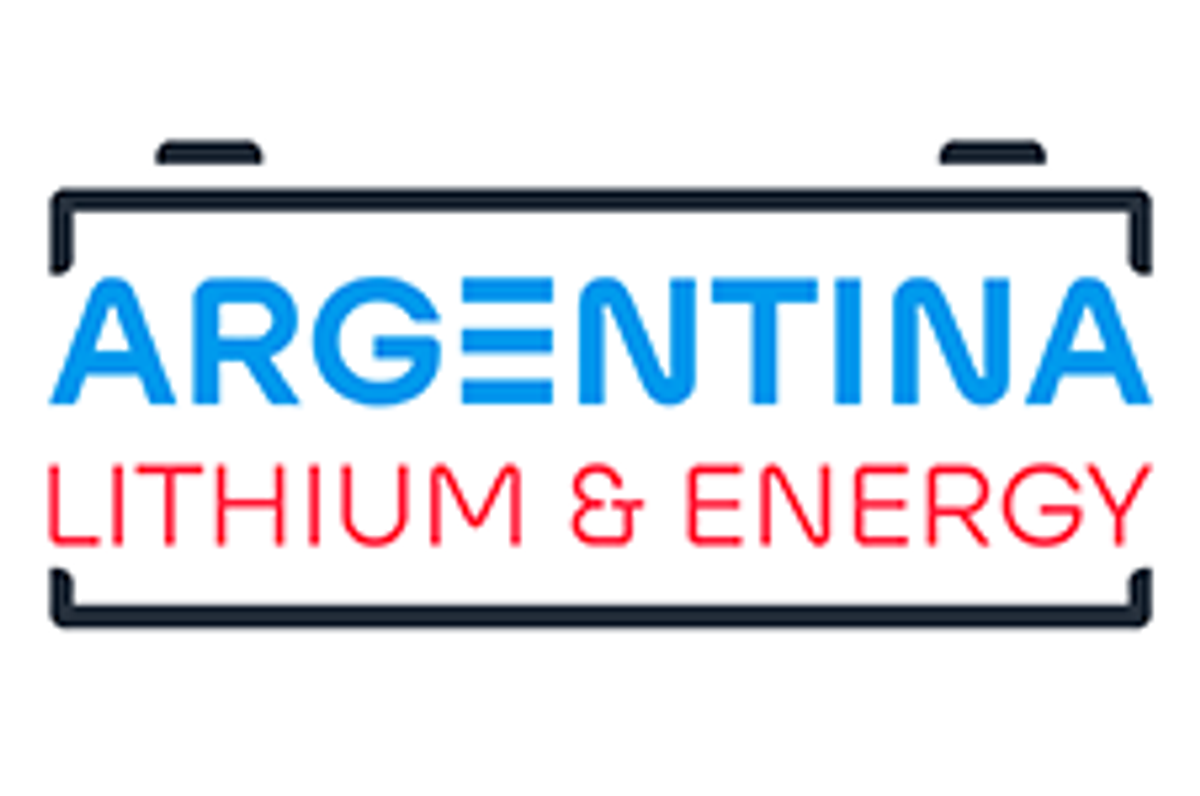 Overview
Demand for lithium is expected to reach 3.8 million tons by 2035, driven by increased demand in batteries for electric vehicles (EVs). This renewed focus on lithium is also shining a spotlight on the famed Lithium Triangle, where about 60 percent of the world's lithium reserves are located. The Lithium Triangle spans portions of Chile, Bolivia and Argentina. With its rich lithium resource base and a stable, mining-friendly regulatory environment, Argentina has the perfect formula to become a leader in lithium production.
Argentina Lithium and Energy (TSXV:
LIT
, OTC:PNXLF, FWB:OAY3) is a mineral exploration company focused on developing a portfolio of highly prospective lithium projects in Argentina. The company is a member of the Grosso Group, a resource management firm that has pioneered exploration in Argentina since 1993.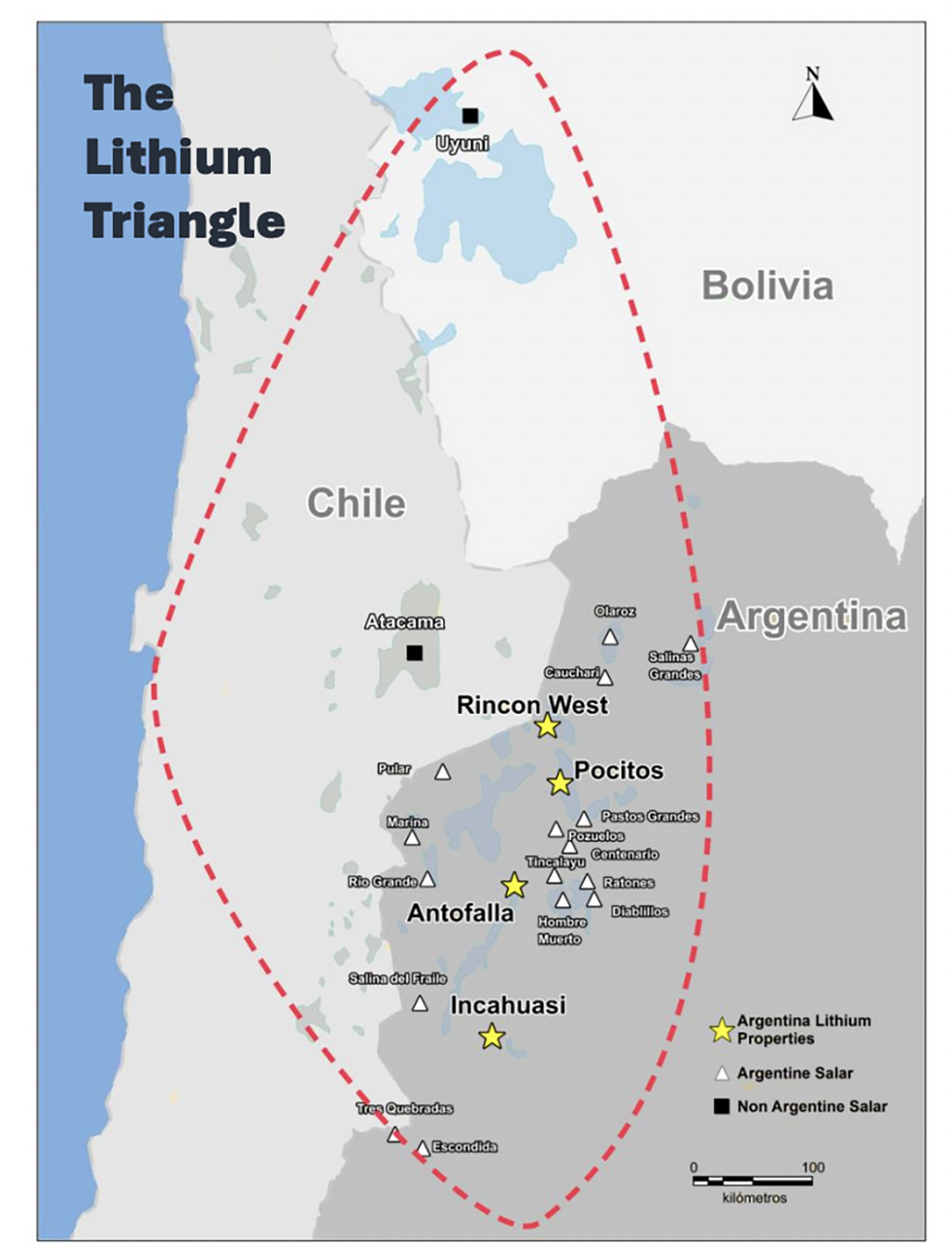 Argentina Lithium has a strong land position and extensive mining track record in Argentina with nearly 67,000 hectares in four key projects located in the Salta and Catamarca provinces. The company's properties are strategically located next to some of the world's leading lithium producers and near key infrastructure.
In September 2023,
Argentina Lithium announced
that it had secured an important strategic investor. Peugeot Citroen Argentina S.A., a subsidiary of global automaker Stellantis, invested the equivalent of US$90-million in Argentina pesos to acquire a 19.9% interest in Argentina Lithium's subsidiary Argentina Litio y Energia S.A. The two companies also negotiated a seven-year
offtake agreement
, in which Stellantis will buy up to 15,000 tonnes per year of lithium produced by Argentina Lithium.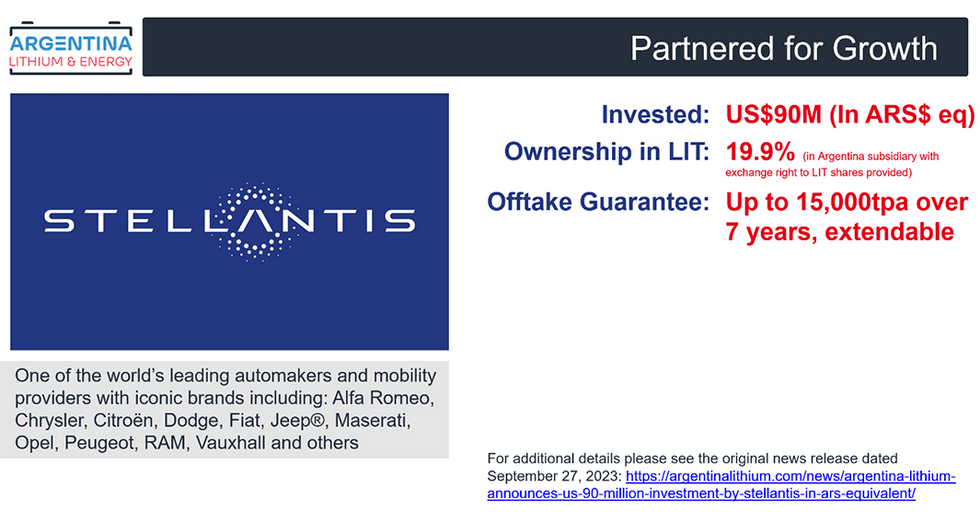 The company's flagship Rincon West Lithium Project includes over 5000 hectares of concessions next door to the west and north of the Rincon Project owned by Rio Tinto Plc (RIO.L). Rincon West is also across the salar from Argosy Minerals' (ASX:AGY) Rincon Lithium Project, which hosts a JORC resource of 245,000 tons of lithium carbonate equivalent grading 325 mg/L and has moved from test plant production to finalizing 2,000 tpa plant operations1. Argentina Lithium's discovery at Rincon West includes multiple long intervals of brines with promising lithium grades from its first drill program. The Company has an aggressive program underway to continue to test for brines across its large property and move towards completing its first mineral resource estimate.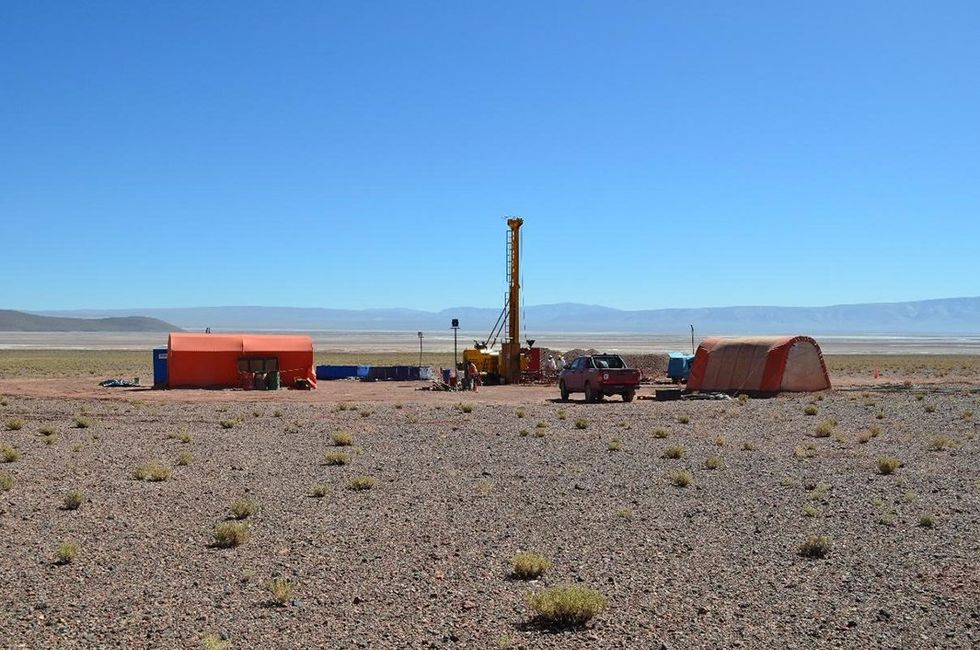 The company's second highly-prospective project, Antofalla North, covers more than 10,000 hectares of the Antofalla Salar, starting just 500 metres north of the lithium project controlled by Albemarle Inc., (NYSE: ALB) one of the world's largest lithium producers1. The Antofalla North project is also located approximately 25 kilometers west of Argentina's largest lithium-producing operations at Salar de Hombre Muerto. The company anticipates an accelerated program at Antofalla North once permits are received.
Argentina Lithium's other properties include 25,000 hectares in the Incahuasi Salar and more than 26,000 hectares in the Pocitos Salar.
Following the major financing deal with Stellantis, Argentina Lithium accelerated its exploration plans for 2024, which includes the completion of up to 30 drill holes in two phases at the Antofalla North project, with a goal of bringing it to a resource delineation stage shortly on the heels of the company's flagship Rincon West project if results are positive. The company has also expanded its exploration plans for Pocitos and Incahuasi, beginning with a reconnaissance program of 170 line-kilometer of transient electromagnetic survey at Pocitos.
Argentina Lithium is led by Grosso Group's management team which has a history of major mineral discoveries in Argentina, specifically the Chinchillas silver-lead-zinc deposit now owned and being mined by SSR Mining (TSX:
SSRM
) and Blue Sky Uranium's (TSXV:
BSK
) Amarillo Grande uranium and vanadium project. Plus the team was involved with early work at the properties hosting the Gualcamayo gold mine, now owned by Mineros S.A. (TSX:
MSA
), and Pan American Silver's (TSX:
PAAS
) very large Navidad silver-lead deposit.
Company Highlights
Argentina Lithium discovered lithium in brine at its Rincon West project, reporting strong lithium values in multiple holes.
In Q4 2023 the Company closed a strategic investment and partnership with global automaker Stellantis, including a US$90-million (in ARS$ equivalent) investment into Argentina Lithium's subsidiary, and a seven-year, 15,000-tonne-per-annum lithium offtake agreement.
Drilling at Rincon West continues, with pump testing also planned for 2024, to advance Rincon West towards a potential first mineral resource estimate
The Company also intends to fast-track exploration in 2024 at Antofalla North - its second highly prospective project.
The company is backed by Grosso Group Management Ltd., which has already been involved with multiple significant mineral discoveries in Argentina.
Key Projects
Rincon West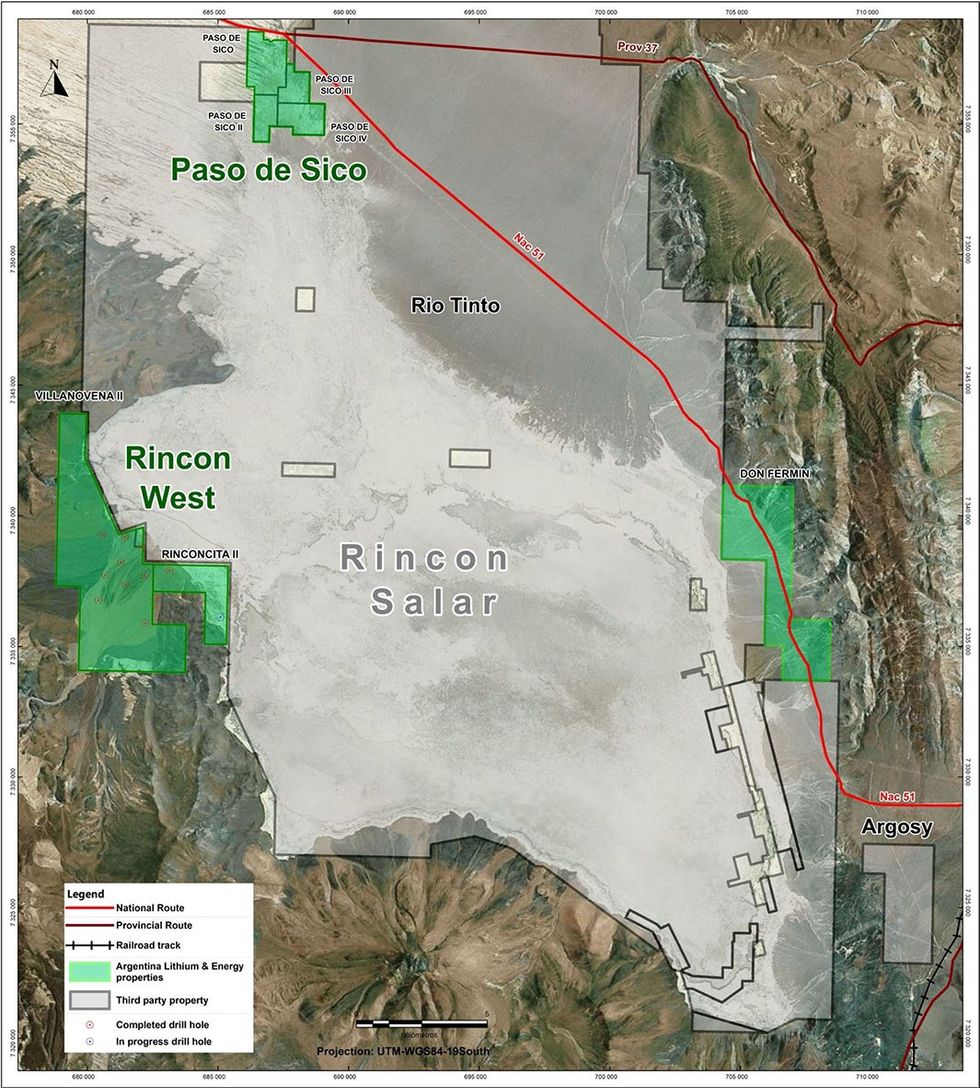 Rincon West is a prospective lithium project covering more than 5000 hectares of concessions located in Salta province, Argentina. The project is primarily located along western side of the Rincon Salar, which hosts two significant resource development projects: Rio Tinto's Rincon Project, and Argosy Minerals' Rincon lithium project.
The property is situated in the Lithium Triangle with access to an international highway, pacific ports and a major electrical power corridor.
The first drill program at Rincon West included 9 holes and was completed in 2023. The program returned multiple long intervals of brine with strong lithium grades on its Villanoveño II concession. These were highlighted by a 258-metre interval starting at just 83 metres depth with lithium grades ranging from 287 to 402 mg/l lithium (including 2 internal intervals not sampled of 42m & 33m). In late 2023, the company commenced its second drill program at Rincon West, on the adjacent Rinconcita II concession. This is expected to be followed by up to six holes on the project's third concession, as well as pump testing to provide detailed information to support a mineral resource estimate for the project.
Antofalla North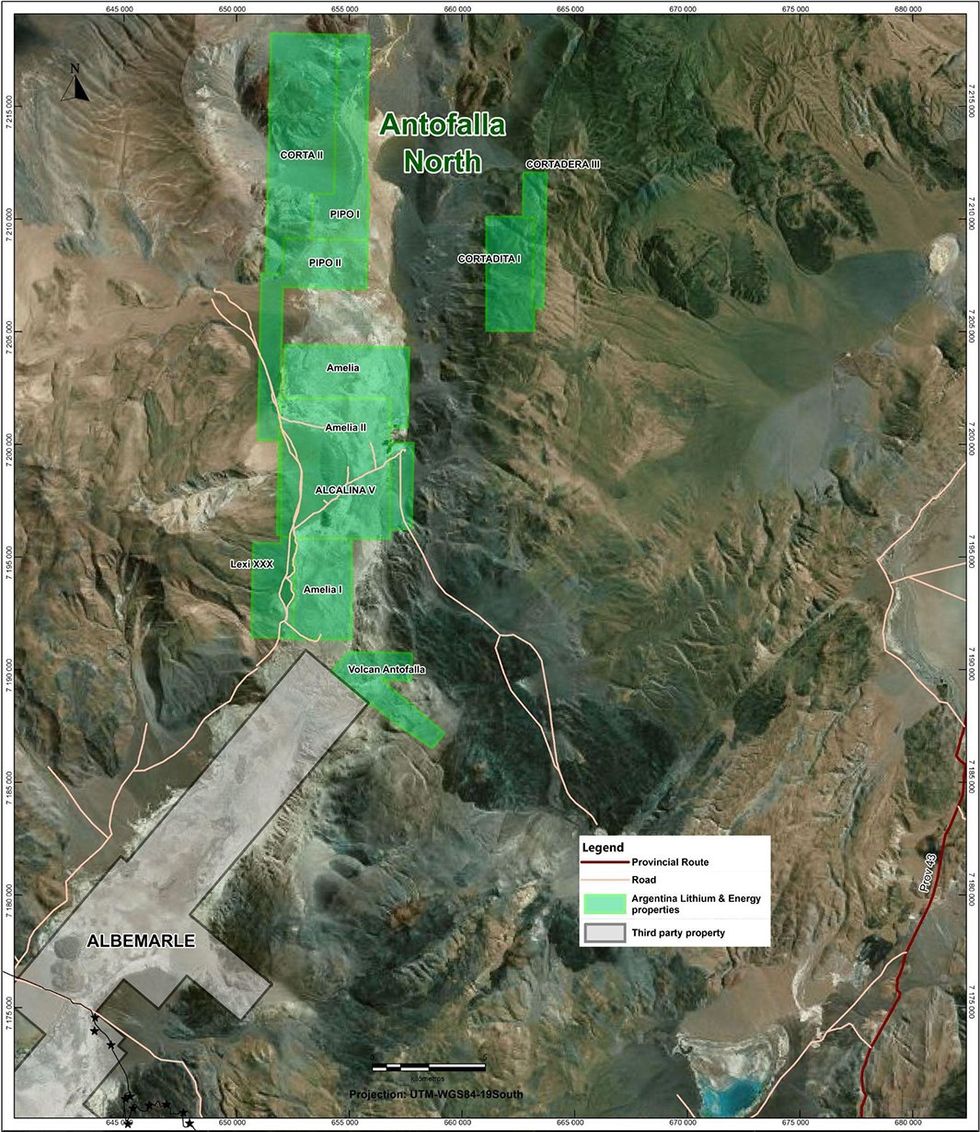 Argentina Lithium's Antofalla North project is the company's second star project and is also considered to be highly prospective. It covers over 10,000 hectares spanning the border of the provinces of Salta and Catamarca, situated less than 20 kilometers from Argentina's largest lithium-producing operations at Salar de Hombre Muerto. The project is accessed via a provincial highway and unpaved roads. Antofalla North is also located just north of Albemarle Corporation's Salar de Antofalla project.
Argentina Lithium has conducted a geophysical survey at the project, which identified high-conductivity targets in the upper 100 meters and additional targets at depths of up to 500 metres. The company is planning an expanded 2024 exploration program, pending permitting, which includes detailed geophysics to delineate the basin and drill targets, the completion of six exploration drill holes and, if warranted, up to 24 infill holes.
Pocitos
Argentina Lithium's Pocitos project controls approximately 20 percent of the Pocitos salar. The project area covers more than 26,000 hectares located in the Salta province, with access to an international railway connecting to Pacific ports, a provincial highway and a major gas pipeline.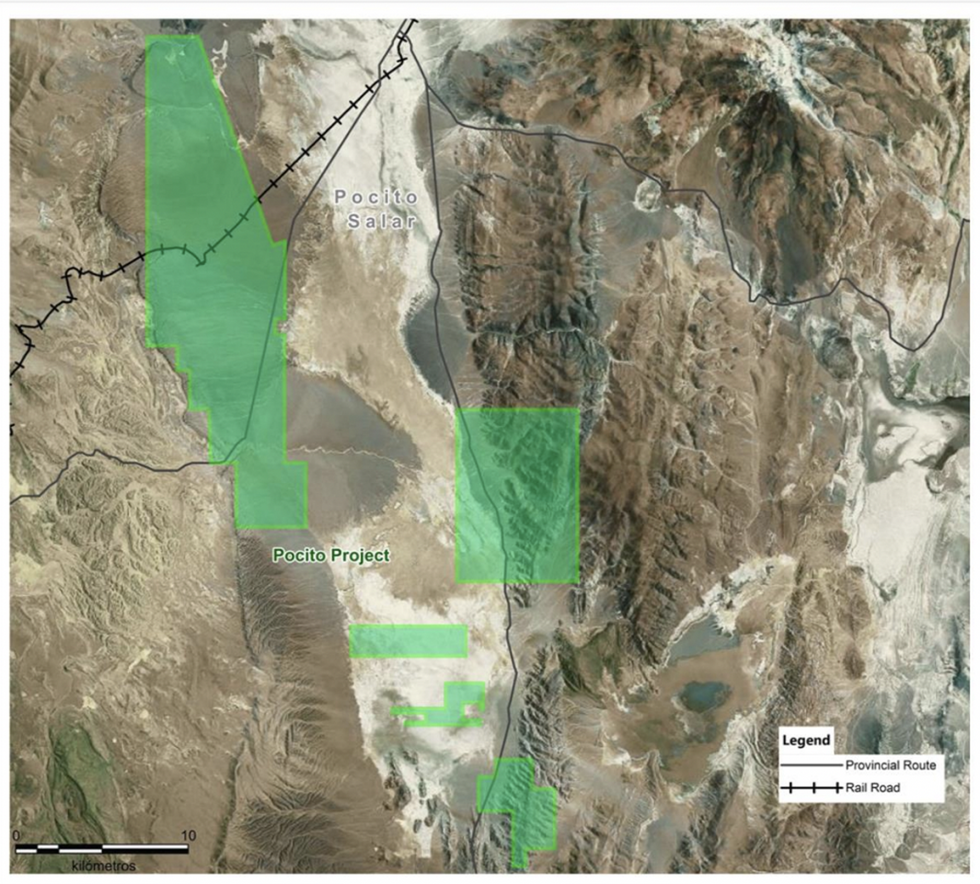 The Pocitos project has had limited historical exploration, including geophysics, surface sampling and limited drilling. As part of its expanded 2024 exploration program, Argentina Lithium initiated a reconnaissance program of 170 line-kilometers of transient electromagnetic surveying on the properties to identify future drill targets. This program at Pocitos is an increase of approximately 40 percent from the previous plans.
Incahuasi
Argentina Lithium's 25,000-hectare Incahuasi project is located in the Incahuasi Salar and basin, north of Lake Resources' (ASX:
LKE
) pre-production Kachi project.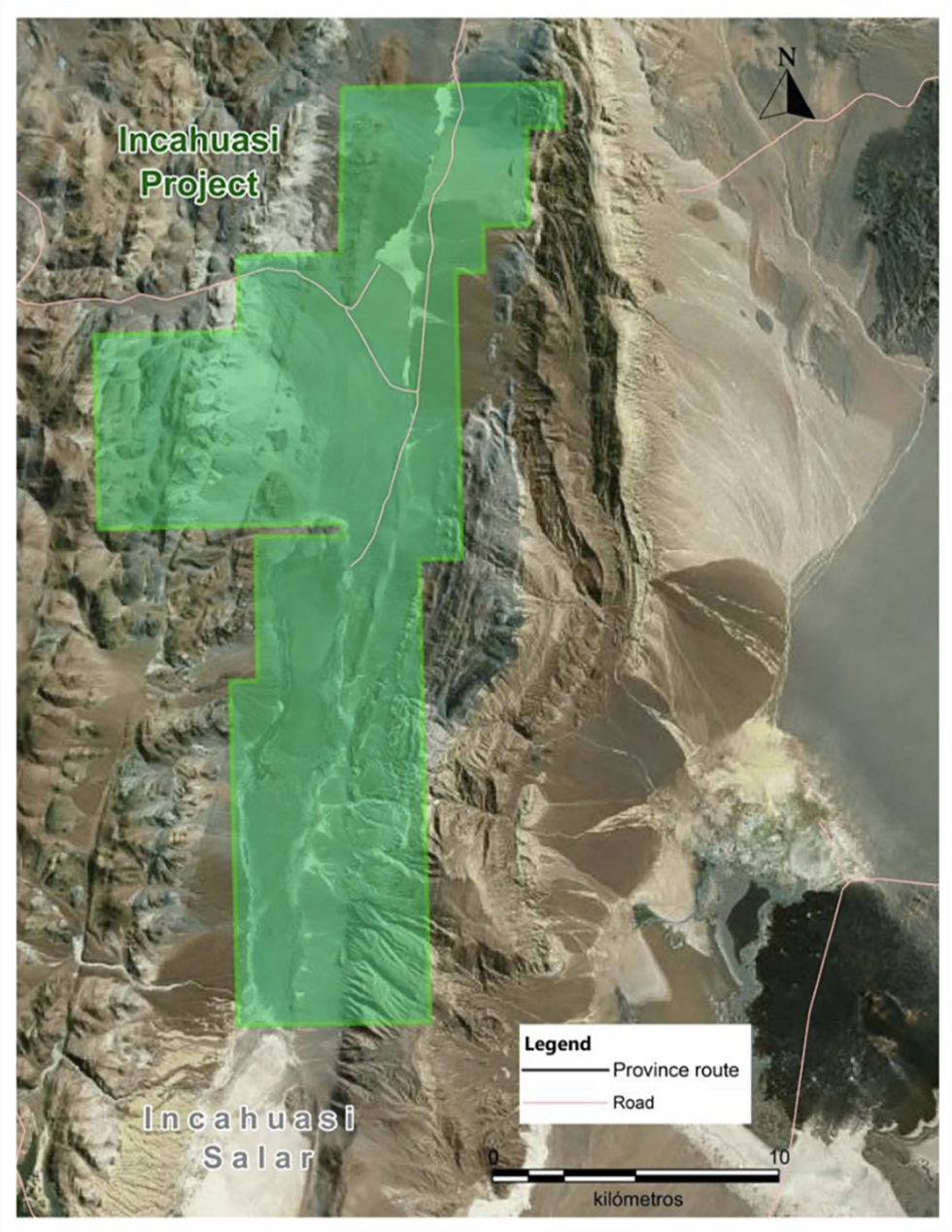 In a 2017 exploration program, Argentina Lithium reported a maximum lithium value of 409 mg/L lithium and 1.56 percent potassium in near-surface sampling to an 8-meter depth. The company also conducted four drill holes which confirmed lithium-bearing brines with average grades of 109 mg/L of lithium and 6,718 mg/L of potassium.
Argentina Lithium believes the project is underexplored and may have the potential to host quality lithium brine at depth. In 2024, the company plans to conduct a 90-kilometer-line transient electromagnetic sounding survey covering the entire property to detect and delineate brine aquifers for testing.
Management Team
Nikolaos Cacos - President, CEO and Director
Nikolaos Cacos has over 30 years of management and advisory expertise in the mineral exploration industry. He has worked with Grosso Group since its inception and serves as a senior-level executive for all of its member companies. Cacos' career includes administration and strategic planning for public companies. He currently serves as an officer and director of several TSX Venture Exchange-listed companies. He holds a master's degree in international management from Heidelberg, Germany, and a Bachelor of Science degree from the University of British Columbia.
Miles Rideout - Vice-president of Exploration
Miles Rideout has 34 years of experience in advanced exploration practice, responsible business management, scientific team building and mining integration with local communities and indigenous peoples. Rideout has directly managed the acquisition and exploration of dozens of lithium properties in northern Argentina. He served as CEO of Latin American Minerals (TSX:LAT) for 5 years, during which he advanced gold and diamond projects in Paraguay. Rideout also spent 23 years with Quantec Geoscience Inc. where he initiated operations in South America and managed subsidiaries in several countries. He has experience in mine permitting, financing, construction and operations, including implementing the first operating mine in Paraguay. He participated in the discovery of several world-class deposits including the Collahuasi and Ujina copper-porphyry deposits, Veladero epithermal gold deposit and Navidad VMS/epithermal silver deposit. Rideout received a Bachelor of Science with Honors Certificate in Geophysics from Western University in 1987. Rideout is fluent in English and Spanish and has lived in Mendoza, Argentina for more than 20 years.
Darren Urquhart - CFO
Darren Urquhart is a chartered professional accountant with twenty years of experience working in public practice and industry. Urquhart operates his public practice accounting firm offering chief financial officer and accounting services to TSX Venture Exchange-listed companies in Vancouver. He has also served as director for some of his corporate clients. Urquhart began his career working as an audit accountant with Grant Thornton LLP, then later worked as a senior tax accountant with Lohn Caulder Chartered Accountants. He obtained his chartered accountant designation in 2001 and is a member of the Chartered Professional Accountants of British Columbia. In 1995, Urquhart graduated from the University of British Columbia with a Bachelor of Applied Science in Electrical Engineering.
Joseph Grosso - Chairman of the Board and Director
Joseph Grosso became one of the early pioneers of the mining sector in Argentina in 1993 when mining was opened to foreign investment. He was named Argentina's 'Mining Man of The Year' in 2005. His knowledge of Argentina was instrumental in attracting a premier team that led to the acquisition of key properties in Golden Arrow's portfolio. He has successfully formed strategic alliances and negotiated with mining industry majors such as Barrick, Teck, Newmont, Viceroy (now Yamana Gold) and Vale SA and government officials at all levels. Grosso's specialty is financing, negotiations, corporate and marketing strategy. He was an early and passionate adopter of best practices in environmental protection and socio-economic development through mineral exploration. He is the founder and president of Grosso Group Management Ltd.
John Gammon - Director
John Gammon has 40 years of experience in mineral exploration and management. His experience includes international positions with Falconbridge, assistant deputy minister mines and minerals with the Government of Ontario and, since his retirement, as ADM as a consultant working with industry, governments and universities. Gammon also spent a significant amount of time on the Aboriginal community and environmental issues. His knowledge of the Spanish language, South American culture and local societies coupled with his industry experience can assist the company with the advancement of its projects in Argentina.
Martin Burian - Director
Martin Burian holds ICD.D (Institute of Corporate Directors) and Chartered Professional Accountant designations. He has a 30-year career in investment banking in the mining sector, is currently Managing Director at RCI Capital Group and held similar senior positions at Haywood Securities, Bolder Investment Partners and Canaccord Capital. Burian is an independent member of several other public company boards where his roles include chairman, lead independent director and audit committee chair, as well as privately-held Heffel Gallery Limited where he is also part-time CFO. Burian's early career was with KPMG where he obtained his CPA and CBV designations.
David Terry – Director
Dr. Terry is a professional economic geologist, senior executive and corporate director with more than 30 years' of international experience in the mineral resources sector. Dr. Terry holds a B.Sc. and Ph.D. in geology from Western University in Ontario and is a member of the Association of Professional Engineers and Geoscientists of British Columbia. Dr. Terry has played key roles in the successful acquisition, exploration and development of a number of precious and base metal deposits, primarily in North and South America, and has expertise in advanced project evaluation, M&A, corporate finance, and design and execution of effective exploration programs. In the course of his career he has held executive positions and directorships with a number of publicly-listed and private mineral resource companies; he currently serves as a director of Blue Sky Uranium Corp., Golden Arrow Resources Corporation, and Aftermath Silver Ltd..
In Summary:
Argentina Lithium is a well-funded exploration company with a global automaker strategic partner, making discoveries in the Lithium Triangle. For exploration results offering leverage to the new battery supply chain, learn more about this company.
1[Argentina Lithium cautions that proximity to a discovery, mineral resource, or mining operation does not indicate that mineralization will occur on the Company's property, and if mineralization does occur, that it will occur in sufficient quantity or grade that would result in an economic extraction scenario.]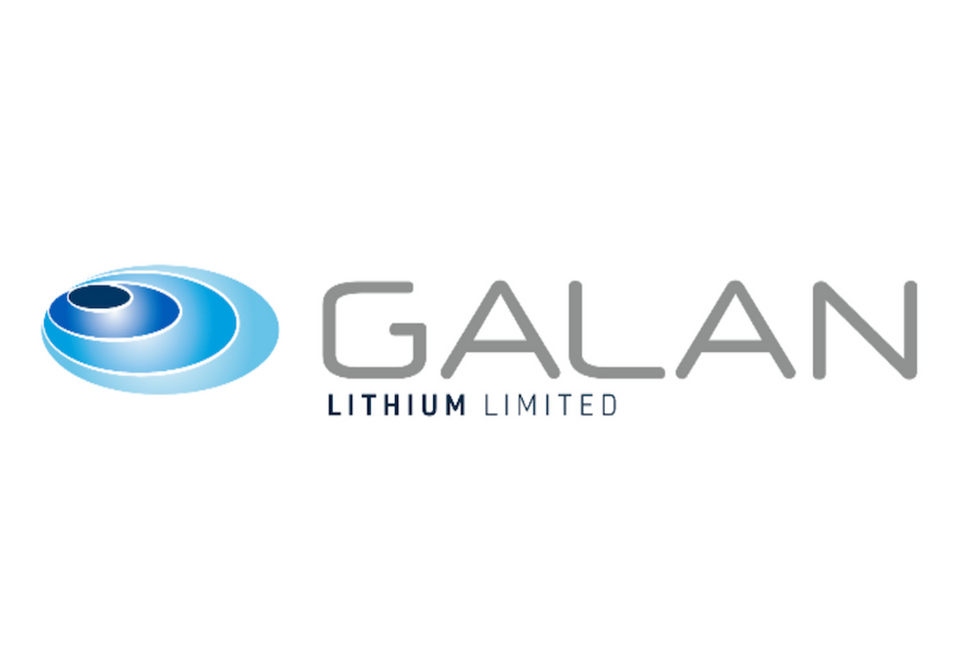 Galan Lithium Limited (ASX: GLN) (Galan or the Company) is pleased to provide an update on the progress of construction activities at the 100% owned Hombre Muerto West (HMW) Phase 1 lithium brine project, with the aim of delivering lithium chloride production in H1, 2025.
Highlights:
Pond 1 construction progressing to schedule; advance rate now at 65% completion
Liners on-site; installation scheduled to commence late December 2023
Fill of pond 1 expected in Q1, 2024; evaporation process to commence this summer
Preparation works for Ponds 2 and 3 underway, including topsoil removal
New camp and infrastructure progressing well with all final modules materially in place
Glencore technical due diligence has commenced
As previously announced, the HMW project was separated into four production phases. The initial Phase 1 DFS focused on the production of 5.4ktpa LCE of a lithium chloride concentrate by H1,2025, as governed by the approved production permits. The Phase 2 DFS targets 21ktpa LCE of a lithium chloride concentrate in 2026, followed by Phase 3 production of 40ktpa LCE by 2028 and finally a Phase 4 production target of 60ktpa LCE by 2030. Phase 4 will include lithium brine being sourced from HMW and Galan's other 100% owned project in Argentina, Candelas.
Galan's Managing Director, Juan Pablo (JP) Vargas de la Vega, commented:
"I arrived on site this week and am very pleased with the significant progress being made on site and most impressed with the dedicated personnel we have in place. Galan has assembled a cohesive team of highly competent people, with the necessary specialist experience and knowledge to build the ponds and infrastructure required to successfully deliver the first production phase of the HMW project. Pond 1 construction works have been progressing well and in accordance with expectations. We are sharply focused on our objective to commence brine evaporation this summer. We also remain enthusiastic and confident about development of Phase 1 HMW and achieving first production H1, 2025."
Below are a selection of recent photos evidencing the progress being made on site.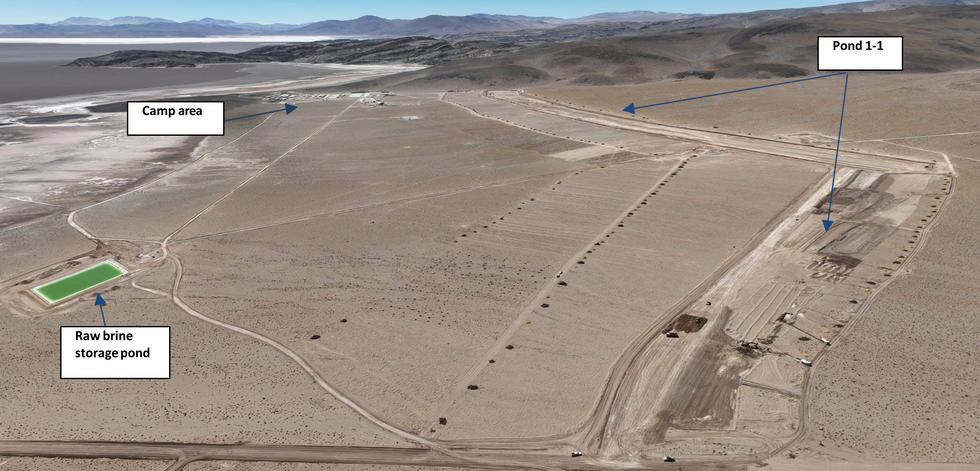 Figure 1: Pond 1 construction progress and Ponds 2 & 3 preparation works underway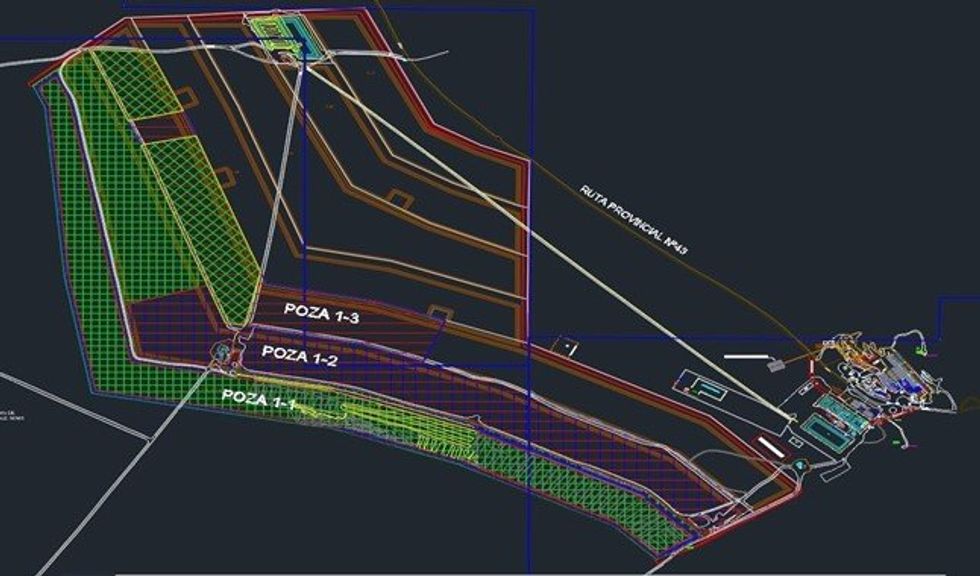 Figure 2: Pond design and location
Click here for the full ASX Release

This article includes content from Galan Lithium, licensed for the purpose of publishing on Investing News Australia. This article does not constitute financial product advice. It is your responsibility to perform proper due diligence before acting upon any information provided here. Please refer to our full disclaimer here.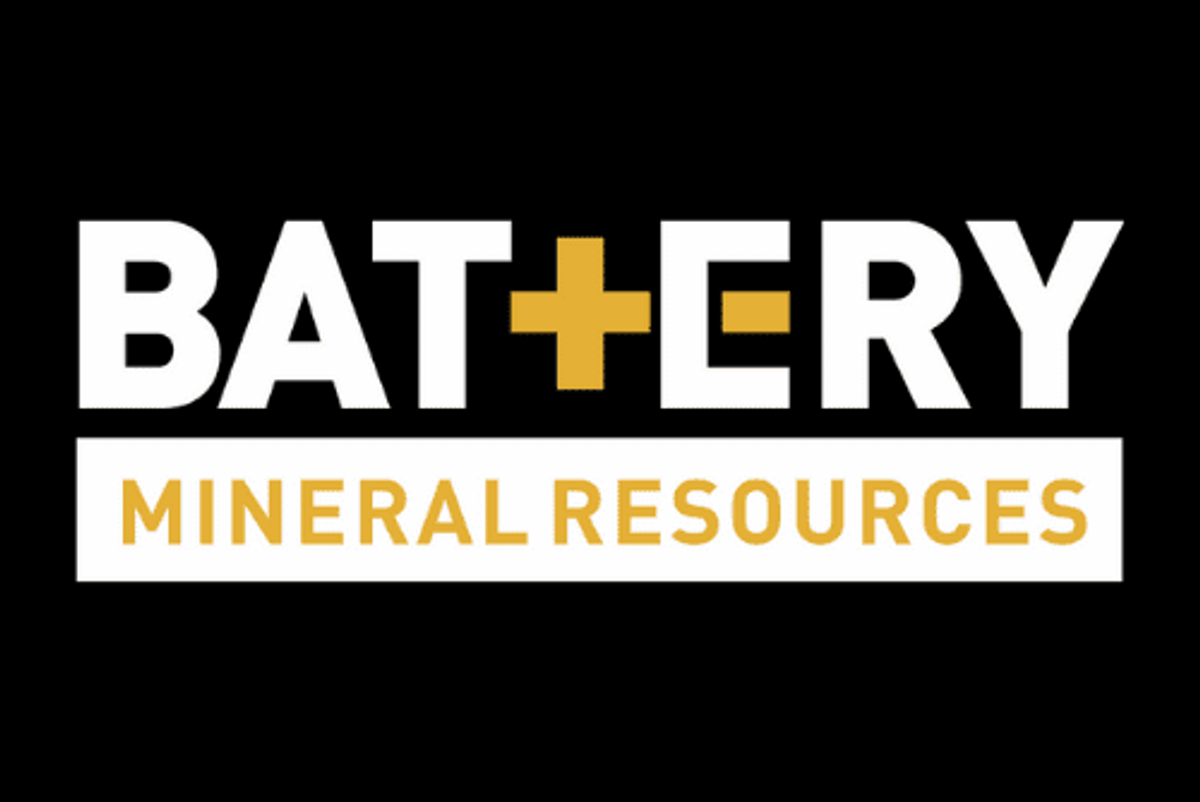 Battery Mineral Resources Corp. (TSXV: BMR) (OTCQB: BTRMF) ("Battery" or "BMR" or the "Company") is very pleased to provide an operational, permit and community relations update.
The Punitaqui copper mining complex ("Punitaqui") includes the copper concentrator or "plant", tailings storage facility, electrical, instrumentation and mechanical maintenance facilities, administration offices, assay laboratories, cafeterias, copper concentrate storage and loadout facilities, and the Cinabrio, San Andres and Dalmacia mines and includes the soon-to-be established Cinabrio Norte mine (see Figures 1 and 2).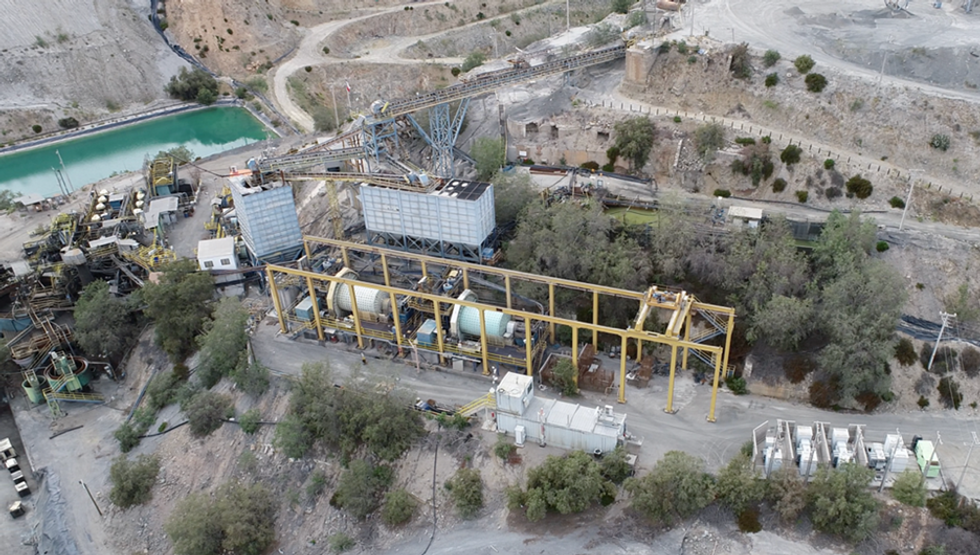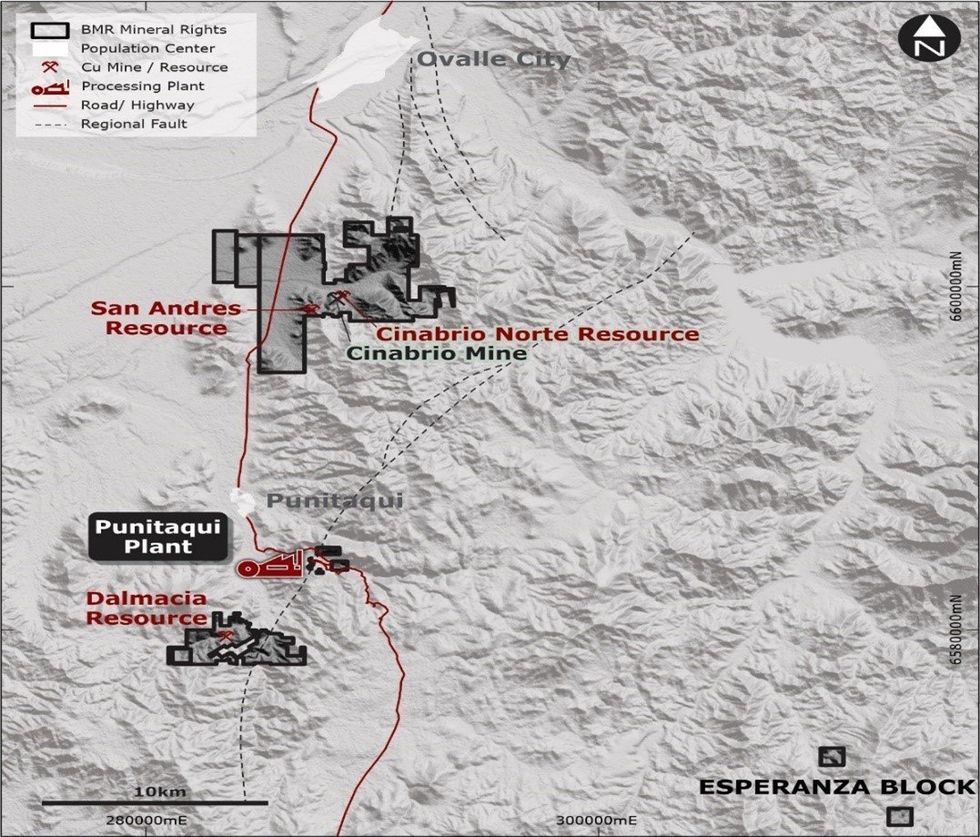 Operational Readiness
The Company is pleased to report that personnel hiring for the resumption of full operations at Punitaqui is on schedule. Furthermore, final mine maintenance at the San Andres mine including rehabilitation of ground support, re-activation of compressed air, ventilation, power, and water in preparation for resumption of full mining operations, commenced in late November. A contract for the final stages of Punitaqui plant maintenance and rehabilitation has been executed and activities commenced December 4th with the aim of full operational commissioning of the plant in March and plant start-up in April of 2024.
Environmental and Operational Permitting
Permits have been granted allowing for thickened tailings deposition into the tailing's storage facility of up to 1,500,000 tonnes - representing approximately 20 months of mine and plant operations during the first phase of operations at Punitaqui.
The company expects to receive a permit for "dry stack" or filtered tailings deposition in late 2024. Filtered tailings deposition has many benefits over thickened tailings deposition including much lower water consumption in plant operations and far greater capacity for tailings storage over the same physical footprint. Construction and commissioning of the tailings filter plant will take nine months and thereafter, filtered tailings are to be deposited. Deposition of filtered tailings will allow for an additional eight-plus years of tailings storage at our permitted mining rate. This will be accomplished over nearly the same footprint the current tailings storage facility occupies.
A permit for the San Andres mine has been granted which allows for BMR to commence drifting, ramp construction and mine development on two different elevation levels and allows for establishment of new underground exploration drilling platforms. This mine development will establish access to new zones of copper mineralization for the forthcoming mine production. Other activities at the San Andres mine include final achievement of equipment, supplies and personnel arrangements.
VAT Recovery Extension Approval
As in many developed countries, Chile has a Value Added Tax ("VAT") on goods and services. Following BMR's acquisition of the Punitaqui Mining Complex, it filed an application with, and received approval from, the Chilean Ministry of Economy, Development and Tourism (the "Ministry of Economy") to participate in a VAT-recovery program set in place by the Chilean government to incentivize Chilean exports (the "VAT Program"). The VAT Program allows BMR to recover the VAT paid on goods and services purchase, once it submits verified documentation, in advance of achieving agreed-upon amounts of to-be-exported mineral concentrates. This VAT-recovery program provides BMR with a source of cash that it reinvests in its assets in Chile. On November 29, 2023, the Ministry of Economy issued a resolution to extend the VAT-recovery program for BMR until December 2025, which is a welcomed positive result. The new cap for total VAT recovery for the Company is US$7.0 million. As of today, Minera BMR has recovered a total of US$3.1 million in VAT recovery since it began to operate in Chile, with the remaining US$3.9 million expected to be recovered prior to December 2025. The remaining US$3.9 million allowed to be recovered by BMR will more than suffice until such time that the Punitaqui Mining Complex begins to generate revenue and cash flow from operations.
Community Activities
As previously disclosed, an agreement that will grant BMR surface rights for exploration of "blue sky" areas on BMR mineral claims has been signed with the local community of Potrerillos. BMR geologists have since defined the drill target locations within the "blue sky" areas. The company's next step, expected in the next few weeks, is to formalize easement agreements with the Potrerillos community. Conversations with members of the community of Punitaqui to establish easement agreements for the Dalmacia mine road are well advanced.
BMR's social and community relations consultant, Integratio Mediação Social e Sustentabilidade ("Integratio") has completed the community relationship policies and consultation manuals that will support and guide the Company's social engagement strategy for the future. The Company is currently proactively engaging with both of our local communities of Potrerillos and Punitaqui as well as the local and regional authorities on the status of the project in terms of social impact and employment opportunities.
Additionally, the Ministry of Public Workings (MOP) is currently enhancing part of the existing road that connects the Punitaqui Plant to the Dalmacia mine, and Battery has reached an agreement to contribute to the widening of the road and an increase of the asphaltic pavement to support trucking of ore from Dalmacia to the Punitaqui Plant. MOP field work for this began early November and is expected to be completed in Q1 2024.
The Company is also proud to update its activities with the regional association of mining companies, CORMINCO. In the past three months BMR has participated in several meetings organized by CORMINCO, with regional authorities which have included one of the senators of the region as well as the presidential delegate of the Limari Province. These meetings have been extremely useful as an introduction to local mining suppliers and contractors and has aided in accelerating our overall permitting process. BMR has also been participating in meetings with the Chilean national miner's association, SONAMI, and have enjoyed their support and begun participating in their specialized committees.
The Company looks forward to providing additional updates to the market in the coming weeks as we move Punitaqui back into sustainable, profitable production for all stakeholders.
About Battery Mineral Resources Corp.
Battery Mineral Resources is a battery minerals company providing shareholders exposure to the global mega-trend of electrification while being focused on growth through cash-flow, exploration, and acquisitions in favourable mining jurisdictions. Battery Mineral's mission is the discovery, acquisition, and development of battery metals (namely cobalt, lithium, graphite, and copper), in North America, South America and South Korea and to become a premier and responsible supplier of battery minerals to the electrification marketplace. BMR is currently pursuing a near-term resumption of operations of the Punitaqui Mining Complex, a past copper-gold-silver producer, in the Coquimbo region of Chile. BMR is the largest mineral claim holder in the historic Gowganda Cobalt-Silver Camp in Ontario, Canada, and continues to pursue a focused program to build on the recently announced, +1-million-pound high-grade cobalt resource at McAra. In addition, Battery Mineral owns 100% of ESI Energy Services, Inc. (including ESI's wholly owned USA operating subsidiary, Ozzie's, Inc.), a profitable mainline pipeline and renewable energy equipment rental and sales company with operations in Alberta, Canada and Arizona, USA. Battery Mineral Resources is based in Canada and its shares are listed on the Toronto Venture Exchange under the symbol "BMR" and on the OTCQB under the symbol "BTRMF". Further information about BMR and its projects can be found on www.bmrcorp.com.
Neither the TSXV nor its Regulation Services Provider (as that term is defined in the policies of the TSXV) accepts responsibility for the adequacy or accuracy of this press release.
Forward Looking Statements
This news release includes certain "forward-looking statements" under applicable Canadian securities legislation. There can be no assurance that such statements will prove to be accurate, and actual results and future events could differ materially from those anticipated in such statements. Forward-looking statements reflect the beliefs, opinions and projections of the Company on the date the statements are made and are based upon a number of assumptions and estimates that, while considered reasonable by the Company, are inherently subject to significant business, economic, competitive, political and social uncertainties and contingencies. Many factors, both known and unknown, could cause actual results, performance, or achievements to be materially different from the results, performance or achievements that are or may be expressed or implied by such forward-looking statements and the parties have made assumptions and estimates based on or related to many of these factors. Such factors include, without limitation, the ability of the Company to obtain sufficient financing to complete exploration and development activities, risks related to share price and market conditions, the inherent risks involved in the mining, exploration and development of mineral properties, the ability of the Company to meet its anticipated development schedule, government regulation and fluctuating metal prices. Accordingly, readers should not place undue reliance on forward-looking statements. Battery undertakes no obligation to update publicly or otherwise revise any forward-looking statements contained herein, whether as a result of new information or future events or otherwise, except as may be required by law.
Contact Details
Battery Mineral Resources Corp.
Martin Kostuik, CEO
+1 604-229-3830
Corporate Communications, IBN (InvestorBrandNetwork)
+1 310-299-1717
editor@investorbrandnetwork.com
Company Website
Click here to connect with Battery Mineral Resources Corp. (TSXV: BMR) (OTCQB: BTRMF) to receive an Investor Presentation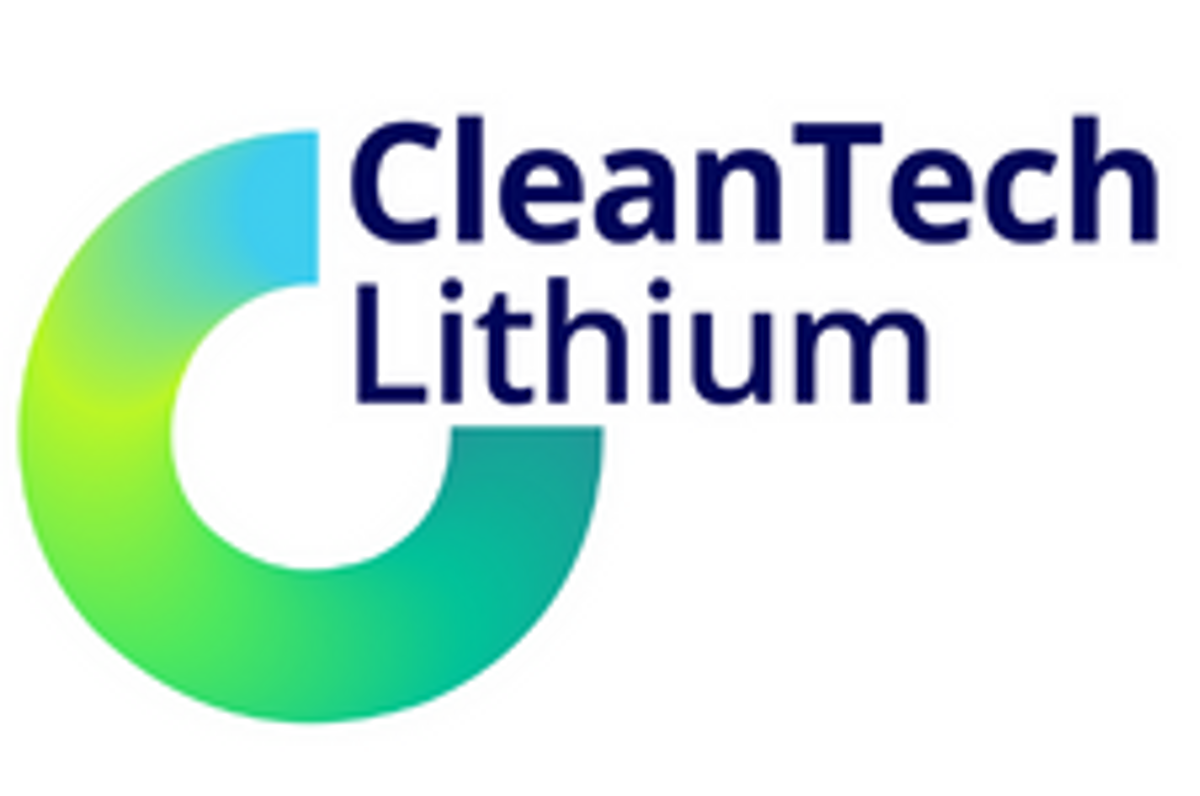 CleanTech Lithium PLC (AIM:CTL, Frankfurt:T2N, OTCQX:CTLHF), an exploration and development company advancing sustainable lithium projects in Chile for the clean energy transition, is pleased to announce that further to its announcements of 21 and 22 November 2023 in relation to the Placing, CTL is today posting a circular to Shareholders, setting out details of the Placing and the Open Offer and including a notice of General Meeting ("GM") (the "Circular").
As announced on 22 November 2023, CleanTech Lithium has conditionally raised £8 million (before expenses) by way of a placing of 36,363,638 New Ordinary Shares at a price of 22 pence per Placing Share. Approximately £3.1 million has been raised pursuant to the Firm Placing with the balance being raised under the Conditional Placing, conditional upon Shareholders approving the Resolutions at the GM, notice of which is set out at the end of the Circular.
The Placing Shares carry a warrant entitlement of one Warrant for every two Placing Shares and the grant of the Warrants attaching to the Conditional Placing Shares is also subject to Shareholder approval of the relevant Resolution. A Warrant grants the holder the right to subscribe for one new Ordinary Share at 33 pence and is exercisable during the period commencing on the date of grant and ending on 14 December 2026.
Capitalised terms used but not defined in this announcement shall have the meaning given to them in the announcement published by the Company on 21 November 2023 in connection with the Fundraising.
Details of the Open Offer
The Company considers it important that Qualifying Shareholders have an opportunity (where it is practicable for them to do so) to participate in the Fundraising and accordingly the Company is making the Open Offer to Qualifying Shareholders. The Company is proposing to raise up to approximately £0.5 million (before expenses) through the issue of up to 2,365,188 Open Offer Shares. The Open Offer is conditional upon, inter alia, the passing of the Resolutions at the GM.
The Open Offer Shares are available to Qualifying Shareholders pursuant to the Open Offer at the Issue Price of 22 pence per share, being the same price per share as the Placing. Open Offer Shares carry a warrant entitlement of one Warrant for every two Open Offer Shares, again on the same terms as the Placing.
A Warrant grants the holder the right to subscribe for one new Ordinary Share at 33 pence and is exercisable during the period commencing on the date of grant and ending on 14 December 2026.
Open Offer Shares applied for pursuant to the Open Offer are payable in full on acceptance. Any Open Offer Shares not subscribed for by Qualifying Shareholders will be available to Qualifying Shareholders under the Excess Application Facility. Qualifying Shareholders may apply for Open Offer Shares under the Open Offer at the Issue Price on the following basis:
1 Open Offer Share for every 45 Existing Ordinary Shares held by the Qualifying Shareholder on the Record Date
Entitlements of Qualifying Shareholders will be rounded down to the nearest whole number of Open Offer Shares. The Entitlements of Qualifying Shareholders to Warrants will be rounded down to the nearest whole number of Warrants. Fractional entitlements which would otherwise arise will not be issued to the Qualifying Shareholders but will be made available under the Excess Application Facility. The Excess Application Facility enables Qualifying Shareholders to apply for Excess Open Offer Shares in excess of their Open Offer Entitlement. Not all Shareholders will be Qualifying Shareholders. Shareholders who are located in, or are citizens of, or have a registered office in certain overseas jurisdictions will not qualify to participate in the Open Offer. The attention of Overseas Shareholders is drawn to paragraph 6 of Part III of the Circular.
Valid applications by Qualifying Shareholders will be satisfied in full up to their Open Offer Entitlements as shown on the Application Form. Applicants can apply for less or more than their entitlements under the Open Offer but the Company cannot guarantee that any application for Excess Open Offer Shares under the Excess Application Facility will be satisfied as this will depend in part on the extent to which other Qualifying Shareholders apply for less than or more than their own Open Offer Entitlements. The Company may satisfy valid applications for Excess Open Offer Shares of applicants in whole or in part but reserves the right not to satisfy any excess above any Open Offer Entitlement. Applications made under the Excess Application Facility will be scaled back pro rata to the number of shares applied for if applications are received from Qualifying Shareholders for more than the available number of Excess Open Offer Shares.
Application has been made for the Open Offer Entitlements to be admitted to CREST. It is expected that such Open Offer Entitlements will be credited to CREST on 24 November 2023. The Open Offer Entitlements will be enabled for settlement in CREST until 11.00 a.m. on 13 December 2023. Applications through the CREST system may only be made by the Qualifying CREST Shareholder originally entitled or by a person entitled by virtue of bona fidemarket claims. The Open Offer Shares must be paid in full on application. The latest time and date for receipt of completed Application Forms or CREST applications and payment in respect of the Open Offer is 11.00 a.m. on 13 December 2023. The Open Offer is not being made to certain Overseas Shareholders, as set out in paragraph 6 of Part III of the Circular.
Qualifying Shareholders should note that the Open Offer is not a rights issue and therefore Open Offer Entitlements may not be traded and the Open Offer Shares which are not applied for by Qualifying Shareholders will not be sold in the market for the benefit of the Qualifying Shareholders who do not apply under the Open Offer. The Application Form is not a document of title and cannot be traded or otherwise transferred.
Further details of the Open Offer and the terms and conditions on which it is being made, including the procedure for application and payment, are contained in Part III of the Circular and on the accompanying Application Form.
The Open Offer is conditional on, inter alia, Shareholders approving the Resolutions at the General Meeting and the Placing becoming or being declared unconditional in all respects. Accordingly, if these conditions are not satisfied or waived (where capable of waiver), the Open Offer will not proceed, and the Open Offer Shares will not be issued, and all monies received by the Registrars will be returned to the applicants (at the applicant's risk and without interest) as soon as possible thereafter. Any Open Offer Entitlements admitted to CREST will thereafter be disabled.
Click here for the full Press Release

This article includes content from CleanTech Lithium, licensed for the purpose of publishing on Investing News Australia. This article does not constitute financial product advice. It is your responsibility to perform proper due diligence before acting upon any information provided here. Please refer to our full disclaimer here.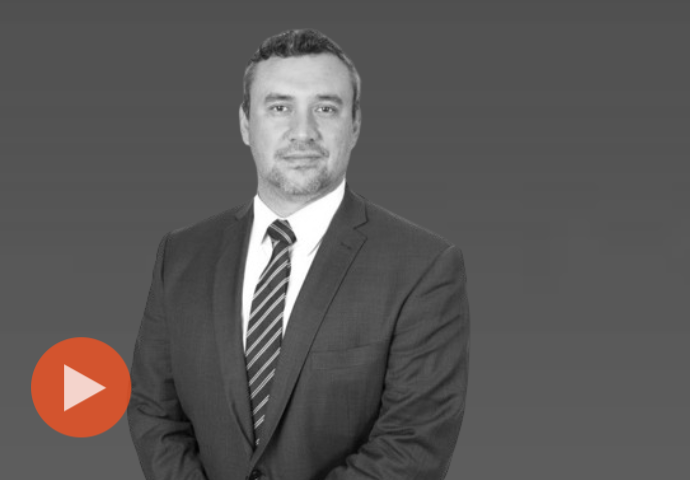 Following its recent financing agreement with mining giant Glencore (LSE:GLEN,OTC Pink:GLCNF), Galan Lithium (ASX:GLN,FWB:9CH) is now fully funded to complete construction of its Hombre Muerto West (HMW) project in Argentina and become the next lithium producer in the Lithium Triangle, according to Managing Director Juan Pablo Vargas de la Vega.
"To date, Galan (has) directly invested more than $20 million (in HMW), and the investment or financing solution from Glencore will allow us to pretty much complete the project," de la Vega said.
"More importantly, this cements Galan's strategy to produce lithium chloride concentrate. Everyone else in the Lithium Triangle is producing or going to be producing lithium carbonate. So the fact that Glencore has partnered with us to buy the chloride concentrate … shows that the lithium chloride concentrate strategy is a valid one."
Galan's five year offtake agreement with Glencore allows Galan to sell its technical-grade lithium chloride product from the HMW project to Glencore without having to secure an export license for its lithium chloride. Glencore will toll treat the lithium chloride into lithium carbonate for sale and export from Argentina.
De la Vega added that this important milestone also firms up the company's plans for Phase 2 production at HMW. "We can now look into larger production from 5,000 tonnes to up to 21,000 tonnes per year … that we believe we can also place within the Argentine market as a feedstock of lithium carbonate plants within Argentina," he said, noting that projections indicate there will be 10 new lithium carbonate processing plants in the country by 2026.
Watch the full interview with Galan Lithium Managing Director Juan Pablo Vargas de la Vaga above.
Investing News Network websites or approved third-party tools use cookies. Please refer to the cookie policy for collected data, privacy and GDPR compliance. By continuing to browse the site, you agree to our use of cookies.