Overview
Gold is a worthy addition to your portfolio, whether through commodities or stock in mining companies. The price of gold is projected to reach US$2,500 by 2026, and mining companies are poised for both short and long-term profits as it steadily increases. Therefore, miners need to choose assets with significant deposits to capitalize on the metal's growing value.
Archaean greenstone belts are famous geological formations known for
hosting vast gold deposits
alongside other sought-after metals like silver, zinc, iron, ccopper and other base metals. The largest archaean greenstone belt is the
Abitibi Greenstone Belt
in Ontario, Canada. Several mining companies have significant assets along the Abitibi Belt, such as Agnico Eagle Mines (
NYSE:AEM
), Newmont (
NYSE:NEM
) and Osisko Mining (
TSX:OSK
). Since 1901 the Abitibi Belt has produced over
200 million ounces of gold
, silver, copper and zinc. As a result, the Abitibi Greenstone Belt has helped Ontario become the 2nd best in Canada and
one of the top mining jurisdictions
in the world.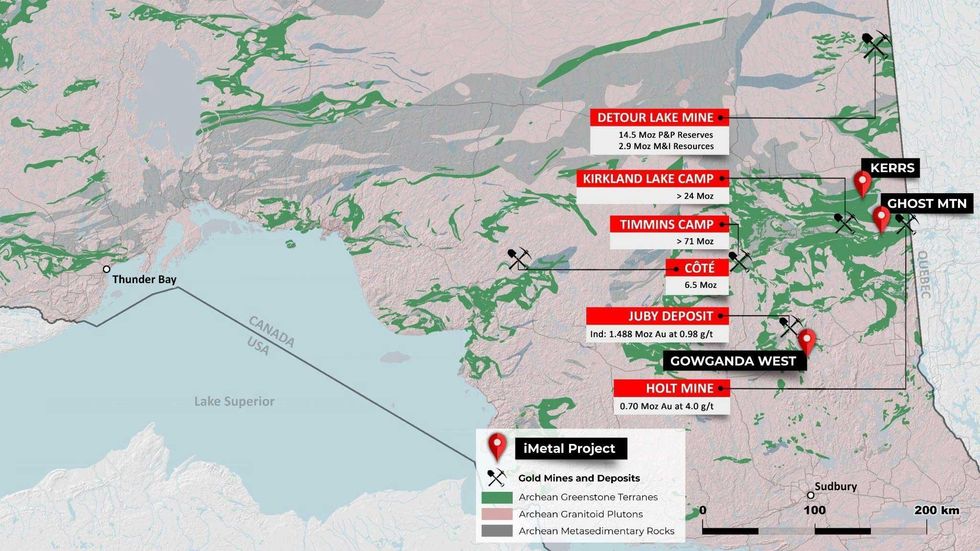 Metal Resources (TSXV:IMR) has four 100% owned assets located in the Abitibi Greenstone Belt. These assets are at varying stages in the mining life cycle: exploration, discovery (KGD - 2011 43-101 resource) and development.
iMetal recently underwent a restructuring in response to investor demand under the stewardship of Saf Dhillon, the company's President & CEO. iMetal has also just completed an oversubscribed C$3 million financing round with Sprott Asset Management as a significant investor, alongside other accredited and high net-worth investors.
One of the company's flagship projects is Gowganda West, a gold focused project , located west of the town Gowganda and southwest of Kirkland Lake, a region known for its gold deposits. Geological data indicates similarities between the project and the adjcent prolific mining camps of Kirkland Lake, Timmins and Val D'or. Gowganda West shares multiple borders with the Juby Deposit. This 2.2 million ounce deposit is owned by Aris Gold (TSX:ARIS), and it sits less than 300 meters from the shared border with Gowganda West.
iMetal plans to continue additional exploration and development work throughout Gowganda West, towards confirming high priority targets in its efforts towards commencing a drill program that could lead to the next potential gold discovery in the Abitibi.
The gold zones that include the Juby deposit, tend to occur along and within the Tyrell Shear Zone that trends south-easterly and appears to strike onto iMetal's property.
An experienced management team leads iMetal towards its goals. Saf Dhillon, President and CEO, has successfully financed and assisted the development of several TSXV and CSE -listed natural resource companies for approximately 20 years. R. Tim Henneberry, professional Geologist, has 40 years of experience in domestic and international exploration and production of precious and base metals. Christopher Hill, Investor Relations Manager, brings over a decade of experience in capital markets, advising and consulting private companies that wish to go public.
Company Highlights
iMetal Resources is a Canadian exploration and development company focusing on gold assets throughout the prolific Abitibi Greenstone Belt in Ontario.
The company recently underwent a restructuring and financing round that raised C$3 million to advance the company's goals through its four projects.
iMetal's asset portfolio contains four projects at different vital stages of exploration, discovery (KGD – 2011 43-101 resource) and development.
Gowganda West, one of the company's flagship projects, is currently undergoing additional developmental work to identify high priority targets.
An experienced management team leads the company with diverse backgrounds ranging from natural resources to corporate financing.
Key Projects
Gowganda West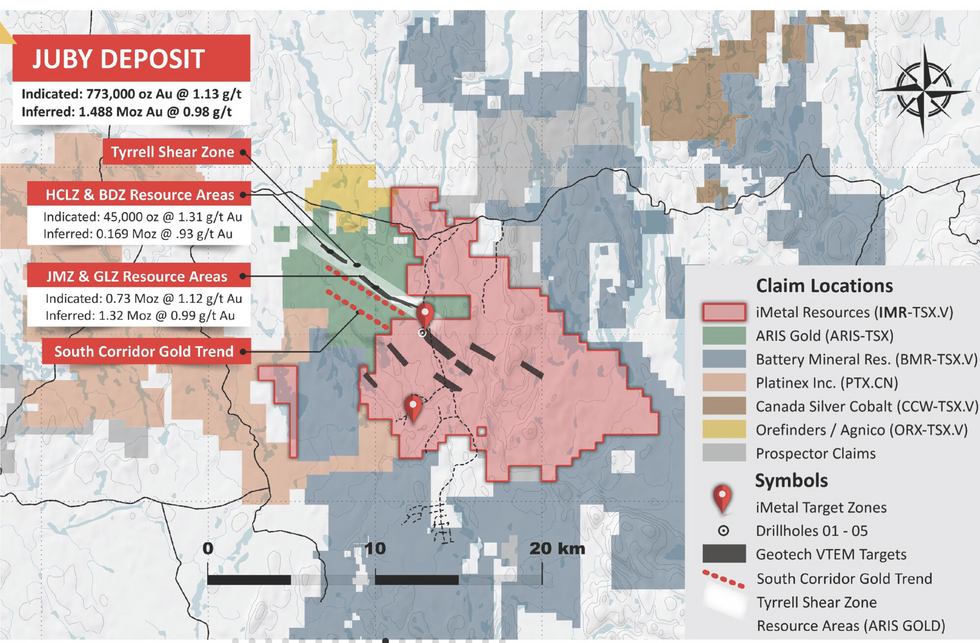 The Gowganda West gold project is located 17 kilometers southwest of the Ontario town of Gowganda and 90 km southwest of Kirkland Lake. The project is also a few hundred kilometers south of Aris Gold Corporation's (TSX: ARIS) Juby gold deposit. The Gowganda West gold project is undergoing extensive technical data review by management alongside independent technical consultants.
Project Highlights:
Encouraging Exploration Results: iMetal conducted a five-hole drill program in 2019 that yielded encouraging results, including:

IMGW 19-01, 29.4 meters at 0.37 g/t gold from 191 meters to 220.4 meters, including 142 meters at 4.77 g/t gold from 143.5 meters to 1.5 meters
IMGW 19-02, 0.3 meters at 4.6 g/t gold from 119.3 meters to 119.6 meters
IMGW 19-03, 0.9 meters at 1.55 g/t gold from 219 meters to 219.9 meters
IMGW 19-04, 30.2 meters at 0.32 g/t gold from 165.4 meters to 195.6 meters, including 19.5 meters at 0.41 g/t gold from 202 meters to 221.5 meters
IMGW 19-05, 1 meter at 6.13 g/t gold from 103 meters to 104 meters

Community Support: iMetal Resources has all necessary permits in place or pending approval.
Determining the Next Exploration Targets: iMetal presently prioritizes drill targets for upcoming drill and airborne VTEM exploration programs.
Kerrs Gold Deposit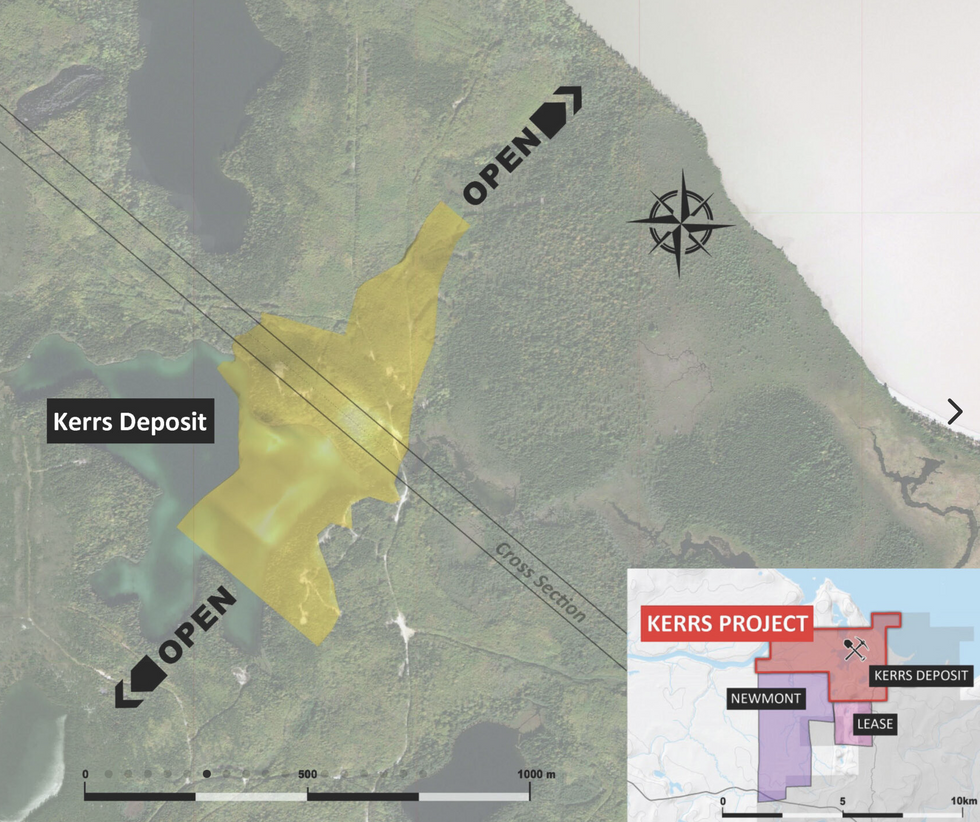 The recently acquired Kerrs Gold Project covers 665 hectares and is entirely road accessible. The asset is located 90 kilometers away from Timmins. The asset is contiguous to the west and south of Newmont Mining.
The Kerrs Gold Deposit is comprised of a series of gold-bearing pyritized quartz vein replacement breccias enveloped by quartz fuchsite carbonate vein breccias averaging 10 metres in thickness. The deposit hosts a historical resource estimate of 7,041,460 tonnes grading 1.71 g/t gold yielding 386,467 ounces at a 0.5 g/t gold cut-off. Drilling subsequent to the historic estimate appears to have extended the mineralized zone along strike and down dip.
"The Kerrs Gold Deposit is the perfect complement to Gowganda West, giving iMetal multiple highly prospective projects in the prolific producing Abitibi Greenstone Gold Belt. The Company's focus will be on finalizing a sufficient diamond drilling program to both bring the Kerrs 386,467 ounce historic resource current and build upon it," commented iMetal President & CEO, Saf Dhillon.
The Kerrs gold historical resources estimate was disclosed in "NI 43-101 Resource Estimation on the Kerrs Gold Deposit, Matheson, Ontario" prepared for Sheltered Oak Resources Inc. by Garth Kirkham, P. Geo of Kirkham Geosystems Ltd., and dated June 10, 2011. The Company considers the resource estimate relevant as it will drive further exploration by the Company and reliable, as it was completed by a competent Qualified Person to the standards of the day. The resource estimation methods and parameters were as follows:
Forty-one drill holes were utilized to interpolate the KBX Zone.
Composite length of 2 m was chosen and composites were weighted by length.
Sectional interpretations were wire-framed to create 3-D solids of the zones.
Zones were coded to the composites, and the block model, to constrain the modeling process.
Composites for the mineralized zone were used to interpolate into the blocks for each zone.
Ordinary kriging was used as the interpolator.
Relative elevation modeling was used to guide the ellipse orientation that accounts for the variation in dip due to the synclinal structure.
A minimum of two composites were used for each block and a maximum of two composites were used per drill hole; a maximum of 12 composites were used per hole.
A cutting factor was applied for gold with outlier composites limited to 10 g/t Au based on cumulative frequency plots. A zero cut-off grade was used for the manual polygonal method.
Minesight™ Software was used to perform the block modeling and estimations
The Kerrs historic estimate is an inferred resource as defined in National Instrument 43-101. The company is not aware of any more recent resource estimates, though there was further drilling completed after the historic estimate was released. The company will need to review the historical drilling and analyses and will need to twin a number of the historic holes to bring the historic estimate current. The company's qualified person has not done sufficient work to classify the historic estimate as a current mineral resource.
iMetal is not treating the historical estimate as a current mineral resource.
Project Highlights:
Encouraging Historical Results: A 2011 resource estimate indicated 7,041,460 tonnes at 1.71 g/t gold. However, despite these promising results, the property has been idle since 2012 until it was acquired by iMetal.
Gold-Bearing Geology: The asset contains a gold-bearing pyritic quartz zone averaging 10 meters in thickness and 800 meters long.
Significant Drill Intersections: Previous drill assays highlights include 4.02 g/t gold from 273 meters and 3.84 g/t gold from 425 meters.
Ghost Mountain
The Ghost Mountain project covers 11 square kilometers in Kirkland Lake proximal to the productive Destor-Porcupine Fault within the Abitibi Belt. Gold was first discovered in the area in 1901 and has since proven itself as one of the most prolific gold mining districts in North America. The project is currently in the pre-discovery phase.
Project Highlights:
Shares Borders with Producing Gold Mines: The Ghost Mountain property shares a border on three sides with Agnico Eagle Mines Ltd, formerly, Kirkland Lake Gold (TSX: KL)
Significant Gold Production: Projects in and around Kirkland Lake have produced 70 million ounces of gold.
In the Pre-Discovery Phase: The Ghost Mountain project is currently under evaluation to discover its potential gold deposits, which will inform its upcoming exploration program.
Directors & Management Team
Saf Dhillon - President and Chief Executive Officer
Mr. Dhillon has been involved in the development of companies primarily listed on the TSX Venture Exchange for about 20 years. He has held a variety of positions including investor relations, business development, senior management as well as board directorships.
He was part of the management team that orchestrated the growth of the Idaho based company, U.S. Geothermal Inc. During his 12-year tenure the team grew from being an approximate USD$2 million startup to becoming a successful USD$300 million Renewable Energy Independent Power Producer with 3 new power plants operating in the Pacific Northwest and it also successfully transitioned onto both the TSX as well as the NYSE MKT.
Saf is also a Founding Director of Torrent Gold Inc. (CSE: TGLD) that had its successful IPO in 2020; is President & CEO of iMetals Resources Inc. (TSXV: IMR); is a Board Member of Lake Winn Resources Corp. (TSXV: LWR), as well as providing his skills and knowledge to several other private and public companies. Saf's involvement in the development of the various companies over the years has enabled him to build an extensive worldwide list of contacts.
R. Timothy Henneberry - Director
Timothy Henneberry, a Dalhousie University graduate, is a Professional Geoscientist registered in British Columbia with over 40 years of experience in domestic and international exploration and production for base and precious metals and industrial minerals. He was a founding Director, President and Chief Executive Officer of Phenom Resources Corp. from 2006 to 2011, founding Director, President and Chief Executive Officer of Indigo Exploration Inc. from 2009 to 2011 and a founding Director, President and Chief Executive Officer of Pike Mountain Exploration Inc, (now Carebook Technologies Inc.) from 2018 to 2020. He was a former Director and Interim Chief Executive Officer of Arcwest Exploration Inc. and a former Director of Broadway Gold Mining Ltd. Currently, Timothy serves as President and a Director of Golden Independence Mining Corp., and a Director of Silver Sands Resources Corp., Hilo Mining Ltd., Treviso Capital Corp. and J4 Ventures Inc. He sits on the Advisory Boards of Max Resource Corp., Atomic Minerals Corporation. and Universal Copper Ltd.
Joyce Liu - Chief Financial Officer and Corporate Secretary
Joyce Liu joins the Company from Corex Management Inc. This full-service accounting group provides financial and support services for public companies, including accounting, regulatory compliance, audit management and financial reporting. Ms. Liu is a Chartered Professional Accountant (CPA) with more than nine years of financial reporting and accounting experience. She has served in a senior accounting capacity for a number of publicly traded companies on the TSX Venture Exchange including Riverside Resources Inc. (RRI) and Capitan Mining Inc. (CAPT), with a focus on the resource sector. She has an extensive background in financial management, reporting, corporate transactions and has worked with international jurisdictions including the U.S. and Mexico
Scott Davis - Director
Scott Davis is a partner of Cross Davis & Company LLP Chartered Professional Accountants, a firm focused on providing accounting and management services for publicly listed companies. His experience includes CFO positions of several companies listed on the TSX Venture Exchange and his past experience consists of senior management positions, including four years at Appleby as an Assistant Financial Controller. Prior to that, he spent two years at Davidson & Company LLP Chartered Professional Accountants as an Auditor and five years with Pacific Opportunity Capital Ltd. as an Accounting Manager.
Johan Grandin - Director
Johan Grandin is an experienced mineral exploration financier and exploration company executive. Having worked with public companies for over 25 years, he has a proven track record of raising venture capital and offers extensive expertise in corporate financial restructuring and capital markets. In addition, he has the industry expertise required to streamline growth initiatives and increase shareholder value through his past positions as an officer and director for various public issuers. Johan holds an M.Sc. degree in Business Economics and Engineering Physics from Uppsala University, Sweden.
Christopher W. Hill – Investor Relations Manager
Christopher W. Hill is an investor and entrepreneur with over a decade of experience in the capital markets. He began his career as an Investment advisor and then began to consult and advise private companies on their path to becoming a publicly traded entity. Christopher specializes in corporate development and strategic financing utilizing his large network in the capital markets.
Request an Investor Kit
EXCITING upcoming projects!
IN-DEPTH reliable insights!
SUCCESSFUL growth strategies!
VALUE-BASED content!
iMetal Resources