(TheNewswire)
VANCOUVER, BC - T heNewswire - September 26, 2023 Element 79 Gold Corp. (CSE:ELEM) (OTC:ELMGF) (FSE:7YS) (" Element 79 Gold ", the " Company ") a mining company focused on gold, silver and associated metals, provides an update on the progress of its comprehensive work plan for the Dale Property (the "Property"), located in the Porcupine Mining Division, Dale Township, Ontario, Canada.
Previously Identified High-Potential Areas
Element 79 Gold and historic operator Placer Dome Canada Limited have previously identified auriferous anomalies predominantly hosted in quartz veining and shear zones—the recently completed work plan aimed to expand upon these promising discoveries and confirm their continuity.
The work plan also included revisiting and tracing a massive pyrite dikelet found in the northern part of the Property. This dikelet has previously yielded significant silver values from sampling, adding another layer of intrigue to the Dale Property's geological profile. The Property holds numerous gold, silver, and other anomalous occurrences, fueling enthusiasm within our team.
Prospecting, Stripping, and Sampling Program
The prospecting, light stripping, washing, and sampling program was initially slated for a minimum of seven days, with possible extension dependent on field results. Following the initial work period, our dedicated team on the ground made additional progress, identifying new structures of interest and expressing a strong desire to continue some of the work, resulting in an additional week of exploration work.
Notable achievements include:
Sampling in the iron carbonate zone, revealing consistent low-grade gold values.

Resampling at various locations and conducting hand-stripping to expose and sample areas with gold concentrations exceeding 0.5g/t Including up to 1.1 g/t

Highly anomalous Molybdenum up to 0.3% associated with two gold samples which returned 1 g/t suggests some similarities to the world class Hemlo Gold mine.

Identification of new areas of interest for future exploration.

Channel cuts taken in the main gold-bearing zone.

Completion of LIDAR image surveys.

Opening up existing forest roads for future exploration, enhancing accessibility.
The team also met with SGS Canada Inc. ("SGS"), who provided support and recommendations for the current program and outlined the upcoming update to the NI43-101. Notably, SGS made the recommendation to proceed with whole rock analysis to include silver, as this is a good association with the current type of deposit models that have potentially been identified.
Actlabs in Timmins, Ontario, has been responsible for the assays.
Figure 1. Dale Property (yellow outline) with reginal geology and 2020 drone Mag survey (see news release September 24, 2021), with 2020 prosecting highlights by the vendor, yellow triangles (see news release August 16, 2021), 2021 trenching (see news release June 3, 2022) and 2023 prospecting highlights, red triangles from this release.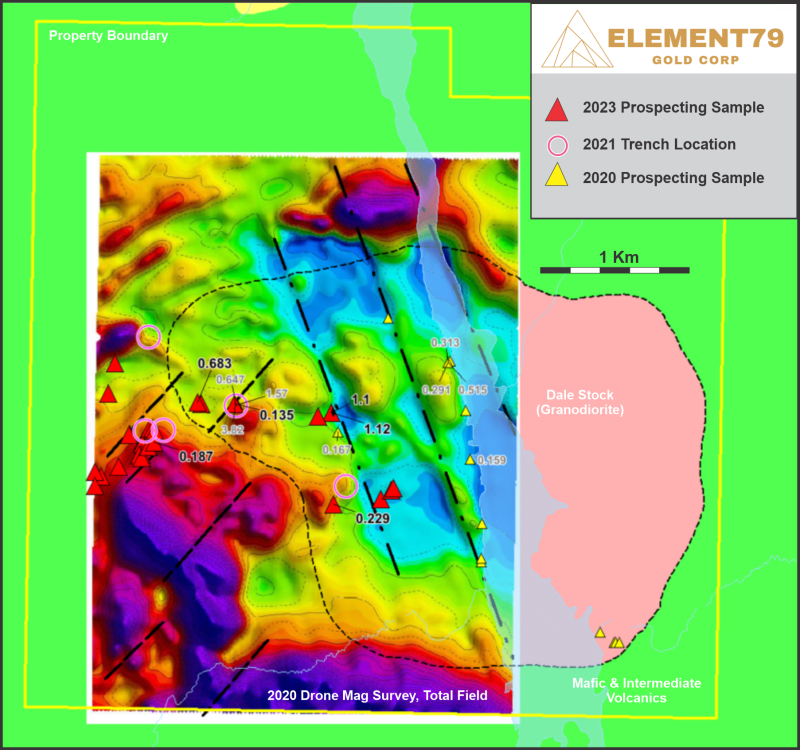 Click Image To View Full Size
Table 1. Summer 2023 Dale Program Prospecting Results.
| | | | | | |
| --- | --- | --- | --- | --- | --- |
| Sample No. | Easting | Northing | Au g/t | Ag g/t | Mo g/t |
| DALE 07/23/23-01 | 400355 | 5306477 | | | |
| DALE 07/23/23-02 | 400339 | 5306455 | | | |
| DALE 07/23/23-03 | 400339 | 5306445 | 0.046 | | 1 |
| DALE 07/23/23-04 | 401631 | 5306037 | 0.229 | | 7 |
| DALE 07/23/23-05 | 401952 | 5306073 | | | |
| DALE 07/23/23-06 | 402020 | 5306134 | 0.055 | | |
| DALE 07/23/23-07 | 402034 | 5306147 | 0.083 | 0.2 | 12 |
| DALE 07/23/23-08 | 400154 | 5306992 | 0.083 | | |
| DALE 07/23/23-09 | 400111 | 5306784 | | 0.5 | |
| DALE 07/23/23-10 | 400257 | 5306513 | | | |
| DALE 07/23/23-11 | 400253 | 5306512 | | 0.3 | |
| DALE 07/23/23-12 | 400252 | 5306506 | | | 3 |
| DALE 07/23/23-13 | 400181 | 5306292 | | | |
| DALE 07/23/23-14 | 400061 | 5306227 | | | |
| DALE 07/23/23-15 | 400023 | 5306255 | | | |
| DALE 07/23/23-16 | 400023 | 5306162 | | | |
| DALE 07/23/23-17 | 400333 | 5306378 | | | |
| DALE 07/23/23-18a | 400321 | 5306374 | | | |
| DALE 07/28/23-19a | 400333 | 5306353 | | | 2 |
| DALE 07/29/23-18b | 400402 | 5306455 | | | |
| DALE 07/29/23-19b | 400381 | 5306426 | | | |
| DALE 07/29/23-20 | 400421 | 5306458 | 0.187 | 0.5 | 5 |
| DALE 07/29/23-21 | 401615 | 5306655 | 1.120 | 3.4 | 3170 |
| DALE 07/29/23-22 | 401615 | 5306655 | 1.100 | 2 | 795 |
| DALE 07/29/23-23 | 401527 | 5306630 | | | 2 |
| DALE 07/29/23-24 | 400388 | 5306551 | | | 1 |
| DALE 07/29/23-25 | 400410 | 5306551 | | | |
| DALE 07/29/23-26 | 400423 | 5306537 | 0.007 | | |
| DALE 07/29/23-27 | 400738 | 5306718 | | 1.2 | |
| DALE 07/29/23-28 | 400715 | 5306726 | 0.683 | 1.8 | |
| DALE 07/30/23-CC01 | 400962 | 5306718 | 0.135 | 0.2 | |
Leveraging the SHERP CENTAUR
A key highlight of the work plan was the deployment of the "SHERP CENTAUR," an amphibious vehicle that has positively transformed our field operations. The team was happy to communicate that the SHERP CENTAUR effectively enhanced their efficiency and mobility, granting access to previously challenging areas and enabling the expansion of their work in the first area of anomalous gold and iron-carbonate alteration to assess the potential of a larger/higher grade zone beneath the currently identified anomalous zones.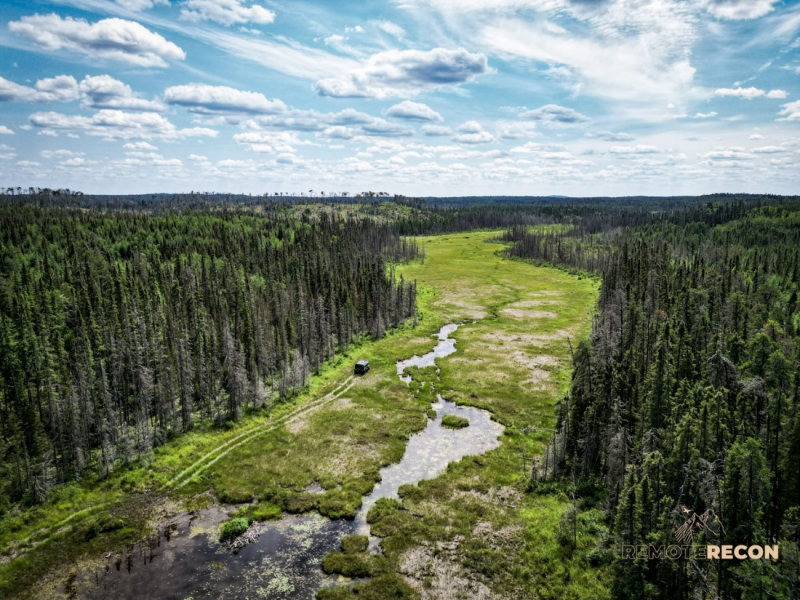 Click Image To View Full Size
Picture 1 . Drone photo reinforcing the SHERP CENTAUR allowed access to more remote sections of the property. Drone recon also provided perspective to detect new outcroppings for sampling.
NorOnt Group Inc. In The Field
Element79 Gold Corp retained the services of NorOnt Group for project work with great success. NorOnt Group possesses specialized expertise in a full suite of exploration services with a strong focus on innovation and the logistics of working remotely and in challenging locations. In addition to the overall performance, Element79 Gold was impressed with the following products that complemented the development of the Dale property:
Digital Mapping – An extensive digital map was created of the property roads and outcrops, updated daily and viewable via NorOnt's online portal. Mapping included information on the vehicle types required for access, geotagged photos and notes of geological areas of interest. Roads and access notes were also imbedded.
Drone Work – A drone was deployed to scout the area for initial access. Once in the field, the drone was used in conjunction with the Sherp to detect new outcrops and plot the best path to get to it.  3 new outcrops were discovered that would previously been hidden by surrounding vegetation.
Ground Based LIDAR – Ground based LIDAR was deployed on specific outcrops of interest, to collect a series of datapoints to create a high-resolution 3D image. This image can later be reviewed by the team to further inspect geological formations of the outcrop structure and take remote mazements.
Digital Deliverables Portal – A digital customer portal was provided during the project consolidating all fields, media, and geological data into one accessible location, streamlining it for both sharing and analysis. View the Portal Page at https://www.remoterecon.ca/element79
For more information on NorOnt group please visit www.norontgroup.com
"We are thrilled to see and share the progress on the Dale Property work plan and the positive impact of the strategic decisions to both to work with the NorOnt group and bring in state-of-the-art equipment like the SHERP CENTAUR to enhance our team's capabilities on the ground," remarked James Tworek, CEO of Element79. "The completion of the work program and upcoming results further demonstrates our commitment to the continued development of the Dale property and success of the Synergy Metals Corp anticipated spin out."
For further information and updates, please visit our website at www.element79.gold and follow us on social media.
Qualified Person
The technical information in this release has been reviewed and verified by Neil Pettigrew, M.Sc., P. Geo., Director of Element79 Gold and a "qualified person" as defined by National Instrument 43-101.
About Element79 Gold Corp.
Element79 Gold is a mining company focused on gold and silver committed to maximizing shareholder value through responsible mining practices and sustainable development of its projects.  Element79 Gold's main focus is on developing its previously-producing, high-grade gold and silver mine, the Lucero project located in Arequipa, Peru, with the intent to bring it back into production in the near term.
The Company also holds a portfolio of 5 properties along the Battle Mountain trend in Nevada, with the Clover and West Whistler projects believed to have significant potential for near-term resource development. Three properties in the Battle Mountain Portfolio are under contract for sale to Valdo Minerals Ltd., with an anticipated closing date around the end of 2023.  The Company has also signed an Option Agreement to sell the Maverick Springs project, an advanced-stage exploratory property with an Inferred Resource of 3.71MMoz AuEq (1.37MMoz Au and 175MMoz Ag) and anticipates completing this sale before the end of 2023.
In British Columbia, Element79 Gold has executed a Letter of Intent and funded a drilling program to acquire a private company that holds the option to 100% interest of the Snowbird High-Grade Gold Project, which consists of 10 mineral claims located in Central British Columbia, approximately 20km west of Fort St. James. The Company also has an option to acquire a 100% interest in the Dale Property, 90 unpatented mining claims located approximately 100 km southwest of Timmins, Ontario, and has recently announced that it has transferred this project to its wholly-owned subsidiary, Synergy Metals Corp, and is advancing through the Plan of Arrangement spin-out process through the rest of 2023.
For more information about the Company, please visi t www.element79.gold
Contact Information
For corporate matters, please contact:
James C. Tworek, Chief Executive Officer
E-mail: jt@element79gold.com
For investor relations inquiries, please contact:
Investor Relations Department
Phone: +1.613.879.9387
E-mail: investors@element79.gold
Cautionary Note Regarding Forward Looking Statements
This press contains "forward‐looking information" and "forward-looking statements" under applicable securities laws (collectively, "forward‐looking statements"). These statements relate to future events or the Company's future performance, business prospects or opportunities that are based on forecasts of future results, estimates of amounts not yet determinable and assumptions of management made in light of management's experience and perception of historical trends, current conditions and expected future developments. Forward-looking statements include, but are not limited to, statements with respect to: the Company's business strategy; future planning processes; exploration activities; the timing and result of exploration activities; capital projects and exploration activities and the possible results thereof; acquisition opportunities; and the impact of acquisitions, if any, on the Company. Assumptions may prove to be incorrect and actual results may differ materially from those anticipated. Consequently, forward-looking statements cannot be guaranteed. As such, investors are cautioned not to place undue reliance upon forward-looking statements as there can be no assurance that the plans, assumptions or expectations upon which they are placed will occur. All statements other than statements of historical fact may be forward‐looking statements. Any statements that express or involve discussions with respect to predictions, expectations, beliefs, plans, projections, objectives or future events or performance (often, but not always, using words or phrases such as "seek", "anticipate", "plan", "continue", "estimate", "expect", "may", "will", "project", "predict", "forecast", "potential", "target", "intend", "could", "might", "should", "believe" and similar expressions) are not statements of historical fact and may be "forward‐looking statements".
Actual results may vary from forward-looking statements. Forward-looking statements are subject to known and unknown risks, uncertainties and other factors that may cause actual results to materially differ from those expressed or implied by such forward-looking statements, including but not limited to: the duration and effects of the coronavirus and COVID-19; risks related to the integration of acquisitions; actual results of exploration activities; conclusions of economic evaluations; changes in project parameters as plans continue to be refined; commodity prices; variations in ore reserves, grade or recovery rates; actual performance of plant, equipment or processes relative to specifications and expectations; accidents; labour relations; relations with local communities; changes in national or local governments; changes in applicable legislation or application thereof; delays in obtaining approvals or financing or in the completion of development or construction activities; exchange rate fluctuations; requirements for additional capital; government regulation; environmental risks; reclamation expenses; outcomes of pending litigation; limitations on insurance coverage as well as those factors discussed in the Company's other public disclosure documents, available on www.sedarplus.ca . Although the Company has attempted to identify important factors that could cause actual results to differ materially from those contained in forward-looking statements, there may be other factors that cause results not to be as anticipated, estimated or intended. The Company believes that the expectations reflected in these forward‐looking statements are reasonable, but no assurance can be given that these expectations will prove to be correct and such forward‐looking statements included herein should not be unduly relied upon. These statements speak only as of the date hereof. The Company does not intend, and does not assume any obligation, to update these forward-looking statements, except as required by applicable laws.
Neither the Canadian Securities Exchange nor the Market Regulator (as that term is defined in the policies of the Canadian Securities Exchange) accepts responsibility for the adequacy or accuracy of this release.
Copyright (c) 2023 TheNewswire - All rights reserved.