Top 10 Cryptocurrencies
Dec. 28, 2022 01:30PM PST
Blockchain Investing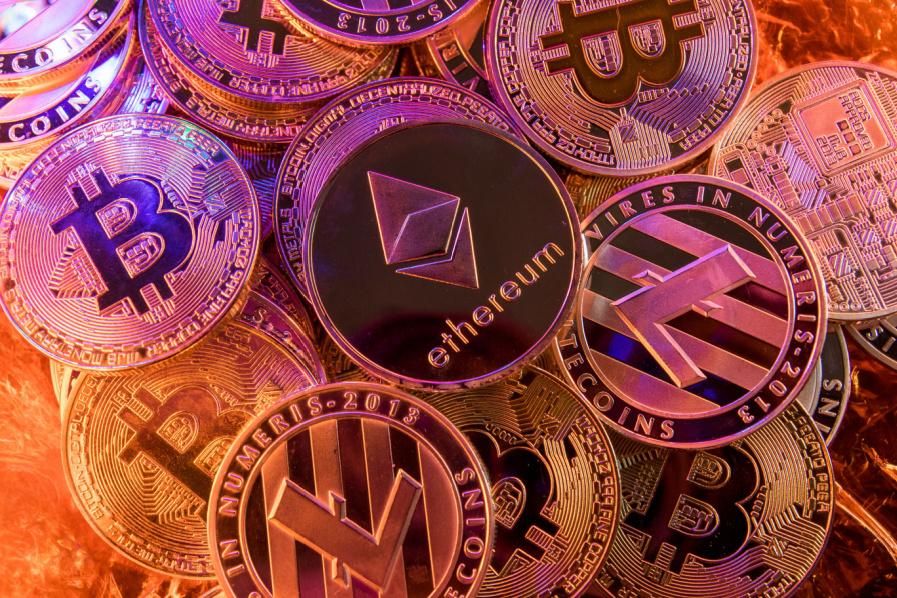 With more than 8,000 cryptocurrencies currently on the market, where should investors start? The top 10 coins by market cap are one place to begin.
Cryptocurrencies have become an appealing opportunity for investors with medium to high risk tolerance. They are largely speculative, but emerging markets and new use cases are helping to realize the full utility of the asset class.
The crypto market is no stranger to intense volatility, making it a risky investment that can work for or against your portfolio. However, you can minimize this risk by sticking to the top cryptocurrencies that have already earned their place.
There are over 8,000 cryptocurrencies available, and a good starting point is those with higher market caps. In fact, research from Statista shows that the top 20 cryptocurrencies make up approximately 90 percent of the sector's total market cap.
---
The list below offers a look at the top 10 cryptocurrencies by market cap as of December 5, 2022. You'll learn why they're appealing, the important people associated with them and when they were created. For reference, market cap is a better statistic to focus on than price when it comes to cryptocurrencies because each coin has different mechanics behind it. Bitcoin, for example, has a maximum amount of 21 million coins that will ever exist, while Ethereum has no maximum amount.
What are the top 10 cryptocurrencies?
1. Bitcoin
Market cap: US$328.47 billion
Bitcoin is the original cryptocurrency that launched the entire asset class. The anonymous creator, Satoshi Nakamoto, made the software open source, allowing others to create new cryptocurrencies without reinventing the wheel.
The price of Bitcoin has gone from near zero to a high of nearly US$70,000, building excitement along the way.
Important people: Satoshi Nakamoto, the unknown and anonymous founder who stepped away from the project in its early years, is the prominent name behind Bitcoin. The Bitcoin Foundation now guides development alongside an open-source community of developers.
Why it's popular: The core innovation behind Bitcoin is the ability to conduct transactions without a trusted third party, such as a bank or central entity. Since then, it's exploded in popularity as a store of value and a means of transacting in a peer-to-peer nature.
Maximum supply: 21 million.
2. Ethereum
Market cap: US$154.8 billion
Ethereum was announced in 2013 and became publicly available in 2014. Ethereum introduced the new concept of "smart contracts," which allow programs to be deployed on the blockchain and executed when certain conditions are met. This innovation catalyzed a series of other new cryptocurrencies and use cases.
A theorized point known as "the flippening" describes when Ethereum will overtake Bitcoin in market cap and become the top cryptocurrency. This change has yet to happen and is up for debate, but many crypto enthusiasts think it's inevitable.
Important people: Vitalik Buterin developed Ethereum and remains involved with the project and the crypto community. Five other developers are credited as co-founders. The Ethereum Foundation guides development.
Why it's popular: The introduction of smart contracts launched an entirely new era for cryptocurrencies and paved the way for non-fungible tokens. New use cases continue to emerge as adoption increases.
Maximum supply: No maximum.
3. Tether
Market cap: US$65.5 billion
Tether, or USDT, is the most prominent stablecoin on the market. A stablecoin is pegged to a specific asset to maintain its value. Tether is pegged to the US dollar and maintains a consistent value of US$1, which can vary by a few cents as markets fluctuate.
Created: 2014, known initially as Realcoin.
Important people: Brock Pierce, Reven Collins and Craig Sellars.
Why it's popular: USDT works by allocating US dollars to the organization's reserves whenever a new USDT coin is issued. This functionality results in a cryptocurrency backed by fiat currency, which many investors appreciate as a foundation for their portfolio. While its value will not change, USDT is ideal for financial transactions in which neither party wants the volatility of other coins.
Maximum supply: No maximum.
4. BNB
Market cap: US$46.34 billion
BNB is a cryptocurrency developed and maintained by Binance, one of the most popular cryptocurrency exchanges in the world. The BNB coin is used throughout the Binance ecosystem, including the exchange and other Binance projects, which gives the coin a strong use case and user base.
Important people: Changpeng Zhao, founder of Binance, and He Yi spearheaded the development of BNB and integrated it into the Binance exchange.
Why it's popular: BNB gained momentum as Binance users could opt to pay fees with BNB in exchange for lower percentages on trade fees. This remains the core use case of the coin, but the introduction of smart contracts and related features have helped it gain additional popularity.
Maximum supply: No maximum.
5. USD Coin
Market cap: US$43.28 billion
USD Coin, or USDC, is the second most popular stablecoin, and it operates similarly to USDT. The coin is supported by major players in the crypto industry who continually advocate for transparency and compliance.
Important people: Jeremy Allaire and Sean Neville launched USDC, and it was later adopted by major players Coinbase and Circle.
Why it's popular: USDC is prized over other stablecoins for its transparency. Coinbase and Circle, two organizations heavily involved in the coin, are leaders in compliance and even advocate for crypto regulation.
Maximum supply: No maximum.
6. Binance USD
Market cap: US$22.08 billion
Known as BUSD, the Binance stablecoin is approved and regulated by the New York State Department of Financial Services. In addition, a monthly BUSD audit report is made publicly available, building confidence in the project and its backed assets.
Important people: Changpeng Zhao, founder of Binance, advocated for creating a Binance stablecoin. His internal team of developers maintains and improves the blockchain, including integrating it with BNB.
Why it's popular: Stablecoins have risen in popularity, and one backed by a significant exchange is appealing to many investors. BUSD is also widely used in staking and DeFi mechanisms throughout the Binance ecosystem.
Maximum supply: No maximum.
7. XRP
Market cap: US$19.29 billion
XRP is the native token of the Ripple platform. XRP was created as a more energy-efficient and faster alternative to Bitcoin. The company has been locked in a legal battle with the US Securities and Exchange Commission about whether or not it is a security, which has impacted the coin's popularity and future. However, it remains in the top 10.
Important people: Jed McCaleb and Arthur Britto co-founded the coin in association with their company, Ripple.
Why it's popular: XRP and Ripple gained popularity by being much faster and cheaper than Bitcoin for conducting transactions. However, whether that advantage has remained relevant is arguable as newer coins have emerged that provide similar benefits with additional functionality.
Maximum supply: No maximum.
8. Dogecoin
Market cap: US$13.3 billion
Dogecoin is one of the interesting entries in the top 10, as it is functionally the same as Bitcoin, with the only difference being the removal of a maximum supply. The coin was originally launched as a memecoin, i.e. a joke, leveraging the then-popular meme of a Shiba Inu with grammatically incorrect captions. It was designed to be a low-value, high-supply coin for community uses.
The coin remained relatively obscure until Elon Musk began tweeting about it, beginning boom-bust cycles powered primarily by Musk's tweets and other public statements.
Important people: Elon Musk, while having nothing to do with the initial development of the coin, adopted it for unknown reasons and began promoting it. His interest catalyzed a significant increase in value and gave new life to the dying memecoin. The actual founders are Billy Markus and core developer Max Keller, who returned to the project in its recent resurgence.
Why it's popular: Musk, memes and theorized widespread usage.
Maximum supply: No maximum.
9. Cardano
Market cap: US$10.9 billion
Cardano, or ADA, prioritizes scientifically backed development. Rather than rushing new features and intense marketing campaigns, developers conduct peer-reviewed research before implementing new features.
Some believe Cardano is a long-term winner, while others criticize its slow development process. But ultimately, Cardano is the only top coin with a well-documented and strict development process that gives confidence in its long-term success.
Important people: Founded by Charles Hoskinson, a mathematician, and maintained by a series of scientifically driven foundations.
Why it's popular: The token has a strong base of "true believers" due to Cardano's deliberately slow, scientifically backed development methodology. Currently, the proof-of-stake coin is used by agricultural companies to track produce supply chains; it is also used to store education credentials, and it enables retailers to combat counterfeit products. Its solid technical backing could give rise to new use cases.
Maximum supply: 45 billion.
10. Polygon
Market cap: US$7.9 billion
Polygon began as the Matic Network, which is why its coin remains MATIC. Polygon is a unique blockchain as it focuses on enabling developers to build scalable platforms on other blockchains, such as Ethereum, by acting as a cost-effective Layer 2.
By conducting cheaper transactions on Polygon, developers can pass cost savings on to end users and create more scalable applications that sidestep frequently expensive transactions on Ethereum.
Created: 2017 on Ethereum, 2019 on its own blockchain.
Important people: Jaynti Kanani, Sandeep Nailwal and Anurag Arjun developed and improved the blockchain in response to limitations with other blockchains such as Ethereum. Polygon's founders were already experienced blockchain developers before embarking on the project.
Why it's popular: Polygon is popular among blockchain developers for enabling cost-effective and scalable transactions for smart contract applications. While some end users purchase and use MATIC, the blockchain is more intended to solve a specific problem rather than become an actual currency.
Maximum supply: 10 billion.
Investor takeaway
Cryptocurrencies are still relatively new, meaning the risks around investing are heightened. However, looking at the top 10 coins by market cap minimizes these risks as these cryptocurrencies have already proved themselves and have a solid user base and existing use cases. Even so, investors should keep in mind that cryptocurrencies overall require caution.
Don't forget to follow us @INN_Technology for real-time news updates!
Investing News Network websites or approved third-party tools use cookies. Please refer to the cookie policy for collected data, privacy and GDPR compliance. By continuing to browse the site, you agree to our use of cookies.